University of Oklahoma solidifies top-ranked 2023 recruiting class in Big 12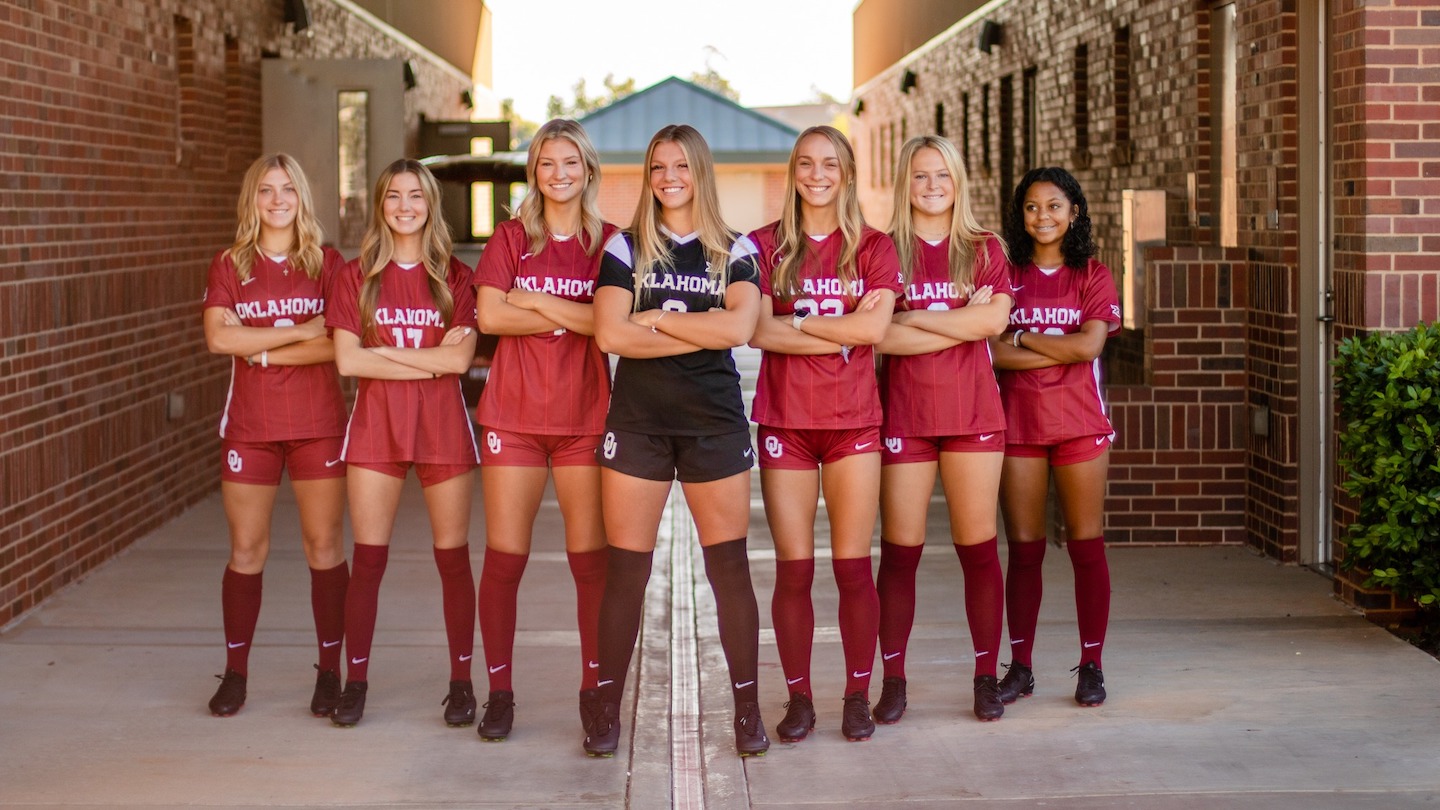 NORMAN — University of Oklahoma soccer and head coach Mark Carr announced the addition of seven signees from the 2023 recruiting class.
The seven new Sooners make up the No. 14 class in the country via Top Drawer Soccer's team rankings, including No. 1 in the Big 12 for the second consecutive season.
The class features three recruits ranked in the top 60 in the nation per Top Drawer, including four four-stars and a pair of three-star products.
The class includes four signees from the state of Texas in Chloe Adams, Emma Alvord, Aryanna Jimison and Zoe Main, and one each from the states of Oklahoma (Lauren Hoefer), Florida (Sophia Vaughan) and Colorado (Addie Todd).
Carr stated the following on this year's signing class:
"We are absolutely thrilled about the addition of the seven young women we have signing to OU as part of our #Elite23 class. We want to welcome them and their families to Norman. We knew after the 2022 class, we wanted to identify and recruit the most elite female student-athletes in the country with high character and integrity from strong families that loved OU and wanted to be with us and be able to continue to enhance the upward trajectory of our program.
It's an exciting time in our program, we have made a lot of progress in two years and this #Elite23 class will further elevate our program. Through the recruiting process, each student-athlete demonstrated their love for OU, showed their desire to improve and be challenged but also expressed how they wanted to be part of a supportive, loving family—that's our environment.
I am proud of our coaching team, our support staff, our student-athletes, and administration that all have helped us secure this class.
This class is elite, competitive, talented and full of personality. They are highly driven in the classroom and on the field. Above all, they all love OU, love soccer and are hungry to improve themselves and add value to our program. They are committed to excellence, helping OU soccer compete and fight for championships for the years to come. They have all been recruited to make an immediate impact."
Meet the members of OU's #Elite23 signing class below.
CHLOE ADAMS
Defender | Flower Mound, Texas | Marcus HS | Sting Soccer Club
High School
• Played in 81 games throughout HS career with senior season still to be played.
• 11 goals and seven assists from her center/outside back and defensive midfielder positions.
• 2020-21, '21-'22 TASCO All-State honors
• 2020-21, '21-'22 First Team All-District
• 2020-22 Team Regional Finalist
• 2021-22 Team – District 6-6A Champions
• Also participated in HS basketball, volleyball and track.
Club
• 2020-21 Top Drawer Soccer ECNL Club Standout
• 2018-19 FC Dallas ECNL Team Captain
• 2017-18 FC Dallas ECNL – Tulsa Cup Champion & MVP
Head coach Mark Carr on Adams: "I'm excited to welcome Chloe and her family to OU. She comes to us from the Sting Soccer Club in Dallas under the tutelage of Marcus Kelcher. Chloe has been part of championship teams and knows what it takes to win. Chloe is a versatile defender that can play as an outside back or in the middle. She will add solid depth to our defensive unit. In addition to Chloe's technical ability, 1v1 defending qualities , her drive, competitiveness  and leadership qualities will add value to our environment. She loves to attack and get forward and I am excited to see how she contributes to our team."
---
EMMA ALVORD
Defender | Argyle, Texas | Denton Guyer HS | FC Dallas
• Four-star recruit by Top Drawer Soccer
• No. 51 player in the class by Top Drawer Soccer
Club
• 2021-22 ECNL Texas Second-Team All-Conference
• 2022 U.S. Under-17 Women's Youth National Team World Cup Qualifying Training Camp
Head coach Mark Carr on Alvord: "Emma also comes to us from FC Dallas where she played for Matt Grubb and Gareth Evans. I am so excited about Emma and her family joining our program. I think Emma has an unlimited ceiling and her potential of what she can become is limitless. She is an explosive and electric winger/wing back that plays on the side, has a relentless engine and she will leave you in the dust with her speed. It's been amazing to see the quality of her crossing and finishing improve in the last year and I know she will be another fan favorite for Sooner Nation, We expect her to contribute right away with her chance creation and goals, as well as her aggressive defending. We are excited to partner with her and give her everything on our end to nurture her already incredible talent and personality."
LAUREN HOEFER
Forward | Owasso, Okla. | Owasso HS | Tulsa Soccer Club
• Three-star prospect by Top Drawer Soccer
• Ranked No. 3 recruit in South region by Top Drawer Soccer
High School
• In three seasons played, has 26 goals and 8 assists for Owasso HS.
• Two-time Golden Boot recipient (2021-22)
• Three-time All-District honoree (2020-22)
• 28-6 record as a team freshman through junior seasons
• 6A state playoffs 2021-22
• Also played HS volleyball
Club
• Played for Tulsa Soccer Club ECNL
Head coach Mark Carr on Hoefer: ""At OU, we always aim to recruit the best Oklahoma kids to OU and Lauren is certainly that. Lauren comes from Tulsa Soccer Club and has bled Crimson and Cream since the moment I met her and her awesome family. Lauren fits the athletic profile of what we need to have success at this level. She is a relentless competitor, is powerful, quick, strong and has experience playing lots of different positions on the outside or right through the middle. I am really excited to see how she adjusts to the college game and cannot wait until she joins our team in January 2023."
ARYANNA JIMISON
Midfielder | Carrolton, Texas | Hebron HS | FC Dallas
• Four-star recruit by Top Drawer Soccer
• No. 53 in the class by Top Drawer Soccer
High School
• 29 goals and 27 assists in two seasons played at Hebron HS
• 2022 District 6-6A Player of the Year
• 2021-22 First Team All-District
• Also participated in HS basketball and track
Club
• 10 goals and six assists in the 2021-22 season for FC Dallas
• 2022 First Team All-Conference
• 2021 Second Team All-Conference
Head coach Mark Carr on Jimison: "Ary comes to us from the FC Dallas club where she has been expertly mentored by Matt Grubb and Gareth Evans. Ary is one of the most competitive, fiesty and creative midfielders in the country. I have not seen a kid who wants to win more than Ary, and she always plays with her heart on her sleeve-that's hard to find. She has been part of some big games, loves the pressure as this is where she is at her best. She will add creativity and excitement to our team in the attacking third and I know she will be an instant hit with our fans. I am looking forward to seeing how she calibrates to the physical component of the college game, but she has all the talent and skill needed at this level."
ZOE MAIN
Forward | Missouri City, Texas | Ridge Point HS | Albion Hurricans FC
• Three-star prospect by Top Drawer Soccer
• No. 32 player in the Texas region by Top Drawer Soccer
High School
• Recorded 57 goals and 40 assists throughout her three years of high school soccer, including a school record 32 goals her junior season.
• 2022 District 6A Most Valuable Player
• 2022 6A First Team All-State
• 2020-22 First Team All-District
• 2021 First Team All-Region
• 2021 District Co-Offensive Player of the Year
• 2022 6A state semifinalists
• Undefeated in district play three straight seasons (2020-22)
• Regional champions (2022) and regional quarterfinalists (2021)
Club
• Played for Albion Hurricanes ECNL (Texas)
• ECNL Champions League qualifier (2019, '22)
• National quarterfinalist (2019)
• 2022 ECNL Top 40 National Training Camp invitee
• 2022 ECNL National Selection Game participant
• 2022 First Team Texas All-Conference
Head coach Mark Carr on Main: "Zoe Main is one of the best and most proven goalscorers coming out of the Texas area. She has been part of big games and has scored goals at every level she has played, from club, high school, ECNL, ECNL national camp/ECNL selection games and WPSL. Zoe has a special gift of knowing where the goal is and putting the ball in the back of the net. She is quick, mobile and can score from different areas in the final third with different surfaces in an instant. She is relentless, courageous, full of electricity and a real competitor. She will fit into our style of play and our fans will see the bolt of electricity when the ball is at her feet. We look forward to Zoe joining us in January 2023. We see her making an immediate impact at our level and we cannot wait to add some more layers to her game. She is really going to explode in our environment."
ADDIE TODD
Goalkeeper | Littleton, Colo. | Columbine HS | Real Colorado
• Four-star product by Top Drawer Soccer
• No. 56 player in the class by Top Drawer Soccer
High School
• 2021-22 Colorado 5A All-State
• 2021-22 First Team All-Conference
• Three-time team captain for Columbine HS
• 2022 5A State semifinalist
• 2021 5A State quarterfinalist
Club
• 2021-22 ECNL First-Team Northwest Conference
• 2022 ECNL All-American
• 2022 U17 ECNL National Champions
• 2021-22 ECNL Northwest Conference Champions
• U.S. Under-17 and Under-15 Women's Youth National Team Camp Invitee
Head coach Mark Carr on Todd: "Addie Todd is one of the best goalkeepers in the country. She has been in some of the most elite youth environments (Real Colorado, USA U17 WNT) and has been trained by one of the best youth goalkeeper coaches in the country in Clint Baumstark. Addie is a national champion and is the most driven and competitive young lady I know. She is ambitious, has big goals and dreams and we look forward to giving her all the support she needs here at OU. More than anything, Addie is relentless, loves the process, loves the grind, is resilient and wants to be the best. At the same time, she wants to help OU soccer win championships for years to come. I expect Addie to come in and compete to play right away. I know she will add quality to an already talented 'GK Union' we have here at OU. We are excited to see how she transitions into our high-performance environment, and we cannot wait to have her join us in Norman in January 2023."
SOPHIA VAUGHAN
Midfielder | St. Augustine, Fla. | Tocoi Creek HS | Florida Elite Soccer Academy
High School
• Has 50 goals and 31 assists through three years of HS soccer
• Named Offensive MVP her freshman and sophomore seasons and overall MVP her junior year
• Team Captain
• District Team Champions
• Team State Semifinalist
• Also participated in gymnastics and cheer
Club
• Selected and started all USLW games for Florida Elite SA
• 2021-22 National Playoffs Qualifier
Head coach Mark Carr on Vaughan: "We are thrilled to add Sophia to our team. Sophia has played for Florida Elite under Sean Bubb so we know she understands the important details in the game that help individuals and teams have success. We know she will be a great addition to our program and provide competition right away. As a former elite gymnast, we know Sophia fits the physical profile a power five program like OU demands. She is explosive, quick, dynamic and I feel she will create a lot of chances for us with her pace and lightning-bolt moments. Off the ball, her engine, defending mentality and attitude to win the ball back immediately will be important and be a major asset."