University of Oregon receives commitments from eight highly-rated West Coast recruits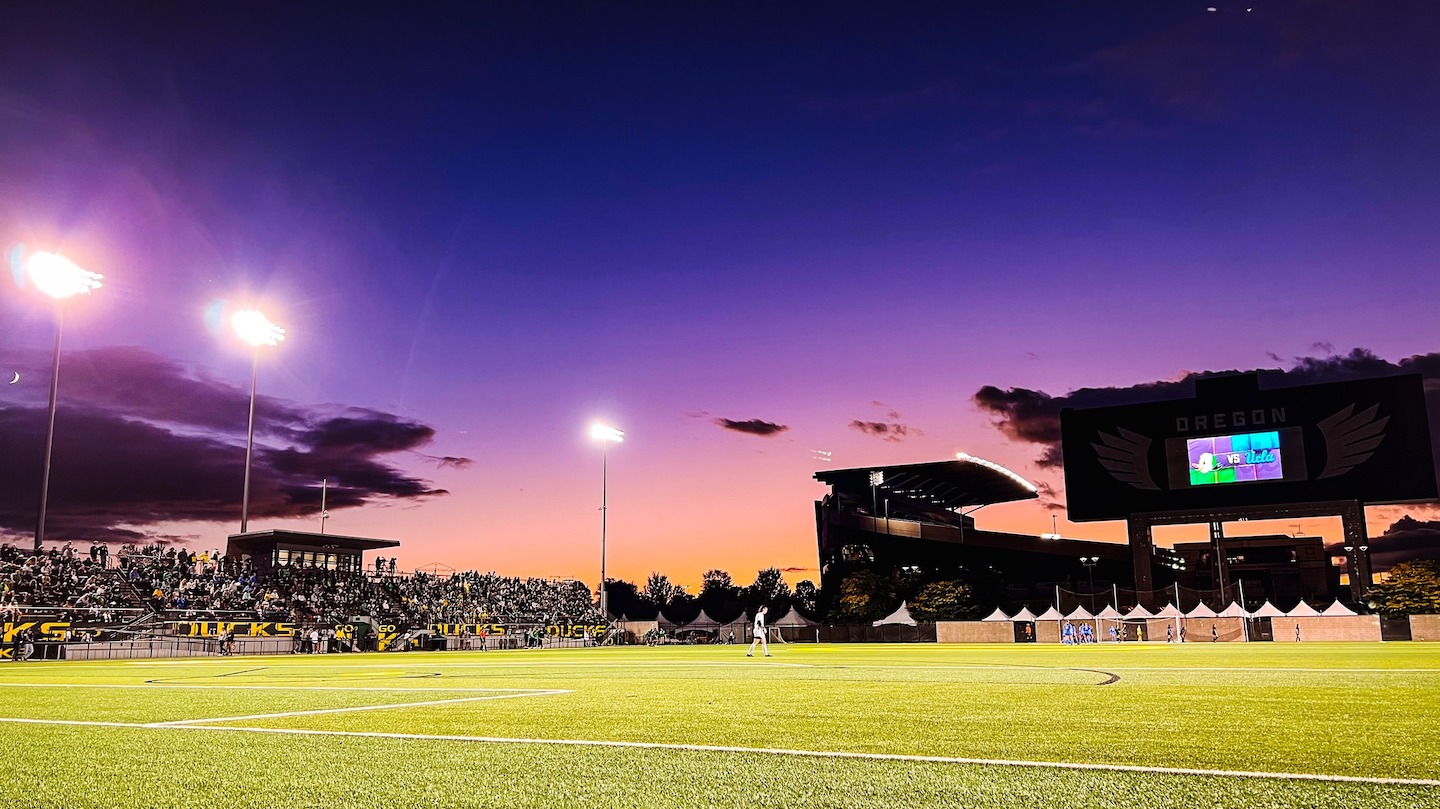 EUGENE, Ore. – Eight highly-regarded recruits from the West Coast have signed National Letters of Intent with the University of Oregon soccer program, head coach Graeme Abel announced.
Joining the team for the 2023 season will be five student-athletes from California, two from Washington and one from Oregon.
The Californians who signed with Oregon are Emily Estrada (Stockton), Lauren Kenny (San Ramon), Mia McSweeney (Roseville), Grace Mensah (San Luis Obispo) and Myra Schneider (Acton). The two newcomers from Washington are Cameron Bourne (Everett) and Ryann Reynolds (Snohomish), while McKenna Siel (Portland) is from Oregon.
"We are really excited about the personalities, character and overall ability within this class," said Abel. "We knew we had to address the attacking options within our group to give us great flexibility and variety on the attacking side of the ball.
"Then we had additional needs in the midfield and the backline that we have been able to address with great talent and even greater potential," he said. "This is another really good class that adds to the group we already have on campus."
Cameron Bourne, F/M, Everett, Wash., Archbishop Murphy High School, Club: Crossfire Premier
Was an all-state performer for Archbishop Murphy High School. Ranked as a top-50 player in the state of Washington by MaxPreps. Named to the all-conference team three times, twice to the first team (2021, 2022) and once to the second team (2019). Scored 20 goals with 16 assists (56 points) as Archbishop Murphy went undefeated and won the 2021 state championship. Scored 13 goals with eight assists as a senior in 2022 (34 points). In club ball, helped Crossfire Premier finish fifth at the ECNL nationals. Her team won the Crossfire Challenge and the Redapt Cup tournaments and was a semifinalist at the 2021 Surf Cup. Named to the 2022 ECNL Northwest Conference first team. Participated in six USA National Team individual development pool trainings. Selected for two Olympic Development regional camps. Two-year member of the Washington state EDP travel team. Four-year member of the National Honor Society.
Cameron Bourne on Oregon: "One thing that impressed me about University of Oregon and the soccer program was the amount of support and resources that student-athletes have when it comes to soccer and academics. I could feel the sense of support and community especially in the Jaqua Center. I also love the athletes' and coaches' fun and competitive environment that they create."
Coach Abel on Cameron Bourne: "Cam is an exciting player on the ball. We love her ability in one-on-one areas higher up the field and her personality on the field matches what she has off of it – high energy. She will allow us to be a threat in the wide areas, gives us more threat in set pieces with her ability to serve a ball. On top of all that, Cam scores goals, so she's a real threat in multiple ways."
Emily Estrada, D, Stockton, Calif., Saint Mary's High School, Club: Mustang SC
A two-time all Tri-City Athletic League first team selection for Saint Mary's High School. Extensive Olympic Development Program experience includes time with the National training camp in 2019 as well as the ODP West Region pool and the ODP Cal North State team, among others. Her team was the 2018-19 ODP West Regional champions and also won the 2022 NorCal Sweden Gothia Cup. Her uncle Derick Villanueva was on the rowing team at Emory University. Away from the field, plays the flute and earned a spot on the County's Honor Band. Was named "Best Performer of the Symphonic Band" in 2022. A four-year member of the National Honor Society and the honor roll.
Emily Estrada on Oregon: "I love how active and outdoors the University is; the environment of the campus as well as the community. There is so much to do and discover here at the University of Oregon. I also loved the camaraderie among the players and the support they have from all the staff and coaches."
Coach Abel on Emily Estrada: "Emily is a great on ball defender. We watched her this past weekend in Phoenix and her quickness to step out in front of players will set up very well in the collegiate game. She is very clean on the ball and technically will thrive in our environment. She has the ability to play a big part in our back line moving forward."
Lauren Kenny, F, San Ramon, Calif., Carondelet High School, Club: Pleasanton Rage
The No. 29 player nationally according to MaxPreps and No. 6 in the state of California. Led Carondelet High School to the CIF state title in 2019 and 2020. Carondelet was ranked second nationally for two years during that time. Member of the Olympic Development Program state team from 2017-2019. Won the Gothia World Cup in Sweden with the PDP National team in 2022. Her club team, Pleasanton Rage, won back-to-back ECNL Northwest titles (2021-22) and was ranked in the top five nationally. Led the club is scoring four years in a row. Her grandfather, William Cali, played baseball at the College of Staten Island, where his number was retired. He also played professionally in the minors. Her uncle, John Cali, played basketball at CSI. Four-time recipient of the Presidential Academic Athletic Award.
Lauren Kenny on Oregon: "The school environment definitely impressed me and the town was also very committed to the school. The competitive environment also made me want to join Oregon's program. But most of all, Coach Graeme and the staff were super welcoming and helped me feel very confident in my decision to go to UO."
Coach Abel on Lauren Kenny: "We first saw Lauren playing at the ECNL National event in Florida. Her ability to find pockets of space and spin was an instant draw. She is able to couple that ability with a real goal scorer's touch. Very good off the dribble and hitting from distance, she is the type of forward that will give us something very different higher up the field."
Mia McSweeney, D/F, Roseville, Calif., Woodcreek High School, Club: San Juan Soccer Club
A two-time CVC most valuable player for Woodcreek High School. Set the school record for assists. Led Woodcreek to three straight CVC titles (2019-21). Was a three-time all-CVC first team selection (2019-21). A top 50 player in the state of California and a top 150 player nationally. In club action, played with San Juan Soccer Club. Named to the ECNL all-Northwest Conference first team in 2020 and 2021. Part of the ECNL Conference Selection Program in 2019 and 2020. Youth National Team Regional experience (2019-21). Played on the Gothia Cup championship team. Four-year honor roll member. Mother Jen ran track at Westmont College. Father Zack played football at San Jose State and Pacific.
Mia McSweeney on Oregon: "I loved everything about the University of Oregon and I knew it was the place for me right when I got to campus for the first time. The coaches are amazing, I love the campus and athletic facilities, and the school spirit is awesome. I am so excited to play for them and this great program."
Coach Abel on Mia McSweeney: "Mia played is an attacking left back and will flourish in the Oregon environment. She has a huge desire to keep evolving and continue her journey as a student-athlete. Mia can fly forward out of the back and is great with both feet. She has a good record of scoring from her position and whilst she's a defender first, she will provide a great attacking threat for us from the backline."
Grace Mensah, M, San Luis Obispo, Calif., St. Joseph High School, Club: Central Coast United
The conference offensive player of the year and a four-time all-league first team selection for St. Joseph High School. Won two league championships with St. Joseph. Played club soccer with Central Coast United. The three-sport star (soccer, volleyball and track) was also St. Joseph's 2022 Homecoming Queen. Member of the National Honor Society and the honor roll. Brother Elvis played soccer at Academy of Art University (San Francisco).
Grace Mensah on Oregon: "I absolutely fell in love with Oregon and the people that live there. I also love the support that Oregon provides for its student-athletes. I was impressed with the coaching staff and the way in which they work with their players and set their players up for success. In my mind, there was nothing better than Oregon for my personality and soccer ability."
Coach Abel on Mensah:" "Grace will be an unknown to many coming from the central California area. She is extremely direct as a player and wants to score goals. She is very good running at players, has real pace and will provide an additional threat in the air. Grace is an all-round high achiever and will keep evolving within the Oregon environment."
Ryann Reynolds, F, Snohomish, Wash., Glacier Peak High School, Club: Crossfire Premier
The three-time leading scorer in the Wesco League led Glacier Peak High School to four consecutive conference titles and an appearance in the quarterfinals of the 2021 Washington state tournament. Was a four-time all-Wesco League first team honoree. Scored 56 career goals in high school. In club soccer, was named to the 2022 ECNL Northwest all-conference first team for Crossfire Premier. Helped her club win the Northwest Conference championship in 2021 and 2022. Crossfire Premier advanced to the ECNL national finals in 2022.
Ryann Reynolds on Oregon: "The University of Oregon is a special place. It has a wonderful history, sits on a beautiful campus with incredible facilities and the location is perfect. I felt an immediate connection with the coaching staff. I know that the coaches will offer me high support and push me every day to be the best version of myself, on the pitch and in the classroom. The vision they have for the women' soccer program is one that excites me with the experience and knowledge they possess."
Coach Abel on Ryann Reynolds: "Ryann a real presence inside and around the 18-yard box. She has the ability to score so many different types of goals with both feet and her head. In the run of play, Ryann will do an excellent job of getting hold of the ball for us and bringing others into play. Technically and tactically, Ryann gets it and will be another great addition to our program here at Oregon."
Myra Schneider, Acton, Calif., Vasquez High School, Club: SoCal Blues
Played club soccer for SoCal Blues. Was named to the Best XI and was the Day 2 standout at the Girls DA Spring Showcase. Member of the Olympic Development Pool. Invited to participate at three Youth National Team Identification Training Centers between 2017-19. Was on the Principal's Honor Roll for earning straight A's at Vasquez High School with a 4.71 grade point average. National Honor Roll treasurer as a junior. Member of the National Society of High School Scholars. Earned A.P. awards in English, history, math and science. Class vice president. Did not play soccer for Vasquez. Mother Dawn was on the track and field team at Michigan State where she was a high jumper. Holds a second degree black belt in American Tang So Doo.
Myra Schneider on Oregon: "One thing that impressed me the most about the University of Oregon's soccer program is the sense of community on and off the field. Off the field, there's a close bond between players as if they truly are family. On the field, the players are expected to all work as hard as they can individually, while pushing their teammates around them to be better. There also seems to be a strong sense of pride about attending the University of Oregon. The student-athletes are proud to represent their school. The athletic program is well-known all around the country, so to play for University of Oregon's soccer team is a true honor."
Coach Abel on Myra Schneider: "Myra is someone with unbelievable drive and personality. She will be a great box-to-box midfielder for us. Her technical ability on the ball along with her passing range will allow us to open the game up even more. Athletically, she has great size and is able to cover a lot of ground and will be such a good additional to our midfield."
McKenna Siel, F, Portland, Ore., Grant High School, Club: Northwest Elite
Helped lead Grant High School to the 2021 Oregon 6A state championship. Was on the Olympic Development Pool first team from 2015-17. In club ball, was a member of the team that won the 2020 Crossfire Challenge. Her father Donnie Siel played baseball at the University of Portland.
McKenna Siel on Oregon: "I chose Oregon because of the coaching staff, student-athlete support and the location being close to home for me. I was impressed with the high intensity at practices as well as the style of play."
Coach Abel on McKenna Siel: "McKenna is one of the hardest-working players I have seen in the youth game. Her pure work ethic drew us to her right away. Our program has been built on work ethic, so she'll fit right in. She has huge potential to evolve in the environment. She already provides pace and power. She is a constant threat because of her willingness to run behind and threaten backlines."