University of Maryland signs 9 newcomers as part of initial 2023 signing class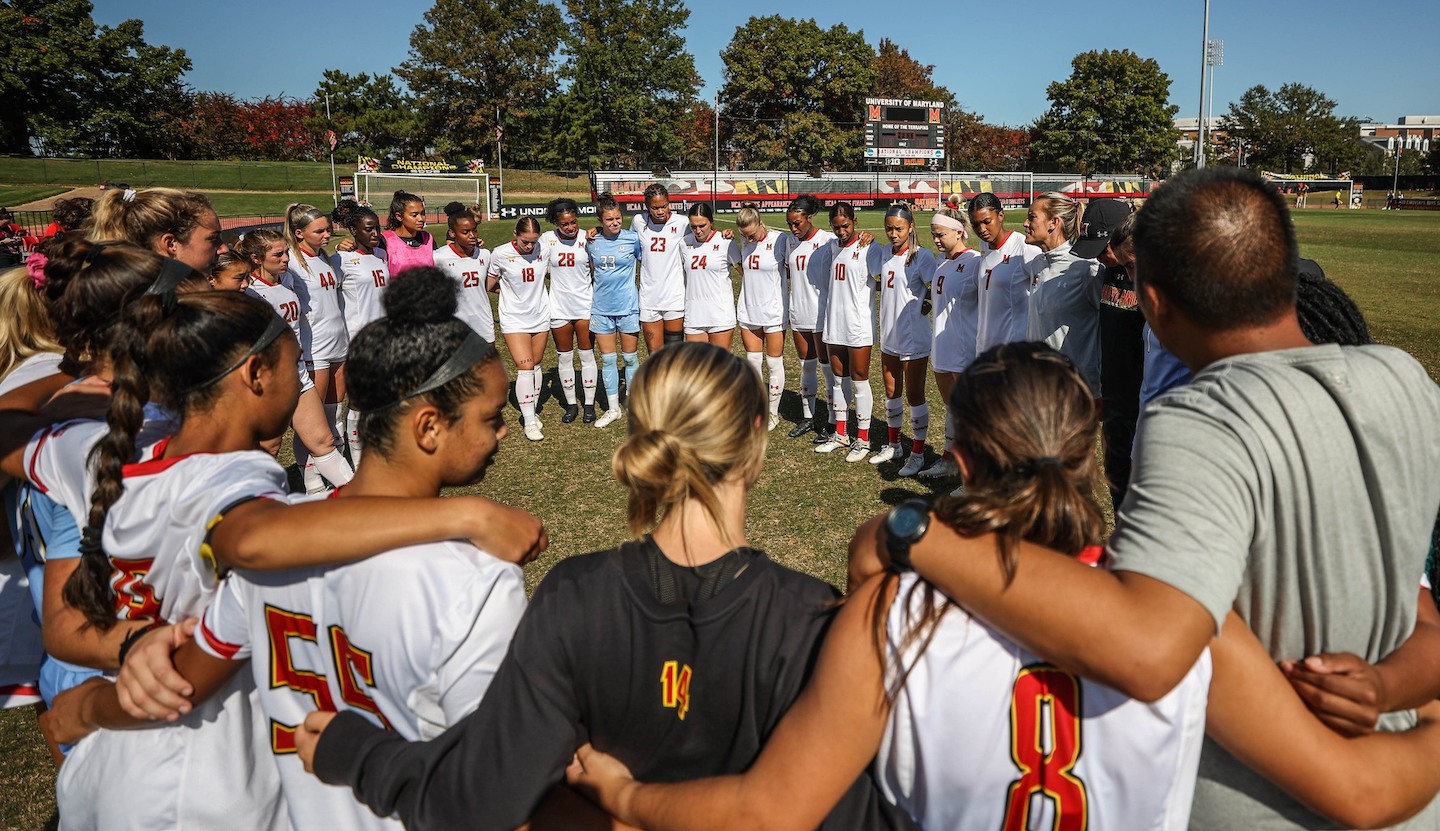 COLLEGE PARK, Md. – University of Maryland women's soccer head coach Meghan Ryan Nemzer welcomes the first wave of newcomers to the Terrapin roster for the 2023 season.
The group is made up of players from eight different states, including two from Maryland and will join Nemzer for her second season at the helm of the program.
The class of 2023 is already reaching new heights, coming in as the #11 ranked class in the nation, and the #1 class in the Big Ten according to TopDrawer Soccer. The incoming group of Terps will be composed of two Top-60 prospects in the nation and a Top-25 prospect goalkeeper. This class also includes multiple players that have represented their country at the international level including the United States, Puerto Rican and Jamaican Youth National teams.
Not only has this class had success at the national level, but they also have a long list of accolades with their respective high school and club teams including High School All-Americans, High School Players of the year, National Championships, State Championships, and ECNL Players of the Year. Along with their long list of athletic achievements, this group is composed of a strong group of students in the classroom, taking part in National Honors Society, Student Council Leadership roles and various other community service opportunities.
Nemzer on the incoming class: "My staff and I are extremely excited about the depth and quality of our 2023 class. I would like to personally thank Joe Nemzer, Katie Ely, Alex Ng, Kenie Wright and Justine Stoner for all of their time and effort in making this recruiting class the best in the conference and one of the best in the country. This group is composed of not only highly successful club and high school players, but also high achieving students and leaders in their community. The 2023 class has an exceptional passion for University of Maryland and the future of this program. We cannot wait for this group to join us in College Park and work towards becoming Maryland Legends!"
More information on these new Terps can be found below.
KENNEDY BELL
CHARLOTTE, NORTH CAROLINA
HOUGH HIGH SCHOOL // CHARLOTTE SOCCER ACADEMY
OUTSIDE BACK
*WILL BE ENROLLING IN SPRING 2023*
Before Maryland: Top Drawer Ranked #34 prospect in the Nation…2019 Youth National Team Training Camp Participant…Captain of her team at Charlotte Soccer Academy…Two time ECNL Conference Champion…Named ECNL Mid-Atlantic Co-Conference Player of the year…2021-2022 ECNL All American…Two year varsity member at Hough High School…Tallied 25 goals and 20 assists for the Huskies…Queen City 3A/4A Conference Player of the year…Also made All-Conference, All-Mid Atlantic, All-State, and All-American teams.
Personal: Daughter of Myron and Kimberly Bell…Father played football at Michigan State and for the Pittsburgh Steelers in the 90's…Father played in Super Bowl XXIX in 1995…Has two siblings Corey and Major Bell…Corey played football at University of North Carolina…Made Honor Roll 2018-2022…Volunteered at the Special Olympics … Intends to major in Kinesiology…Born on 5/11/05.
Why Maryland?: "I really believe in the vision and plan the staff has and I feel as though you truly can't find a staff with the personalities we have here. Throughout the recruiting process they really showed that they cared about me as a person, a student, and then an athlete. I also really loved the area and I think it's cool how close DC is!"
Head Coach Meg Nemzer: "Kennedy is an exceptional player and person with special physical qualities and a passion for her development. She is an exceptional teammate and leader, which is exemplified by her role as a captain for both her club and high school teams. Her time representing our country with the United States Youth National Teams will be an invaluable experience that she will bring to College Park. We are so excited to get Kennedy on campus this January!"
MADISON KRAKOWER
WAYNE, NEW JERSEY
DEPAUL CATHOLIC // CEDER STARS MONMOUTH
FORWARD / MIDFIELD
*WILL BE ENROLLING IN SPRING 2023*
Before Maryland: Competed with the U17 Puerto Rican National Team at the CONCACAF World Cup Qualifiers….Will compete with the full Puerto Rican National team this January….Played for Cedar Stars Monmouth…All Passaic County First team…All United Division First Team…2020 season 3rd team all state
Personal: Daughter of Jason and Lynette Krakower, has one sibling Taylor…Taylor played soccer at Wingate University…Worked as a volunteer coach for local youth teams…Born on 3/7/05
Why Maryland?: "The minute I stepped on campus, Maryland felt like home. The culture of the program is amazing and the athletics facilities are unmatched. The relationship with the coaching staff was important to me in my recruiting process and I am confident that I have coaches at Maryland that value me as a person and as a player"
Head Coach Meg Nemzer: "Maddie is an elite forward that is dynamic in the final 3rd and ruthless in front of goal. She is dangerous on the dribble and in her movements off the ball. She represented Puerto Rico u17s in CONCACAF qualifiers earlier this year and is a current member of the senior Puerto Rican National Team. These experiences will be crucial for her to bring to Maryland to raise our standards and make her teammates around her better. We are extremely excited that Maddie will be joining us this January as a Mid-Year Enrollee!"
FAITH LUCKEY
QUEEN CREEK, ARIZONA
ASU PREP DIGITAL // UTAH ROYALS
GOALKEEPER
*WILL BE ENROLLING IN SPRING 2023*
Before Maryland: Top 25 TopDrawerSoccer National Goalkeeper Positional Ranking…Top Drawer Ranked #192 Prospect in the Nation…US Youth National Team Identification Participant…Played for Utah Royals AZ…2020-21 1st Team All Conference Southwest…2019, 2020 & 2022 Arizona EDP '05 EDP Team…2019, 2020 & 2022 ODP West Inter-Regional Team.
Personal: Daughter of Brian and Stacy…Has one sister, Victoria…Made Honor Roll… Volunteers at Feeding My Starving Children…Intends to major in Business…Born on 9/9/05
Why Maryland: "I am passionate about soccer because it challenges me each day and I continue to learn new things to grow and strive to get better. I also love being part of a team."
Head Coach Meg Nemzer: "Faith is a hard-working, athletic goalkeeper that is always working on her craft. She comes with a wealth of club and ODP experience and will be a fantastic addition to our goalkeeper union.She brings a calming presence to the goal and we are excited to start to get to work with her this spring!"
LISA MCINTYRE
PHILADELPHIA, PENNSYLVANIA
SPRINGSIDE CHESNUT HILL ACADEMY // PHILADELPHIA SOCCER CLUB
FORWARD / MIDFIELD
Before Maryland: Top Drawer Ranked #122 Prospect in the Nation…Five year varsity member..1st team All Inter-AC 2019 as a freshman, 2021 Inter-AC League MVP, All Southeastern Pennsylvania, and All State…2019 & 2021 Inter-AC Champion… One of 42 seniors selected to appear in High School All American game…Played for Philadelphia Soccer Club Coppa Rage…5x State Champion…Eastern Regional Champion…2x National Championship Runner Up
Personal: Daughter of John and Katie McIntyre…Has two siblings Erin and Noel…Erin played Soccer at Bloomsburg University…First Honors all of High School…Intends to major in criminology and criminal justice…Born on 6/22/2005
Why Maryland?: "I decided to come because of coach Meg. She made me feel like she wanted to make me a better player, always kept in contact and made our relationship really strong before I ever even got the chance to play for her."
Head Coach Meg Nemzer: "Lisa is a dangerous attacking player that can beat a defender and score goals in many ways. She has an ability to create on the dribble and consistently scores or assists in almost all the games she plays. We look forward to Lisa having an immediate impact on the field next Fall!"
MIA MITCHELL
FORT MILL, SOUTH CAROLINA
NATION FORD HIGH SCHOOL // CHARLOTTE SOCCER ACADEMY
CENTER BACK / MIDFIELD
Before Maryland: Competed with the U20 Jamaican National team at the CONCACAF World Cup Qualifiers…Played for Charlotte Soccer Academy…2020-21 All Region, All Conference, and New Comer of the year awards…Three year varsity member
Personal: Daughter of Troy and Ruth Anne Mitchell…Dad played football at Navy…Mother is an alumni of University of Maryland… Has five siblings…Made A-B Honor Roll…Worked with Mitchell Medical Missions…Part of Voices for Diversity Club and the Women's Empowerment club…Intends to major in criminology and criminal justice…Born on 3/14/2005
Why Maryland?: "The environment created at Maryland is every player's dream. The coaches prioritize team chemistry and a family atmosphere, and I believe that's the best atmosphere to be successful in! I also love the campus and how close we are to Baltimore and D.C.!"
Head coach Meg Nemzer: "Mia is a midfielder that links play extremely well and always makes her teammates around her better. Her experience competing with the Jamaican u17 National Team will help her translate her qualities to the Big Ten level."
SAVANNAH DUNAHAY
PINEHURST, NORTH CAROLINA
PINECREST HIGH SCHOOL // NC FUSION
CENTER BACK
Before Maryland: Played for NC Fusion…2022 ECNL All Conference First Team…2021-2022 Mid-Atlantic Conference Champion…2019 NCYSA State Champion…2022 USL Academy Cup Champion…Named top performer at ODP Regional ID…Named player to watch by USL Academy Cup…Played on varsity for Pinecrest High School from 2020-2023…2020 & 2021 Conference Champion…2021 NC 4A State Champion Runner-Ups…2021 & 2022 All Conference and All Region Team Award…All State Award 2022…2022 Conference Defender of the Year Award…2022 Best Defensive Player in Pinecrest
Personal: Daughter of Parker and Mark Dunahay…Has two siblings, William and Emma…Intends to major in Kinesiology…Born on 1/29/05
Why Maryland: "I wanted to go to Maryland because of the great environment they provide to the students and athletes, and the coaching staff is top-tier while also having great personalities that drew me to want to play at Maryland even more."
Head Coach Meg Nemzer: "Savannah is a dynamic and versatile player who isn't afraid to get into a tackle or get forward into the attack. She has a passion for the game and will do whatever it takes to help take this program to the next level"
PEYTON BERNARD
ROCKVILLE, MARYLAND
OUR LADY OF GOOD COUNSEL // BETHESDA SC ECNL
FORWARD
Before Maryland: Played for Bethesda SC ECNL… 2022 ECNL 2nd Team All North Atlantic Conference…Member of the varsity team at Our Lady of Good Counsel from 2019-2023…2021 WCAC Player of the year, WCAC championship in 2019…First team All-WCAC…First Team All-MET…First Team All State
Personal: Daughter of Desi and Nicole Bernard…Twin sister Drew will also be playing soccer at Maryland…Brother Christain plays soccer at Howard…Made honor roll from 2019-2023…Part of Black teens in Focus…Intends to major in Real Estate…Born on 10/22/2004
Why Maryland?: "I decided to come to Maryland because I wanted to stay close to home, but most of all I loved the coaching staff and Meg's competitive mentality. Her values and personality were everything that I looked for in a coach and in a program."
Head Coach Meg Nemzer: "Peyton is one of the top local talents in the 2023 class. As we have said since the moment my staff and I were hired, we want to keep the best players in Maryland home. We have done that with Peyton. She is a powerful forward with an incredible instinct in front of goal. She is an all-conference ECNL player for Bethesda SC and has scored many goals for Our Lady of Good Counsel High School."
DREW BERNARD
ROCKVILLE, MARYLAND
OUR LADY OF GOOD COUNSEL // BETHESDA SC ECNL
DEFENSE
Before Maryland: Played for Bethesda Soccer Club…Member of the varsity team at Our Lady of Good Counsel from 2019-2023…Named to the 2022 DC/MD HS Girls Midseason Review Standouts…Named to the 2022 Prep Soccer All-America Watch List….Made 2022 Prep Soccer D.C. 2022 Preseason All-Metro Girls
Personal: Daughter of Desi and Nicole Bernard…Twin sister Peyton will also be playing soccer at Maryland…Brother Christian plays soccer at Howard…Made honor roll from 2019-2023…Volunteers at food kitchens and food packing service projects…Part of Black teens in mental health…Intends to major in Real Estate…Born on 10/22/2004
Why Maryland?: "I am passionate about soccer because I love it so much. I look at my success I have made throughout the years and all the hard work it took. All that I have worked for was to get to Maryland."
Head Coach Meg Nemzer: "Like her sister Peyton, Drew is one of the top in-state players in this class and is a massive pick up for our program. Drew is an exceptional defender who reads the game well and has played all across the back line. Since Drew committed, her passion to get better has grown immensely and she is committed to having an impact when she arrives on campus"
COURTNEY MCCLURE
BUFORD, GEORGIA
MILL CREEK HIGH SCHOOL // GWINNETT SOCCER ASSOCIATION
CENTER BACK
Before Maryland: Four year varsity member at Mill Creek High School…Led her team to 11 shutouts in the 2021-22 season…Played for Gwinnett Soccer Association…Southeastern Conference Player of the year
Personal: Daughter of Stacy and JD McClure…Has one sister, Katelin…Part of the Environmental club…Born on 8/1/05
Why Maryland?: "I decided to commit to Maryland because I fell in love with the culture and the environment. The genuine energy from all of the coaches made me feel so at home. The coaches truly care about you not just as a player on the field, but as a person off of the field too. The campus, the players, and being close to DC swayed my decision as well."
Head Coach Meg Nemzer: "Athletically, Courtney will have no problem competing in the Big Ten Conference. She has found a way to have a massive impact on every team she has been on and we don't expect this to be any different here at the University of Maryland."