Old Dominion University announces seven-player women's soccer recruiting class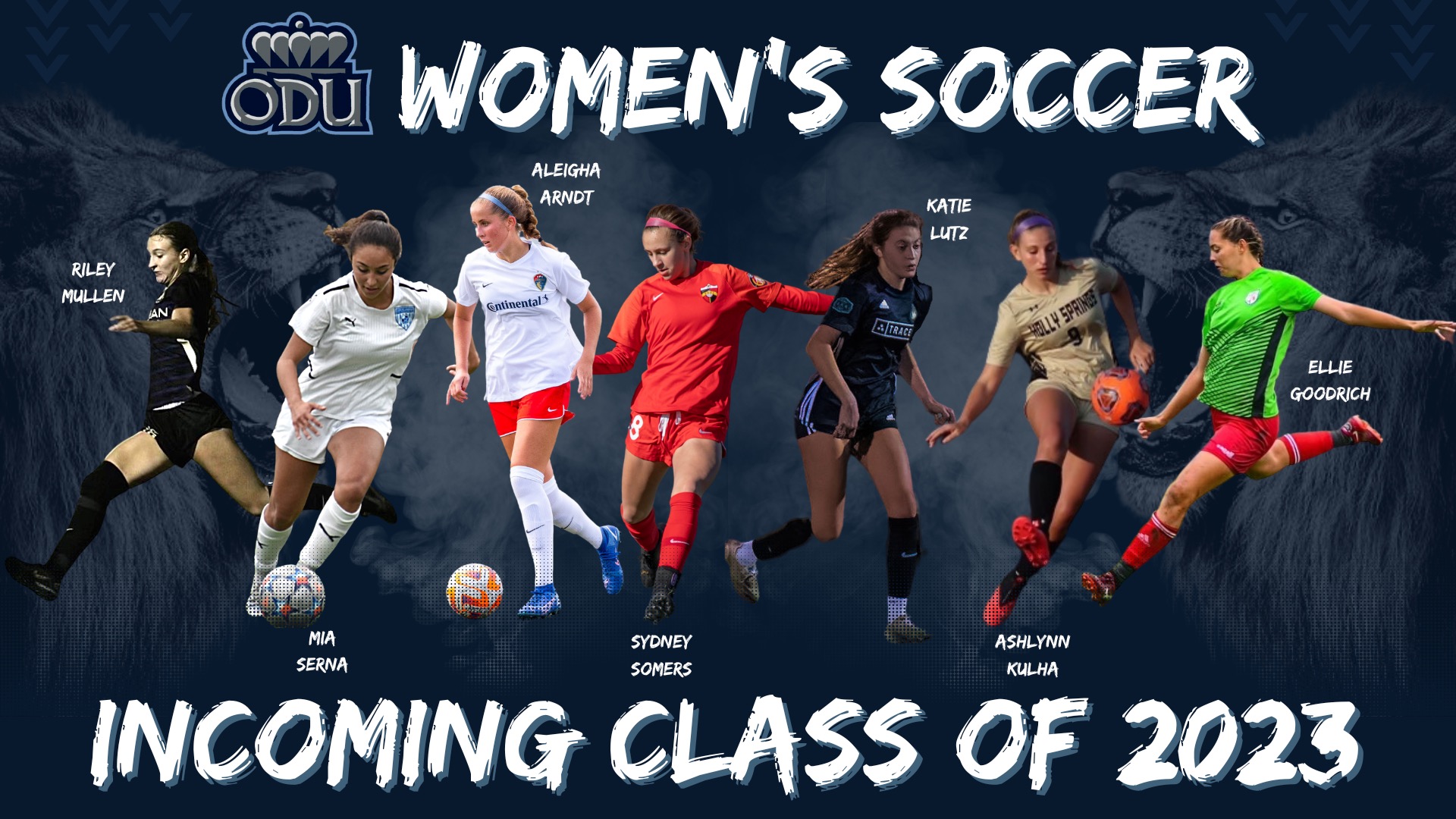 NORFOLK, Va. – Coming on the heels of winning a second straight conference title, the first one in the Sun Belt Conference, the Old Dominion University women's soccer team announced a seven-person recruiting class for the 2023 season.
This is a wide-ranging class that comes from all parts of the country with impressive backgrounds.  Sydney Somers was a member of the 2022 Elite Clubs National League (ECNL) Champions from Real Colorado.  Aleigha Arndt, the younger sister of current member Anessa Arndt, was selected to the U17 U.S. National Team Pool and earned All-Conference honors in the ECNL this year.
Coming from Virginia, Ellie Goodrich is a talented goalkeeper from Alexandria, Mia Serna earned All-State honors playing in Northern Virginia, while Katie Lutz earned All-State honors at Smithfield High School. Riley Mullen is a two-time All-State honoree from New York and Ashlynn Kulha was named the MVP in her high school conference in North Carolina.
"We are genuinely thrilled and excited by the players and people we have signed already for this incoming class," said ODU head coach Angie Hind. "They have the talent and desire to take us another step and as individuals they are some fantastic young women. Sam (Kirschenbaum) and Michelle (Barr) have worked tirelessly to bring in a class of this caliber, and I know similarly each one of them is equally excited to make their mark on ODU women's soccer"
2023 Newcomers
Aleigha Arndt
Position: Forward
Hometown: Cary, N.C.
Club team: NC Courage ECNL
Hind on Arndt: "Aleigha has great feet, and the ability to solve pressure and create. She is undoubtedly ready for this next step, and we believe she will add some real goal threat to our attack"
Mia Serna
Position: Midfielder
Hometown: Leesburg, Va.
Club Team: FC Virginia GA
Hind On Serna: "Mia is a midfielder who finds the ball. Her movement and ability to connect and link the play fits so well into our midfield unit. She is creative, has great vision and scores goals. Excited for her to do it as a Monarch"
Riley Mullen
Position: Midfielder
Hometown:  Staten Island, N.Y.
Club Team: Cedar Stars GA
Hind On Mullen: "Riley is a fast, creative and dynamic player who has the tools to beat opponents 1v1, the vision to play in others, and also a great eye for goal. She has great quality now but even more potential that we believe will add so much to our program"
Ellie Goodrich
Position: Goalkeeper
Hometown: Alexandria, Va.
Club Team: Metro ASA GA
Hind On Goodrich: "Ellie is an incredibly athletic keeper who has the natural talent to make some great saves. She has great size and a confidence in goal and her ability with her feet is equally good. She will be a great addition to our GK team"
Sydney Somers
Position: Defender
Hometown: Highlands Ranch, Colo.
Club Team: Real Colorado ECNL
Hind On Somers: "Sydney is a tough and athletic central defender who has great instincts defensively to read the game but is also calming and composed on the ball. With great club experience we feel she is ready for the next level and will bring great quality to our back line"
Katie Lutz
Position: Midfielder
Hometown: Carrollton, Va.
Club Team: VA Reign FC
Hind On Lutz: "Katie is a ball playing midfielder who will fit in fantastically well to our style of play. She is such a hard-working player with a determination to match her technical ability. With great potential we are excited to see how dynamic she can be around our quality midfielders. She is another midfielder who has the quality to score goals"
Ashlynn Kulha
Position: Defender
Hometown: Holly Springs N.C.
Club Team: Wake FC GA
Hind On Kuhla: "Ashlynn is a central defender who loves to defend. She is strong, has great communication skills and is a great ball winning defender. Her size and presence matched with her quality on the ball will fit in great to how our back line play"