University of Arkansas announces signing of 13 new Razorbacks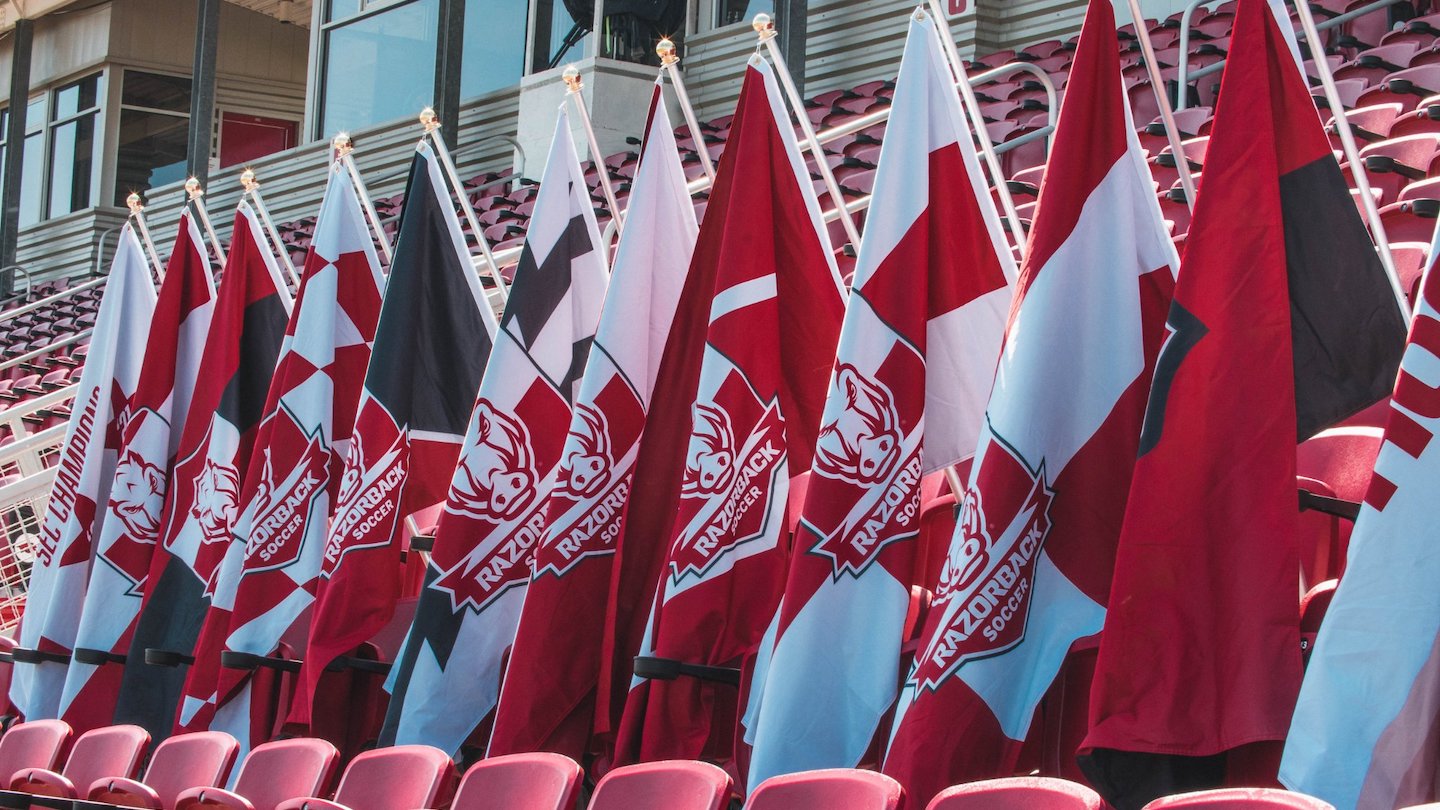 FAYETTEVILLE, Ark. – The University of Arkansas soccer program and head coach Colby Hale have announced their 2023 signing class, featuring 13 signees from seven states and Canada.
The group includes a United Soccer Coaches High School All-American, the Arkansas Gatorade Player of the Year, a Canada Summer Games gold medalist and two high school state champions.
"We are excited to welcome this year's signing class to The Hill," Hale said. "All of the players have the necessary athletic and soccer skills to be successful. Maybe more than that we were looking for players who embrace doing difficult things. Winning is hard. Growing is hard. We want players who want to be great, who want to help us be great and who are willing to do all the things that come with that! We believe we have done that with this class."
Among the 13 newcomers, 10 will be enrolling in the spring of 2023: Avery Wren, Cora Hair, Kate Carter, Bella Field, Sabrina Jones, Morgan Hippeli, Phoebe Carver, Mia Riddick, Taliyah Spain and Patricia Tsokos.
See below for the full list of 13 recruits:
Arkansas 2023 Signees 
Kennedy Ball | F/MF| Lookout Mountain, Ga. | Girls Preparatory School | FC Alliance ECNL 
Club
Two-time ECNL Ohio Valley All-Conference selection
Played in the ECNL Tennessee 2021 National Selection Game
High School
2019 Tennessee 2A All-State
United Soccer Coaches All-South Region (2021)
Three-time Tennessee 2A All-East Region (2019, 2020, 2021)
Three-time Chattanooga Best of Preps, which honors the region's top student-athletes
Girls Preparatory School Offensive MVP (2019)
Played lacrosse and squash, and ran track while also being a Tennessee All-Region basketball player, which earned her the Tennessee Multi-Sport Athlete Award.
Why she chose Arkansas: "The passion for this sport displayed by both the coaching staff and players allowed for an easy decision for me to choose U of A, plus the mascot is a pig! Woo freakin' pig!"
Hale on Ball: "Kennedy is immensely talented and has only scratched the surface of what she will be as a player. She has all the attributes of a top attacking player and the desire to be great."
Kate Carter | D | Bentonville, Ark. | Bentonville West HS | Tulsa Soccer Club ECNL 
Club
2021 ECNL Texas First Team All-Conference
2021 ECNL San Diego Selection Game
High School
2022 United Soccer Coaches High School All-American
2022 Arkansas Gatorade Player of the Year
2022 United Soccer Coaches Arkansas High School Player of the Year
2022 Arkansas 6A State Champion
2022 6A All-State, All-State Tournament, and All-West Conference selection
Why she chose Arkansas: "I chose Arkansas because of the high-level competitive environment that will push me to be the best player I can be! Becoming a Razorback has always been a dream while growing up playing soccer in Arkansas!"
Hale on Carter: "Kate is one of the more versatile players in the class. As we watched her play, I think we saw her play every position on the field except GK'er in the top league in the country at a high level."
Phoebe Carver | GK | Arlington, Va. | Bishop O'Connell HS | Arlington Soccer Association ECNL 
Club/Other
Alabama ODP Region Camp invitee
Washington Spirit Reserves team member
Virginia ISP State Champion
High School/Accolades
Two-time WCAC All-Conference First Team
Also competed in basketball, varsity track and part of the 2019 NFL Flag Football National Championship team
Member of the English, German and History Honors Societies
Other
Father, Richard, is a Colonel in the Air Force. Carver was born in England and has lived around the world as a result.
Why she chose Arkansas: "I chose the University of Arkansas because of the culture. It is a culture of winners which I am so proud to soon be a part of."
Hale on Carver: "Phoebe has everything you would look for in a top GK'er. She has elite athletic tools and more importantly the mentality to be great."
Bella Field | F | Leawood, Kan. | Blue Valley HS | Sporting Blue Valley ECNL 
Club
2022 ECNL Playoff Standout
No. 57 in IMG Academy's National Top 200 club player rankings
2021 U.S. Youth National Team Camp Call-Up
Member of NWSL's KC Current Team 2
High School
2022 Kansas 6A Forward of the Year
Kansas 6A All-State First Team
Why she chose Arkansas: "I chose Arkansas because I know we will win a national championship in the time I'm there. There's nothing better than scoring goals and winning and I know I can do that at Arkansas."
Hale on Field: "Bella was born to be a Razorback. She is a top talent who plays with passion and edge.  She is hungry to be the best and win! She will terrorize opponent's defenses for the next 4 years!"
Cora Hair | D | Broken Arrow, Okla. | Broken Arrow HS | Tulsa Soccer Club ECNL 
Club
2022 National Training Camp invitee
No. 164 in IMG Academy's National Top 200 club player rankings
2022 Houston ECNL National Selection Game
2022 Texas Conference All-Conference First team
2021 Texas Conference All-Conference Second Team
High School
2022 Oklahoma 6A All-District
2022 Tulsa All-World Girls Soccer Finalist
Two-time Broken Arrow Defensive Player of the Year
Led the team in goals (13) in 2022 as a defender
Also competed in basketball and track
Ranked in the top 7% of her class of 1,328 at BAHS.
Other
Mother, Holley, played and coached golf at the University of Tulsa. Her sister, Gracie, played soccer at the University of Central Arkansas.
Why she chose Arkansas: "I want to play at the highest level and Arkansas is a top program that will not only better me as a soccer player, but as a person as well."
Hale on Hair: "Cora was a player who just kept getting better. We saw her one night in an ECNL Elite Talent match, and knew we wanted her. She is athletic, tough, and technical."
Morgan Hippeli | MF/F | Norcross, Ga. | Norcross HS | United Futbol Academy ECNL 
Club
Member of the ODP Region 3 team
2021 ECNL Final Four
High School
2021 Georgia 7A Second Team All-Region
Started for the No. 1 soccer team in the Southeast while also running track
Holds the Norcross HS 4×2 relay record
Personal
Parents own fitness centers and she has three brothers
Why she chose Arkansas: "When the coaches asked me if I wanted to win a NCAA national title, Arkansas jumped to the top of my list! I was instantly drawn to their hard-working culture and the team's competitive nature, I knew Arkansas was the right fit."
Hale on Hippeli: "Morgan is an elite athlete with a top mentality. She wants to be great and is willing to work for it. She could play anywhere on the field!"
Ava Jackson | F | Burnaby, British Columbia, Canada | Burnaby Central Secondary School | Vancouver Whitecaps FC Girls Elite REX 
Club/Other
British Columbia League 1 Champion
Member of the Canada EXCEL Program as part of Canada Soccer
Top goal scorer on her BC High-Performance League team
Competed in track and field, basketball, volleyball and cross country
High School
Could not compete in high school sports due to club contract
Member of school's women's club that addresses various issues with women's sports
Why she chose Arkansas: "I chose Arkansas because I had a great experience with the coaching staff as they clearly showcased their commitment and passion for the Razorback team. I was also impressed with the campus environment, culture and energy. I can't wait to be part of this team's elite and competitive program that will help me achieve my goals."
Hale on Jackson: "Ava is generally thought to be the top attacking talent in Canada. She can play any of the attacking positions. She has high goals that match ours."
Emma Johns | F | Euless, Texas | Trinity HS | DKSC ECNL 
Club
2022 ECNL National Playoffs competitor
Top Drawer Soccer's Best XI/Standouts of the Event Honorable Mention
North Texas State Cup champion
18-time TDS weekly standout
High School
Texas District 3-6A Co-Freshman of the Year
Texas District 3-6A leading goal scorer
Texas District 3-6A All-District First Team
Personal
Plays every game for her brother, who chose No. 92 as her jersey number.
Why she chose Arkansas: "Finding a school that would feel like a second home but would also bring out the best player in me was really important. Arkansas checked every box and made my decision easy. I truly couldn't see myself anywhere else. I'm so excited to be a Razorback!"
Hale on Johns: "EJ is a player we are really excited about. She has no idea how good she can be. She is tough, hardworking, and humble. She doesn't get caught up in any of the drama. She just wants to win and be great"
Sabrina Jones | F/MF | Springfield, Mo. | Kickapoo HS | Sporting Springfield 
 Club/Other
Heartland Premier League leading scorer
Development Player League national qualifier
Four-time Missouri State Cup qualifier
Missouri Olympic Development Program State and Regional Team Selection
High School
Set the Kickapoo HS record with 81 goals and 23 assists in just two seasons
Led the team to the Missouri State Quarterfinals in both seasons
Two-time Missouri 4A First-Team All-State selection
Accolades
Two-time Missouri Sports Hall of Fame Sports Commission Award Honoree
SW Missouri Sports Award Honoree
Student Council and Executive Cabinet Member
National Honor Society Member
Fellowship of Christian Athletes Leader
Ranked No. 1 in Class of 500+ with 5.0 GPA
Why she chose Arkansas: "I love to work hard, play fast, score, and win, so Arkansas Soccer is the perfect fit for me. The coaching staff, players, facilities, style of play, and fan support made it an easy decision."
Hale on Jones: "Sabrina is a fantastic fast twitch athlete who has a fierce competitive mentality. She is a competitor who has a huge upside."
Mia Riddick | GK | Roswell, Ga. | Roswell HS | United Futbol Academy ECNL 
Club
High School
Member of the Beta Club
Also played basketball throughout middle school and part of high school
Personal
Mother, Mandy, played tennis at Trenton State; father, Robert, played basketball at Howard University; brother, Tre, plays football art Reinhardt University
Why she chose Arkansas: "I've been playing soccer since I was 3, it's always been a dream of mine to play at a SEC school. Now my dream has finally become true! I chose Arkansas for the togetherness of the team as well as the coaches. Also, because it just felt like home."
Hale on Riddick: "Mia is a fantastic athlete and shot stopper. She is willing to work for her goals and the sky is her limit!"
Taliyah Spain | F/D | Dripping Springs, Texas | Dripping Springs HS | Sting Austin ECNL 
 Club
ECNL National Playoffs North American Cup Champions 2022
Recognized multiple times as a Top Drawer Soccer Weekly Standout
High School
2021 Texas 5A State Champion

Scored the game-winner to send the team to the finals

Three-time Texas First Team All-District
Three-time Texas Academic All-District
2020 Central Texas Newcomer of the Year finalist
Three-time District Champion
Also competed in track, holding the Dripping Springs HS 4×100 record and a finalist in the event at the Texas 5A state track meet
Personal
Born in England and has lived in Delaware and Colorado. Part of a military family with both of her parents (retired) and brother, Jalen, serving in the Air Force
Why she chose Arkansas: "I chose Arkansas because I wanted to compete at an elite level with elite athletes. I know the coaching staff and team will hold me accountable and not only make me a better soccer player but a quality human being. Also, the Razorback Family is definitely something you want to be a part of."
Hale on Spain: "T's zoom was one of the most unique recruiting zooms I have ever been a part of. She is an elite athlete but what drew us to her is her hunger to grow and to make sure I was growing too. She stands for what we want to be about."
Patricia Tsokos | MF | Richmond Hill, Ontario, Canada | Bill Crothers Secondary School | National Development Centre – Ontario 
 Club/Other
Won gold at the 2022 Canada Summer Games with Team Ontario
2022 League 1 Ontario Premier Division Champion
Competed against Quebec in the inter-provincial games for the U18 Ontario Provincial Excel team in 2022
Prior to joining NDC-O, she played with the Markham Soccer Club
Scored 7 goals in 3 games to become the 2019 Super Umbro Cup's leading scorer
2018 Juventus Academy Invitee
High School/Accolades
Four-year honor roll member
In addition to soccer, played basketball, volleyball, sepak takraw (kick volleyball), track and cross country
Placed second in the University of Waterloo Math Contest
Member of multiple clubs, including the Colts in Action club, Health Occupations Students of America – Canada club, and the Billz Girls Strong club.
Why she chose Arkansas: "I chose the University of Arkansas because of the intense, competitive, and supportive environment and coaches that will push me to grow as a person and player to help me achieve my goals and have a great experience playing college soccer. I fell in love with Fayetteville and how the Arkansas community is very connected and has a huge amount of passion for sports."
Hale on Tsokos: "Patricia is a top Canadian talent and can add a piece to our midfield. She is athletic, covers ground, is hungry and can play."
Avery Wren | D | Plano, Texas | Plano West Senior HS | FC Dallas ECNL 
Club/Other
2021-22 ECNL Texas League All-Conference First Team
No. 183 on IMG Academy's National Top 200 club player rankings
2022 ECNL Houston National Selection game
2022 ECNL U17 Nationals semi-finalist
Youth National Team Regional ID Dallas 2005 roster member
High School
2021 Texas District 6-6A First Team All-District
National Honors Society member
Why she chose Arkansas: "I chose to play at the University of Arkansas because of the strength of the coaching staff, the great facilities, and the competitive atmosphere a top Division I program provides. Playing in the SEC was always a goal of mine and Arkansas immediately felt like the perfect place to accomplish this dream."
Hale on Wren: "Avery is a self-confident, athletic and tough defender. She will not lose."
Class Countdown 
Five – High School Players of the Year
Four – All-State Selections
Three – Members of ECNL Final Four Teams
Two – High School State Champions
One – High School All-American and Gatorade Player of the Year
Up Next 
The ninth-ranked Razorbacks return to action Friday, Nov. 11 and host Missouri State for the first round of the NCAA Tournament. First kick is set for 6:30 p.m. CT and the match will be streamed on ESPN Plus.