Mizzou Soccer head coach Stefanie Golan signs 10 class of 2023 recruits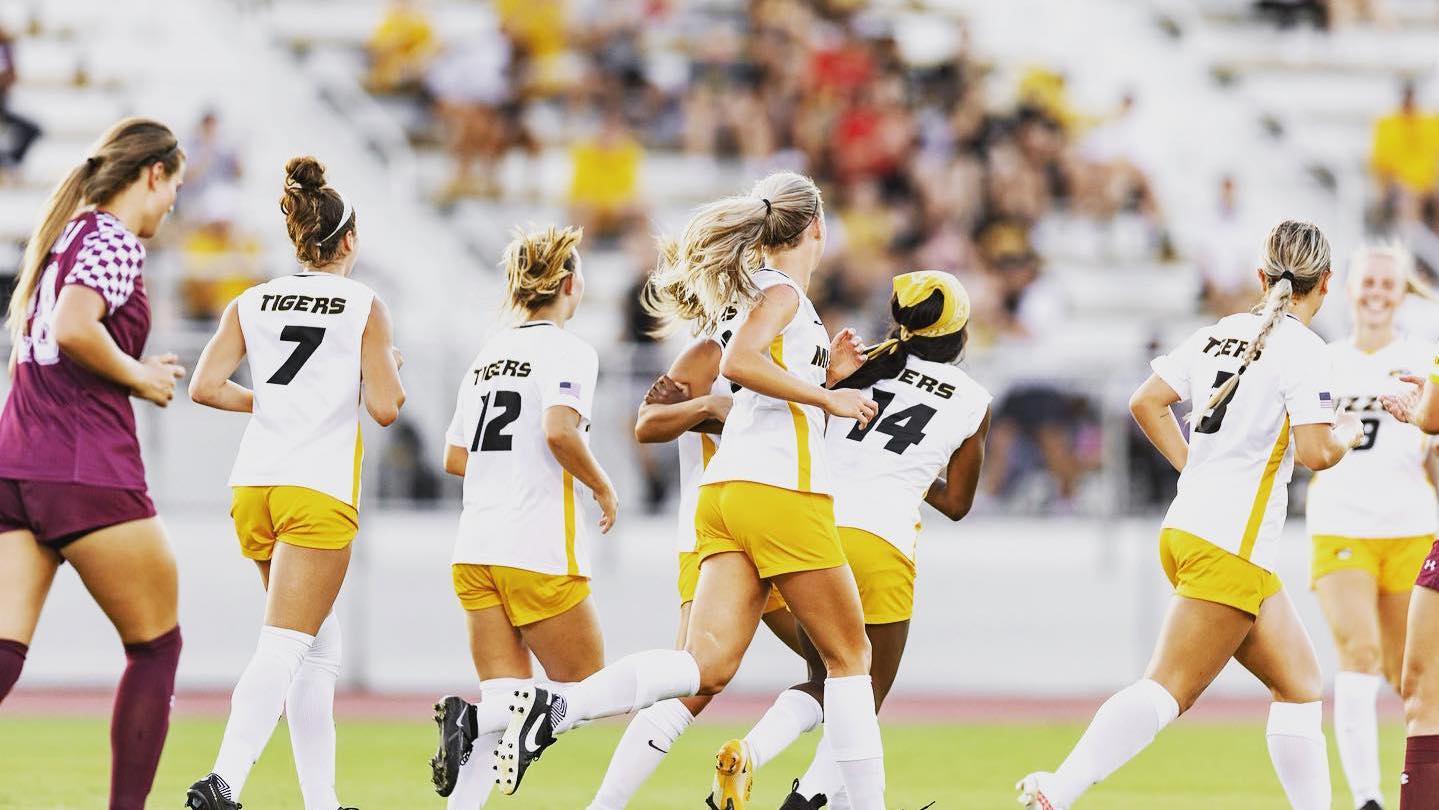 COLUMBIA, Mo. – University of Missouri soccer Head Coach Stefanie Golan announced the signing of 10 newcomers to the team for the 2023 season.
The incoming freshmen hail from six different states, including Arkansas, Indiana, Missouri, Georgia, Kansas and Illinois.
"We are thrilled to welcome this group of 10 young women to our Tiger Soccer Family.  We have added to every position with this group, and we feel that bringing them in with our returning group that showed so much growth this year is going to propel us forward closer to where we want to be in the SEC and on the national scene," said Golan.
Monica Brauner 
Midfielder | Kansas City, Mo. | Sporting Blue Valley | Acellus Academy
Monica Brauner joins the Tigers from Kansas City, Mo., where she attended Acellus Academy. The midfielder also played for Sporting Blue Valley under coach Colin Bulwich, along with fellow signee, Mia Yang. Brauner was invited to multiple US Soccer Training Centers held in Kansas City.
Golan on Brauner: "Monica is a dynamic attacking player who reads the game so well and makes every player around her better. She is fantastic on the ball, her distribution is excellent, and she helps create and score goals. We are excited to see her in black and gold, starting this spring!"
Brianna Buels
Forward | Indianapolis, Ind. | FC Pride | Bishop Chatard HS
Brianna Buels earned four letters at Bishop Chatard High School under head coach Ashton Balch and is the second-highest goal scorer at the school. Buels was a four-time all-city, all-district, and all-conference selection, as well as being named to the all-state team three times. She also received four letters in track where she was first all-city and first all-conference.
Buels played for seven years on the FC Pride club team, under head coach Jamie Gilbert, where she was first-team all-conference and played in the National ECNL game.
Golan on Buels: "Bri is a player who we expect to impact us immediately given that she is an athletic goal scorer, which is something we have lacked in the two seasons I have been in CoMo. She has tremendous pace, which will allow us to keep a backline honest, as well as put teams under an increasing amount of pressure. Some players who have Bri's tremendous athleticism lack the technical ability to utilize it at the highest level, but she brings both the consistency in work rate as well as a finishing touch along with it!  We are excited to have her in a Tiger uniform in the fall!"
Olivia Chianelli
Midfielder | Arlington Heights, Ill. | Sockers FC Chicago | John Hersey HS
Olivia Chianelli comes to Columbia from Arlington Heights Ill., where she attended John Hersey High School. The midfielder played for Sockers FC Chicago under coach JJ Ruane where she was a Girls Academy League Mid-America Talent ID selection in 2021-22. Chianelli was also a Girls Academy U19 National Finalist, as well as a Mid-America U19 Conference Champion and conference club representative.
Golan on Chianelli: "Olivia was our final addition to the class. She is excellent with the ball at her feet, and she has a high soccer IQ. We love her mentality and work ethic, and we feel like she will fit with our desired style of play and increase our level of depth in the midfield group. Olivia is going to do well in a Tiger uniform.
Ana DiMaria
Forward/Midfielder | Fenton, Mo. | St. Louis Scott Gallagher Navy ECNL | Cor Jesu Academy
Ana DiMaria will take a short trip from Fenton, Mo. to Columbia to join Mizzou. DiMaria attended Cor Jesu Academy, playing for coaches Rachel Brcic and Dave Gauvain. There she earned four letters and was a member of the 2021 All-Conference Team. The Missouri native also for the St. Louis Scott Gallagher Navy ENCL for 10 years under coach Ralph Richards. As a member of the team, she played in the Midwest ENCL Conference Champions four times and was recognized as a club weekly standout by Top Drawer Soccer. The incoming freshman was also a US Soccer Missouri Training Center Participant.
DiMaria comes from a long line of soccer talent as her father played soccer collegiately at UConn and Saint Louis University. He was an All-American and a member of the SLU Hall of Fame. Her mother played at Loyola University Chicago, while her grandfather played as a goalkeeper at Quincy University and was inducted into the St. Louis Soccer Hall of Fame.
Golan on DiMaria: "Ana was one of the first St. Louis players that we had an interest in. She is a tremendous soccer player with an incredible work rate. Her ability to navigate tight spaces on the ball, her overall attacking awareness and her technical execution make her someone we feel can help us be more dangerous in the attacking third of the field. The best is yet to come for Ana, and we are excited to see her in black and gold!"
Madison Hendershott
Midfielder | Columbia, Mo. | St. Louis Development Academy | Rock Bridge High School
Madison Hendershott has been a Mizzou fan her entire life, calling Columbia, Mo. home. Hendershott's junior year she was selected by The United Soccer Coaches to the All-Central Region Team and earned First Team All-State honors in Missouri. The Columbia native led the team her sophomore and junior year in goals scored. While playing at Rock Bridge under coach Nicky Bird, the team went to the Missouri Class 4 Final Four in the state finals, as well as being conference and district champions in 2021 and regional and district champions in 2022.
While playing for coaches Dan Donigan, Cal McKee and Bob Kittner at the St. Louis Development Academy, Hendershott was a four-time Missouri USYS State Champion and the 2019 USYS Regional Champion. Additionally, she was the 2022 GA Frontier Conference Champion and made it to the GA Nationals Elite 8 that year.
Golan on Hendershott: "We were excited that there was a CoMo product in our backyard that we feel can make an impact in the SEC and that Madi chose to become a Tiger! She has a fantastic fitness base, can cover a ton of ground athletically, and does a great job executing the simple aspects of the game on a consistent basis. Madi is a player that we feel will continue to grow over her time as a Tiger, and we can't wait to get to work in the fall!"
Morgan Meador
Defender | Ballwin Mo. | St. Louis Scott Gallagher Navy ECNL | Marquette HS
Morgan Meador hails from Ballwin, Mo., and played at Marquette High School under coach Chris Kenny. There, she was a two-time all-conference, all-state and all-region selection, and was team MVP her sophomore and junior year, as well as being named team captain for her junior campaign.
Meador played for St. Louis Scott Gallagher Navy ECNL for 10 years under coach Ralph Richards, where she was ranked 83rd by Top Drawer Soccer and was selected to the ECNL Midwest All-Conference Second Team (2020), ECNL National Selection Game in Florida (2019) and ECNL Training Camp in Portland. The defender was also a part of the ECNL National Playoff and Final Four in San Diego, Calif., and the ECNL Midwest Conference Selection Program in Wisconsin.
Golan on Meador: "Morgan was the first STL product that we knew we needed to bring to Mizzou. She is an ideal SEC center back: strong, athletic, good in the air, and excellent with her distribution. Morgan is going to help us be able to build out of the back more than we have been able to in the two seasons I have been here, and she brings a defensive tenacity and competitive mentality that we are excited to have in black and gold the next four years, starting this spring!"
Kate Phillips
Goalkeeper | Fishers, Ind. | Indiana Fire Academy ECNL | Cathedral HS
Kate Phillips joins the Tigers from Fishers, Ind. At Cathedral High School under coach Marc Behringer, Phillips earned 13 shutouts in 21 games her senior year and was named a 2022 ISCA Top team player. Additionally, she was named to the 2022 All-American Watch list. The Indiana native earned Academic All-State honors in 2021 and 2022, as well as being a part of the National Honor Society.
As a member of Indiana Fire Academy in the ECNL under coach Pauly Dolinsky, Phillips was on the 2018 Ohio Valley All-Selection Team and the Ohio Valley Player Watch List.
Golan on Phillips: "Kate is a solid addition to our GK group. She is an incredible person of high integrity who possesses an undying work ethic, a desire to be great, and is disciplined in her pursuit of maximizing her potential as a GK. She is certainly going to raise our overall level within the GK group and will positively contribute to the overall team culture."
Morgan Schaefer
Midfielder | Bentonville, Ark. | Tulsa SC | Bentonville HS
Morgan Schaefer comes to Mizzou from Bentonville, Ark. where she attended Bentonville High School and earned a letter her freshman year playing for head coach, Kristina Henry. Schaefer was also a member of the Tulsa SC ECNL 04G club team, coached by Lewis Amos, from 2018 to 2022 where she was a National Merit Semifinalist.
Golan on Schaefer: "Morgan is a young woman who has continued to get better every time we have seen her over the past couple of years. Her special quality is her consistency in doing the simple things really well and not trying to do anything more than that. Morgan makes the players around her better and allows players with a little more flair to take those risks knowing they can count on Morgan to do her job. We are excited she will join us in the spring, although she will be recovering from a fall injury."
Shania Spriggs
Defender | Loganville, Ga | Concorde Fire Platinum | Loganville HS
Shania Spriggs joins the Tiger squad from Loganville, Ga. Spriggs played for the Concorde Fire Platinum for six years under coach Garvin Quamina. The Georgia native earned the honor of being on the ODP State Team, as well as being a U.S. Soccer training invite.
Spriggs lettered in track at Logan High School where she was top 25 in the state in the 400m. She also was a member of the 4x100m and 4x200m relay teams.
Golan on Spriggs: "Shania is one of those young women you are thrilled to have join the program because you know she is going to positively impact the level on the field, the culture off the field, and she brings a competitive edge that is second to none. Shania brings an overall commitment and discipline to her training that has seen her continue to grow over the past two years because of the work she is doing on her own. She is athletic, really good with the ball, excellent in the air, and she can either be a lockdown defender or positively impact the game on the attacking side of the ball getting forward. She is also a consistent threat on set pieces, which we needed as we earned 92 corners this season! We are excited she will begin wearing a Tiger uniform this spring."
Mia Yang
Defender | Leawood, Kan. | Sporting Blue Valley | Blue Valley HS
Mia Lang joins Mizzou as a defender from Leawood, Kan., and played three years at Blue Valley High School under Gags Pritchard. She was a two-time all-state second team member, and EKL 6A second team member and was named a top-15 class 6A player to watch her junior year. Lang also played for Sporting Blue Valley under coach Colin Bulwich, where she was a regional champion in 2017 and attended showcase events in 2019, 2020 and 2021.
Golan on Yang: "Mia was a KC player we expressed a strong interest in very early in the process. She is super technical, reads the game well, which helps her positioning off the ball, and she can cover a good amount of ground. We expect her to come in and compete for an outside back role this fall. Mia is an awesome addition both on and off the field for our overall team culture."