Dartmouth hires Taylor Schram as women's soccer head coach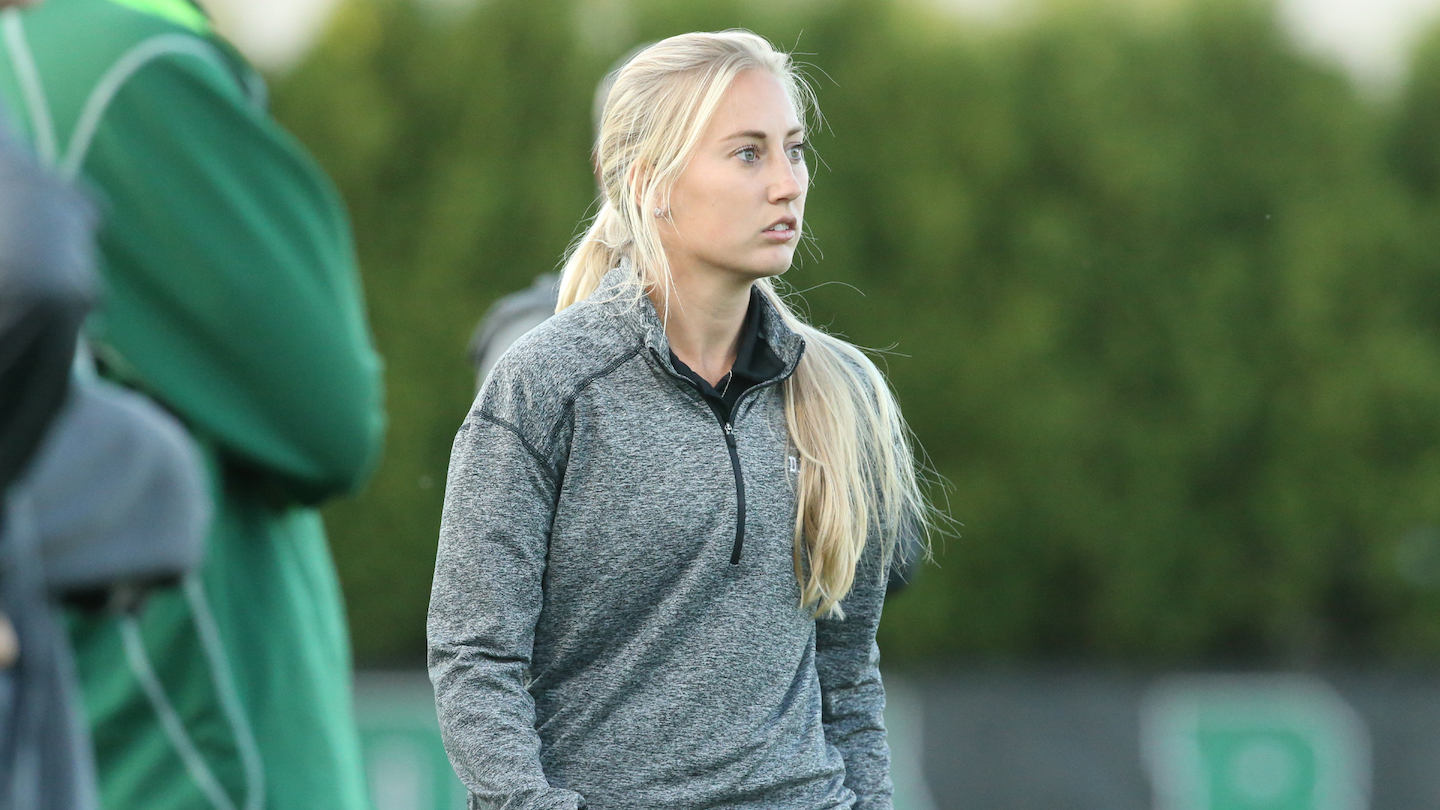 HANOVER, N.H. – Mike Harrity, Dartmouth's Haldeman Family Director of Athletics and Recreation, has announced the hiring of Taylor Schram as the Stacy and Nick Branca Family Head Coach of Women's Soccer.
"Taylor's drive for excellence and appreciation for the unique attributes of Dartmouth set her apart during our national search," Harrity said. "Taylor's ability to connect with people is elite, and her drive, passion and plan for elevating our women's soccer program is palpable. We are excited to welcome her and her fiancée Bri back to Hanover, and I can't wait for our remarkable student-athletes to have the opportunity to grow under the tutelage of Taylor and her staff."
For the past year and a half, Schram served as the associate head coach and recruiting coordinator at Boston College. While with the Eagles, she assisted the head coach in all facets of the program, including developing training and game plans, enhancing the student-athlete experience and operations tasks such as budgeting and NCAA compliance affairs.
No stranger to Hanover, Schram spent two years (May 2019 – July 2021) as an assistant coach on the women's soccer staff at Dartmouth while also serving as the program's recruiting coordinator. Among her duties were analyzing team film and opponent film to plan for upcoming matches, as well as working with each student-athlete to create individualized development plans.
Schram also had coaching stints at Florida Gulf Coast (May 2018 – May 2019), SUNY Binghamton (Feb. 2016 – May 2018) and West Virginia (Aug. 2014 – May 2016). During her time at SUNY Binghamton, she helped the program go from last in America East to first place and a conference championship the following season. In her two years with West Virginia, she helped the Mountaineers to two Big 12 championships and an Elite 8 appearance in the NCAA Tournament.
"I am truly grateful and honored to be named the head coach of the women's soccer program at Dartmouth," Schram said. "I want to thank Mike Harrity and [senior deputy athletics director and chief operating officer] Kristine Fowler for this incredible opportunity to lead the program in this next era. Throughout this process I have felt a surge of new energy within the athletics department stemming directly from Mike, the administration and the coaches of Dartmouth Athletics. I am excited to be a part of an athletics community that is committed to providing its athletes with a first-class academic experience while competing at the highest level of athletics."
A 2014 graduate of Penn State with a degree in psychology, Schram was a four-year standout for the Nittany Lions' women's soccer program. Serving as captain as a senior, she was named an NSCAA First Team Scholar All-American, and also earned Academic All-Big Ten honors three times and all-region honors twice. Schram won three Big Ten championships in Happy Valley and was named to the NCAA All-Tournament team in 2012 when Penn State advanced to the title game. She went on to earn her master's degree in athletic coaching education from West Virginia in 2016.
Schram has playing experience with the United States national team as she was selected for 2012 U20 Women's World Cup in Tokyo where she helped the U.S. to a first-place finish.
Schram holds a United Soccer Coaches Association Premier Diploma, a United States Soccer Federation (USSF) "B" license and is currently working towards a USSF "A" license with an expected completion date of June 2023.
For more on Schram, including quotes from top coaches around college soccer, click here.