University of Arizona announces signing of seven class of 2023 recruits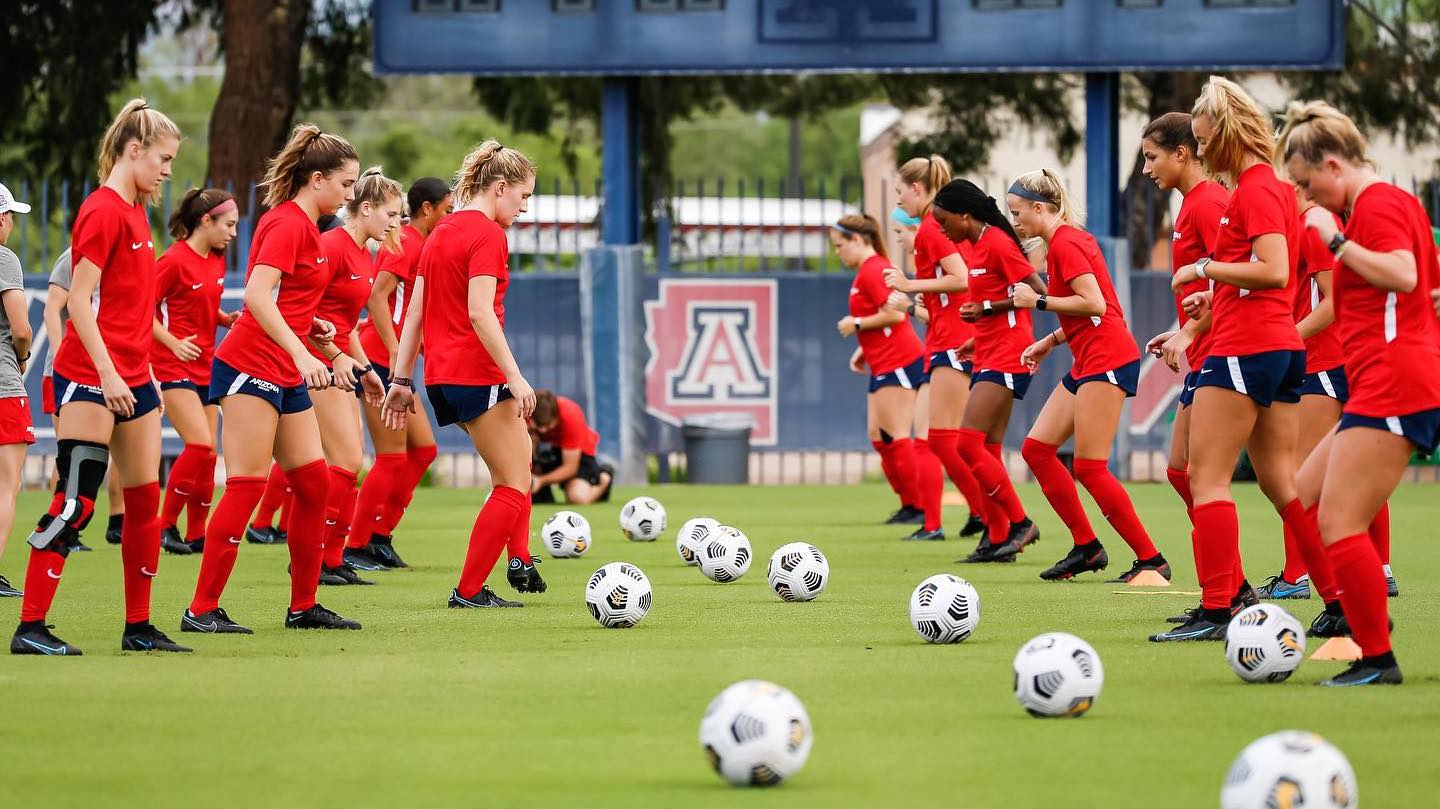 TUCSON – The University of Arizona soccer program has signed seven Wildcats in its 2023 signing class, as announced by head coach Becca Moros.
Marissa Arnst, Savannah Holley, Aranda Hurge, Jessica Ramirez, Ciara Ulreich-Power, Ella Weathersby and Shanti Weddington signed their National Letters of Intent (NLI).
See below for information on Arizona's 2023 class.
Marissa Arnst | 5-8  | Defender | Union City, Calif. (Moreau Catholic HS)
2022 Girls Academy U18/U19 National Champion
Competed for Bay Area ECNL, the top-ranked team in 2022 by Top Drawer Soccer and Soccerwire
2021 Girls Academy Northwest Talent ID
2021 US Soccer Girls YNT Regional ID
2019 US Soccer Girls YNT Regional ID
Chose Arizona because "I knew that Arizona had everything I was looking for. During my visit, I was impressed by the culture, energy and campus. The awesome coaching staff sealed the decision for me."
Coach Moros on Arnst: "Marissa is a true defender with a great competitive mentality. As an outside back, she has a strong attacking presence and an ability to combine with her teammates to get forward. She fits in with our style of play, and we're looking forward to getting her here and into the team."
Savannah Holley | 5-8  | Forward | Rancho Santa Margarita, Calif. (Villa Park HS)
Invited to the US Soccer Camp in April 2021
Played for So Cal Blues ECNL
2021 National Champion
Chose Arizona because "I loved the program and coaches."
Coach Moros on Holley: "Savey is just that, a smart and driven goal scorer and play maker. She is focused and determined to be her best, and you can see it in her passion for the game and love for training. She brings a creativity and deftness on the ball that I'm excited to have in our training environment daily and to watch how she employs it to her and our advantage on game day."
Aranda Hurge | 5-7 | Centerback | Bethesda, Md. (Walter Johnson HS)
2021 & 2022 ECNL First Team All-Conference (North Atlantic)
Played for Bethesda Soccer Club ECNL
Captain of her high school team
Letterwinner in soccer and indoor track & field
Chose Arizona because "It made me feel like I was at home and a place where I can grow."
Coach Moros on Hurge: "Aranda is a quick and technically-sound central defender with experience both playing as a striker and an outside back. Her comfortability on the ball and in multiple positions on the field makes her an exciting player for us. We expect a lot of our backline both from a defensive standpoint and for starting our attack. Aranda has the tools to do both things well, and we're excited to get her to Tucson to start working with her."
Jessica Ramirez | 5-5 | Midfielder | Villa Park, Calif. (Villa Park HS)
Slammers HB Koge ECNL – Team Captain
Captain of her high school team
High school team Offensive MVP as a sophomore and MVP as a junior
Century Conference First Team All-Conference as a sophomore and junior
Southwest All-Region Team
All-Conference MVP as a junior
Chose Arizona because of the coaching staff and the great environment and team feel
Coach Moros on Ramirez: "Jess is a soccer head. She is smart and skillful and knows how to win. She is also a great person and a devoted teammate. I know she will be an asset to the program, pushing herself and her teammates to get better every day and helping us to reach our goals as a program AND have fun doing it!"
Ciara Ulreich-Power | 5-10 | Goalkeeper | Scottsdale, Ariz. (Chaparral HS)
Charted 18 shutouts in the 2020-21 season and 13 shutouts in the 2021-22 season with Utah Royals ECNL
U16 Southwest Conference Champion
Sports 360 AZ All-Academic Regional 5A/6A First Team as a sophomore and junior
6A State Champion as a freshman
Chose Arizona because "Arizona is just far enough from home but not too far! I love the campus and have many options for when I choose my major. The coaching staff and soccer program are amazing, and I can't wait for fall of 2023!"
Coach Moros on Ulreich-Power: "Ciara is a promising goalkeeper with high potential and fierce determination. Her shot-stopping ability and ability taking balls out of the air is paired with good distribution skills and a strong presence in one versus one situations. She has all the qualities we look for in a goalkeeper and will be a great addition to our program."
Ella Weathersby | 5-6 | Midfielder/Forward | Highland Park, Texas (Highland Park HS)
Two-time ECNL Texas conference selection program member
Played for DKSC ECNL and went to the 2022 ECNL Final Four with that team
Texas All-Conference First Team
Captain of her high school team as as senior
High school team MVP as a freshman
2022 First Team All-District 13-5
2022 Second Team All-Region 5A 11
2022 Defensive Mid of the Year District 13-5
Chose Arizona because "There are amazing opportunities that will challenge me athletically and academically. I can't wait to be coached by a great staff and be a part of such a special program. I also loved the campus, players and city while on my visit."
Coach Moros on Weathersby: "Ella is a fighter and natural leader. She's passionate about the game and loves to compete alongside her teammates – two qualities I deeply admire. I know she's going to have a big impact on our program, and I can't wait to get her here in the summer."
Shanti Weddington | 5-5 | Midfielder | Irving, Texas (Timberview HS)
Captain of her club team, DKSC ECNL, in 2021 and 2022
2020 & 2019 ECNL All-Conference Honors (Texas Conference)
Participated in USNT camps
All-conference selection each year of high school
Leading scorer for her high school team in 2020 with 26 goals
High school team MVP
Coach Moros on Weddington: "Shanti is a clever and capable player. She's got big energy and will bring something special to an already-talented midfield. I'm excited to coach her and watch her take on new challenges and grow her game here at Arizona – as I know she will."