University of Washington signs seven new Huskies for the class of 2023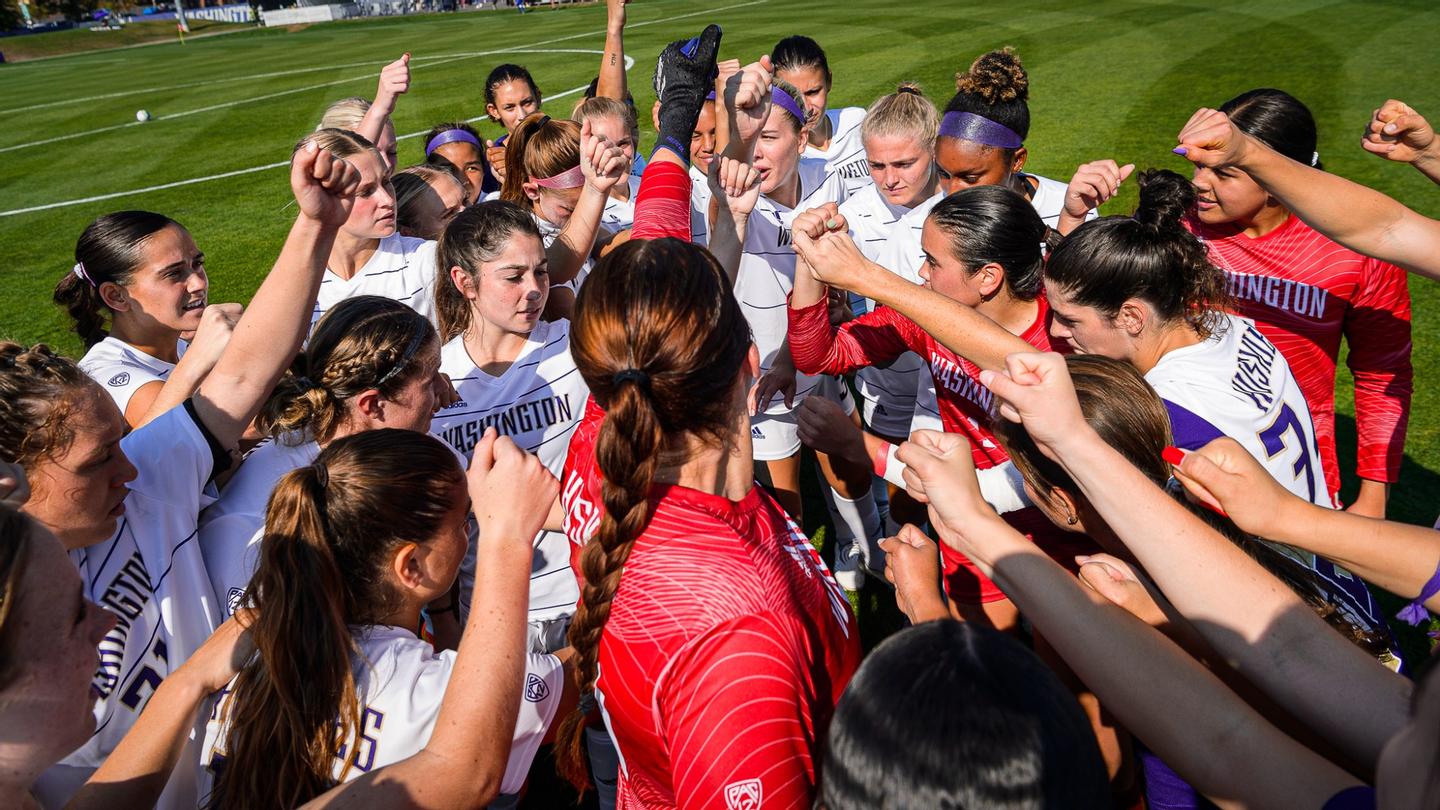 SEATTLE – University of Washington women's soccer head coach Nicole Van Dyke has announced the first phase of signings for the class of 2023, welcoming seven new Huskies.
The UW coaching staff tapped into the home-grown talent of Washington, California, Oregon and Texas. Included in the Husky class are a pair of four-star prospects and three players ranked in TopDrawerSoccer's top-150.
"First, I want to thank our entire coaching staff, and all the amazing staff members in our athletic department for their hard work in helping bring the best and brightest to UW," Van Dyke said. "We are very excited about this talented class! They are driven women of high character that have top aspirations for their college soccer experience as Huskies! During the recruiting process, we were impressed by their continued desire to develop, impact and compete at the highest level for championships."
A detailed recap of Washington's 2023 signing class can be found below.
Daniella Alali
F • Bellflower, Calif. (iLEAD Schools)
NATIONAL TEAM
• Called into the Nigeria U17 Women's National Team Camp in preparation for the 2022 FIFA U17 Women's World Cup in India
• Did not attend the camp due to injury
HIGH SCHOOL
• A three star prospect by TopDrawerSoccer
• Attended iLEAD Schools but did not compete in any sports
CLUB/ODP
• Competed for LA Breakers FC
• Surf Cup Best of the Best Champion in 2018-2019 with the LA Galaxy Development Academy
• Competed in track for AAU, winning regional and national championships in the 800, 1500, 3000 and cross country events
Why UW?
"I was amazed by the beauty of the campus when I first visited. UW has outstanding academics and an elite soccer program. I am very excited that I will have the opportunity to be trained by outstanding coaches."
Radisson Banks
F • Bakersfield, Calif. (Bakersfield HS)
HIGH SCHOOL
• Played point guard for 4 years on Bakersfield HS basketball team
• Earned second team all-area honors and ranked nationally in assists per game in 2021-22
• Helped lead team to a section championship in 2019-20
CLUB/ODP
• 2021 National Training Center invitee
• 2020 US Youth ODP National Team
• Played at club level for Legends FC ECNL and South Valley Surf
Why UW?
"I chose to go to UW because I wanted to be a part of a team where winning was doable but wouldn't be easy. I also choose UW because of my relationship with Coach Nicole. Go Dawgs!"
Jadyn Holdenried
MF • Windsor, Calif. (Windsor HS)
HIGH SCHOOL
• A four star prospect by TopDrawerSoccer
• TDS No. 80 overall prospect, No. 25 forward and No. 5 in region
• Earned first team all-league honors four times
• Two-time league offensive MVP in 2021 and 2022
• Led team to NCS Championship in 2022 and back-to-back league championships
• Scored 34 goals as a junior in 2022
CLUB/ODP
• Competed for Santa Rosa United 05 ECNL
• Named second team all-league
• National Training Center invitee 2017-20
Why UW?
"I chose UW because I have always dreamed of playing collegiate soccer in the Pac-12. As soon as I stepped on to campus, met the girls and the coaches, I knew it was the place for me."
Maya Loudd
D • Tigard, Ore. (Tualatin HS)
HIGH SCHOOL
• Selected to the West team for the 2022 High School All-American Game
• A three star prospect by TopDrawerSoccer
• Ranked No. 14 in the Pacific Northwest Region
• Named second team all-state in 2020 and 2021
• A three-time all-league selection
CLUB/ODP
• Competed for Northwest Elite ECNL
• Helped lead team to the 2018 ECNL Pacific Division Championship
Why UW?
"UW has all the qualities I was looking for in a school soccer wise and academically. Playing in the Pac-12 has always been a goal of mine since I can remember and the coaches and staff at UW have always made me feel so welcome. The team environment looks amazing and something I can't wait to be a part of."
Anna Menti
MF/D • Seattle, Wash. (Roosevelt HS)
HIGH SCHOOL
• 2021 All-Metro MVP
• A two-time All-Metro First Team honoree
• Scored 13 goals with six assists as a junior
• Scored 20 goals with 10 assists as a freshman
• Did not compete in high school as a sophomore due to club commitments
CLUB/ODP
• Competed for Crossfire 04/05 ECNL
• ECNL Northwest Conference First Team
• Club captain since 2012
• National Training Center invitee 2014-16
• Led team to 2018 Surf Cup Championship and 2018-21 Crossfire Challenge Championships
Why UW?
"I chose UW because it provided the perfect academic and athlete of opportunity for me. I've grown up attending football, basketball and soccer games and have always dreamed of going here ever since I was a little girl."
Samiah Shell
F • Auburn, Wash. (Auburn Riverside HS)
HIGH SCHOOL
• Selected to the West team for the 2022 High School All-American Game
• A three star prospect by TopDrawerSoccer
• TDS No. 150 overall prospect, No. 48 forward and No. 5 in region
• Set Auburn Riverside's all-time career goals record
• Led ARHS to state runner up finish in 2019
• Three-time Washington State Soccer Coaches Association First Team All-State
• Three-time Tacoma News Tribune All-Area First Team
• 2019 Seattle Times "Star Times" Team
• First team all-league every year of high school career
• 2021 league offensive MVP
• Three-time all-league academic honoree
• Scored 18 goals with 14 assists as a senior
• Set ARHS single season goals record with 28 as a junior, adding 15 assists
• Scored 12 goals with three assists during shortened sophomore season
• Scored 18 goals as a freshman and broke single season and career assists records with 27
• Also competed in track, finishing seventh in state in 4×200 relay
CLUB/ODP
• Competed for Pacific Northwest Soccer Club G05 ECNL
• Competed in National Selection Game ECNL FL 2022
• ECNL 2021 Second Team All-League
• ODP National Team and Region IV Team in 2019
Why UW?
"I chose the University of Washington because the community of the school, especially the soccer program, felt like home. I knew it was where I wanted to be to pursue my academic career and the sport I love."
Madison Stormberg
F • Frisco, Texas (FC Dallas Development Academy)
HIGH SCHOOL
• A four star prospect by TopDrawerSoccer
• TDS No. 62 overall prospect, No. 17 forward and No. 13 in region
• Did not compete in high school
• Trained under FC Dallas Development Academy
CLUB/ODP
• Competed for Sting Black ECNL
• National Training Center invitee in 2018 and 2021
Why UW?
"Not only does UW provide great education and athletics, it is a family. I knew right when I stepped on campus that UW was my home."