Club Champions League shares yearly recap, '2020: The Year of CCL'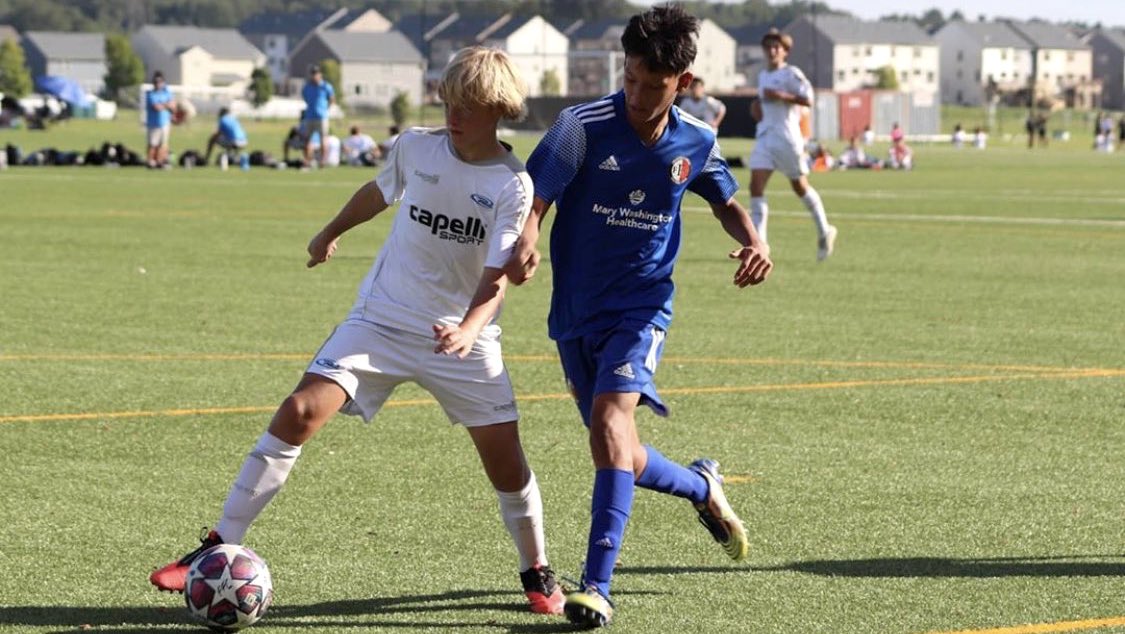 The Club Champions League (CCL) has shared a year-in-review article, which chronicles the progress made amid a challenging year in 2020.
Despite the coronavirus pandemic, the CCL was able to form a number of important partnerships, continue to build its newly-formed regional leagues throughout the East Coast, and ultimately return to the field safely during the later months of the year.
See below for the full article published by the CCL, entitled '2020: The Year of the Club Champions League':
"The year 2020 will live in infamy for being a year of a halt. Life seems to be on pause for many people as we wait for Covid-19 to pass. An organization that has been maneuvering through this trying time has been the Club Champions League (CCL).
One word to describe the CCL's movement this year has been forward. The CCL has been working hard to put a product together so when we are back on all cylinders, the CCL and its portfolio of programs, services, and partnerships is more beneficial for our clubs and membership.
As we look back at 2020, everyone is encouraged and energetic that all the focus, hard work, and extra hours put in during the pandemic, pushes us forward for years to come. 
January: Kicking off the New Year 
The CCL opened up the New Year in Baltimore, Maryland where we attended the 2020 United Soccer Coaches Convention. One of our gold standard partners, United Soccer Coaches, was gracious enough to give us a booth to showcase one of our new initiatives, the National Leagues Alliance (NLA). The NLA is a symbol of strength, professionalism, and collaboration.
The NLA was formed in 2019 by and for like-minded leagues and organizations in the United States who believe in working together to help youth soccer players/families, coaches, teams, clubs, and leagues enjoy competitive matches, collaborate to improve youth soccer on a national level, and save money by receiving "Gold Standard Benefits" through industry-leading strategic partnerships with adidas, Soccer.com, Kwik Goal, United Soccer Coaches, Sprint, and more! One of the first to join the NLA was one of the historic youth soccer leagues in the county, the Long Island Junior Soccer League. By building the NLA, creating these relationships, and leveraging our strategic partners, we hope to increase the variety of competition, reduce events fees, and work closely with like-minded organizations around the country. 
In 2020, the CCL did something for the first time in its twenty-three year history, expand outside of the Mid-Atlantic region. After many years of having conversations with leagues and groups about the CCL and the coveted club-to-club model, the CCL met league and club leaders that wanted to take and launch the club-to-club model in a new market.
CCL New England was founded on the premise of using the CCL model in the New England area to begin to change the youth soccer culture from team-based to club-based. All with the intent of helping grow the game in the New England area. We hired two leaders that have extensive knowledge of the New England soccer scene, John Barata and Nick Dunbar. John Barata was hired to be the Director of Operations for the conference, in charge of day-to-day operations. John has been working in the soccer world for over twenty years in various coaching and executive positions in the New England area. Nick Dunbar was hired as the Technical Advisor for CCL New England. Nick's role with us is to provide technical direction while maintaining club relationships, compliance, and standards. Nick also has over 20 years of experience in the game.
CCL not only added twenty plus clubs with the CCL New England conference but added another state within our Mid-Atlantic conference, West Virginia FC (WVFC). The largest and one of the most competitive soccer clubs in the state of West Virginia adds to the strength and competitiveness of the Premiership in the Mid-Atlantic. WVFC now has an outlet to play soccer in a consistently competitive league and give more opportunities to soccer players and families in the state of West Virginia. 
One of the things that the CCL likes to do is honor its coaches. Not only does the CCL offer free coach memberships through its United Soccer Coaches partnership, but with the help of one of our new strategic partners, Kwik Goal, we are now able to give free access to the US Soccer National 'A' and 'B' coaching courses to a male and female coach. In 2020, we announced the first CCL Kwik Goal Coach of the Year Awards! This year's recipients were Alexandria's Chris Arnold and Loudoun's Nicole Brower. Both coaches were thrilled with the opportunity to further their coaching education and appreciated Kwik Goal's contribution. 
Once we got home from the convention the CCL put our heads down and started on the Generation adidas Cup. We hosted the event in Richmond, Virginia at our event home in the Mid-Atlantic region, the RiverCity SportsPlex. The pristine twelve turf field facility has been a great host to us and all of our events, and the Generation Adidas Cup was no different. We hosted sixty-five teams from New York, Massachusetts, Georgia, Florida, North Carolina, Virginia, and Maryland, as they came together to compete for the top prize, the large championship trophy. The event was a great experience talking to new people, sharing our ideas, and spreading the CCL brand name. We closed the tournament with 10 champions and we plan to host the tournament with more teams in the future. Going forward, with the support of adidas North America marketing and creative teams, we have rebranded the event beginning February 2021 and will be known as The adidas National Cup. This had to be done as the Generation adidas brand is now solely owned by Major League Soccer. The adidas National Cup will harness the best from around the country as well as CCL conferences and NLA members. 
March-August: Tackling COVID-19 
When March came around this was really when the "real work" started for the CCL and everyone around the World. When COVID-19 hit the United States everyone and everything seemed to come to a screeching halt.
We didn't sit idle. We immediately held weekly Executive Committee Emergency sessions as well as started best practice phone calls with all of our directors from our conferences. Our like-minded Directors were all focused on one thing, provide and present the best possible information to clubs and their players and families. Our Directors have been great throughout this process and knowing that we all want the same thing is beneficial for the league and our benefactors.
The CCL uses the phrase "Power of League" regularly and it is truly what keeps us together. When we have all of our clubs come together is significant, should not be understated, and is what makes us all proud of the bond we have created.
The word expansion came up again in late March, twice actually. Yes, you read that right, a league with a twenty-three-year history of staying put expands three times in one year. Crazy right? There is a saying that some things come in three. With the announcement of CCL New England, we received additional calls from other regions.
The first call came from Georgia, and by the end of May, CCL Georgia was born to begin competition in Fall 2020. We announced four clubs that wanted a club-club model in their state and with the high standards the CCL brings to the table. The founding elite member clubs of CCL Georgia include Inter Atlanta, GA Impact, GA Alliance, and GA Storm. The CCL and its Executive Staff has been working closely with the Georgia Soccer Association, and with the positive feedback already received about CCL Georgia, we look to see club growth in 2021. 
The second call we received, came from Florida. CCL Florida welcomed nine inaugural clubs throughout the state that is energized to change the team-based culture in Florida to the club-based, club-to-club model. All of the club directors in Florida are all-in and focused on creating something unique that benefits the players, families, coaches, and clubs. With the support of the Florida Youth Soccer Association's Executive Director, we are confident that 2021-2022 will prove to be a fantastic seasonal year. 
To engage our online/social audience, throughout March we hosted our first "social" tournament ever. We couldn't play on the field but we figured we could have some fun, engage players, coaches, teams, and clubs, and go head-to-head on social media. With this idea, the CCL March Madness was born. We joked that it was the only March Madness tournament going at the time, but with all of us at home, the participation in our once a week challenges was awesome to see.
Our twenty-seven Mid-Atlantic clubs entered the tournament and one came out of the tournament crown Champion. With how much participation was on display, we quickly found out that not just the Directors believed in the Power of the League but our players and families do too. Virginia Legacy proved that they have the most pull (for now) with their players and families via social media. We do not see this fun, engaging event going away anytime soon. 
In April we decided to give our members something different, to help pass the quarantine time. We launched a web series, CCL Extra Time, on our Youtube channel. CCL Communications Director, Mayowa Owolabi, and Intern at the time, Ryan Godwin, co-hosted the series.
We had guests from all over the soccer world. The University of Virginia goalkeeping brothers, and Loudoun Soccer Club alumni, Chris and Colin Shutler talked about their experience playing in the CCL and how it prepared them for the future. Evan Newton, a professional goalkeeper for Indy Eleven and CCL alum from Virginia Rush talked about his experiences playing for youth national teams and playing with guys like Freddy Adu and Neven Subotic while also explaining what it's like playing in the USL Championship.
We even got legends of the game like Kristine Lilly who played in two World Cup-winning teams for the U.S Women's National Team (also a club Director in CCL New England) and Dan Gaspar former goalkeeping coach for Portugal and Iran's National Men's teams.
CCL Extra Time not only gave us memorable experiences with players and legends of the game, but it also was a vehicle to help our members with the daunting task of college recruitment. We welcomed Jeff Jaye of iSoccerPath and his colleagues of current and former college coaches to help our members with the myriad of questions of college recruitment and how to maneuver through recruitment during these times of COVID-19. Extra Time gave our membership something different and fun to look at during times that maybe have not been as bright. Getting through COVID-19 has been a struggle for everyone but it has been the CCL's mission to try to get through this in a better way than when we started. 
Ever since the beginning of Covid-19, our primary focus has been working to get players, coaches, and referees back on the field safely. While we were all going through the unknown, and while the pandemic continues, we worked with our member clubs and multiple state and local government agencies in creating CCL Covid-19 Return to Play Best Practices and Recommendations to safely put our players on the field when matches resumed. Our thoughts were also around the safety of getting families back to watching their favorite soccer player(s) on the pitch.
With constant communication with member clubs, state and local guidelines on COVID-19 protocol, we pushed for an end of August kickoff. At one point it looked like it may be impossible to put our players back on the field, but we pushed through thoughtfully and safely working together. On August 30th, the CCL Premiership kicked off in the Mid-Atlantic. We saw on social media the joy of clubs' first match days and how ready our players were to get back on the pitch. 
September-December: Back on the Pitch 
On September 12th, we kicked off CCL Georgia with our first CCL event in the state of Georgia. Hosted by Inter Atlanta, we had two days of competitive soccer in a safe atmosphere with COVID-19 protocol in place. With multiple directors on-site for the event, it all was received with excitement and with positive reviews and notes. Inter Atlanta's turf fields were in immaculate condition for this kick-off event and we are looking forward to more visits to Georgia in the future. 
During the same weekend, the CCL Championship, CCL NextGen, and the very first matches in CCL New England kicked off their seasons. Out of all of our conferences, CCL New England has some of the strictest COVID-19 protocols. The CCL was still committed to getting our players back on the field. Albeit, it was awkward and probably difficult for players to play while in masks as mandated by the Massachusetts Health Department. But in the end, the players played on as they were simply excited to be out on the fields playing the game they love. Finally, kicking off CCL New England was a joyous occasion and we have heard that there were many competitive games and a great atmosphere surrounding the New England area soccer scene. 
Through the months of September and October, we continue to put together successful events in Florida, Georgia, and Virginia. Halloween weekend we had our first Scrimmagefest of the season in Virginia. Powered by our partners at Kwik Goal, we put on a successful event for our younger players. Playing on 7v7 fields these kids bring the passion and excitement to the 
game that we all should bring to the game.
Our event staff at the CCL has found Georgia events to be fun and promising as we continue to have events in the region. We have been ever appreciative of our hosts Inter Atlanta, Georgia Impact, and Georgia Storm, as each facility is pristine and is great for exciting competitive soccer. We have really seen the competitive nature of the games and have been getting accustomed to the style of play in Georgia. As we continue to meet more people in the state we are beginning to feel more at home in the state of Georgia and we are looking forward to having more events in 2021. 
The last event we put on was our Premiership College Showcase, held at RiverCity Sportsplex in Richmond, Va. The twelve turf fields were occupied by over one hundred and fifty teams throughout the weekend from our Mid-Atlantic conference. Not only did we have competitive games going on we also had over one hundred college coaches that signed up for the event. With the help of our friends at NextPro we had each and every game filmed so coaches throughout the country could look at footage of players from throughout the weekend.
Just another thing the CCL does for its membership, and college coaches that are recruiting during this difficult time. As always we had our coaches tent up and running, serving breakfast lunch and dinner for all of our coaches, we always have gotten rave reviews on the coaches tent as that is always a highlight of the weekend. With all of our COVID-19 protocols in place, the weekend was deemed to be very successful and we are excited for our next showcase in January. 
Partnerships Dipped in Gold 
The Club Champions League not only puts players on the field but also puts together events, expands into new states and conferences. Our staff aren't just guys with US Soccer National 'A' licenses, they are businessmen who are following through on one of the key pillars of the league to help clubs develop from within on and off the field. We have created and formed partnerships with companies that we know will help our clubs and membership.
The first partnership, and one of the first in the industry for a league, we made this year was with Fundraise4u.net and Sports Philanthropy Partners. Fundraise4u.net is a company that focuses on making corporate partnerships to create more revenue streams for your company. This is another way that the CCL has worked to keep fees low.
The next partnership is with a company called SportsEngine. Sports Engine is an NBC Sports Group Company and leading developer of sports relationship management software. This partnership will help improve our administrative processes so that we can maintain focus on player, coach, and club development. Sports Engine's technology reduces the time it takes for administration work and communication so that more time can be used to focus on the player.
The last partnership we have formed is with NextPro. NextPro is a sports media production company that will help our players reach a wider base of college coaches during the recruiting process. With how COVID has affected the recruiting process we knew that we needed to do something to help our players be seen. The partnership will start at our fall showcase in Richmond, December 11-13th. A showcase that usually has over one-hundred-fifty college coaches from across all divisions will see less due to the NCAA Division I dead period being extended to April. NextPro offers college coaches the opportunity to watch NextPro videos for free through its college coach portal. We are happy that NCAA Division II, III, NAIA, and NJCAA institutions can still attend and recruit on-site. 
CCL Professional Development 
One of the most exciting programs we started this year is our Intern program. The internship program is focused on the professional development of college students or young professionals to help them gather experience in the sports industry.
Our first three interns in the pilot year of the program were Lindsey Price, junior at Virginia Tech, Jacin Smith, graduate of Seton Hill University, and Ryan Godwin, a graduate of Roanoke College. Lindsey and Ryan were our media interns, running our social media accounts. During their time as interns, we gained over four thousand followers on our social media accounts. Jacin was an on-field intern, his role was setting up our numerous events and helping with sponsorships during his tenure at the CCL.
Currently, Jacin is getting his master's degree overseas in England. Lindsey is finishing up her four years at Virginia Tech, and we have been able to promote Ryan from intern to an hourly staff member focusing on events, social media, and helping our six newest interns.
Yes, we liked our first three interns so much we decided to add to our intake for the next year. We are truly excited to have Kyle Nachtsheim, Delaney Kost, Fraiser Brickhouse III, Jada Grant, and Cameron Kicheloe to the CCL and are excited for what they will offer our organization going forward. 
Closing Statement 
Putting everything the CCL has done this year on paper has put in perspective the forward thinking work the organization has put in during the pandemic. The staff has been committed to helping its members clubs at the moment, think ahead, and prepare for when the pandemic ends and we get back to normal. But we don't want to be what we were, we want to be better in 2021.
The CCL's goal is to always do things that emphasize player, coach, team, and club development, and everything we have done this year ticks those boxes. But we are not done, we are not satisfied and will continue to find ways to make league operations more efficient for our member clubs.
The CCL will continue, in whatever state we are in, or whatever conference one of our clubs play in, work hard for its members to create a better experience for all. We are excited about what we have done this year but we know, the work isn't done yet and we are excited about what the future holds with the CCL."