John Barata hired as CCL New England's Director of Operations
Charlottesville, VA – The Club Champions League (CCL) has announced the hiring of John Barata as CCL New England's Director of Operations.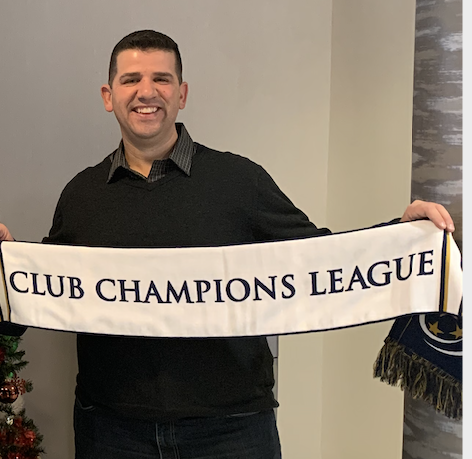 Barata has moved from his previous role as Executive Director for the Northeast Soccer League (NSL) to embark on this new and exciting journey effective January 1, 2020. Barata will oversee the day-to-day operations of the CCL in New England, which entails helping clubs in the CCL grow, develop strategic partnerships for the league, and assist with additional strategic league initiatives. John will work closely with the CCL Board of Directors and executive staff to manage the overall direction of CCL New England operations.
"John is a passionate and energetic leader.  He has a great understanding of the youth soccer landscape in New England and we believe he is the right person to help the CCL build CCL New England now and in the future.  His collegial and collaborative approach is infectious and matches our Board of Directors and executive staff," said Brian Kuk, CCL Executive Director.
"I am honored and humbled to be working with such a professional and knowledgeable group of people from the CCL. The staff is fantastic and the Board of Directors are extremely impressive. It has been a privilege to serve the clubs in New England and I look forward to the opportunity to continue developing current relationships and growing new ones," said Barata. "The CCL brand provides the highest quality in programming, opportunities, partnerships and so much more. This is a terrific opportunity for our clubs in New England to have access to the best regional league in the country. I am eager to get started and excited for the future."
Barata is a graduate of Assumption College with a Bachelor of Arts in Environmental Science. After graduating from Assumption, Barata began his career in the soccer world where he is currently immersed and continues to positively impact the game in many different facets.  Barata has been the Director of Coach and Player Development for Easton Youth Soccer for the past 15 year and will continue to serve in that capacity while performing the Director of Operations for CCL New England. Barata has a wealth of experience in the soccer industry, amassing over 20+ years in various executive and coaching positions across the region.  These roles include General Manager of the USL – PDL Boston Rams which was the PDL Franchise of the Year (Quincy, MA), Executive Director of Soccer Extreme (Waterbury, CT) Founder of Legacy Soccer Club (Easton, MA) and President of Beautiful Game Soccer Academy (Hanson, MA).  Barata is a respected thought-leader in the youth soccer world and has spoken regularly at regional, national and international conferences and forums on topics ranging from coaching, coach and player development as well as curriculum design and rollout.
Barata is also an accomplished coach in his own right, holding the US Soccer National "A" coaching license, a United Soccer Coaches "Premier" Diploma and Master Coach and Soccer Leader Diploma. Additionally, Barata has his US Soccer Instructor License to lead the US Soccer Grassroots and D Licenses.  John has been coaching in the high school ranks for the past 11 seasons and accrued a very impressive resume with 148 wins, 6 league titles, 3 sectional championships and a state title. John has been recognized as Coach of the Year seven times in his career.