Club Champions League announces launch of CCL Florida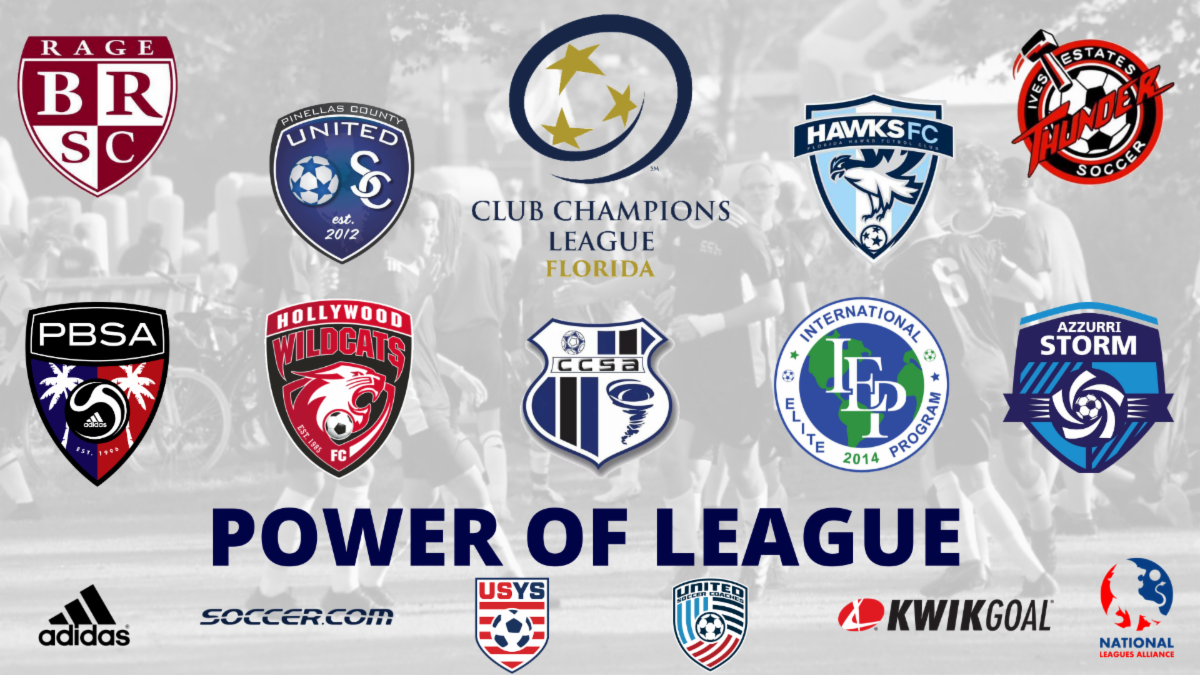 Charlottesville, VA – The Club Champions League (CCL) has announced the launch of CCL Florida beginning in Fall 2020.
The CCL will welcome nine (9) clubs to the new Florida conference, representing competitive programs from throughout the state.
"We are excited to have connected with a fantastic group of like-minded club leaders in Florida," said Brian Kuk, CCL Executive Director. "These leaders are forward-thinking and are truly committed to collaborating on and off the field to help grow the game. There are leaders like this all over the country and we are humbled that these clubs in Florida are choosing to unite with CCL for what is right for the youth game: long-term player and club development. With the long-term in mind, players, families, coaches, teams, and communities win,"
CCL Florida will be managed by CCL's Executive Staff: Kuk; Mayowa Owolabi, CCL Florida CEO; Ferdinando De Matthaeis, CCL Florida Soccer Ambassador; and Darryl Gee, CCL Soccer Ambassador and Compliance. The CCL Board of Directors and Executive Staff are launching the CCL model in Florida to provide local, regional, and national pathways while supporting clubs and teams in the region.
The CCL Florida will include club-to-club competition in four age groups from U11 to U14. CCL Florida Founding Member Clubs are:
Azzurri Storm
Braden River SC
Cape Coral Cyclones
Florida Hawks FC
Hollywood Wildcats FC
International Elite Program Soccer
Ives Estate Premier Soccer
Palm Beach Soccer Academy
Pinellas County United Soccer Club
CCL Florida is now the third conference of the CCL, joining CCL New England and CCL Georgia.
The Club Champions League (CCL) was founded as the Virginia Club Champions League (VCCL) in 1997 and is the first club-based, club-centric youth soccer league in the United States. In 2013, the VCCL was rebranded to the CCL with its expansion into Maryland, Northern Virginia, and Washington, D.C. The CCL now covers Virginia, Maryland, West Virginia, and Washington, D.C.
"Pinellas County United SC is honored to be one of the founding members of the Club Champions League Florida," stated Kai Velmer, Director of Soccer Operations Pinellas County United Soccer Club. "We are excited to be able to provide our players and teams with new development opportunities."
A key component of CCL Florida will be the benefits of the club-to-club culture which highlights community, and long-term player and club development. With over 23 years of experience operating the club-to-club model, the CCL will work closely with leaders in Florida integrate its model, uniting the local clubs.
"Being able to bring together nine like-minded clubs who are speaking the same language and looking for the same results for their clubs is unique," said Mayowa Owolabi, CCL Florida CEO. "We are truly excited to be able to offer this proven player development model to the Florida Youth Soccer Association (FYSA) soccer landscape. After three months of conference calls and dedication to promoting what's best for the game, we are all excited to see the growth of CCL Florida and its member clubs!"
Below are quotes from club leaders looking forward to the inaugural season:
Tom Tianich,President of Hollywood Wildcats: "Here at Hollywood Wildcats FC we are incredibly excited about the formation of the CCL Florida as a development platform for our players. As one of the oldest soccer clubs in South Florida (Est. 1985) we are proud to also be one of the few founding members of CCL's newest adventure in our state."
Brendan Moriarty, General Manager of Braden River SC: "Braden River Soccer Club is excited to be a part of the inaugural CCL Florida season. We look forward to the competition CCL Florida will afford all of our teams as well as the unique format and approach CCL will bring to soccer in Florida! We hope that this is a long term relationship that will see soccer in Florida continue to grow the right way!"
Patrick Ramos, Technical Director of International Elite Program: "The efficiencies and benefits of the club-to-club model are too many to ignore. As a former director at Loudoun Soccer a member of the CCL, I have experienced the benefits of this league model first hand. As the Technical Director of IEP Soccer I now will be able to keep an eye on a majority of our teams and coaches at one location over the weekend and that will be major when tracking the development of our organization! I'm looking forward to being a founding member of CCL Florida and being able to watch the CCL philosophy and brand spread through the state of Florida!"
Akram and Carrie Molaka, Boys and Girls DOC's at Azzurri Storm Youth Soccer: "There is a saying, champions are made not born! Being a founding member of the CCL Florida will allow us to create and provide an environment that will produce these champions for our club, state, and country. We are excited to be a part of this journey for all that love the beautiful game."
Eddie Carmean, Director of Soccer Operations at Cape Coral Soccer Associations: "The Cape Coral Soccer Association is excited to be one of the founding members bringing the CCL League to the state of Florida. The league has been highly successful in the northeastern part of the country and we look forward to providing the benefits of our affiliation to our community."
Gary Walker, Founder and CEO of Palm Beach Soccer Academy: "It's always good to be first, we are extremely excited and looking forward to being a founder CCL Florida member!"
Juan De Brigard, DOC at Florida Hawks FC: "The Florida Hawks FC is very proud to be part of the founding members of the CCL Florida. We are joining a progressive and modern soccer organization that will provide our players a platform to elevate their game. In doing so we are meeting the request of our families to challenge ourselves and expose our Club, our Coaching Staff and our players to higher levels of competition. The CCL Florida will be a fantastic opportunity to continue growing towards our goal of building teams and developing players that can compete against the best in our state."
Julio Alvarez, DOC at Ives Estates Premier Soccer Club: "This new league in Florida, CCL Florida will benefit all clubs and teams involved and will empower our players. I can't wait to see our boys on the pitch competing against the best in the state!"
More information and club announcements to come through the Summer 2020.