Club Champions League announces CCL Kwik Goal Coach of the Year awards
Charlottesville, VA – The Club Champions League (CCL) announced its 2019 CCL Kwik Goal Female and Male Coach of the Year awards at the United Soccer Coaches Convention.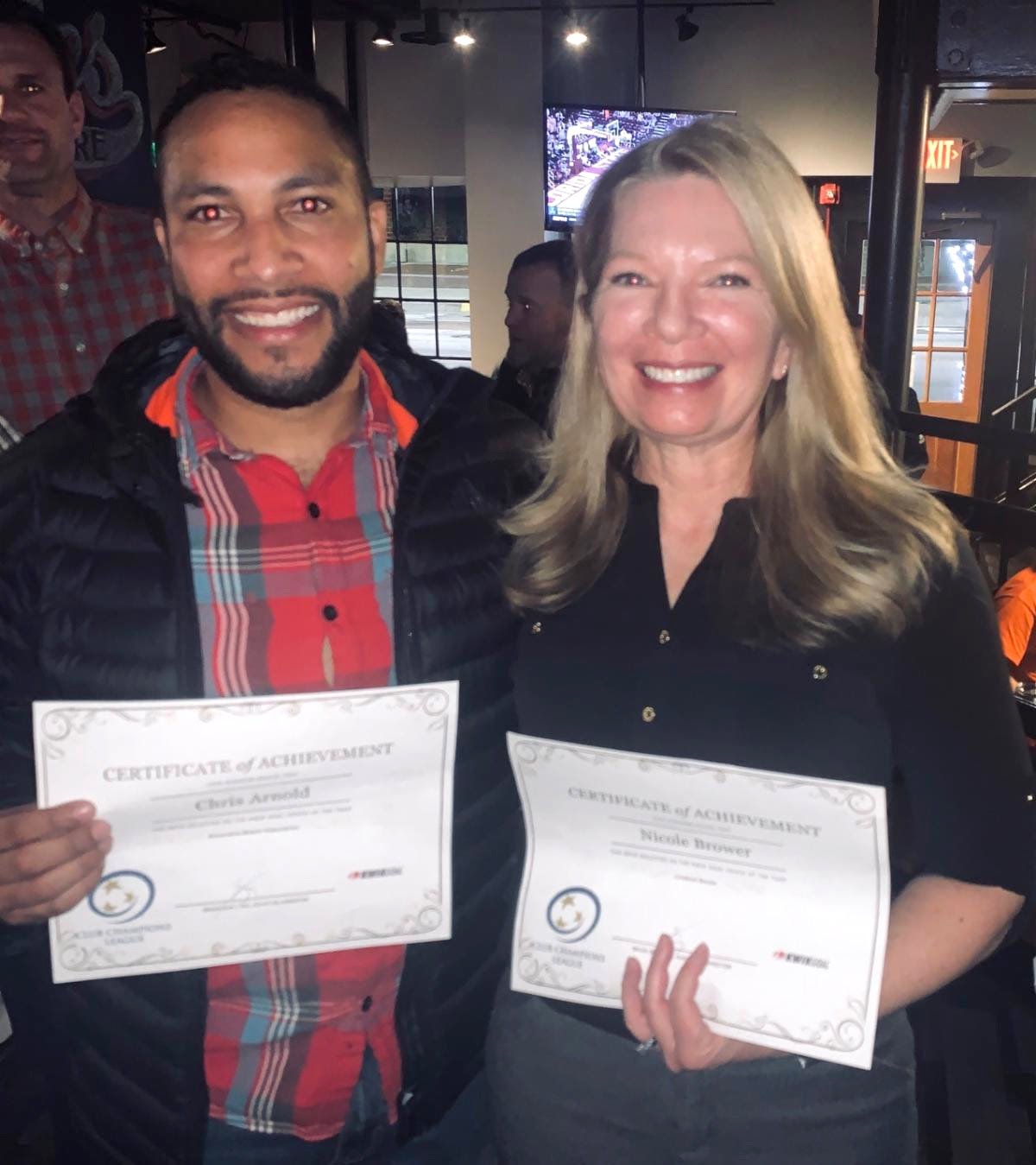 The CCL is the only youth soccer league named an official partner by Kwik Goal. As part of its initiative to help aspiring youth soccer coaches and to mitigate the rising costs of national coaching education courses, Kwik Goal is providing a free U.S. Soccer National 'A' or National 'B' Coaching Education Course to a nominated, and deserving, CCL Female and Male Coach of the Year. The 2019 Kwik Goal Female Coach of the Year has been awarded to Loudoun Soccer's Nicole Brower while the Male Coach of the Year has been awarded to Alexandria Soccer Association's Chris Arnold.
"The Kwik Goal Coach of the Year Awards are our way of giving back to the coaches who are the backbone of our youth soccer community. Nicole Brower, Chris Arnold and the Club Champions League represent all that is good in our game and we are proud to recognize and celebrate their standard of excellence," said Chris Chico, Kwik Goal Southeast Territory Manager.
"For Kwik Goal to step up and offer these amazing awards for deserving and committed CCL coaches is unprecedented. We all know national coaching courses have become very expensive alone and then to add on the travel costs, it really does become excessive for the individual. We are proud to be a partner of Kwik Goal and to collaborate on initiatives that reduce barrier of entry and invest in the future of youth soccer," stated Brian Kuk, CCL Executive Director.
Both Brewer and Arnold can now comfortably pursue their U.S. Soccer National 'A' Licenses. Nicole had this to say about being presented the CCL Kwik Goal Women's Coach of the Year, "I am most excited to have this opportunity to grow as a coach. Kwik Goal supporting coaches with licensing is such a positive step! I work hard to better myself as a coach and being able to be an A License candidate is going to have a significant impact on my coaching. I'm very thankful for both the recognition as Coach of the Year and the support in licensing."
"It feels great and it is an honor to receive such an award. Coaching is a unique journey that poses new challenges every single day," said Arnold, Alexandria Soccer Association's Deputy Director of Academy & Futsal. "After receiving this award, I found it interesting to take a moment to reflect on my 10+ years of coaching and realize how rewarding it is to work with youth in our community. I am proud of all the players that I've had the pleasure to work with over the years. I feel even more energized to continue learning and do my best to make a positive impact on those I work with."