Former USWNT player Lori Lindsey talks Youth National Team talent identification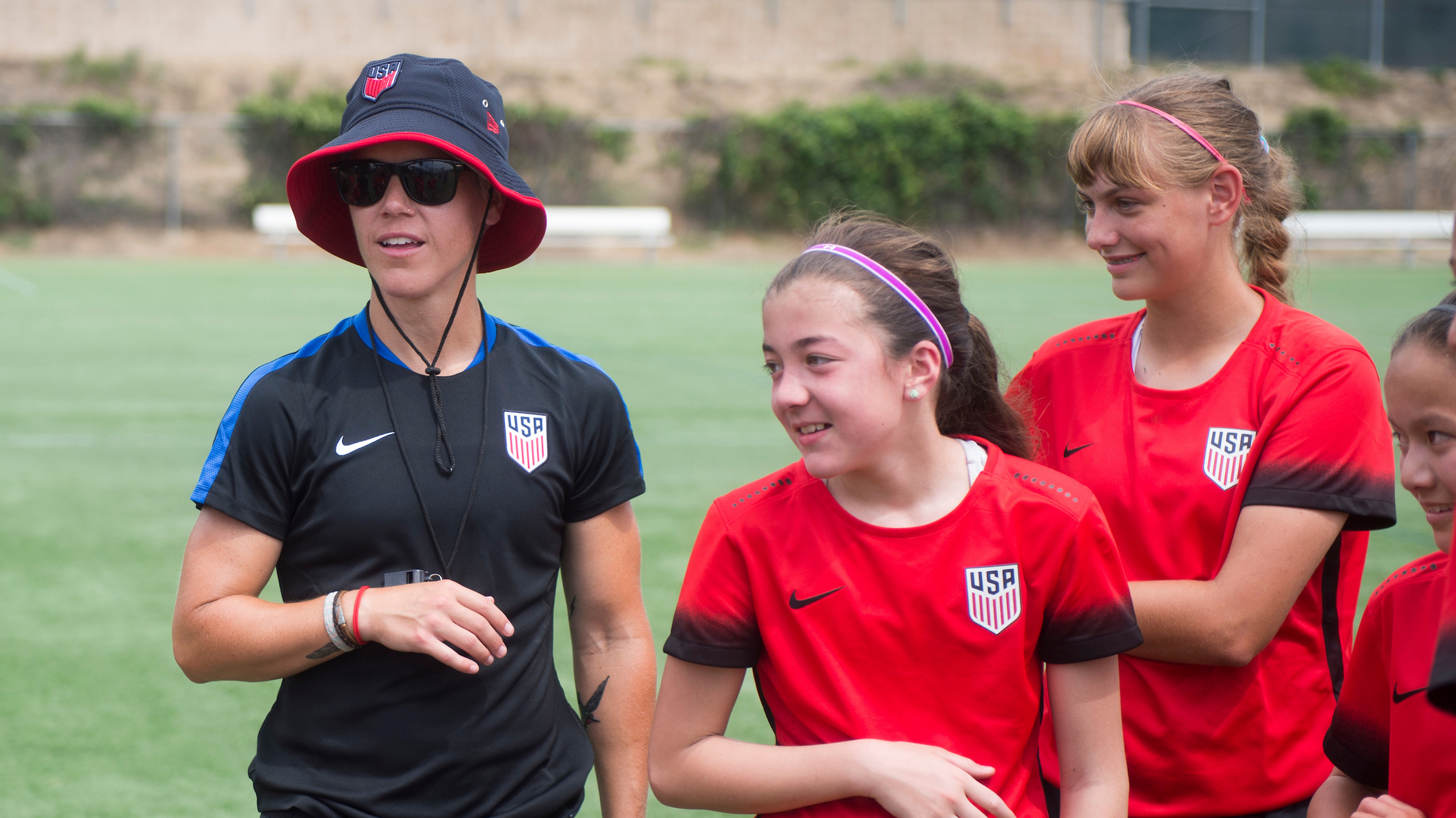 Former U.S. Women's National Team midfielder and current NWSL commentator Lori Lindsey shared her thoughts on the current youth soccer landscape during her appearance this week on The SoccerWire Podcast.
Lindsey, who earned 31 caps with the senior U.S. national team from 2005-2013, was known as one of the hardest-working U.S. players during her Hall of Fame career. Her professional playing career spanned the better part of two decades, following a standout college career at the University of Virginia.
Her own path to the national team ranks began when she was selected for the ODP program as an eighth grader, and was quickly identified as a top prospect by U.S. Soccer's April Heinrichs. She came up all the way through the U.S. Youth National Team ranks before ultimately making the senior team.
When asked about the ideal pathway for elite players looking to secure a spot in the U.S. Youth National Team program, Lindsey stated that the top priority for players should be to focus on their own improvement and love of the game, rather than what club or league they are playing in:
"I think the players are better, I think the opportunities are more and more. The thing we have to be careful of though is, saying: 'This is the direction that is best for players who want to play on the national team.' There's so many players that develop early, and there's players that develop late. There's players that aren't sure if they want to go this direction and there's players whose families can't afford to have them play.
I'm not not trying to say that we don't have a wide range of scouts, or that we're missing this huge selection of players that are going unidentified. I don't think that's the case. But I think that to say – 'If you want to play on the national team, go the Development Academy route', or 'If you want to be the best, go to the ECNL' – there are so many different directions, but really what it comes down to is the individual player development in the way that feels best for them, enjoying the game, which the most important thing, and loving the game.
Then things will take care of themselves, and you can be an advocate for yourself. I don't think we need to spend zillions of dollars with personal trainers and skill coaches and then going to pay even more money for the Development Academy, and running all around. It should be a pretty simplified process of enjoying the game, finding the best place that's going to be the most competitive for your child, and then things will be taken care of from there.
The child should also be taking things into their own hands in terms of 'Hey, I want to get better and I'm going to train.' I feel like we've been sold this rat race of 'This is how you get on the national team', when that looks very different for every player, and honestly it comes down to enjoying and loving the game."
Lindsey also has experience teaching young players how to approach the game with the same tenacity that she brought to the U.S. and numerous pro clubs over the years. While some players earn National Team roster spots thanks in large part to superior athletic talent, Lindsey said that for herself and many others, it's a focus on the small details of the game that allowed them to reach the international level:
"You can't play on the national team if you don't have athleticism, but when you're talking about the top 1% in terms of competitiveness, at the national team level it's lights out … For me, it was very cerebral. How can I think faster, how can I be smoother on the ball in order to beat my opponent? I really believe that was what allowed me to have longevity and to play at the highest level.
For players today, there are a lot of players that are like me, and then we try to develop them into these more athletic type players that are going to be 'busier' than they need to be on the field. But I think if you stay true and develop the skills that are going to translate onto the field – like your range of passing if you're a midfielder – being able to think faster and take fewer touches than necessary, or opening up the game by dribbling – if that's your game, continue to hone your skills and stay true to that, because that will actually start to shine. When people are doing more athletic type things, you're brining a calmness to the game that looks different."
Check out the full interview with Lindsey on Episode 16 of The SoccerWire Podcast which covers numerous topics including the NWSL, USWNT and more.