U.S. Soccer announces 60-player roster for first U-14 Girls Regional Mini-Camp of 2020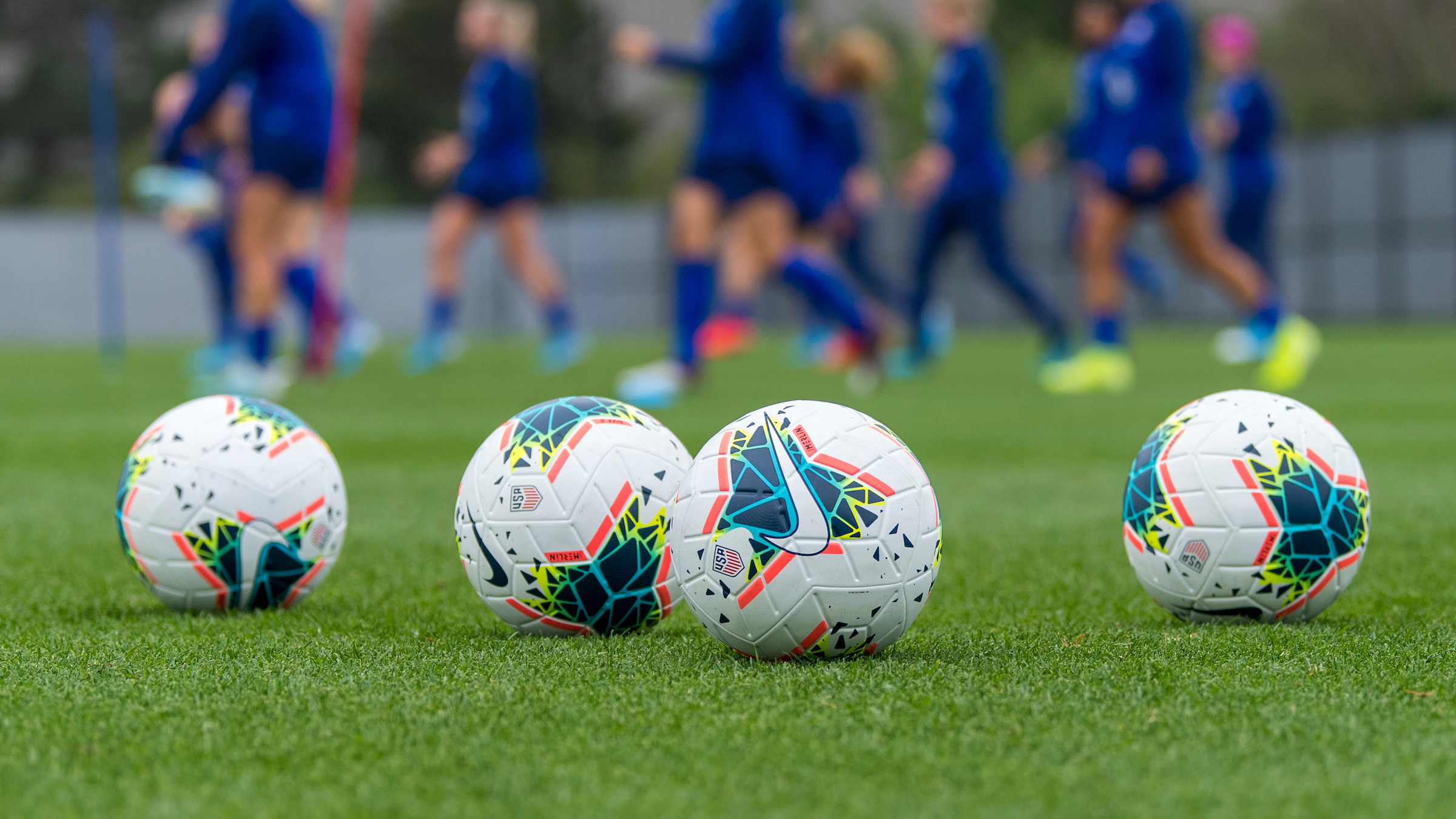 CHICAGO – With the objective to expand and improve the Women's and Girls' Youth National Team player pool, U.S. Soccer has launched a new Under-14 Talent Identification Program for the Girls' Youth National Teams. The initiative will kick off in February with its first Regional Mini-Camp.
The West Region Mini-Camp for the U.S. Under-14 Girls' National Team Talent Identification Program will take place from Feb. 5-9 at the Elite Athlete Training Center in Chula Vista, Calif. Girls' Talent Identification Director Mirelle Van Rijbroek and her staff have called up 60 players from the West region, all born in 2006.
This new scouting model will function as a collaboration between the U.S. Soccer Talent Identification department (TID) and the Youth National Teams program.
The YNT U-14 TID Program is designed to discover and introduce a larger base of top talents at the U-14 age group into the scouting funnel of the older U-15 to U-20 YNTs. A mini-camp format will help evaluate and inspire high-potential players while accelerating their development in an engaging and challenging environment. Players from three regions — West, Central, East  – totaling around 180 players nationwide will be called into the mini-camps.
The program starts with the in-market scouting process as players are continually being evaluated and monitored in games and top talents are selected to attend YNT Identification Centers. Formerly known as Training Centers, Identification Centers are scheduled to be held in 25 key markets nationwide and will be overseen by U.S. Soccer TID Managers and YNT Network Scouts. These single-day sessions, hosted at local clubs or U.S. Soccer member organizations, will gather more than 600 top talents each year in the U-14 and U-15 age groups. Depending on the number of top players identified in each market, YNT Identification Centers will be held two to three times each year in the fall, winter and spring.
After the Regional Mini-Camps this winter/spring, 60 players will gather for a U-14 National Identification Camp this summer. Roughly twenty players will come from each region. Held for a full week in the manner of a traditional YNT training camp, the U-14 GNT head coach, all three girls' TID Managers and six U.S. Soccer Development Academy coaches will be on-hand to guide the camp.
In addition to expanding the YNT player pool at its early stages, the new scouting and identification structure changes programming for U-14 players by allowing them more time to absorb core principles of the YNT philosophy and accelerate their development. Additionally, travel is minimized through the first stages of the program, helping minimize days away from home, school and club.
The new program also offers the opportunity to bolster U.S. Soccer's national network of scouts to further their education and development while also building its connections with clubs across the country.
While the past model has featured girls' U-14 GNT programming in only even years, this new program will be held every year, always starting at the beginning of the calendar year.
The 60 players for the Western Region come from 27 different youth clubs with multiple players coming from the San Jose Earthquakes (six), Colorado Rapids (six), Legends FC (six), Albion (four), Real Colorado (four), Placer United FC (three), San Diego Surf (three), LA Galaxy (three), SC Del Sol (three) and SoCal Blues FC (two).
The Central Region Mini-Camp will be held from March 4-8 and the East Region Mini-Camp will be held from March 25-29. Each camp will include 45-60 players. From May 18-23, U.S. Soccer will hold the U-14 National Team Training Camp with around 60 players culled from each of the Mini-Camps.
U.S. UNDER-14 GIRLS' REGIONAL YNT TID MINI-CAMP WEST ROSTER BY POSITION:
GOALKEEPERS (6): Karalyn Dail (Real Colorado; Centennial, Colo.), Taylor Davis (LA Galaxy San Diego; Carlsbad, Calif), Caroline Dysart (San Diego Surf; San Diego, Calif.), Gia Kiesling (SoCal Blues SC; Carlsbad, Calif.), Grace Miller (Albion SC, Calif.) Chloe Walls (LAFC Slammers; Chula Vista, Calif.)
DEFENDERS (18): Elizabeth Boamah (Albion SC; San Diego, Calif.), Paxton Bock (SC Del Sol; Scottsdale, Ariz.), Isabella Contreras (Legends FC; Eastvale, Calif.), Courtney Dennis (Real Colorado; Centennial, Colo.), Carlie Diaz (SC Del Sol; Cave Creek, Ariz.), Nicola Fraser (Real Colorado; Highlands Ranch, Colo.), Bella Ganiere (Colorado Rapids; Broomfield, Colo.), Giovanna Hanson (Crossfire Premier; North Bend, Wash.), Dakota Harris (Placer United SC; Loomis, Calif.), Camille Kollar (Colorado Rush; Littleton, Colo.), Sarah Lappalainen (San Jose Earthquakes; Cupertino, Calif.), Samantha Maroni (Colorado Rapids; Centennial, Colo.), Gianna Owens (San Jose Earthquakes; Mountain House, Calif.), Hannah Puff (Orange County Surf SC; Laguna Niguel, Calif.), Tanna Schornstein (San Diego Surf; San Diego, Calif.), Madison Schuler (Legends FC; Chino Hills, Calif), Sarah Tate (MVLA; Marina, Calif.), Dyllan Williamson (Albion SC; San Diego, Calif)
MIDFIELDERS (20): Akshaya Bahugudumbi (San Jose Earthquakes; San Jose, Calif.), Jordyn Bugg (Rebels Soccer Club; Lakeside, Calif.), Carly Cormack (Hawaii Heat FC; Honolulu, Hawaii), Nalani Damacion (Placer United SC; Rocklin, Calif.), Ines Derrien (San Diego Surf; San Diego, Calif.), Sydney Harpster (Legends FC; Riverside, Calif.), Makena Irvine (LA Galaxy; Palos Verdes, Calif.), Sophia Kurisu (San Jose Earthquakes; Mountain View, Calif.), Bryanna Lozanno (Legends FC; Riverside, Calif.), Krystal Medina Angeles (So Cal Blues SC; Corona, Calif.), Alexis Meyer (Colorado Rapids; Lone Tree, Colo.), Ava Morton (Washington Premier FC; Auburn, Wash.), Nevaeh Peregrina (La Roca FC; Ogden, Utah), Elaine Pimentel (LA Galaxy; Monrovia, Calif.), Grace Rossner (Real Colorado; Castle Pines, Colo.), Katelyn Sacerdoti (MVLA; Mountain View, Calif.), Ava Schall (Albion SC; San Diego, Calif.), Madison Sharrer (Hawaii Rush; Pearl City, Hawaii), Taylor Smith (Pateadores; Lake Forest, Calif.), Adeleine Wallack (Colorado Rapids; Greenwood Village, Colo.)
FORWARDS (16): Jessica Bedolla (SC Del Sol; Waddell, Ariz.), Shaela Bradley (Portland Thorns FC; La Center, Wash.), Madison Colley (San Jose Earthquakes; Oakland, Calif.), Karina Da Silva (Legends FC; Yorba Linda, Calif.), Onyeka Gamero (Beach FC; Cerritos, Calif.), Devin Greer (Davis Legacy; Sacramento, Calif.), Lauren Hunter (Placer United SC; Rocklin, Calif.), Min Joo Kim (San Jose Eathquakes; San Jose, Calif.), Alysiah Lockette (Colorado Rapids; Colorado Springs, Colo.), Miri O'Donnell (Mustang SC; San Ramon, Calif.), Kennedy Roesch (San Diego Surf; San Diego, Calif.), Samantha Sanchez (MVLA; San Jose, Calif.), Kyla Schuster (Legends FC; San Dimas, Calif.), Natalie Sheffey (LA Galaxy; Manhattan Beach, Calif.), Jamuna Williams (Colorado Rapids; Denver, Colo.), Chayse Yu (Lamorinda SC; Orinda, Calif.)