NWSL enters a new era at 2020 draft as young players keep turning pro early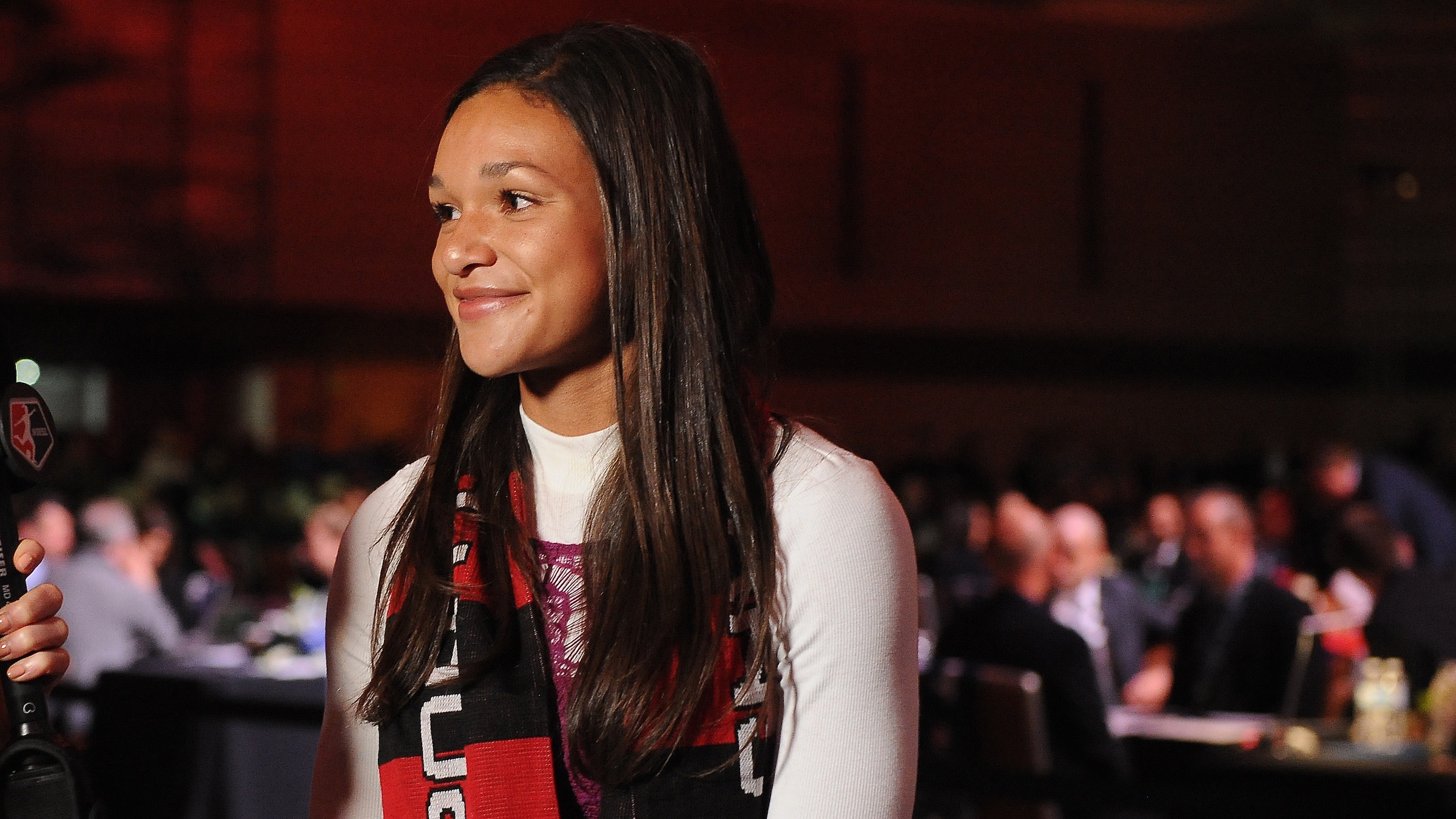 By Charles Boehm (@cboehm)
BALTIMORE – What do talented young soccer-playing girls in North America dream about? What goals and ambitions drive them as they climb the chaotic pyramid of the elite youth landscape?
For decades, it's been a scholarship offer from a major NCAA Division I program, starting with the University of North Carolina and followed by others in similarly rarified air atop the college game. And that probably won't fundamentally change any time soon. But the faint outlines of a different way – a deeper, richer and bolder way – began to take shape at last week's NWSL draft.
For the second straight year, the No. 1 pick left her blue-chip college side early to turn pro. This time it was Stanford's Sophia Smith, becoming the first teenager drafted in the league's history, following in the footsteps of her former Cardinal teammate Tierna Davidson in 2019, whose decision necessitated a NWSL rule change that previously required players to exhaust their NCAA eligibility before entering the draft.
"I just felt like this was the best time for me to take the next chapter of my life and my career," Smith, age 19, said on the league's live draft broadcast. "I went for it and followed my heart."
It starts to look like a trend considering that Ashley Sanchez got drafted at No. 4 this year after leaving UCLA ahead of schedule, and that Mallory Pugh did much the same in 2017, albeit with mid-year timing that left her outside the draft cycle. Portland Thorns and US Women's National Team midfielder Lindsey Horan is the trailblazer of all this, having gone straight from high school to Paris Saint-Germain in 2012.
So is women's soccer in America finally moving towards the norms of the men's game and US pro sports in general?
"To the @PDXRivetersSG, I'll see you soon!"

Sophia Smith is ready for her new challenge after being selected by @ThornsFC. #NWSLDraft pic.twitter.com/2Cn7sbMnx9

— NWSL (@NWSL) January 16, 2020
"When you think about the game globally and female players that literally go from their club game at 17, 18 years old and go into a professional environment, that's a benefit to them, and one that we hadn't been really taking advantage of with the rules as they previously were," said outgoing NWSL president Amanda Duffy.
"Seeing that the players are choosing to leave college early and come into NWSL speaks to the commitments our owners have made to creating an environment that they're excited about, and they feel comfortable leaving multi-million-dollar college environments and come into our professional environments with the right facilities and the right training, resources and infrastructure."
Or as Chicago Red Stars owner Arnim Whisler put it: "I think all we collectively want is for women to have the same chances as men."
SoccerWire.com spoke to several figures about this topic on draft day, and while several counseled caution given that the aforementioned players are all elite, national-team-caliber talents – "the 0.5% of players that that fits," in the words of Thorns coach Mark Parsons – it seems clear that things are changing.
"From the league standpoint and the coaches, we need to be careful that we're not selling pipe dreams to kids maybe coming out of the schools, and luring them to come out under false pretenses," said Red Stars head coach Rory Dames, a veteran of the elite youth game as director of coaching at Eclipse Select SC.
"But I don't think that that's happened to this point with any of the players that have come early. I think all the players that have come out early are high-level players that will be able to be effective in the league and all have long-term aspirations and hopes with the U.S. national team they'll probably get achieved."
NWSL aims to take a big step forward overall in 2020, having raised the league's salary levels markedly and implementing an allocation money system to allow clubs to spend more across the board, with an estimated 19.3% increase in the per-team salary cap.
The organization remains very much a work in progress at the dawn of its eighth season, with Duffy set to leave for the Orlando Pride next month and no commissioner on the horizon – but veteran players see their pioneering efforts paying off.
"It's really special, because I think as hard as we're working to increase just awareness of our league and overall player experience, I think that is now showing. Players are willing to leave college early to come and play in our league because they see it as a viable option for a career," Washington Spirit midfielder Tori Huster, who's played in NWSL since its inception, told SoccerWire as she welcomed Thursday's draft picks to her team.
"We've raised standards, and we've raised expectations for these girls, so they're expecting to come in and it to be a very professional experience. And that's what we've wanted the whole time. We don't want to have a bad experience for any of the players, like maybe we had when we were younger. And when the league was certainly younger, that was happening too often."
Even though the wage scale remains quite modest – minimum salary is $20,000 per year and the maximum is $50,000 per year, with USWNT players still paid by U.S. Soccer – it's reached a point that those hungry for the pro game find it easier to justify leaving school. And with women's soccer growing dramatically in the wider public consciousness, younger generations seem more apt to feel that way than their elders.
Case in point? The first media question posed to Sanchez, a swaggy attacker with extensive US youth national team experience who nonetheless won't graduate to one of those coveted six-figure USWNT contracts for at least a year and probably more:
With 1st question in mixed zone, Washington Spirit draft pick and longtime USYNTer Ashley Sanchez asked what she's looking forward to about going pro, does no beating around the bush: "Money."

Pretty memorable entrance! #NWSLdraft pic.twitter.com/N5BmFML7FS

— Charles Boehm (@cboehm) January 16, 2020
"I want to go back to [Spirit owner] Steve [Baldwin], because I think Steve has been talking a lot about, 'I don't care about 'equal pay' – I want to pay women more, I want to I want them to make more money, and I don't care what the men make. I want them to make more money, if their value is there,'" said Spirit assistant coach and associate general manager Tom Torres.
"Obviously there's metrics we have to look at, like what did we, percentage-wise, pay a first-round pick last year? Okay, what kind of risk did Ashley take to leave? What are they asking for? Those things all come into the picture, but we're talking about a potential world-class player that gets to develop with us, over time, not just one year but many years."
As women's professional players make more money and gain more visibility, they become more attractive to agents, advertisers and the like, which could eventually tempt top prospects to forego college entirely. Though that may remain years away, many within NWSL are eager to shift towards a youth academy-driven mindset similar to MLS's evolution in latter years.
Dames and others say the league has for years been working through a "homegrown player" policy that could be implemented soon, and most of the league's clubs are members of the U.S. Soccer Development Academy youth league.
"You have to have a scouting apparatus that looks internationally, that has always looked at the collegiate ranks, that frankly looks at the development academies and the ECNL and top-level youth clubs. We see [prospects] coming 10 years in advance," said Whisler. "For some clubs that haven't focused on the youth system, they'll have to apply more, you know, eyes to the collegiate system. But it's an expected evolution of our league."
One key problem, though: Ascending from NCAA to NWSL is a big leap in quality and intensity, and to go straight from even the best youth soccer competitions requires vaulting a veritable chasm.
"Overall, we're not paying players enough for a 16-year-old to say, 'I want to be a pro, I'm gonna go to one year of college.' It's not there yet," said Torres. "But the mechanisms are being built so that we can start to at least offer attractive salaries and other perks within the club to be able to make it happen.
"I think the youth soccer environment has some work to do first, before you can create the pro-to-youth [pipeline]," he added. "College soccer is still the pinnacle."
A broader set of choices for players and clubs? A stronger, more efficient and more cohesive developmental environment from youth to pro? Genuine and thoughtful investment in the youth game on the part of professional clubs? It's early yet, but the foundations of a brave new world emerged on Baltimore's Inner Harbor last week.