Nick Dunbar tabbed as CCL New England's Technical Advisor
Charlottesville, VA – The Club Champions League (CCL) has announced the hiring of Nick Dunbar as CCL New England's Technical Advisor.
Dunbar has stepped down from his position as Technical Director of the Northeast Soccer League (NSL) effective January 1, 2020 to start his new role with the CCL. He will be responsible for maintaining club relationships, standards, and compliance while also providing technical direction and leadership.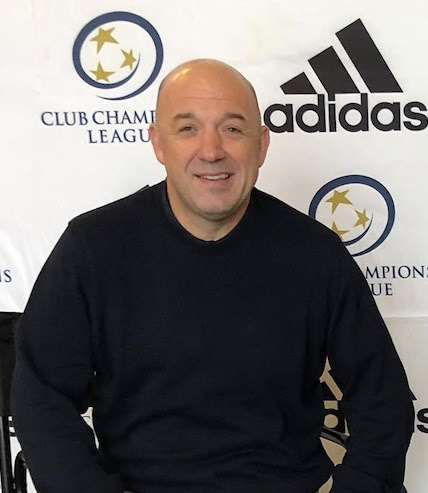 He will help oversee the growth of CCL New England under the CCL's philosophy, mission, annual goals and objectives. Dunbar will work closely with the CCL Board of Directors and executive staff to develop and implement policies, procedures, and long-range strategic plans specific to CCL New England. He will also collaborate alongside CCL New England's Director of Operations to manage the league on a day-to-day basis.
Dunbar had this to say about his new role, "I am extremely excited to be taking this position and working alongside the incredible staff of the Club Champions League. Having worked closely with many clubs across the New England region, the demand for working together with like-minded leaders is boiling over and the support for CCL New England has been tremendous. The pathway and programming that CCL New England will offer and support we will provide will be first class. This represents an incredible opportunity for the growth of the game in the region and promises to provide support and assistance to every youth soccer organization. I can't wait to get started in the role and look forward to the journey ahead."
"Nick brings positive energy and tremendous experience to the CCL. We are excited to have him on our team and look forward to having him maintain and cultivate new club relationships in New England," said Brian Kuk, CCL Executive Director.
Dunbar is a graduate of Northumbria University with a Bachelor of Arts (HONS) in Sports Studies with a concentration in Sport Sociology. After graduating from Northumbria he then went on to achieve a Post Graduate Certificate of Education in Physical Education and is a qualified teacher for up to High School age students.
Dunbar is also the Vice President of Sales and Business Development for XL Sports Tours and will continue in the role along with performing the role of Technical Advisor for CCL New England. Dunbar has a wealth of experience in the soccer industry having almost 30 years in various executive positions across the region. These roles include General Manager of Everton America FC (Norwalk, CT), Academy Director and Director of Human Capital for Global Premier Soccer (Waltham, MA), and President of Major League Soccer Camps (Groton, CT).
Dunbar is a respected thought-leader in youth soccer matters, and has spoken regularly at regional, national and international conferences and forums on topics ranging from coaching, coach and player development, and curriculum design and rollout. He is also an accomplished coach in his own right, holding an FA Coaching Certificate, US Soccer National "A" coaching license, and the United Soccer Coaches "Premier" Diploma and Master Coach and Soccer Leader Diploma.
In addition, Dunbar has the US Soccer Instructor License and leads US Soccer Grass Roots and D Licenses. He is also certified to instruct the United Soccer Coaches Regional Diploma. Dunbar is currently completing a Masters in Sports Directorship at Manchester Metropolitan University in the UK and will graduate in 2021.