Virginia's Jaime Frias hired as head soccer coach for the University of Houston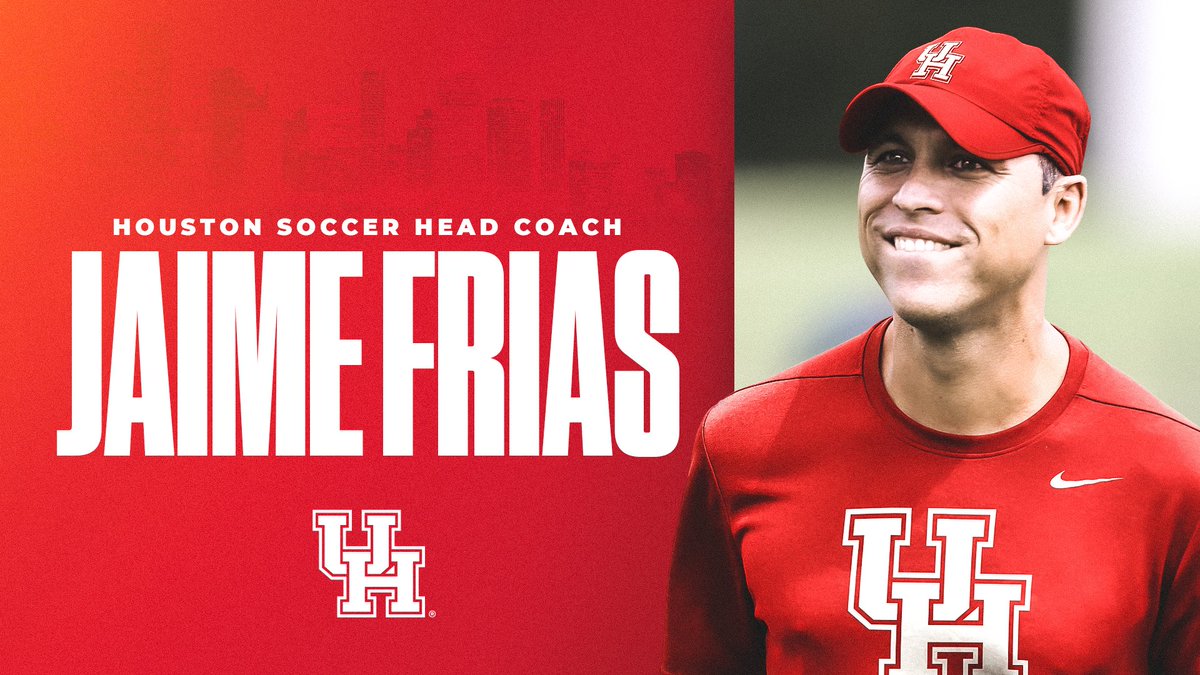 HOUSTON – Jaime Frias has been named as the University of Houston soccer head coach, Vice President for Athletics Chris Pezman announced Wednesday.
Frias arrives at Houston from Virginia where he served as an assistant coach since Jan. 2019. During two stints at UVA, Frias helped the Cavaliers to four ACC titles (2012, 2013, 2015, 2021) and three College Cups (2013, 2014, 2020).
"We're really excited to announce the hiring of Jaime Frias and welcome he and his family to Houston," Pezman said. "His record of success at exceptionally high levels is a model for what we're trying to build at Houston. Jaime's leadership and continued ascension positions our program favorably as we enter an exciting future."
Prior to his second stint at the University of Virginia Frias worked exclusively with the United States Soccer Federation.  He served as head coach of the U18 Women's National Team and assistant coach with the U20 Women's National Team from April of 2017 through January of 2019.  He was the head coach of the U16 Youth National team prior to assuming his duties with the U18 and U20 teams. In addition to his national team head coach experience, Jaime participated in three U20 World Cups including the Under 20 World Cup Championship in 2012.
Houston Soccer Head Coach Jaime Frias:
"I would like to thank Chris Pezman, DeJuena Chizer and the rest of the hiring committee for entrusting me to be the next women's soccer coach at the University of Houston.  Coming home to coach in the city I grew up in and a place I have always considered home was an opportunity I couldn't pass up and a dream come true for me.
I would also like to thank Steve Swanson and the entire University of Virginia women's soccer staff for their friendship and mentorship throughout my time there.  Steve in particular has been a huge influence on my career and personal life and I appreciate all the support he's shown me these past 12 years.
I now have the privilege to continue my coaching journey at an institution that values athletic and academic success. There is an excitement around the University of Houston which is evident by the current nationally recognized academic departments and sports teams on campus. Our mission will be to set a standard of excellence that is aligned with the mission and vision of the University.  There is no better time to be a Cougar than now!"
The Frias File
Frias served as head coach at the University of Nevada for the 2008-09 seasons, leading the program to the finals of the 2009 WAC Tournament and the most conference wins in school history.
He also spent three seasons as head coach at Stephen F. Austin (2005-2007) including being named the 2005 Southland Conference Coach of the Year. In six total seasons with the Lumberjacks, including three as an assistant, the program won four Southland Conference titles and advanced to two NCAA Tournaments.
Frias earned his Bachelor of Science in Health and Physical Education from the Centenary College of Louisiana where he played soccer four seasons and was a two-time team captain. Centenary was also the first stop on his coaching career, serving as an assistant coach from 2000-02.
He and his wife, Ta, have two children, Azari, and Jaime Dhani.
Frias inherits a program fresh off its most successful season of program history. In 2021, the Cougars set a new program record for wins with 13. For the first time in program history, Houston Soccer finished the regular season with a No. 2 conference ranking and semifinals berth in the American Athletic Conference Tournament.