Texas State hires Steve Holeman as women's soccer head coach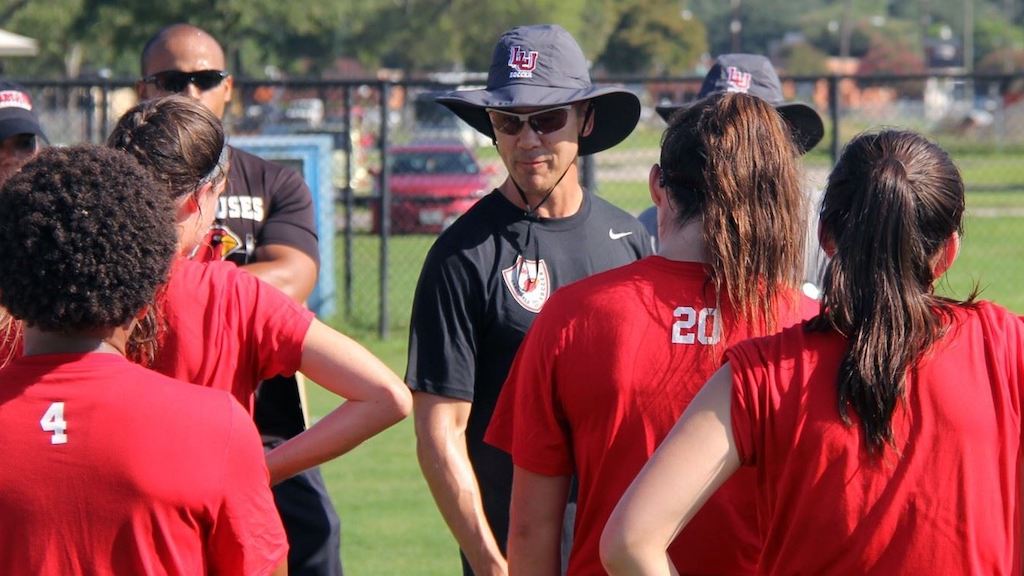 SAN MARCOS, Texas – Steve Holeman has been named the new head coach of the Texas State soccer team by Director of Athletics Don Coryell. Holeman is the second-ever head coach in the program's history.
"We are excited to welcome Coach Holeman to the Bobcat family as our new soccer head coach," Coryell said. "His passion and dedication to student-athletes was evident throughout our hiring process. His approach to our student-athletes overall experience and his emphasis on their academic success made him an ideal choice."
"Competitively, he has a wealth of head coaching experience over the past 20 years including stops at Lamar, Georgia, Ole Miss and Auburn. We wanted a coach who has won at the highest levels and can help us not only win conference championships but have success in the NCAA Tournament. Coach Holeman has the blueprint for that plan."
"I would like to thank our search committee chaired by Mr. Bryan Miller for their hard work on this hire. I also want to specifically thank and recognize two of our soccer athletic alumni, Brittany Curry and Kristi Troxel, who were part of our search committee," said Coryell.
Holeman takes over a Bobcat program with a rich history that includes 10 conference titles and five NCAA Tournament appearances. It has also produced 44 All-Conference first teamers, four CoSIDA Academic All-Americans, two United Soccer Coaches Scholar All-America honorees and has received the United Soccer Coaches Team Academic Award for 12 consecutive years.
"First, I would like to thank Don Coryell, Bryan Miller, Bryan Dean, Travis Comer and the rest of the committee for this incredible opportunity," Holeman said. "I'm excited and honored for the confidence that Texas State has shown in me to lead their women's soccer program. Texas State is one of the top universities in Texas, located in one of the best areas in the country and the potential to do great things is unlimited. It was clear from the beginning that the administration is committed to providing what's necessary for their student-athletes to enjoy success at Texas State and I'm eager to get underway."
Holeman brings 27 years of head coaching experience to the Bobcats and has compiled a career record of 283-207-50. His win total is tied for the 36th most among active Division I head coaches at the conclusion of this past season. He arrives in San Marcos after spending the past six seasons at Lamar where he went 66-43-8, won four conference titles and made two NCAA Tournament appearances (2017 & 2019).
During his time with the Cardinals, Holeman saw 30 players selected to all-conference teams, 11 picking up all-region accolades and the program's first-ever All-American in Esther Okoronkwo in the Spring of 2021. The team also garnered three Southland Conference Scholar-Athlete of the Year, two Player of the Year and two Newcomer of the Year awards. The 2019 team's 70 goals were the third most in the nation with both Okoronkwo (25) and Lucy Ashworth (21) finishing second and fourth, respectively, in goals scored nationally.
Holeman, a two-time Southland Coach of the Year, recorded the biggest turnaround in NCAA Division I women's soccer history in 2017. After Lamar recorded two wins the previous season, he sparked the team to 18 victories and the program's first-ever NCAA appearance. That year's team also broke more than 20 school records.
Prior to Lamar, Holeman's coaching career had been spent in the Southeastern Conference that saw him start two programs from the ground up. He spent five seasons (2010-14) as the head coach at Georgia in which the Bulldogs posted a 53-39-11 record. The program chronicled four 10-win seasons, reached the second round of the NCAA Tournament in 2014 and 2011, 14 players earned All-SEC honors and one student-athlete picked up All-American honors.
Holeman spent 16 seasons (1994-2009) at Mississippi, where he was the program's first-ever head coach. During his time in Oxford, the Rebels went 158-119-28 with four NCAA Tournament appearances (2002, 2003, 2005 & 2009) and three SEC Western Division titles (1999, 2000, & 2005). Ole Miss qualified for 13 straight SEC Tournament, had 30 players named all-conference, including two Freshmen of the Year, and eight earned Academic All-American honors.
During his final five seasons with the Rebels, he posted a 19-1-5 (.860) record against SEC West Division foes and recorded the league's fourth-best winning percentage in conference games during that time.
The first head coaching stop of Holeman's career was at Auburn. He was hired by the Tigers in 1993, building the program from scratch in six weeks, and went 7-6-3 record in his lone season at the helm.
A four-year letterwinner at Wake Forest, Holeman helped guide the Demon Deacons to the 1989 ACC Championship and three NCAA Appearances (1988, 1989 & 1990). He received his bachelor's degree from Wake Forest in health and sports science in 1990 and a master's degree from Auburn in 1993 in exercise physiology.
Holeman and his wife Julie have two children, Anna Mae and Robert.