Georgia's Katie Ely joins University of Maryland women's soccer coaching staff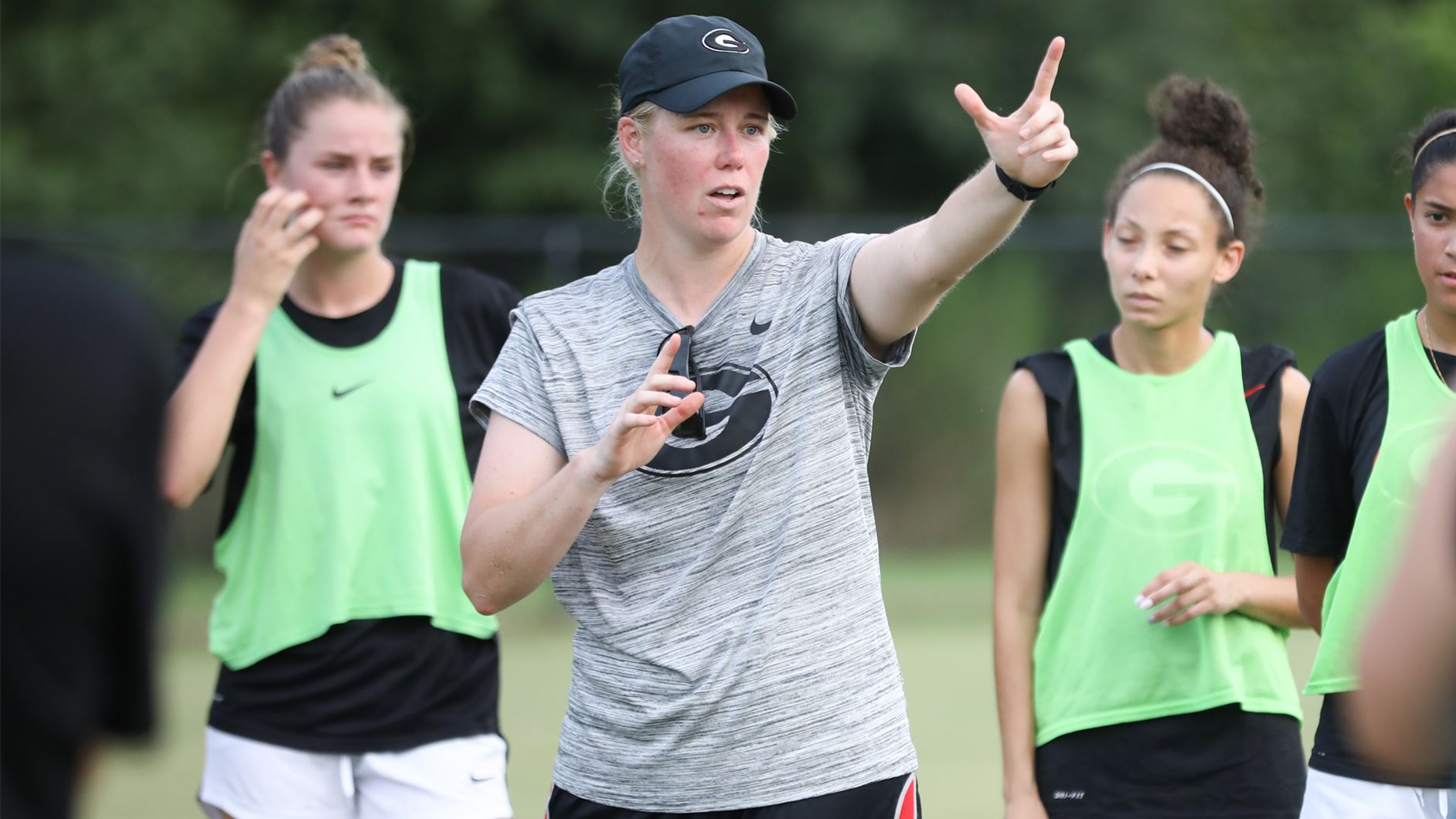 COLLEGE PARK, MD – University of Maryland women's soccer head coach Meghan Ryan Nemzer has welcomed Katie Ely to her staff as an assistant coach.
Ely brings a wealth of experience to College Park, with 15 years of Division I coaching under her belt at Power 5 institutions. Ely will work primarily with the goalkeepers.
"I am thrilled to have Katie joining the staff," said Nemzer. "Katie brings over 15 years of coaching experience and knowledge to the program. She has coached at the highest level, including in the National Championship game. Katie is one of the best and well respected goalkeeper coaches in the country. She is a proven winner and I am excited to build the program and culture with Katie. She is a great role model for our student athletes and we are lucky to call her a Terp."
Ely comes to Maryland after a seven-year stint at Georgia. Ely helped lead the Bulldogs to an 11-win campaign in 2021, the most wins by a Georgia team since the 2013 season. Ely's goalkeepers posted six shutouts this past year, ranking second-most by a Georgia team in her tenure. Overall, Ely's goalkeepers combined for 32 shutouts during her time in Athens.
"I am very thankful for the opportunity to be part of this university, athletic department, and women's soccer program," said Ely. "It is an awesome time to be a Terp. The opportunity to bring winning soccer back to Maryland with Meghan is very exciting. Meghan's coaching and personal philosophies are what drew me to the university and I can't wait to get started!"
During her early years with the Bulldogs, Ely helped guide goalkeeper Louise Hogrell to national recognition as she led the SEC is saves per game and racked up weekly awards from the conference and TopDrawerSoccer.com. Hogrell ended her career as one of the program's all-time great goalkeepers, ranking second in school history in career saves (346) and fifth in career shutouts (15).
Graduate student Emily Wegner thrived in the net in four seasons under Wegner from 2018-21, earning Second Team All-SEC honors in the spring of 2021. Wegner finished second in the SEC in shutouts (7) and was third in save percentage (.795) in the shortened spring season. Ely guided her to a career-high 70 saves this past fall, while Wegner amassed 11 wins in net for the Bulldogs.
Prior to her time with Georgia, Ely spent two seasons at Missouri from 2013-14. She worked primarily with the Tigers' goalkeepers while in Columbia, helping McKenzie Sauerwein set a school record in saves in 2013. Sauerwein recorded six shutouts in 2014, helping the Tigers advance to the second round of the NCAA Tournament and a 12-7-3 record.
Prior to joining the Missouri staff, Ely spent two seasons as the goalkeeper coach at Duke. While in Durham, Ely helped the Blue Devils reach the 2011 and 2012 NCAA College Cup. The Blue Devil goalkeepers also set single season records in shutouts (16) and goals against average (0.48) under Ely's direction.
Ely spent four seasons as an assistant coach at Syracuse before joining Duke's staff. While with the Orange, she coached goalkeepers who set the school's career saves and shutouts records and earned All-Big East Rookie Team honors.
Ely graduated from Fairfield (Conn.) University in 2007, where she helped the Stags win the MAAC regular season title in 2002 and the MAAC Tournament title in 2007. She ranks first in school history in saves average, fifth in saves and sixth in wins, shutouts and goals against average.