Liberty women's soccer welcomes eight newcomers for 2022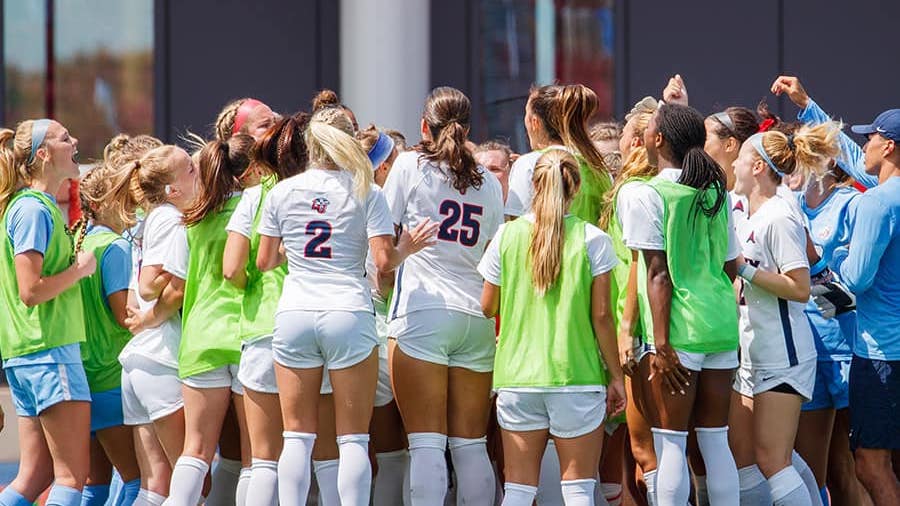 Head coach Lang Wedemeyer and the Liberty University women's soccer program announced the signing of eight newcomers for the class of 2022.
"This 2022 class is so exciting! The quality of talent, the versatility, and the athleticism will enable many of these players to make immediate impacts on our program," Wedemeyer said. "Not only are they great soccer players, but they are exceptional students, and the highest quality of people that will continue to make our team culture something truly special and unique."
Haleigh Arostegui | Defender | Raleigh, N.C.
Arostegui attended Leesville Road high school where she played for Paul Dinkenor and was named the CCAP 7 Champions with a 22-1-1 record. Arostegui also played for NCFC and coach Sean Nahas where they were the U14 NCYSA State/Region III Champions and competed in the 2018-19 ECNL Championship League Playoffs.
Coach Wedemeyer Quote: "Haleigh has played generally outside back, but has the soccer intelligence to shift into multiple positions and adapt her role in a variety of formations as well. She is very composed on the ball and makes exceptionally good decisions under pressure."
Halle Engle | Forward | Mechanicsburg, Pa.      
Engle attended Mechanicsburg where she played for coach Mike O'Brien where she was a four-year letterwinner and starter. At Mechanicsburg, Engle has scored 116 goals along with 44 assists throughout her time while also being a two-time All-State selection. Engle is a three-time Pennlive First Team selection and was named the 2020 Pennlive Player of the Year. Engle was nominated for the 2021 High School All-American Watchlist after an illustrious career, being the all-time leading scorer at Mechanicsburg and being a three-time Mid-Penn All-Conference honoree and a three-time Sentinel First Team selection.
Coach Wedemeyer Quote: "Halle is a strong and imposing force on the front line.  She is quick enough to cut off defenders with her moves and is always looking for the goal.
Ivy Garner | Forward | Hillsborough, N.C.
Garner attended Cedar Ridge high school, where she played under head coach PJ Michaelson. At Cedar Ridge Garner recorded 50 points scoring 18 goals along with 14 assists. Garner has played against top competition around the country as she was a U.S. Soccer training session attendee from 2016-17 and attended the ECNL Training Camp in Portland, Ore. in 2018. Garner also played for Oak City United from 2019-2021, a WPSL team.
Coach Wedemeyer Quote: "Ivy is an incredible athlete with an awesome mentality to take players on 1v1 every chance she gets. She is a great athlete with a solid understanding of the game that should help her make an immediate impact on our program."
Sallie Garner | Defender | Charlotte, N.C.
A multi-sport athlete, garner ran track, in addition to playing soccer at Porter Ridge high school. Garner played centerback at Porter Ridge under head coach, Rod Ladimir and Jade Cheron, where she was a two-year starter. Leading a backline, Garner also scored 11 goals during her junior season in which she was named All-Conference and a First Team All-Region selection. In her track career, Garner qualified for the States, finishing 8th in the 400meter dash and set the 400meter dash record and also the 4x400meter record.
Coach Wedemeyer Quote: "Sallie is a tremendous defender who can play most anywhere in the back line but can also make dangerous attacking runs up the flanks.  She has great composure and reads the game well but is also strong in the tackle."
Ava Goodman | Forward | Pottsville, Pa.
Goodman attended Pottsville Area high school where she played for coach Bob Stock. Goodman was a four-year letterwinner and starter under Stock where she has scored 36 career goals and 32 career assists. As a two-year captain, Goodman was crowned the 2019 NCS State Cup Champions and was named to the 2020 Pennsylvania Soccer Coaches Association All-State selection and was a 2019-20 USYS National League player.
Coach Wedemeyer Quote: "Ava is another very versatile player.  She can play everything from a post-up forward to a ball-winning center back.  She has great size and can be dominant in the air."
Elise Graf | Defender | Havre De Grace, Md.
A multi-sport athlete, Graf also ran track at C. Milton Wright high school. Under head coach Andrew Harrel, Graf was a captain at C. Milton Wright where she scored four goals along with an assist where she was a First Team All-Conference selection. Graf also played club soccer for Pipeline Soccer Club in the ECNL.
Coach Wedemeyer Quote: "Elise is a very feisty player who is exceptionally quick to close down attackers, but also excellent on the ball, especially with her distribution out of the back.  She is another versatile player who can play almost every position on the field."
Megan Hagan | Forward | Cary, N.C.
Hagan attended Cary Christian School where she won two state championships, in 2017 and in 2021. In the 2017 State Championship, Hagan scored the game-winning goal and in the 2021 State Championship scored three goals, including the game-winning goal. Hagan was named to the 2021 Super Cup Team for ECNL Club and was Player of the Year for the EPIC Conference. Hagan also played for NCFC under coaches Dave Arensdorf and Cindy Parlow where she played in three state championships, two regional championships and was No. 8 for the U18 girls in the nation.
Coach Wedemeyer Quote: "Megan is a dynamic forward who is crafty on the ball, can skin defenders in multiple ways, but also fast enough to break defenses down with her speed."
Allison Hansford | Forward | Athens, Tenn.
Hansford attended McMinn County high school where she played for head coach Jordan Jacob and was a four-year starter and letterwinner. Throughout her four years at McMinn County, Hansford scored 135 career goals and 61 career assists. Hansford holds the school record for most goals in a season, netting 43 goals in a single season and also holds the school record for most career goals and assists. Hansford was a three-time All-State selection and was a three-time Region and District MVP. Hansford has played in big games as she was a four-time District AAA Champion and won the Tennessee Soccer State Cup and was a WPSL U21 Conference Champion, playing for TN Force FC.
Coach Wedemeyer Quote: "Allie is a fast and elusive forward who can score goals out of nothing. She is great on the dribble, but also clever enough to find combinations to break down her opponents."