Wake Forest women's soccer signs 12 class of 2022 recruits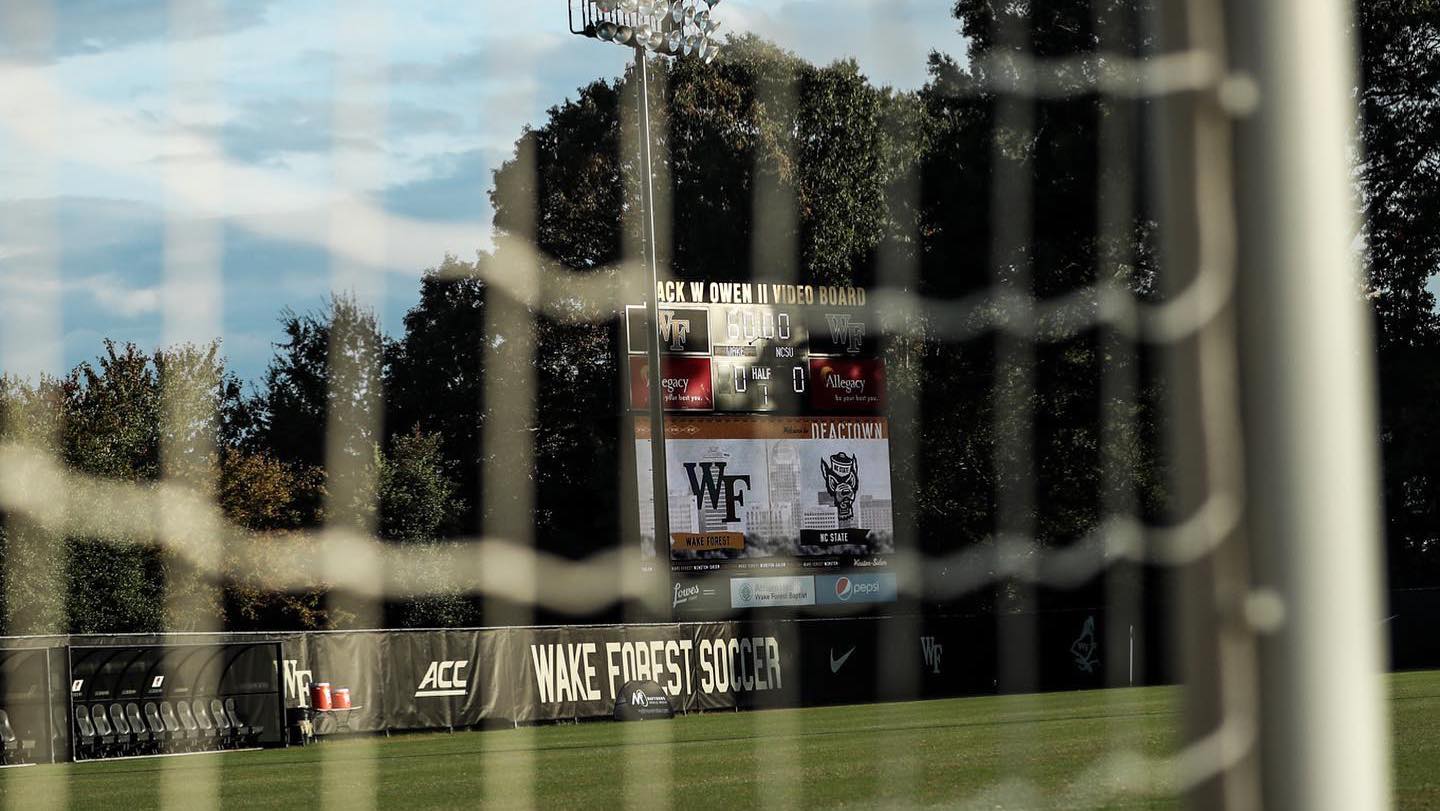 WINSTON-SALEM, N.C. — Wake Forest soccer head coach Tony da Luz has announced the addition of 12 signees for the program's 2022 recruiting class.
Wake Forest's 2022 class was recently tabbed top-20 in the country by TopDrawerSoccer.com, ranking 20th overall and fourth among programs from the Atlantic Coast Conference. The group features 12 versatile field players, as Baylor Goldthwaite will enroll in January and the remaining 11 will begin their freshman campaigns in Winston-Salem next fall.
"The quality of our 2022 recruiting class makes a strong statement about the exciting direction our program is headed," da Luz said. "The addition of these 12 players builds more strength, speed, technique and depth to our already talented roster. This class puts us one step closer to our championship goal."
A detailed listing of Wake Forest's 2022 signees, including high school honors and notable achievements, can be viewed below.
Taryn Chance
Stafford, Virginia
Colonial Forge HS / VA Union ECNL
Defender / 5-4
Notables:
Plays club soccer for VA Union ECNL
Guided VA Union ECNL to an appearance in the Virginia State Cup Finals
Won the Jefferson Cup and competed in the VA State ODP / Regional ODP
Chance was named to the Honor Roll three straight years
Sean Armand, cousin, played for Iona Basketball and currently plays professionally overseas in Spain
Tony da Luz on Chance
"Taryn is a tenacious left sided player, who can match up defensively with anyone and can transition to attack with great speed."
Welcome to 𝐃𝐄𝐀𝐂𝐓𝐎𝐖𝐍, Taryn!

» Stafford, Virginia
» Colonial Forge HS
» VA Union ECNL#GoDeacs🎩⚽️ | #NSD22 pic.twitter.com/3DgxYYWaNi

— Wake Women's Soccer (@WakeWSoccer) November 11, 2021
Laine DeNatalie
Locust Valley, New York
Locust Valley HS / SUSA Academy
Defender / 5-8
Notables:
Named B1 Conference Player of the Year in 2021
Four-year letter winner for Locust Valley High School in Locust Valley, New York, collecting 47 goals and 26 assists and is a three-time All-County and 2020 All-State member
Plays club soccer for SUSA Academy under the direction of JR Balzarini
Named to the Top 20 Girl Soccer Player to Watch in 2020 and 2021
Named to the Top 100 Long Island Girls Soccer Player in 2019, 2020 and 2021
Academic Top 15 of Class of 2022, Advanced Placement Scholar and National Honor Society all four years of high school
Tony da Luz on DeNatalie
"Laine is a really creative attacking left sided player. She can play wide as a special 1v1 player and can playmake centrally. She wants to get to goal."
Our second signee hails from the Empire State.

Welcome to the family, Laine!

» Locust Valley, NY
» Locust Valley HS
» SUSA Academy#GoDeacs🎩⚽️ | #NSD22 pic.twitter.com/qWeCzoguna

— Wake Women's Soccer (@WakeWSoccer) November 11, 2021
Chidubem Dike
Greenville, South Carolina
Greenville Technical Charter HS / CESA ECNL
Forward / 5-7
Notables:
Rated as a four-star No. 96 overall prospect and No. 32 forward by IMG Academy / TopDrawerSoccer.com for the 2022 class and rated No. 4 in the South Atlantic region
Four-year letter winner for Greenville Technical Charter HS in Greenville, South Carolina, collecting 55 goals and was named Player of the Year in the region
Plays club soccer for CESA ECNL under the direction of Andrew Hyslop
Named to the First Team All-Conference for the ECNL 2020-21 season
Invited to play in the ECNL National Selection Game in Greer, South Carolina and scored the opening goal
Ranked Top 50 in the nation for the class of 2022 in 2018-19
Tony da Luz on Dike
"Chidubem is a special attacking player, she will play as a 9 for us. She is a force who can hold the ball under pressure, turn defenders and leave them in the dust with her crazy power and speed."
Everyone please welcome Chidubem Dike to the Wake Forest family! 🖤💛

» Greenville, S.C.
» Greenville Technical Charter HS
» CESA ECNL#GoDeacs🎩⚽️ | #NSD22 pic.twitter.com/6BYv8oEfZL

— Wake Women's Soccer (@WakeWSoccer) November 11, 2021
Courtney Evans
Springfield, Virginia
Trinity Christian School / Virginia Development Academy
Defender/Forward / 5-7
Notables:
Rated as the No. 112 overall prospect and No. 28 defender by IMG Academy / TopDrawerSoccer.com for the 2022 class
Plays club soccer for Virginia Development Academy alongside fellow 2022 Wake Forest signee Brooke Potter
Three-time ECNL Mid-Atlantic Champions
Rated IMG Top 150 prospect and four-star recruit
Named ECNL U18-19 Mid-Atlantic All-Conference Team in 2020-21
Attended US Regional Soccer Youth National Team Identification camp in Somerset, NJ
Helped lead  Virginia Development Academy to a 2021 Jefferson Cup title
Invited to US Soccer Training Center 2015-18 (25 times)
Tony da Luz on Evans
"Courtney is a versatile and very athletic player. She has experience as a defender but is also a highly effective attacking player. She has a sweet right foot and a knack for scoring goals"
Everyone welcome Courtney Evans to the Wake Forest Family! 👋

» Springfield, Va.
» Trinity Christian School
» Virginia Development Academy
#GoDeacs🎩⚽️ | #NSD22 pic.twitter.com/BwgbY4k0TE

— Wake Women's Soccer (@WakeWSoccer) November 11, 2021
Baylor Goldthwaite
Durham, North Carolina
Durham Academy / NC Courage ECNL Academy
Defender/Midfielder / 5-6
Notables:
Played for head coach Sean Nahas on NC Courage Academy from 2017-21
Garnered the 2021 Hamilton Sportsmanship Award
Qualified 2018-19 US Sailing Opti National Team Trials
Won USA Junior Olympics Sailing Festival – Optimist 1st Place Girl
Announced as a AP Scholar Award
Named National Merit Scholarship Program
Tony da Luz on Goldthwaite
"Baylor will get an early start by joining us in January. She can play comfortably in midfield and as an outside back. She has great ball control and vision for a final pass."
Baylor will be joining us in the spring!! 🙌

» Durham, N.C.
» Durham Academy
» NC Courage ECNL Academy#GoDeacs🎩⚽️ | #NSD22 pic.twitter.com/LjiphPzfW0

— Wake Women's Soccer (@WakeWSoccer) November 11, 2021
Caiya Hanks
Kailua-Kona, Hawaii
Konawaena HS / Kona Crush Academy
Midfielder/Forward / 5-4
Notables:
Plays high school soccer for Konawaena HS in Kailua-Kona, Hawaii and was named First Team All-BIIF and All-State Second Team
Led the team to third in the State for back-to-back year
Plays club soccer for Kona Crush Soccer Academy, earning Kona Athlete of the Year 2018
Invited to participate in the National ID Training Center
Ran track as a freshman at Konawaena, running the second fastest 100m and 200m in school history
Third in state for the 4×100 and ran anchor to the fastest time in school history
Tony da Luz on Caiya Hanks
"Caiya is a relentless midfielder who can run all day and attack with flair. She will play as a 10 for us as she is a special dribbler and deft passer. "
Offered. Committed. Signed. ✅

Welcome to Wake Forest, Caiya Hanks! 👏👏#GoDeacs🎩 | #NSD22 pic.twitter.com/NFbVwZI41i

— Wake Women's Soccer (@WakeWSoccer) November 11, 2021
Hannah Johnson
Atlanta, Georgia
Atlanta International School / Concorde Fire
Forward / 5-11
Notables:
Four-year letter winner for Atlanta International School in Atlanta, Georgia, earning MVP award for the spring of 2021
Led Atlanta International School in scoring in 2020 and 2021
Participated in 2018 ECNL ID National Camp
Two-time ECNL United Soccer Coaches Southeast All-Conference Team
Named captain for Concorde Fire and led the Concorde Fire in scoring in 2018 and 2019
Participated in 2018 ECNL PDP
Tony da Luz on Johnson
"Hannah gives us a different dimension up front, she is tall, powerful and can score in a variety of ways. She can hold the ball up, and she has blazing speed to get behind defenses."
Welcome to Wake Forest, Hannah Johnson! 👏

» Atlanta, Ga.
» Atlanta International School
» Concorde Fire#GoDeacs🎩⚽️ | #NSD22 pic.twitter.com/p7hYOEepma

— Wake Women's Soccer (@WakeWSoccer) November 11, 2021
Aisha Polk
Dallas, Texas
Plano West Senior HS / Sting Dallas Black U18/19
Forward/Midfielder / 5-5
Notables:
Four-year letter winner for Sting Dallas Black U18/19 in Dallas, Texas earning MVP awards during her freshman and junior year
Led Plano West HS to a Conference championship in 2019
Led Sting Dallas Black to an ECNL playoff final
Selected to play in the ECNL San Diego Selection game
Picked up a ECNL conference championship
Tony da Luz on Polk
"Aisha can play anywhere across the front line. She is creative, powerful and scores goals."
Next up we have Aisha Polk! 🎩

» Dallas, TX
» Plano West Senior HS
» Sting Dallas Black U18/19#GoDeacs🎩⚽️ | #NSD22 pic.twitter.com/UnV4cjUYw1

— Wake Women's Soccer (@WakeWSoccer) November 11, 2021
Brooke Potter
Williamsburg, Virginia
Lafayette HS / Virginia Development Academy
Forward/Midfielder / 5-5
Notables:
Rated as a four-star No. 76 overall prospect and No. 28 forward by IMG Academy / TopDrawerSoccer.com for the 2022 class
Rated the No. 7 in the Mid-Atlantic region
Plays club soccer for Virginia Development Academy alongside fellow 2022 Wake Forest signee Courtney Evans
Invited to the U.S. Soccer National Team Training Camp in Carson, California
Trained in the U.S. Soccer State and Regional Training Centers
Attended the Washington Spirit Advanced Development Program
Named the Region 3A Player of the Year and named All-Region First Team
Three-time qualifier for USSDA National Championships (2018-2020)
Led the team in goals and assists in the State Championship Final Four
Tony da Luz on Potter
"Brooke is a playmaker and will likely play as an attacking midfielder or winger. She has natural soccer instincts, solves pressure and score from distance. "
Officially official! Welcome to the family, Brooke Potter 🎩

» Williamsburg, Va.
» Lafayette HS
» Virginia Development Academy#GoDeacs🎩⚽️ | #NSD22 pic.twitter.com/6juIvLl9GL

— Wake Women's Soccer (@WakeWSoccer) November 11, 2021
Allie Schmidt
Bainbridge Township, Ohio
Hathaway Brown School / Internationals Soccer Club
Defender / 5-5
Notables:
Rated as a four-star No. 179 overall prospect and No. 46 defender by IMG Academy / TopDrawerSoccer.com for the 2022 class
Rated the No. 13 in the Great Lakes region
Plays club soccer for Internationals Soccer Club, helping her team secure ENCL National Finalist
Helped lead club to 2020-21 ECNL Ohio Valley Conference Championship
Named ECNL Ohio Valley Second Team All-Conference
Attended multiple U.S. Soccer Regional Youth National Team ID Center
Tony da Luz on Schmidt
"Allie can play either side as an outside back and in midfield. She has a great engine, runs all day and battles."
Coming to us from Bainbridge Township, Ohio. Please welcome Allie to the Wake Forest Family! 👏

» Bainbridge Township, Ohio
» Hathaway Brown School
» Internationals Soccer Club#GoDeacs🎩⚽️ | #NSD22 pic.twitter.com/k6uIMwyIWI

— Wake Women's Soccer (@WakeWSoccer) November 11, 2021
Carly Wilson
Atlanta, Georgia
Lambert HS / Concorde Fire ECNL Platinum
Midfielder / 5-5
Notables:
Two-year letter winner for Lambert High School in Atlanta, Georgia, earning GHSA First Team All-State and USC First Team All-State
Led Lambert HS to Georgia 7A State Runner-Up and earned 2021 Coaches Award
Named Forsyth All-County First Team
Plays club soccer for Concorde Fire ECNL Platinum, helping her team secure back-to-back ECNL Southeast Conference championships in 2018 and 2019
Helped Concorde Fire SC Platinum earn ECNL National Playoffs appearances in 2016 and 2018
Played for Tophat 04 DA Team
Tony da Luz on Wilson
"Carly is a really smart central midfielder who can play in a defensive role or as a 10. She has vision for a special pass and likes to get into the box to finish."
Signed. Sealed. Delivered. 📝

Welcome to the Deacon Nation, Carly! 👋

» Atlanta, Ga.
» Lambert HS
» Concorde Fire #GoDeacs🎩⚽️ | #NSD22 pic.twitter.com/GotM0a3S6N

— Wake Women's Soccer (@WakeWSoccer) November 11, 2021
Alex Wood
Huntington Beach, California
Edison HS / Beach FC U18/19 ECNL
Forward / 5-8
Notables:
Ranked No. 38 Southern California Region as a forward
Attended U.S. Soccer Training Center
Played for Beach FC ECNL under coach Jeff Joyner (2021-22)
Played for Beach FC USSDA under coach Anton Arrache (2016-20)
Tony da Luz on Wood
"Alex is a special dribbler who will play wide but can also excel as a midfield play maker. Her runs and timing are impeccable. She can score goals or cross for assists."
Finishing out the day strong 💪

Welcome to the Deacon Nation, Alex! 👋

» Huntington Beach, Cali.
» Edison HS
» Beach FC U18/19#GoDeacs🎩⚽️ | #NSD22 pic.twitter.com/IooHwptpOu

— Wake Women's Soccer (@WakeWSoccer) November 11, 2021