Boise State women's soccer announces five signings for 2022 recruiting class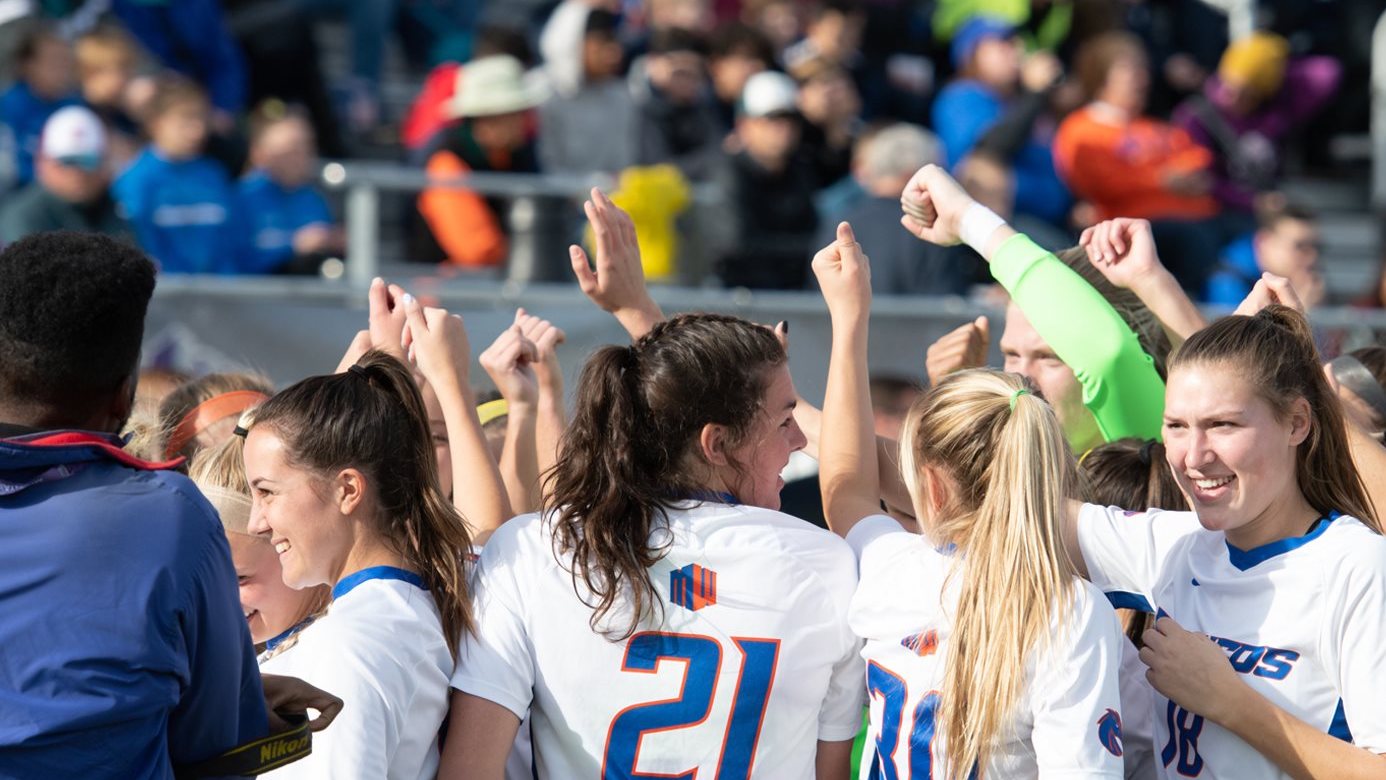 BOISE, Idaho – Boise State women's soccer head coach Jim Thomas has announced five new signings as a part of his 2022 recruiting class.
"This class fills all the holes that we saw during the 2021 season and continues a lot of the recruiting themes that have shown to have great success in the past," said Thomas. "We found some awesome, top-end local talent and then really hand-picked, specific out-of-state talent that is going to impact our squad right away."
Nadia Kincaid – Forward
Kincaid is a local-signing for the Broncos having played at Rocky Mountain High School in Meridian. She started all four years in her high school career, leading the Grizzlies to three-straight 5A state championships in her first three seasons. The forward scored 61 goals in her high school career, including 29 in her senior season which led the SIC. Kincaid is a two-time all-district first team honoree and was named all-state first team her junior year.
The future Bronco is also a standout-student in high school, sporting a 3.9 cumulative GPA and all-academic team honors in each of her four years.
What Coach Thomas Says: "I think she's one of the most exciting recruits for me because I really don't know what to expect from her. She's so capable of playing so many different positions that I'm not quite sure which one she's going to play first. Her ability to carry the ball and influence the game off the dribble is as good as any recruit we've had come in. Her ball striking ability and willingness to get to goal could separate her in any recruiting class, but it does in this one also. It's just whether she first meets the needs of a wide back, attacking midfielder, wide forward or central forward. She really could play pretty much any one of those positions, and that's what excites me the most about her."
Avery McBride – Forward
McBride is a local product out of Mountain View High School in Meridian. The striker led the Mavericks to the 5A state tournament three years in a row (2018-20) and earned SIC All-Conference honors in 2018 and 2020. McBride played club soccer for Boise Thorns ECNL where she helped the team win the Idaho State Cup Championship three times and let the team to a 2018 ECNL North American Cup Championship.
Avery is the sister of current Bronco-defender Payton McBride. She is also a standout student, earning SIC Academic Award accolades all four years of her high school career.
What Coach Thomas Says: "One of the key things for us is to take ownership of recruiting the top-end talent in the valley. Nadia and Hayden are a reflection for that. But Avery is potentially one of the best attacking players on the West Coast. She's as athletic as any player at any level in any conference. And when you pair that with her mentality and will to take the game on her back and get you across the finishing line, that's all you could ever wish for an attacking player. She can do it off of the dribble, she can do off of service, she can do it when she's being supplied, but her ability to score goals and take ownership in scoring goals is second to none. I'm really excited to have the kind of player that we can lean on to score goals join us right away."
Teryn Newkirk – Defender
Newkirk joins the Broncos out of Cypress, Calif., where she played for Los Alamitos High School. The defender earned All-Sunset League First-Team honors in 2019 and helped lead the Griffins to an SL title with an undefeated record in league play.
What Coach Thomas Says: "She's the beginning of the transition for us as we prepare for life after Macie Nelson and Abby Bivens. She's a player that can play as a center back or as a wide back and can play as a holding center midfielder as well. A ridiculously athletic kid with a very high soccer IQ who's very easy to plug into multiple positions. I think this year is about her gaining experience in all of those places so she can take a true leadership role as she moves throughout her career."
Abbie Scott – Goalkeeper
Scott is a goalkeeper out of Spokane, Wash., where she graduated from Ferris High School. She was named to the all-league first team in her junior year and was all-league second team in her senior season. Played club soccer for the Spokane Sounders where she won the NPL National Championship in 2019.
Scott held a 4.0 GPA and was Academic Honor Roll all four years throughout her high school career.
What Coach Thomas Says: "Another tremendous athlete. A tall, imposing figure with excellent ball striking and a good amount of time to make the transition from being a youth goalkeeper to a collegiate goalkeeper. She's got all the tools: She's a great shot stopper, tremendous at playing-in crosses, and again has that imposing figure that really catches your eyes. The way that we play out of the back marries greatly with the way that she can pass the ball and the range of passing that she has."
Hayden Wilsey– Forward
Wilsey is the third local product in the Broncos' 2022 signing class having played at Timberline High School in Boise. The do-it-all forward racked up 22 goals and 17 assists across her career and was named to the 5A All-State First Team in 2020. Wilsey played club soccer for Boise Thorns ECNL and won three state championships (2018-20) and placed third at nationals in 2019.
What Coach Thomas Says: "Hayden has an undeniable desire to win and I think that's really why we're attracted so much to her. There's not a run she won't make, a ball she won't press or a tackle that she'll ever pull out of. She's one of those full blooded, fully committed players, that every team would love to have a part of their forward stable. She's grown so much as a finisher in the last 24 months that I really feel like there's an elite goal scorer in her as well. But at our level, with where we're trying to go, we need to seek competitors first and she's that."