Washington women's soccer announces signing of eight new Huskies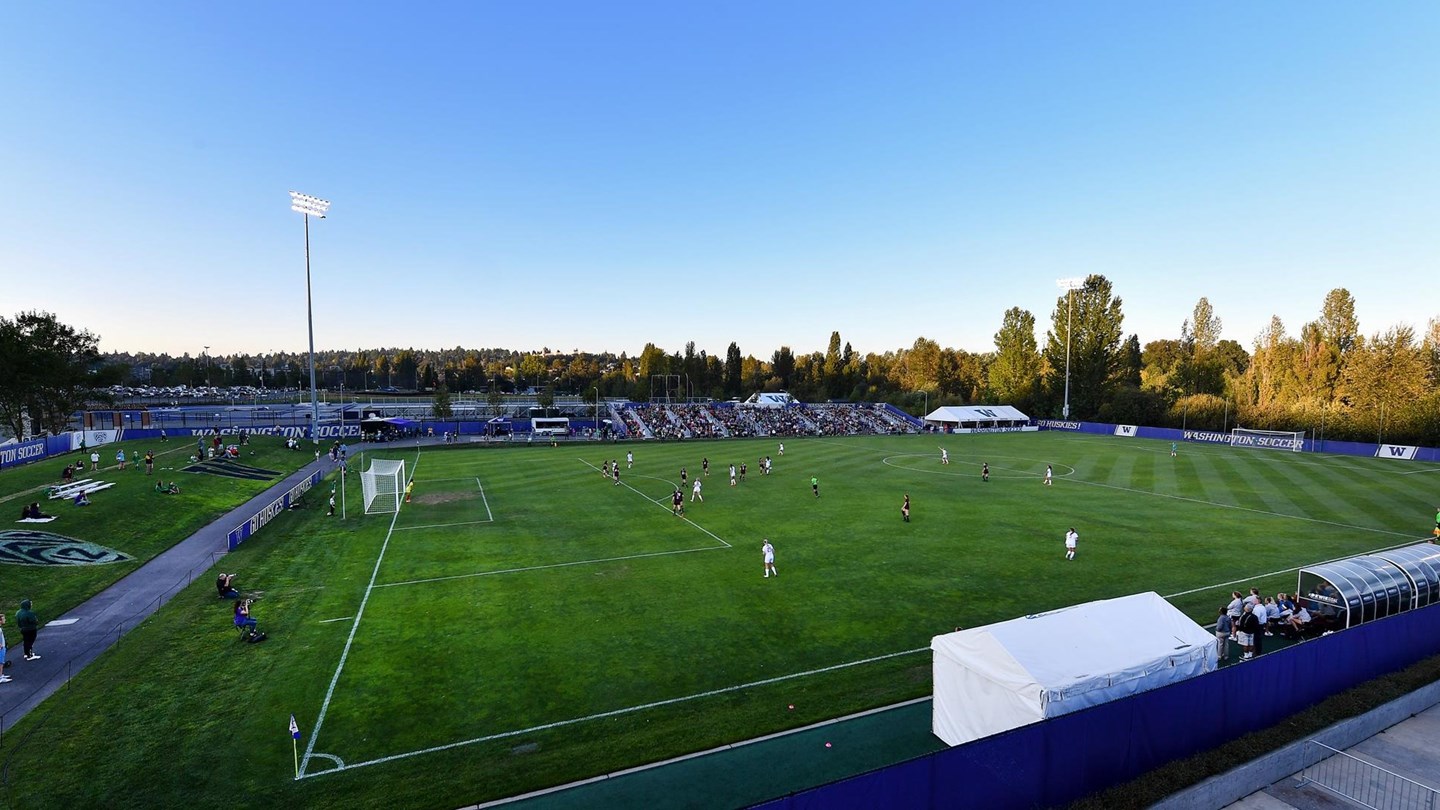 SEATTLE – University of Washington women's soccer head coach Nicole Van Dyke announced the signing of eight new Huskies the incoming class of 2022.
The group is highlighted by #13 ranked Kolo Suliafu, a highly decorated junior player, who has been a member of multiple US Youth National Team camps. The class includes two players staying home in Washington, three heading to Seattle from California, two from Arizona and one international prospect from Sweden. The group is comprised of signees that boast numerous national team, club and prep accolades, as well as leadership abilities as all eight members of the class are captains on their respective teams.
"As a staff we couldn't be more excited to welcome these women to our program. They are class acts in the classroom and on the field and bring a wealth of experience," said Van Dyke. "During the recruiting process, it was evident that these women share the values of our program and will be wonderful ambassadors for our university. On the field they are ambitious competitors with high aspirations to compete, grow and pursuit championships. We look forward to welcoming them to our Husky family and seeing them compete in the purple and gold at Husky Soccer Stadium this fall. Go Dawgs!"
Meet The Newest Huskies 
Kolo Suliafu
Outside Back/Center Back
Ontario, CA
SoCal Blues
Ranked #13 in the country by Top Drawer Soccer, Suliafu, from Ontario, Calif., comes to Seattle with an impressive resume. An outside/center back, she was recently part of the U-20 USWNT Training Camp in October and has been part of three other US Youth National Team Training Camps. In 2020, Suliafu was also part of the U-20 Virtual Camp. At the club level, her SoCal Blues travel team claimed the 2019 ECNL National Championship and with Suliafu leading the way her club team also won the 2021 Southwest Conference Championship. Kolo has been named to the ECNL Southwest All Conference First-Team four years in a row.
At the high school level, Suliafu won the 2019 CIF-SS Division 3 Championship and the 2020 CIF-SS Division 2 State Championship at Oak Hills HS, scoring over 20 goals in each season. Suliafu was named the 2020 Mojave River League Soccer Player of the Year as well as a member of the league's First Team in 2019 and 2020.
Kolo on UW: "I decided on UW because of the family-like atmosphere and the culture throughout the team. I look forward to the high-quality training and the Washington weather!"
Chloe Seelhoff
Attacking Midfield
Snohomish WA
Crossfire ECNL
An attacking midfielder from Snohomish, Wash., Seelhoff has spent time in her junior career in the US Youth National Team training pool in 2017 and 2018. Chloe plays her club soccer with Crossfire ECNL and has been named a Girls Club Soccer Standout on multiple occasions from Top Drawer Soccer, as well as an ECNL Standout. Her Crossfire ECNL team were the Surf Cup Champions in 2018, and semi-finalists in 2019. Led by Seelhoff, her squad quailed for the ECNL National Playoffs. In 2017, she was a part of the Washington Elite Player Development Travel Team.
Seelhoff attends Glacier Peak High School, where she has been named three times to the 4A WESCO All-Area squad, as well as being named Offensive Player of the Year for the last three season. Chloe has scored 49 career goals and added in 31 assists in her Glacier Peak career. Chloe was recently named to the High School All American Game, which will be played in Knoxville Tennessee. In September, Seelhoff was named the KRKO Female Athlete of the Month and the Mill Creek Beacon Athlete of the Week in October. Seelhoff is the ASB president at her high school and is on the NJHS honor roll while being involved in the community as a church youth group student leader and the above the line sports club.
Chloe on UW: "The coaching staff is what truly pulled me towards UW. I thrive in a competitive environment. This will be a great group of girls, and it's in a great state!"
Hayden Crowley
Forward
Richland, WA
Crossfire Premier ECNL
From Richland, Wash., Crowley was part of the 2018 US Club Soccer id2 program and was selected to the West Region ODP team that traveled to Boca Raton, Fla., and Costa Rica. Playing with Crossfire Premier ECNL, Crowley attended the ECNL NW Player Development Program in 2018 and has twice been named a ECNL NW Conference Player Selection. Crowley was among the top goal scorers with 22 in the Development Academy U16 2019-20 season. Hayden has been recognized three times as a Top Drawer Soccer ECNL standout and five times a Top Drawer DA Standout.
At Richland High, Crowley was named the Mid-Columbia Conference 2021 Player of the Year as a team captain on her squad that has reached the final four in the state playoffs. Hayden has scored nearly 40 goals in her high school career as well as adding in over 50 assists. Crowley has earned her Associates in Art and Sciences degree from Columbia Basin Community College.
Hayden on UW: "I chose the University of Washington for both the high level of athletic and academic standards. I am excited to represent my home state on the pitch as well as continuing my education in the health field. I look forward to wearing a Husky jersey while competing in the Pac-12 Conference with a great group of girls and a strong coaching staff!"
Riley Brown
Outside Back
Tucson, AZ
Utah Royals FC-AZ ECNL
Brown, one of two signees from the state of Arizona was named to the All-Tournament Team for Region IV in 2017 during her time with the US Youth Soccer Olympic Development Program Regional State squad. Playing on the club scene with the Utah Royals-FC AZ ENCL, Brown was also part of the Girls Academy talent ID center and on multiple occasions Riley has been named a Top Drawer Soccer Weekly Standout. Riley also was twice named to the DA Winter Showcase Daily Best XI in 2019.
A team captain on her Valley Christian High School team, Brown set the single season goals scored record with 26 on her way to being named the 2020-21 AIA Region Offensive Player of the Year, as well as a member of the AIA 3A All-Conference First Team and AIA All-Region Team. Riley is also an accomplished track and field athlete, leading her high school to the Division IV Girls Track & Field State Title while earning first place in the AIA Division IV 100 Meter, 200 Meter and 4×100. Riley earned a National Junior Honor Society Member Certificate and was awarded the Dr. Voie Stuart Chase Coy Scholar-Athlete Award for her achievements as a student-athlete.
Riley on UW: "I decided to choose UW because of the coaching staff, campus location, diversity, and PAC-12 Conference. I'm looking forward to playing a competitive level of soccer with and against great players. I'm also excited to be coached by a wonderful staff who's wisdom and integrity standout."
Mia Hamant
Goalkeeper
Corte Madera, CA
Marin FC 04 Blue ECNL
From Redwood, Calif. Hamant has been a Cal North Olympic Development Program National and International event participant, winning the 2020 ODP Far West Regional Championship. Hamant plays her club soccer with Marin FC 04 Blue ECNL and her squad claimed the NorCal State Cup Championship in 2018 and 2019, as well as the Surf Cup Super Black Championship in 2018 and 2021.
As captain on her Redwood High School squad, Hamant has been named an All-League First Team Goalkeeper since her freshman year, as well as twice being named the Redwood Defensive Player of the Year. Her team won the Marin County Athletic League Championship in 2020 and 2021. Hamant has also played on the Redwood softball team and is part of the Redwood HS Honor Society.
Mia on UW: "I chose UW because of the fantastic education, the high-level soccer, and the amazing community. I am looking forward to meeting the team and being on campus!!"
Lucy Newlin
Holding Midfielder
Granite Bay, CA
Placer United
From Granite Bay, Calif., Newlin comes to Seattle after earning numerous accolades in her junior career, including participating in three Youth National Team Identification Center events in 2017, 2018 and 2019. A part of the NorCal PDP Team in 2016 and 2017, her squad claimed the Regional Championship. Lucy was named a Top Drawer Soccer Top XI in the DA Playoffs and her squad placed fourth in the DA Championships. Newlin has three times been part of the US Development Academy in 2017, 2018 and 2019. Lucy has been a club captain for seven years on her Placer United team.
At Granite Bay HS, Lucy was named to the 2021 All League 1st Team in the San Joaquin Section of the CIF. Newlin holds a 4.78 GPA, is a National Merit Scholar Finalist and is also a captain of high school tennis team.
Lucy on UW: "After talking with the staff and stepping on the beautiful campus, I knew UW was home. It's one big Husky family, from academics to athletics to the atmosphere, I absolutely love it."
Tatum Thomason
Attacking Midfielder / Center Forward
Hometown: Peoria, AZ
Club Team: SC del Sol GA
Another member of the class from Arizona, Thomason was part of the US Youth National Team ID Camp in 2021 and has also been a participant at the US Youth National Team Training Center in 2016, 2017 and 2018. Thomason has been a selection to the ODP Regional and State Team, as well a part of the Girls Academy Southwest Conference ID Camp. She was named to the ODP All-Region Team in 2017.
A 5-year team captain on her SC del Sol GA club team, Thomason lead her club in goals in 2019 and 2020. Tatum has 11 times been named a Top Drawer Soccer Weekly Standout. At her Liberty High School in Peoria, Thomason scored 23 goals this fall, and was subsequently named the District Player of the Year as well being honored as an All-Region and All-Conference First Team member. Thomason also is a member her high school's track and field team.
Tatum on UW: "I love everything about the school. An amazing program, beautiful campus, and the best coaches I could ask for. I'm so excited for the next four years! Go Dawgs!"
Evelina Pettersson
Center Back
Malmö, Sweden
FC Rosengård
The Huskies lone international recruit of the class, Pettersson has experience on the national level as part of the Swedish program, multiple times captaining her Swedish squad. Pettersson has recorded 14 caps with the Youth National Teams and has been a part of multiple national training camps throughout her youth career.
Pettersson is also captain on her FC Rosengård Dam B squad which won their league Division 2 in 2021 and were runners-up up in 2021 in Division 1. Evelina was named her club's Rookie of the Year in 2019. Pettersson attends high school at ProCivitas Malmö and holds a 4.0 GPA.
Evelina on UW: "I got such a great impression of the entire program from my zoom calls with the staff and was drawn to their energy, openness and positivity. I also saw a unique opportunity to be a part of a competitive, motivated, and aspiring team in one of the absolute toughest conferences. I'm extremely excited about going overseas to become acquainted with the squad, develop on and off the field and teach the team some Swedish!"