North Carolina women's soccer unveils 9-player recruiting class for 2022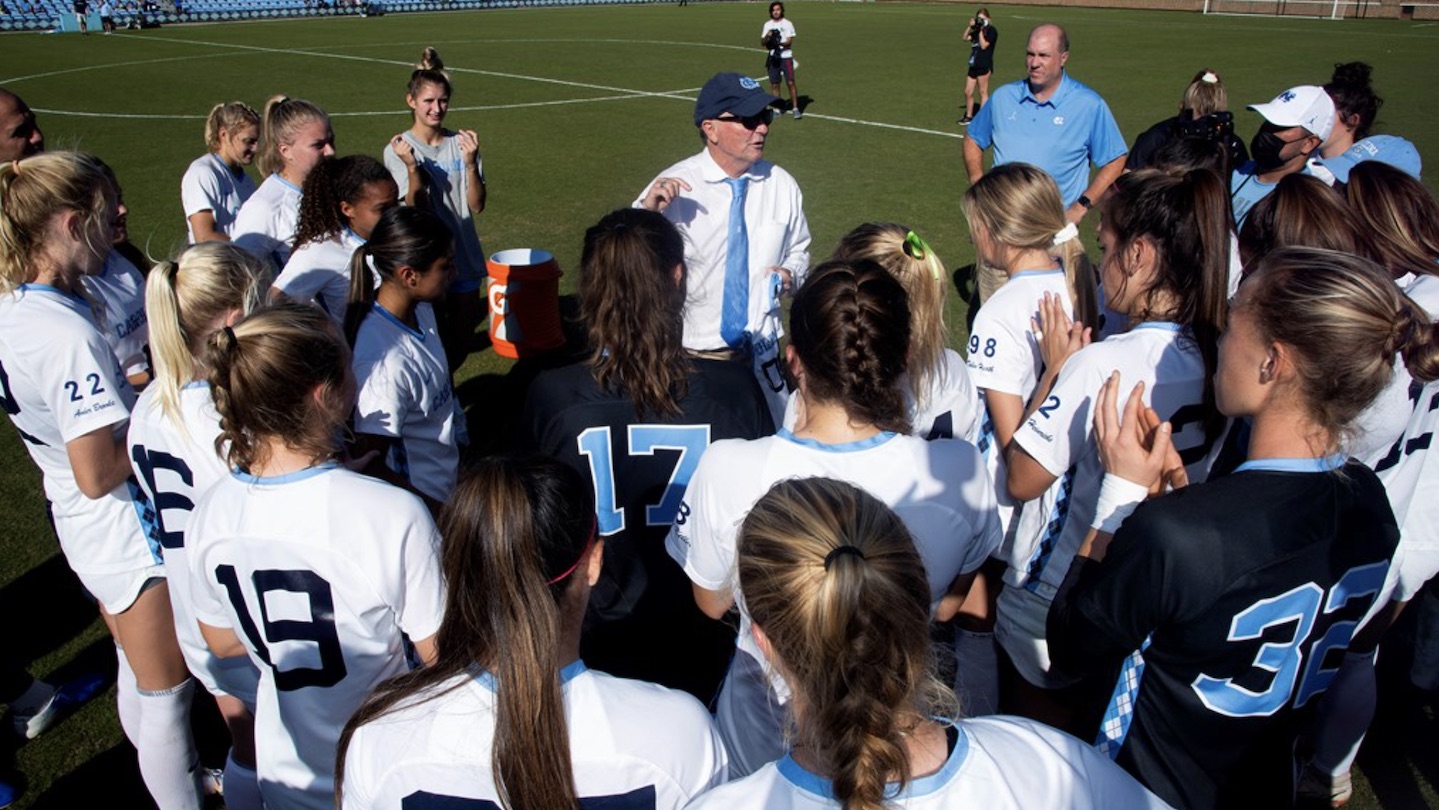 CHAPEL HILL – University of North Carolina women's soccer head coach Anson Dorrance unveiled his program's 2021 recruiting class, featuring nine standouts from across the United States.
The signing group includes: Sydney Cheesman (Lafayette, Colo.), Madeline Dahlien (Edina, Minn.), Tori Dellaperuta (Cumming, Ga.), Tessa Dellarose (Grindstone, Pa.), Kate Faasse (Phoenix, Ariz.), Madelyn Galbus (Wilmington, Del.), Kayleigh Herr (Cary, N.C.), Nona Reason (Noblesville, Ind.) and Maci Teater (Wentzville, Mo.).
"We are very excited about the 2022 class of Tar Heels," Dorrance said. "Like the class before them they will challenge to play early and contribute to all four lines: goalkeeping, defending, midfield and up top. The future is bright."
The newest group of Tar Heels garnered a No. 3 national ranking from TopDrawerSoccer.com, the highest in the ACC and highest among all programs on the east coast.
UNC's incoming nine-player class includes four forwards, three defenders, one midfielder and one goalkeeper. Three of the signees: Dahlien, Dellaperuta and Herr were each named to the ENCL All-America team this past season.
Below are brief bios on all nine of the incoming Tar Heels, featuring highlights of their amateur soccer careers.
Sydney Cheesman | D | Lafayette, Colo. | Centaurus HS | Colorado Rush
Named to the U-20 U.S. Women's Youth National Team Training Camp roster
Participated in the U-18 U.S. Women's National Team Virtual Camp
Member of the U-16 U.S. National Team which competed in the 2020 UEFA Development Tournament in England
Madeline Dahlien | F | Edina, Minn. | Edina HS | Minnesota Thunder Academy
Earned 2020-21 ENCL Girls' U-17 All-America Team accolades
Voted 2020-21 ENCL Girls' U-17 Midwest Conference Co-Player of the Year
Named 2021 Ms. Soccer for the state of Minnesota
Selected the 2021 Minneapolis Star Tribune Metro Player of the Year
Led Edina to the semifinals of the 2021 3A MHS girls' soccer playoffs
Finished first in the 100, 200 and 400-meter dash during the 2021 state girl's track and field championship after placing second in each of those events in 2019
Tori Dellaperuta | F | Cumming, Ga. | West Forsyth HS | United Futbol Academy (Ga.)
Named the 2020-21 USA TODAY High School Sports Award Girls' Soccer Player of the Year
Earned 2020-21 United Coaches High School All-America honors
Voted the 2021 Forsyth County Player of the Year as well as ENCL Southeast first team all-conference
Led West Forsyth to its first Georgia High School Athletic Association Class 6A Girls Soccer state championship in May 2021, scoring the game-winning goal in the title match
As a junior she scored 54 goals in 20 games, establishing a new school single-season record
Younger sister of UNC sophomore Talia Dellaperuta, also a member of the women's soccer team
Tessa Dellarose | D | Grindstone, Pa. | Brownsville HS | Pittsburgh Riverhounds
Participated in training camp for the U-20 United States Women's National Team in October 2021
Named to the 2020 Pennsylvania Soccer Coaches Association all-state team
Voted 2019 TDS Fall All-Mid-Atlantic Region and All-Pennsylvania
Was a member of the U.S. U-16 National Team
Named to the 2018-19 ENCL U-16 All-Ohio Valley Conference team
Kate Faasse | F | Phoenix, Ariz. | Pinnacle HS | SC del Sol
Named to the 2019-20 TDS Winter High School All-Arizona and All-West Region teams
Participated in the U-18 U.S. National Team virtual camp during the pandemic
Earned honorable mention academic all-state honors as a junior
Madelyn Galbus | F | Wilmington, Del. | Padua Academy | Penn Fusion
Competed at the National Soccer Team Training Center (2016-19)
Top 10 scorer in the Northeast Conference in 2017
Attended Generation Adidas event in France (2018) as a member of the Lyons girls' team
Member of the National Honor Society
Earned multiple academic accolades each year of high school
Kayleigh Herr | D | Cary, N.C. | Crossroads Flex HS | N.C. Courage
Attended the U-20 United States Women's National Team training camp in October 2021
Named to the 2020-21 ENCL U-17 Girls' All-America Team
Earned honorable mention academic all-state honors as a junior
Selected 2020-21 TDS First Team All-Mid-Atlantic Region
Participated in the U-18 U.S. National Team virtual camp during the spring of 2021
Member of the U.S. U-16 Girls' National Team training camp roster
Nona Reason | GK | Noblesville, Ind. | Noblesville HS | Indiana Fire
Named to the 2021 United States U-20 Girls' National Team training camp roster
Member of the U.S. team that won the 2018 CONCACAF U-15 Girls' Championship
Earned ENCL U-17 All-Ohio Valley Conference honors for 2020-21
Played on the U-16 U.S. Girls' National Team in 2020
Received the Golden Glove as the best goalkeeper during the 2019 U-15 U.S. Soccer Development Academy playoffs while playing for the San Diego Surf
Maci Teater | MF | Wentzville, Mo. | Holt HS | St. Louis Scott Gallagher
Member of the West squad for the 2021 U-18/19 ENCL National Selection Game
Named to the 2018-19 ENCL All-Midwest Conference Team
Olympic Development Program (ODP) all-region and all-state selection
Participated in the 2019 ENCL National Training Camp
2015 Rush Select National Team Player