Lehigh women's soccer announces transition for head coach position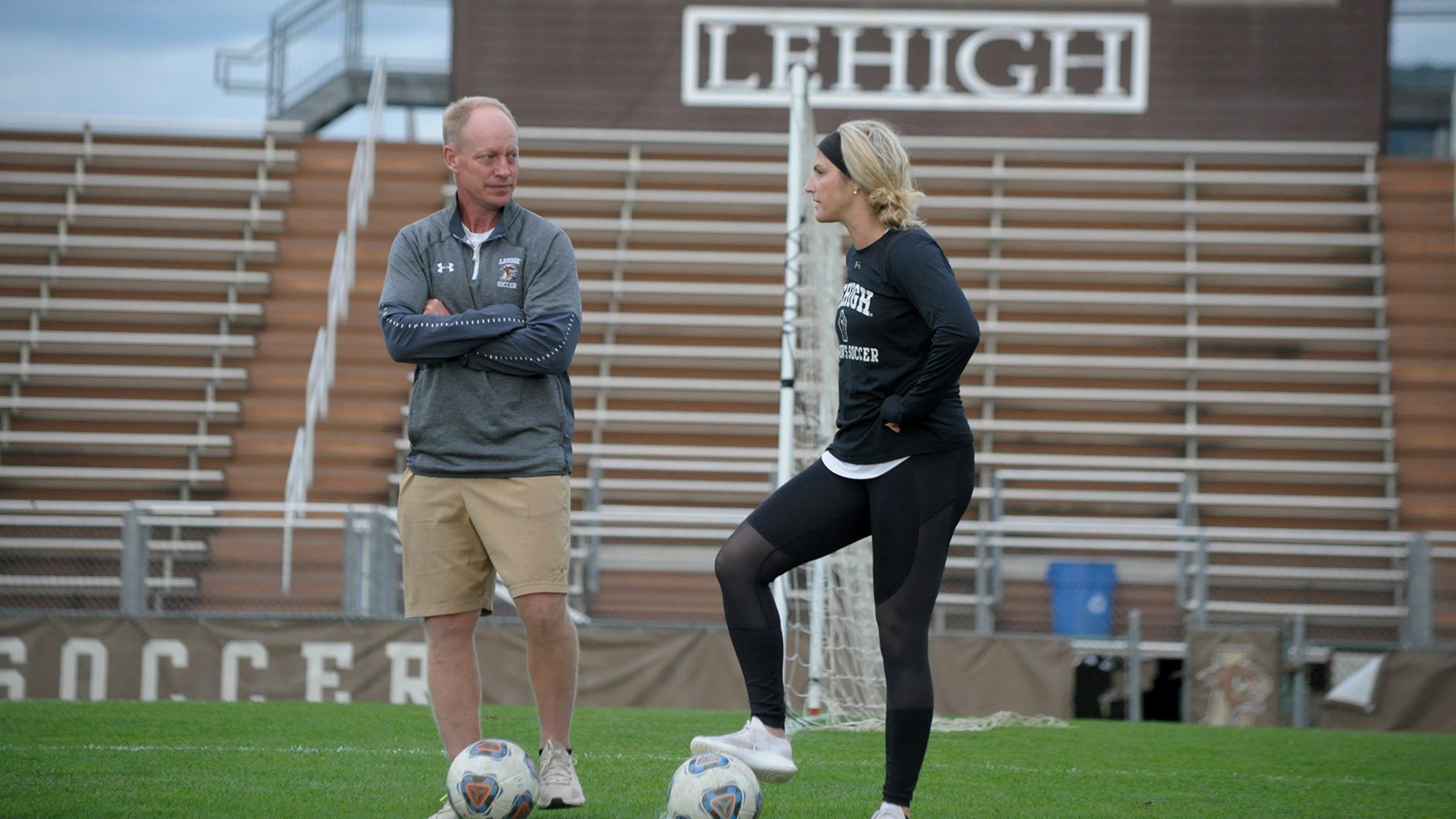 BETHLEHEM, Pa. – Following 12 seasons as Lehigh head women's soccer coach, Eric Lambinus is transitioning into a different role at Lehigh University while associate head coach Lauren Calabrese has been promoted to head coach, effective February 1.
The program's all-time winningest coach, Lambinus led the Mountain Hawks to their first Patriot League Championship in 2010 while leading Lehigh back to the title game in 2018. Calabrese just concluded her sixth season back at Lehigh under Lambinus, playing an integral role in the Mountain Hawks' recent success – which included Patriot League Tournament appearances in 2016, 2017, 2018 and 2021 in Calabrese's time.
"After 33 college seasons as head coach, it's time to make a change," said Lambinus. "It has always been my goal as coach to guide the student-athletes and coaches in my programs to be willing to challenge themselves in order to reach their potential and be team first. It's my turn to do just that with this transition to my new role at Lehigh.
"I couldn't imagine a better time for Lauren to take over the women's soccer program," Lambinus continued. "It's in a great position with unbelievable student-athletes returning and exciting things happening at Lehigh."
Calabrese is a 2007 alumna and former four-year starter for Lehigh women's soccer. A second team All-Patriot League honoree in 2003, she stands fifth in program history with 13 career assists, which included eight in her rookie season of 2003. In the classroom, Calabrese was a four-year member of the Patriot League Academic Honor Roll.
"As an alumna of the program, it is an honor to serve in the position of head coach," said Calabrese. "This is an incredibly exciting time to be part of Lehigh women's soccer. I believe our current team and incoming group of players have the character, conviction, and skill set to compete and experience success at a high level. We have a compelling blend of committed, driven and talented women who exhibit the will to learn, grow and lead."
Lambinus knows Calabrese is ready to take the next step, which gives him great confidence to make a career move at this time – knowing he's leaving the program in great hands.
"Lauren has all the traits necessary to be a highly-successful coach in the Patriot League," said Calabrese. "She truly understands the Lehigh student-athlete and knows how to get the best out of them. She has earned this opportunity and is more than ready to take the program to the next level. Lauren is the perfect person to be the head coach of Lehigh women's soccer and I am so excited to watch them learn, grow and lead together."
This past fall, the Mountain Hawks finished 4-4-1 in Patriot League play, earning the No. 5 seed in the league tournament. Lehigh picked up Patriot League victories over Lafayette, Holy Cross, Colgate and American – all by 2-1 finals – as the future is bright in Bethlehem.
"The spring is a prodigious opportunity for our team to embark upon the next phase of the LUWS journey," said Calabrese. "Historically, the spring has been instrumental in facilitating individual and collective team growth. I am confident that our spring structure and schedule, coupled with the determination of our student-athletes and support from our athletic staff and campus consultants, will procure the conditions for meaningful development."
Calabrese is excited to continue learning, growing and leading with this group of student-athletes. Her wide breadth of experiences makes her extremely relatable to all she comes in contact with.
"As a former LUWS student-athlete and current educator (both on the field and in the classroom), Lehigh is an incredibly special place to me," she said. "I am thrilled to be coaching a sport I love at an institution that I have deep reverence for. Lehigh's rich history, standards of excellence and vibrant community of students, faculty, staff and alumni are unparalleled.
"Over the course of my coaching career, I have worked at all levels and have had the privilege to coach a range of developing players – middle school, high school, youth club, semi-professional and collegiate," Calabrese continued. "For me, coaching has always been about my relationships with players; it has been super rewarding to help players unlock their potential and harness the power of being part of a team. It is my belief that successful teams are predicated upon trust, communal accountability and adaptability."
This marks not only the start of a new era for the program, but also the end of one of the best stretches in LUWS history as well, as Lambinus leaves as the program's all-time winningest coaches (78 wins), with six Patriot League Tournament appearances, two finals appearances and one championship.
"Leading women's soccer at Lehigh for 12 years has been such an honor and privilege," said Lambinus. "I've worked with so many unbelievable coaches and student-athletes and hope all of them knew (and still do) that I cared deeply about their wholistic development as a person. I am incredibly proud of our success, both on and off the field. Having incredibly high retention, graduation and placement rates while enabling every four-year student-athlete to participate in the Patriot League Championships over 12 years, it takes great coaches and student-athletes to help you. And without question, I have worked with some of the best at Lehigh."
Also noteworthy, both of Lambinus' last two full-time assistant coaches at Lehigh will now be leading college programs (Amy Hough at Elizabethtown and now Calabrese at Lehigh).
"I have admiration and respect for Eric's development of student-athletes, devotion to the program and passion for the game," said Calabrese. "Over the duration of these last six years in the role of assistant coach, I have gained a wealth of experience and knowledge from working directly with Eric. I have valued our open and honest dialogue and collaboration. From decoding tactics to designing training sessions, I have learned immensely under Eric's tutelage. I am grateful for our relationship and wish Eric the best of luck as he transitions into a new position at Lehigh.
"I am incredibly grateful for my family, friends, and the Lehigh community," Calabrese continued. "More specifically, I would like to thank [Murray H. Goodman Dean of Athletics] Joe Sterrett for his counsel and support. I look forward to my continued engagement with the Lehigh community and am excited for the future of our program."