Campbell University hires Jeff Gross as women's soccer head coach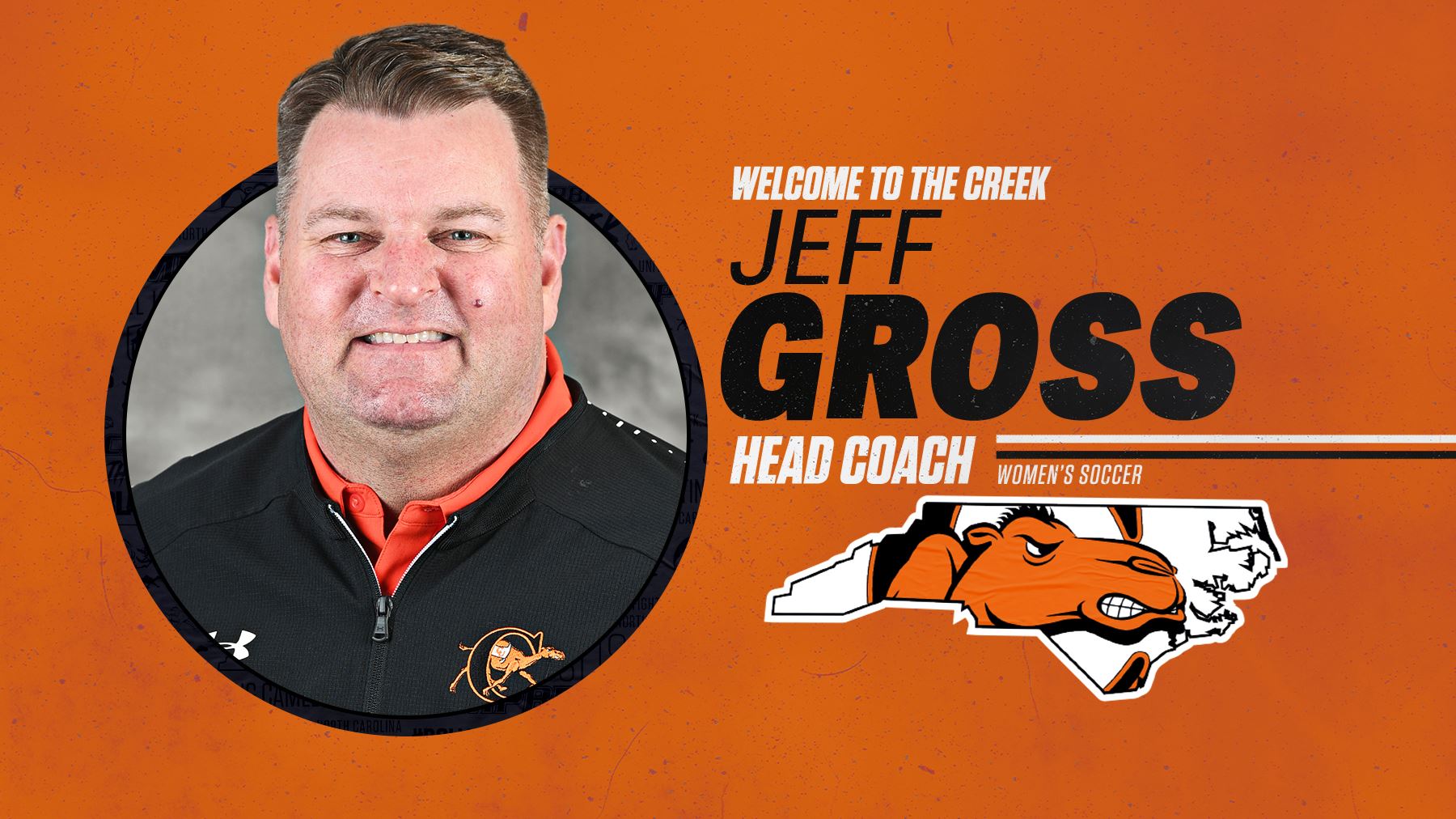 BUIES CREEK, N.C. – Jeff Gross has been named head women's soccer coach at Campbell University, Director of Athletics Dr. Omar Banks announced.
Gross, who brings three decades of coaching experience on the Division I, club and professional level, joins the Fighting Camel program after spending the last eight seasons – including the last two as associate head coach – on the staff at UNC Greensboro.
"At the end of a national search, Coach Gross stood out as the best candidate to lead our women's soccer team," said Dr. Banks.  "I would like to thank everyone that was involved in the process, and the incredible patience our young ladies displayed as we went through the interviews.  I'm definitely looking forward to getting Coach on campus and welcome him to our family."
While at UNCG, Gross helped guide the Spartans to back-to-back Southern Conference championships and NCAA College Cup appearances in 2017 and 2018.  He helped develop the 2018 SoCon player of the year Cienna Rideout and two SoCon freshman of the year award recipients – Nicole Souply (2018) and Caylin Prillaman (2015).
"I want to thank President Dr. J. Bradley Creed, Director of Athletics Dr. Omar Banks, and Senior Associate Athletics Director Hannah Bazemore for the distinct honor and opportunity to lead the Campbell University women's soccer program," said Gross.  "This is an incredible moment in my life to steward this successful program as the next head coach. Honoring the work that has been done leading us all to this point and doing the best work I can to help these young women enhance their legacy is an endeavor I embrace."
Gross takes over a program that is coming off consecutive trips to the Big South Conference championship game as well as an appearance in the 2020-21 NCAA tournament.
The 2021 Camels finished 12-4-2 overall and 9-1-0 in the Big South to win the program's first regular season title since 2004.  Campbell finished seventh nationally in scoring (2.78 goals per game), third in assists (3.06) and fourth in points (8.61) per outing.  The Camels return All-Southeast Region forwards Jessica Donald and Jackie Richards.
"Each person I met along this path, and in particular the players, made it clear the priorities of the university, the athletic department and for the women's soccer program," said Gross.  "Throughout the process it became abundantly clear Campbell is a special place!"
At UNCG, Gross' responsibilities included serving as recruiting coordinator as well as assisting in all aspects of the Spartans program.  In addition, he was Executive Director of the Burlington Soccer Club from 2017-21.
Prior to his arrival at UNCG, Gross served as Director of Coaching for the East Meadow Soccer Club in Long Island, New York from 2009-14. While at East Meadow, his teams won a pair of state cup championships and advanced to the regional premier league final four.  He was also responsible for the club gaining membership to the Elite Clubs National League, which is currently one of the top youth soccer leagues in the country.
Gross worked five years as the Director of Coaching at the Football Club Frederick (Md.) from 2004-2009.  During his tenure at Frederick, he guided the U-16 Girls team to a Maryland State Cup Championship and a Region I finals appearance.
He also served as Associate Director of Coaching at the Capital Area Soccer League in Raleigh (2001-02) where he led his team to a state cup title and as Director of Coaching at the Thunder Soccer Club.
From 1994 through 2004, Gross was a head coach in the Maryland Olympic Development Program and led the U-16 squad to a ODP National Championship finals appearance in 2000.  His U-15 team was a Region I champion in 1999.
His coaching resume also includes a season as head coach of the Maryland Pride, which won the 2001 USL W-League Eastern Division title and reached the national final four.
Gross played his collegiate soccer career at the University of Maryland Baltimore County, where he was a four-year letter winner and earned his Bachelor of Arts degree in sociology in 1991. Gross holds the USSF "A" license and the NSCAA "Premier Diploma" and the US Soccer National Youth License.