American University women's soccer signs nine class of 2022 recruits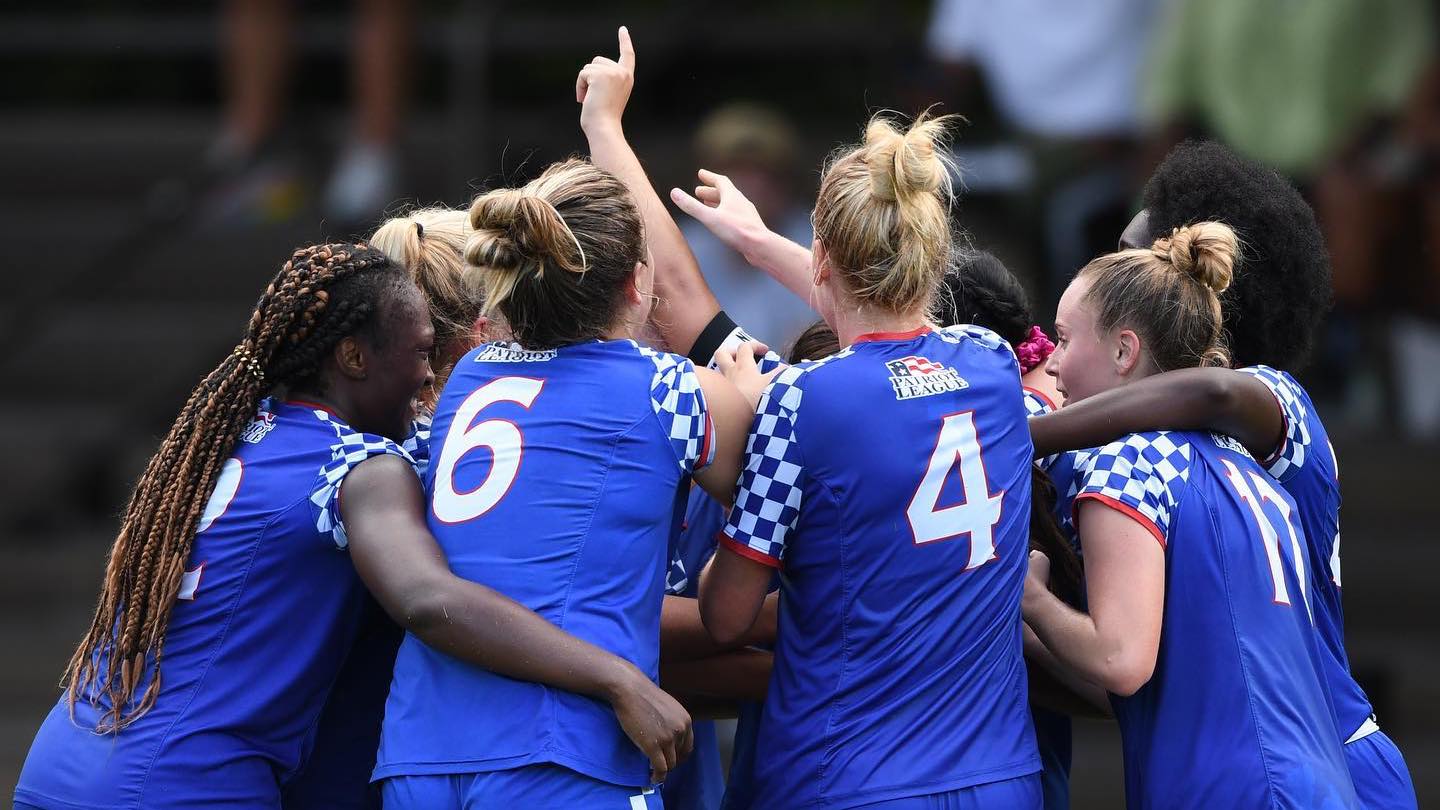 WASHINGTON – American University women's soccer head coach Marsha Harper announced the addition of nine newcomers to the program for next season.
The nine freshmen are set to join Izzy Kadzban and Olivia Simmons, both mid-year transfers, projected to bring an elite new energy to a program on the rise in the Patriot League.
"We are very excited to officially welcome our newest Eagles to the nest! This is a special group of women. Given their impressive families, academic success, and club training environments, they were handpicked for a reason," said Harper, who is set to enter her third season at the helm of AU women's soccer. "Each of them have not only acknowledged and committed to help us continue to lay down the championship foundation on the field, but also aid in infusing a renewed sense of pride and diverse excellence in the greater AU Community. The future is exceptionally bright!"
Natalie Dowling (Las Vegas, Nev. / Rancho)
Position: Defender
Club: Heat FC ECNL
Why AU: "I chose AU because it made me feel at home even when I was far away from home."
Before AU: Member of Southwest Conference and PDA championship teams… Also ran track, competing in 100-meter dash… Enjoys doing yoga and listening to music in free time.
Eliza Fisher (Plymouth, Mich. / Plymouth)
Position: Midfielder/Defender
Club: Michigan Hawks
Why AU: "I chose AU because it is a great academic school. I also loved the goals that all three coaches had for the direction they want to take this program. I really wanted to be a part of that big change and want to make a huge impact on the school."
Before AU: Two-time conference champion with Michigan Hawks, only losing one league game in past four seasons… 2018 Michigan State Cup champion… Brother, Luke, and grandfather, Richard, both played football at the University of Michigan.
Alyssa Giroux (Tolland, Conn. / Tolland)
Position: Forward 
Club: Connecticut FC United ECNL
Why AU: "I hope to major in law, where American has an outstanding success rate. I have already received family-like support from the women's soccer team, where I hope to contribute. To me, being successful is not only attaining a competitive career but making an impact on those around me."
Before AU: Scored 39 goals and added 19 assists at Tolland High… Three-time First Team All-Conference… Named to the Hartford Courant Fab 15 Players to Watch… Inducted into the Mark Twain chapter of the National Honor Society.
Alessandra King (Middlebury, Conn. / Canterbury School)
Position: Midfielder/Forward
Club: Connecticut FC United ECNL
Why AU: "I chose AU not only because my mom and uncle went there and had great things to say about it, but I knew going to a great school like this would provide me with many opportunities and internships after college. I also love the area, campus, and atmosphere."
Before AU: Won Class C NEPSAC championship as a sophomore… Named best player in Western New England Conference… Played for same club as Alyssa Giroux and Andriana Cabral, a current member of the AU women's soccer program.
Avery Klingensmith (Belchertown, Mass. / Belchertown)
Position: Midfielder
Club: NEFC
Why AU: "I choose AU for the high level of academics and soccer. I enjoyed the conversations I had with the coaches and knew it would be a great fit from a soccer standpoint. The team seemed very close-knit and a group I would want to be a part of. When I first visited, I loved the campus, its surrounding area, and its proximity to downtown DC."
Before AU: Scored 48 goals and 24 assists in career at Belchertown High… United Soccer Coaches All-American… Named All-State and First Team All-Western Massachusetts… Daily Hampshire Gazette Girls Soccer Player of the Year… US Youth Soccer National Cup champion in 2019 with NEFC… Two-time State Cup champion.
Morissa Lambert (Northbrook, Ill. / Glenbrook North)
Position: Midfielder
Club: FC United
Why AU: "I chose AU because of the amazing academic opportunities, city location, team environment and competitiveness."
Before AU: Two-time All-Conference at Glenbrook North, scoring four goals and 10 assists… Two-time State Cup champion with FC United… 2019 Generation Adidas International… Sister, Maya, played college soccer at Purdue from 2017-21.
Elle McClary (Millis, Mass. / Millis)
Position: Goalkeeper
Club: NEFC
Why AU: "I chose AU because it felt like home. Everyone always says that you'll know when you love a campus, and I felt that spark the moment I stepped on campus. I fell in love with the amazing coaching staff, and the truly supportive players. The academics are at a high level so I knew that I was going to get a great education."
Before AU: Three-star prospect according to TopDrawerSoccer… 2018 Massachusetts state champion at Millis High… Four years at US Soccer National Training Center… Same club as Avery Klingensmith.
Phoebe Merrigan (Maplewood, N.J. / Morristown Beard School) PDA ECRL)
Position: Midfielder/Defender
Club: PDA ECRL
Why AU: "I chose AU because I loved the environment as soon as I stepped on campus. Once I met the coaching staff in person and the girls on the team, I started to get a true feel of what it would be like to be an Eagle. After the crazy dance moves in the locker room and the tour around campus seeing people on scooters and learning about the school's stray cat, I immediately knew I wanted to be an Eagle and could picture myself in the environment."
Before AU: Scored 15 goals and 16 assists at Morristown Beard School… State champion as a freshman… Two-time All-Conference… Also member of basketball team, winning conference championship three times and county championship as a freshman.
Tamera Taylor-Moore (Croton-On-Hudson, N.Y. / Croton Harmon)
Position: Goalkeeper
Club: New York Soccer Club
Why AU: "I chose AU because of the academic opportunities that I would have at my disposal if I were to be accepted. Additionally, I found the campus layout to be very comforting to me. Even though I always dreamed of going to a huge school, I really like how American Is a closed campus and near the epicenter of many life-changing attractions
Before AU: Two-time All-League at Croton Harmon High… Also named All-Section in pentathlon… Member of National Honor Society.