American University women's soccer signs transfers from Florida and Purdue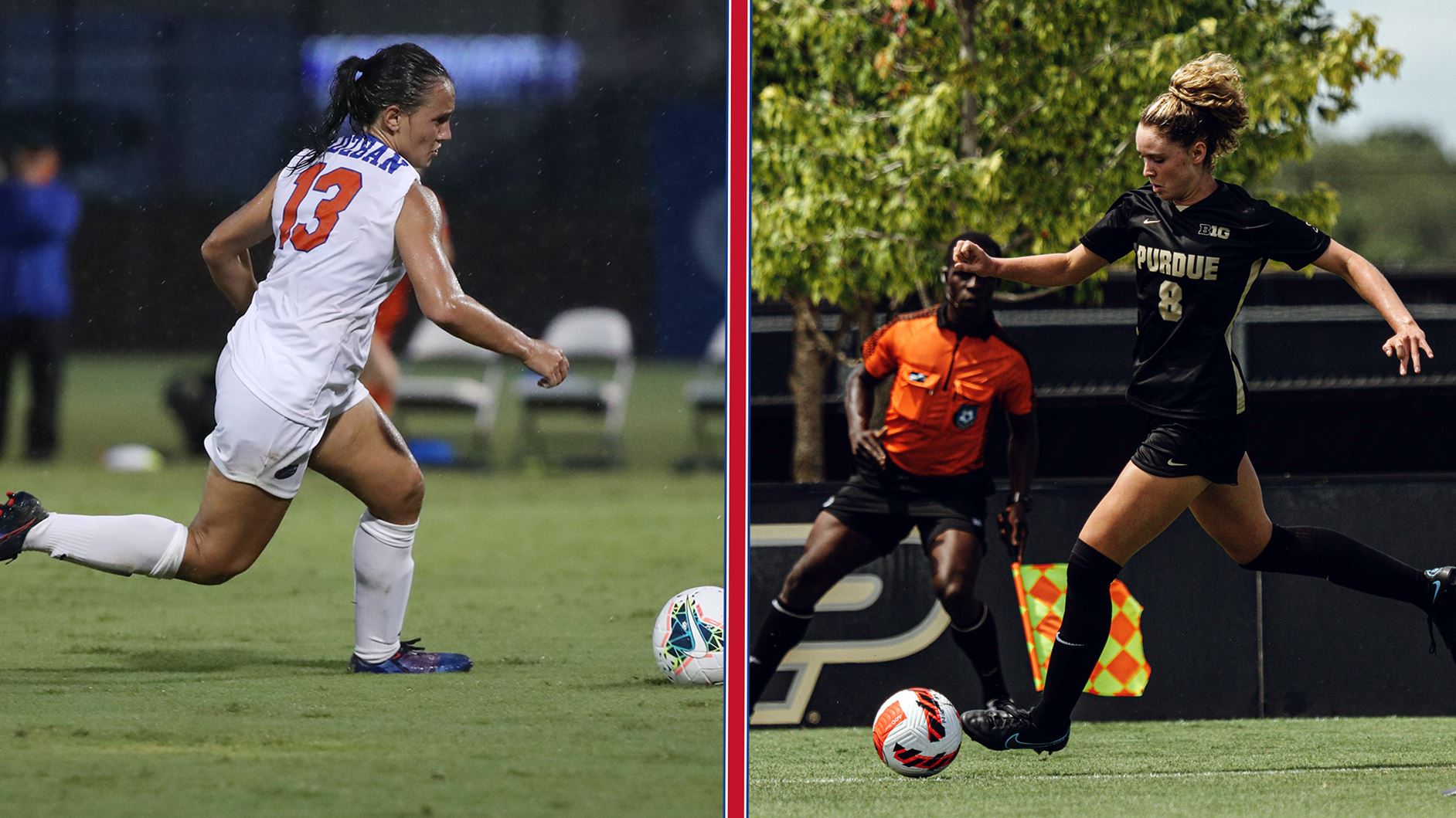 WASHINGTON – Head coach Marsha Harper of American University women's soccer has announced the addition of two mid-year transfers to the program in Izzy Kadzban (Florida) and Olivia Simmons (Purdue).
Kadzban, from Longwood, Fla., played for two seasons at Florida while Simmons, from Aldie, Va., played for one season at Purdue.
ISABELLE "IZZY" KADZBAN
Longwood, Fla. (Lake Mary HS / University of Florida) | Club: ECNL – Florida Kraze Krush
Forward/Midfielder | 5-3
International…
Scored a goal versus Uruguay off first-ever shot with senior team in her second cap for Chile's National Team. Senior national team debut on Oct. 6, 2019 versus Uruguay
Featured for the Chilean U-20 National Team
Scored 4 goals in seven games with the Chilean U-17 National Team
Qualified to play for Chile through her maternal grandmother, a Rapa Nui native; first Rapa Nuito to represent Chile in international soccer play
While at Florida…
Appeared in five fall and two spring matches, recording a season-high of 15 minutes played vs. College of Charleston
Member of 2021 Southeastern Conference First-Year Academic Honor Roll
While at Lake Mary HS…
2019-20 United Soccer Coaches Winter/Spring High School All-American
2020 United Soccer Coaches Winter All-Region team
2019-20 TDS Winter State Stars selection
Helped Lake Mary advance to 2019 FHSAA 5A semifinal and 2020 7A regional semifinal
Seminole All-Conference in 2017, 2018 and 2020

Totaled 

15 goals and 5 assists in just 12 matches as a senior
Garnered 2020 Orlando Sentinel All-Area first team honors

Had 

31 goals and 10 assists in her sophomore season, earning Orlando Sentinel All-Area first team honors
2019-20 United Soccer Coaches High School Scholar All-American
Why did you choose American? "On my first call with the coaching staff I felt really connected to all of them. There was a lot of strange overlap that made the connection feel like in my gut this was the place to be, and I really liked how organized but fun all three coaches seemed to be. Additionally, DC is a tough city to beat, and I like the playing style Marsha described."
How would you describe yourself as a player and a person? "Driven and fun.
What are you hoping to accomplish on the field both individually and collectively as a team? "I am just hoping to score some goals, create some assists, win the Patriot League, qualify for the NCAA Tournament, and have fun and work hard in the process of all of that."
OLIVIA SIMMONS
Aldie, Va. (Highland HS / Purdue University) | Club: Braddock Road Youth
Forward | 5-10
While at Purdue…
Saw action in six games as a freshman in 2021
Took one shot on goal versus Kentucky in the Boilermakers' season opener on August 19
Played a season-high 30 minutes at Vanderbilt on August 22
While at Highland High School…
Competed at the U.S. Soccer National Training Center from 2017-18
Played club soccer for Braddock Road Youth Club and led them to ECNL Mid-Atlantic conference championships each year from 2017-20
Collected ECNL monthly standout honors four times from 2018-19
Ranked No. 16 in Top Drawer Soccer's ECNL top goal scorers during the 2019-20 season
Earned the Highland School Founder's Scholarship each year from 2017-21 and the Highest Honor Roll from 2017-20
Recognized with Highland's Scholastic Achievement Award in 2017-18 as a freshman and member of the National Honor Society
Why did you choose American? "I am extremely happy to be joining the women's soccer team at American University at such an exciting time for the program. I think that the approach of the coaching staff to rebuilding the program is inspiring and something that I cannot wait to be a part of this coming season. In addition to the women's soccer program, I was drawn to the family-like feeling that American builds between not only its student-athletes, but also its staff and entire student body. Finally, I love the blend of competitive athletics and academics that the university provides, as I am constantly looking to challenge myself and those around me."
How would you describe yourself as a player and a person? "I would describe myself as someone who is eager to take risks on and off of the field. As a player, I love to get on the attack and take players on. Similarly, I approach everyday challenges with a growth mindset and am not afraid to step out of my comfort zone to achieve new goals. I am very excited to share this mindset with a program that sets such high aspirations and values the same resilient attitude as I do."
What are you hoping to accomplish on the field both individually and collectively as a team? "I am truly joining this team with nothing but excitement for where the program is going and cannot wait to get on campus and get started! Individually, I hope to come in with a chip on my shoulder and help push the team by sharing my competitive attitude and love for the game. Collectively, I believe this team is going to soar to new heights and I cannot wait to be a part of where it's going. Go Eagles!"