University of Wisconsin hires Neil Jones as men's soccer head coach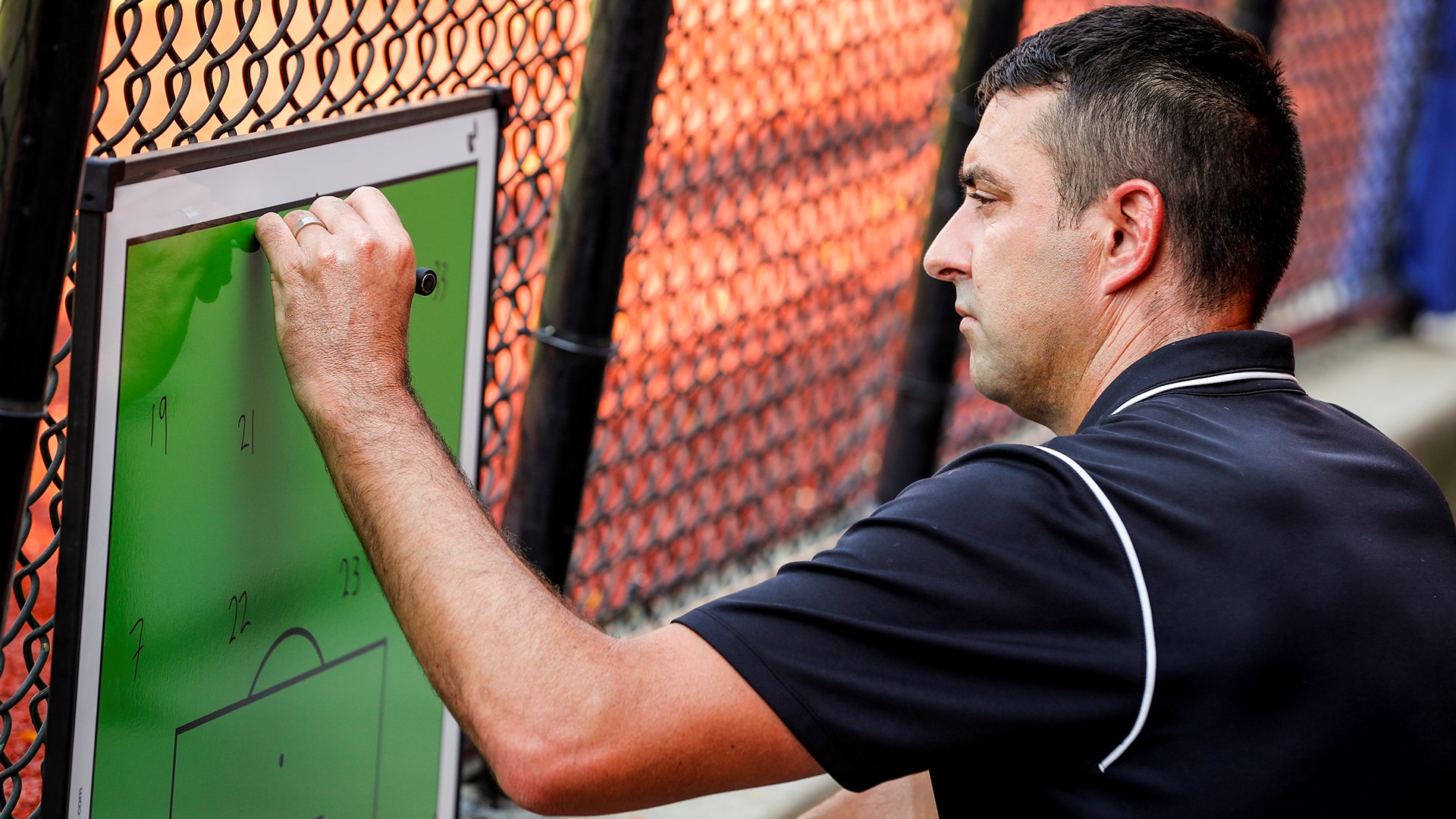 MADISON, Wis. — The world's most popular sport will be led at the University of Wisconsin by Neil Jones, who spent the past nine seasons directing the Loyola University Chicago men's soccer program. He ushers in a new era of Wisconsin men's soccer, one of 11 current sports at UW to own a national title.
"We are thrilled to welcome Neil Jones as our next men's soccer head coach," Wisconsin Director of Athletics Chris McIntosh said. "He has a proven track record of elevating the lives of the student-athletes he works with as individuals and collectively turning that into team success on and off the playing field. We look forward to him building on that record of accomplishment here at Wisconsin."
Jones arrives in Madison with a diverse list of successes ranging from an NCAA title and NCAA tournament appearances to conference championships.
Among those accomplishments are a pair of Missouri Valley Conference championships and NCAA tournament appearances at Loyola, including the first NCAA win in program history. His teams played in three consecutive MVC championship games from 2018 to the spring of 2021. He also led the 2014 and 2016 Missouri Valley Conference Coaching Staffs of the Year.
Jones finished 81-54-24 (.585) in his nine years leading the Ramblers, with his teams also maintaining at least a 3.0 grade-point average in each campaign.
"Thank you to Chris McIntosh, Marija Pientka and the search committee for entrusting me as the next Wisconsin head men's soccer coach," Jones said. "It was evident throughout my time on campus that along with the world-class education, excellent facilities, beautiful campus and the thriving city of Madison, the people are truly Wisconsin's greatest asset.
"I am eager to meet the team and get to work on the pitch with them. The opportunity to work with the group for the entire spring season will help build the foundation for our first season together this fall. I'm also excited to connect with our Badger men's soccer alumni, who have their fingerprints all over the rich tradition and championship history of this program.
"My wife Stephanie, and our sons Finn and Ford, are thrilled to call Madison our new home. We cannot wait to meet the Badger fans, students and alumni. On, Wisconsin!"
Before Loyola, Jones served as associate head coach at Northwestern for three seasons, helping aid the Wildcats to 2011 and 2012 Big Ten regular-season titles and the 2011 Big Ten Tournament championship. The 2012 team reached the NCAA round of 16. The squad went 32-19-11 during his time in Evanston.
Serving as an assistant coach at his alma mater, the University of California, Santa Barbara, Jones' teams made four NCAA tournament appearances (2006-09) in his time, culminating in the 2006 NCAA championship. The team also won Big West Conference championships in 2006, 2007 and 2009. The Gauchos finished 57-23-12 during his coaching tenure.
A two-year captain, two-time All-Big West selection, an Academic All-American and Big West Scholar Athlete of the Year, Jones played for a UCSB squad that reached the 2004 NCAA final and competed in the 2002 and 2003 NCAA tournaments. The team went a remarkable 66-15-7 during his four years on the pitch.
"I'm excited to have Neil, his wife Stephanie and kids Finn and Ford join the Badger family," said Marija Pientka, Senior Associate Athletic Director for Sports Administration. "Neil has a strong background in recruiting and player development.
"As a successful coach and accomplished former student-athlete, Neil understands what it takes to create championship experiences for our student-athletes on and off the pitch. I'm thrilled for our men's soccer student-athletes to have the opportunity to learn and excel under Neil's leadership."
A native of Auckland, New Zealand, Jones represented his country internationally, playing at the under-17, under-20, under-23 and Full International levels.
In addition to his collegiate coaching experience, Jones boasts time since 2016 as a USA national team scout at the regional and national level for U-15, U-16, U-17 and U-18 boys. He also spent 2012 through 2020 as a professional match evaluator for MLS.
He holds bachelor's and master's degrees from UC Santa Barbara and a United States Soccer Federation 'A' coaching license.
NCAA COACHING HISTORY
• Head coach, Loyola Chicago — 2013-2021 (record: 81-54-24)
• Associate head coach, Northwestern — 2010-2012 (record: 32-19-11)
• Assistant coach, UC Santa Barbara — 2006-2009 (record: 57-23-12)
NCAA Tournament Appearances (8)
• Loyola Chicago (head coach) — 2016, 2019
• Northwestern (associate head coach) — 2011, 2012
• UC Santa Barbara (assistant coach) — 2006*, 2007, 2008, 2009
* NCAA champion
Conference Championships (7)
• Missouri Valley (head coach) — 2016, 2019
• Big Ten (associate head coach) — 2011, 2012
• Big West (assistant coach) — 2006, 2007, 2009
PLAYING HISTORY
• Three NCAA tournament appearances as a player at UC Santa Barbara (record: 66-15-7)
• 2004 NCAA runner-up at UC Santa Barbara as player
• Two-time team captain
• Two-time All-Big West selection
• Academic All-American
• Big West Scholar-Athlete of the Year
• New Zealand National Team (U17, U20, U23, Full International)
NOTABLE
• Missouri Valley Conference Coaching Staff of the Year (2014, 2016)
• Four MVC Players of the Year
• Three Loyola players chosen in MLS SuperDraft
• Coached 10 Loyola players who moved on to professional soccer