Bucknell University hires six-time NCAA champion Dave Brandt as men's soccer head coach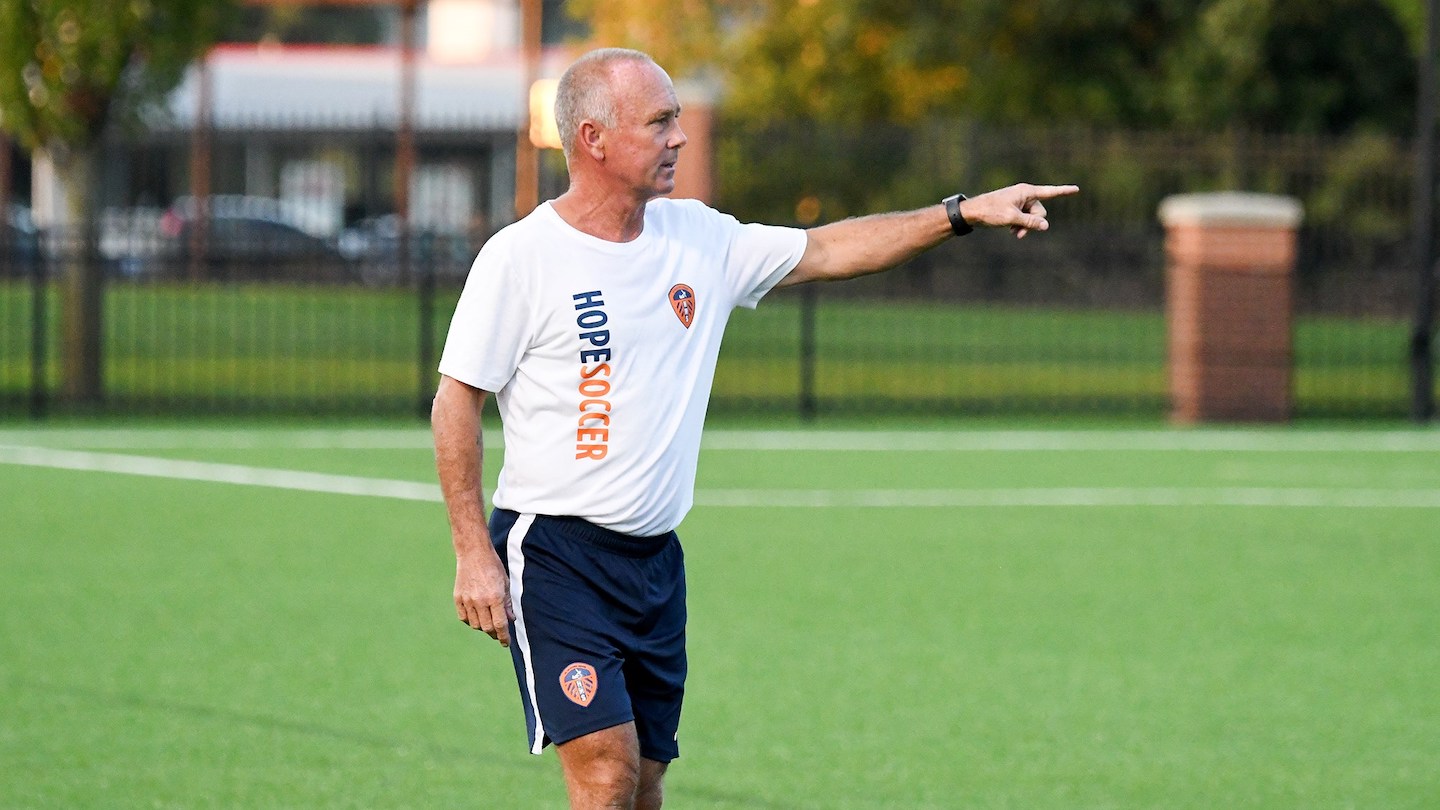 LEWISBURG, Pa. – Dave Brandt, a highly decorated, Hall of Fame college soccer coach who has guided teams to six NCAA championships, has been selected as the next head coach at Bucknell University, director of athletics and recreation Jermaine Truax announced.
Brandt comes to Bucknell from Hope College in Holland, Mich., where he has served as head men's soccer coach since 2018. In 23 seasons as a college head coach, including previous stints at Messiah and Navy, Brandt has compiled a career coaching record of 354-86-40 (.779).
Brandt's eye-popping career winning percentage is 20th-best in NCAA men's soccer history among coaches from all divisions with a minimum of 10 years as a head coach. He has mentored a total of 26 college All-Americans, 12 current or former Major League Soccer players, and one current Premiership player.
"I am ecstatic to welcome Dave Brandt to Bucknell and the Bison Athletics family," said Truax. "Dave has had remarkable success across multiple levels of the sport of soccer. The numbers speak for themselves when it comes to national and conference championships along with individual accolades. What might not be as evident is Dave's ability to instill a shared, committed vision that results in excellence in all aspects of life and leads to a memorable, holistic student-athlete experience. I am very excited for Dave to get to know our student-athletes and alumni, and help the Bison men's soccer program return to prominence in the Patriot League and beyond."
"I am absolutely thrilled to return to Central Pennsylvania and to have the opportunity to be the next head men's soccer coach at Bucknell University," said Brandt. "I'd like to thank Jermaine Truax, Michelle Manning, the search committee, and all of the coaches and staff I interacted with during the interview process; I'm joining a fantastic department and group of people, and I can't wait to get started. We will take dead aim at continuing the proud tradition this program has established over its long history, as well as implement and forge a vision for the future that will make everyone associated with Bucknell University extremely proud."
Brandt was one of his school's all-time leading scorers during his playing days at Messiah University in Mechanicsburg, Pa., from 1981-84, and he returned to his alma mater as head coach in 1997. In 12 years guiding the Falcons, his teams compiled a 246-25-14 (.888) record, won six Division III national championships and made eight Final Four appearances.
Brandt was a four-time National Coach of the Year honoree at Messiah, and five of his student-athletes earned National Player of the Year honors. He coached 22 All-Americans and 12 conference MVPs, and he helped two of his players become MLS draft selections and 14 play soccer professionally.
Brandt was inducted into the Messiah Hall of Honor in 2012, and that same year he was an inaugural inductee into the Middle Atlantic Conference Hall of Fame.
After winning his sixth national title in 2008, and armed with an .888 career winning percentage that was tops in NCAA history at the time, Brandt moved on to the Division I level and the Patriot League, taking over as head coach at the U.S. Naval Academy.
Navy had been 0-13-1 in Patriot League play in the two seasons prior to Brandt's appointment, but he quickly moved the Midshipmen up the ranks in the Patriot League table. He compiled a 64-47-20 (.564) record in seven seasons at Navy, and over his final three years the team was 35-17-8 (.650) with a 21-6-3 (.792) Patriot League record and non-conference wins over the likes of Maryland, Ohio State, Virginia Tech and West Virginia.
Brandt's 2013 Navy squad produced the first and only perfect Patriot League season in league history. The Midshipmen went 9-0-0 against Patriot League competition in the regular season, then they defeated Bucknell and Holy Cross to win the Patriot League Tournament. Navy went on to beat VCU 3-0 in the first round of the NCAA Tournament before falling to No. 14 Wake Forest 2-1 in round two. It was Navy's first NCAA Tournament appearance since 1989 and its first NCAA victory since 1972.
During his time at Navy, Brandt helped 2015 graduate Joe Greenspan become a Hermann Trophy semifinalist and later an MLS SuperDraft second-round draft pick by the Colorado Rapids.
In 2016, Brandt moved on to the professional ranks, where he was selected as the head coach of the Pittsburgh Riverhounds of the United Soccer League. Brandt took over a winless club mid-season and then helped the Riverhounds win six games over the remainder of the campaign. The following season, the side finished 8-12-12 for 36 points, a 44 percent improvement over the previous year.
Brandt returned to his Division III roots in 2018, when he was appointed head coach at Hope College. He inherited a team that had been 22-32-4 over the previous three seasons, and during his four-year tenure the Flying Dutchmen posted a 44-14-6 (.734) record. The team made an NCAA Tournament appearance in 2019 and won the Michigan Intercollegiate Athletic Association title in the spring of 2021.
Brandt holds a master's degree in athletic administration from Temple University (1990) and a bachelor's degree in business administration from Messiah (1985). He also received an honorary degree from the U.S. Naval Academy in 2016 for an "unusual and significant impact on the lives of Midshipmen."
Brandt was a member of the U.S. Naval Academy's Speaker's Bureau, with a focus on leadership and organizational dynamics. He has also served as a Professor of Leadership at Hope, and he has been a featured speaker at the United Soccer Coaches national convention.
The Bucknell men's soccer team has made seven all-time NCAA Tournament appearances, with the last coming in 2014. The Bison finished 4-10-3 overall and 2-5-2 in the Patriot League this fall.
Brandt becomes the 14th full-time head men's soccer coach in Bucknell history and just the third dating back to 1967.