MAC Hermann Trophy winner Dante Polvara signs first professional contract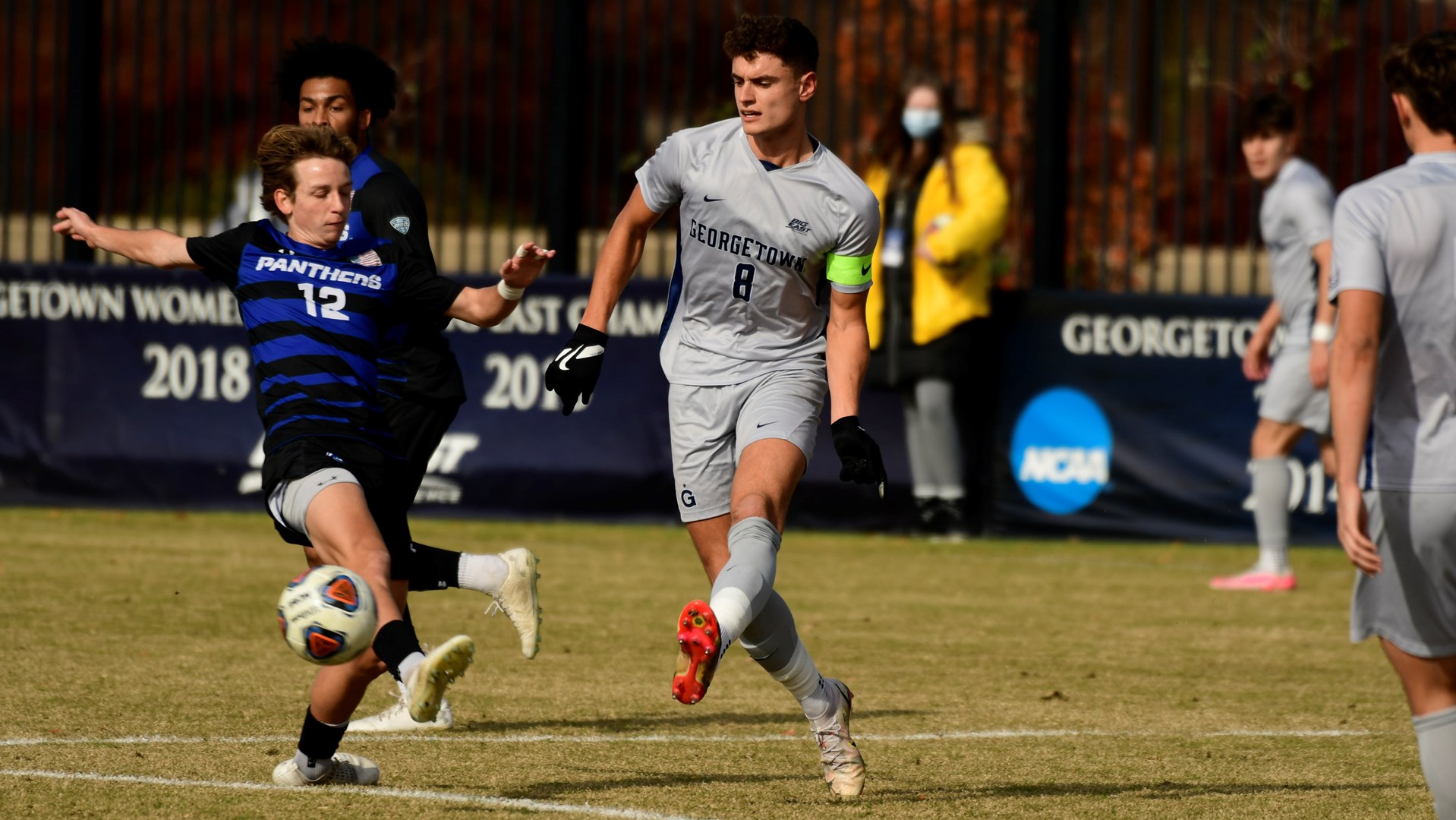 WASHINGTON – Georgetown University men's soccer junior Dante Polvara followed up winning the 2021 Missouri Athletic Club's (MAC) Hermann Trophy by signing his first professional contract on Saturday.
The midfielder signed a two-and-a-half-year deal with Adberdeen F.C. of the Scottish Premiership. Aberdeen acquired his rights from Major League Soccer's New York City FC, which owned Polvara's homegrown rights.
"When I heard about the interest from Aberdeen I talked with Coach Wiese at Georgetown about the opportunity, but also spoke at length to Aberdeen manager, Stephen Glass, and Christian Ramirez, who also recently moved from the States to Scotland, and it was clear the Club has a rich footballing history," said Polvara. "I had a number of other options, both in the MLS and Europe, but I felt that Aberdeen was the right Club for me to learn and develop as a player. It has a clear strategy of investing in young players and providing a visible pathway to enable them to fulfil their potential."
Georgetown head coach Brian Wiese stated the following on his team's Hermann Trophy winner: "This is a great opportunity for Dante to play professionally at the highest level. Just as importantly, Dante will graduate from Georgetown. We will miss his leadership, but will celebrate his achievement of modeling the ideals of our program."
Aberdeen manager Stephen Glass echoed Wiese's high praise for the promising professional prospect: "Dante is a fantastic emerging talent. He chose to go through the college pathway after emerging from the New York City Academy alongside Gio Reyna of Borussia Dortmund and Joe Scally of Borussia Monchengladbach. He is coming to us at a good age and whilst he could have opted to take the next step in his career in the MLS, we're delighted he has decided to come to Pittodrie and we look forward to working with Dante to continue his development. As a Club we've been clear in our ambition to be the best developer of talent and we're committed to creating a pathway for promising young players to our first team."
Dante Polvara
Jr. | M
Pleasantville, N.Y. / Brunswick
Became the first winner of the MAC Hermann Trophy, college soccer's top honor, in Georgetown program history.
This was his second season being named a MAC Hermann semifinalist after earning the distinction a year ago.
Polvara was the 2021 BIG EAST Midfielder of the Year as well as a First Team All-BIG EAST selection.
He also earned United Soccer Coaches Second Team All-America honors and First Team All-East Region honors.
The midfielder started all 22 games for the Blue & Gray and led the team in scoring with seven goals and six assists for 20 points.
Three of his goals were game winners this past season.
The team captain was named to the TopDrawerSoccer.com Team of the Week twice this past year as well as earning a nod to the BIG EAST Weekly Honor roll.
The finance major was a United Soccer Coaches First Team Scholar All-American as well as being named First Team Scholar All-South Region by the organization.
In his career on the Hilltop, Polvara has appeared in 60 games with 43 starts and scored 19 goals to go along with nine assists for 47 points.
He has also tallied five game winners.
Polvara is a two-time United Soccer Coaches All-American, a two-time United Soccer Coaches All-East Region selection, the two-time BIG EAST Midfielder of the Year and a two-time First Team All-BIG EAST honoree.
In his time on the Hilltop, the Hoyas have advanced to three-consecutive NCAA quarterfinals, two College Cups and won the 2019 NCAA Championship. Additionally, the squad won two regular season BIG EAST titles as well as a pair of BIG EAST Championships.