University of Houston women's soccer head coach Diego Bocanegra retires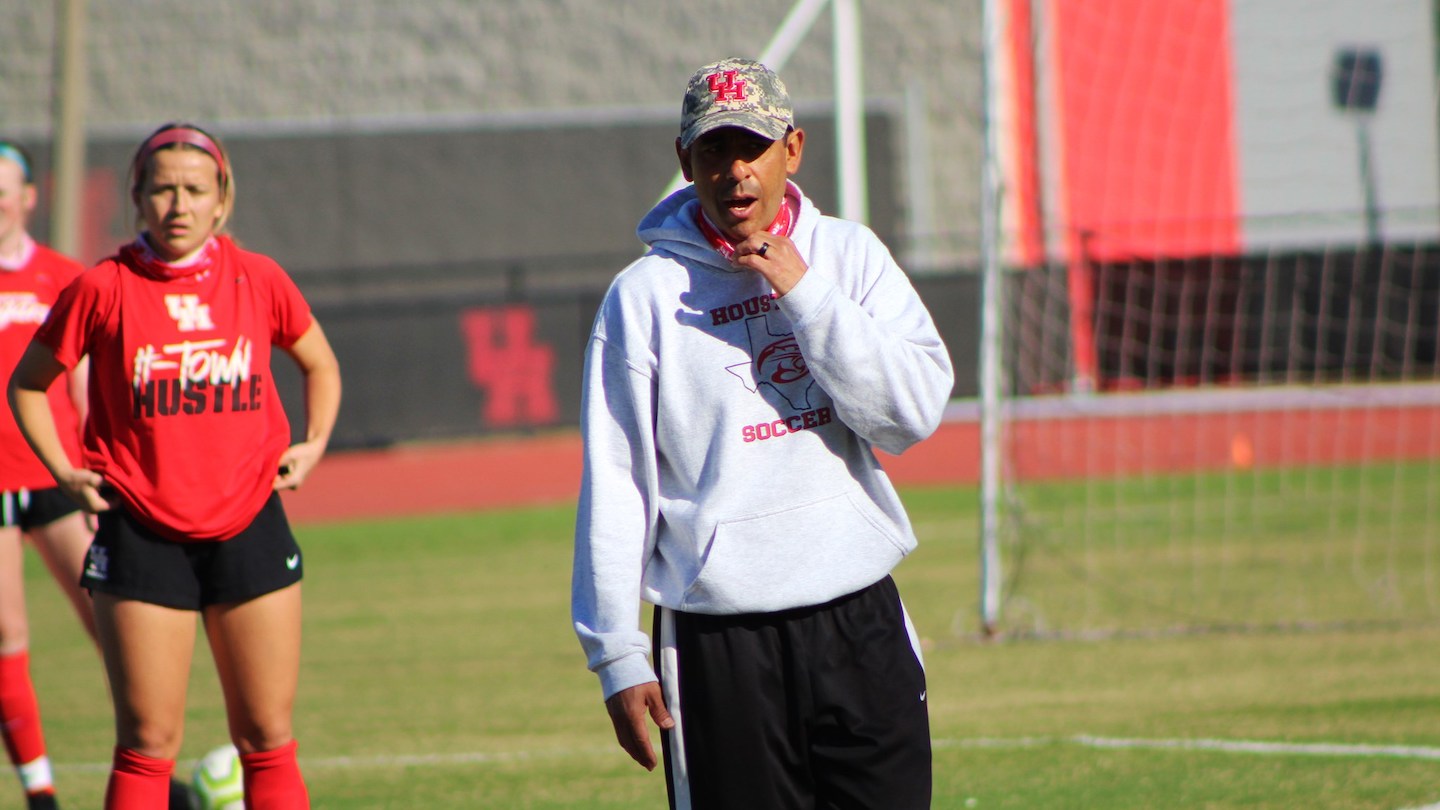 HOUSTON – University of Houston women's soccer head coach Diego Bocanegra, who re-energized the program to the tune of 39 wins across five seasons, announced his retirement from college soccer coaching.
As Houston's head coach from 2017-21, Bocanegra, who was the fifth head coach in Cougar Soccer history, tallied an overall record of 39-42-6 (17-23-2 AAC), including leading Houston to its most successful season in program history during 2021.
"It has been my honor to spend the last five years serving as the head coach at this amazing university," stated Bocanegra. "I want to thank DeJuena Chizer, Chris Pezman, Dr. Renu Khator and all of the administration for believing in me and this program. There were definitely some growing pains, but I always felt supported, and for that I will always be indebted."
In 2021, Houston set a record for single-season wins with 13, including 18 different goal scorers and only five goals allowed in conference play. For the first time in program history, Houston Soccer finished the regular season schedule with a No. 2 conference ranking and semifinals berth in the American Athletic Conference Tournament.
"Diego Bocanegra's efforts over the past five seasons have been instrumental in elevating Houston Soccer to record-setting heights," Houston Vice President for Athletics Chris Pezman said. "We appreciate his investment in the University of Houston and wish him and his family the best with the next chapter in their lives. As we look forward, we're excited to build on the winning culture in place with a focus on being nationally competitive for years to come."
Houston began receiving votes in national polls and achieved its highest ranking of No. 3 in the South Region in the United Coaches' Poll before ending the season with an RPI of 54.
Bocanegra and his staff's leadership received conference recognition after being named The American Coaching Staff of the Year.
During the 2020-21 season, Bocanegra led the program to its first ever victory over UCF in 15-plus attempts. The win was even more meaningful as it clinched the program's first winning season since 2010.
In his first season with the Cougars, Bocanegra closed out his debut season with a 7-9-1 record, highlighted by a program-best three conference wins. He also helped cultivate two American postseason award winners and the program's first CoSIDA Academic All-American award winner.
After less than one year at the helm of the Houston Soccer team, Bocanegra revamped the Houston offense. The Cougars posted 29 goals and 23 assists during the 2017 season, for the most goals scored by the offense and most assists since 2010. On the defensive end, the Cougars posted 111 saves and three shutouts during their 2017 campaign.
"I want to thank all the current and former staff members for the countless hours you put in behind the scenes," said Bocanegra.  "You trusted my vision and helped us change the trajectory of this program forever."
Bocanegra came to Houston with a resumé that spoke for itself, with an overall coaching record of 41-23-9 and 20 seasons of coaching experience.
Prior to Houston, he held coaching positions with the Houston Dash NWSL expansion team and on the college front at Notre Dame, Cal State Fullerton and Cal State San Bernardino. He began his coaching career at Pomona-Pitzer and UC Riverside in the late 1990s and early 2000s.
"Finally, to the players, I am grateful to each and every one of you. I have learned and grown as a person and coach because of all of you," Bocanegra said. "I am constantly amazed by what can be accomplished when we all strive for excellence together. I feel blessed that I could be a small part of each of your journeys."
As a student-athlete, Bocanegra had a successful college playing career in the mid-1990s, beginning with two seasons at Grand Canyon (1993-94; All-Conference in '94) before one season and a redshirt year (1995-96) at UCLA, and ultimately concluding at Fresno State in 1997.
"Although it is time for me to move on from college coaching and focus on my family, UH will forever remain in my heart," Bocanegra said. "Go Coogs!"