San José State women's soccer head coach Lauren Hanson steps down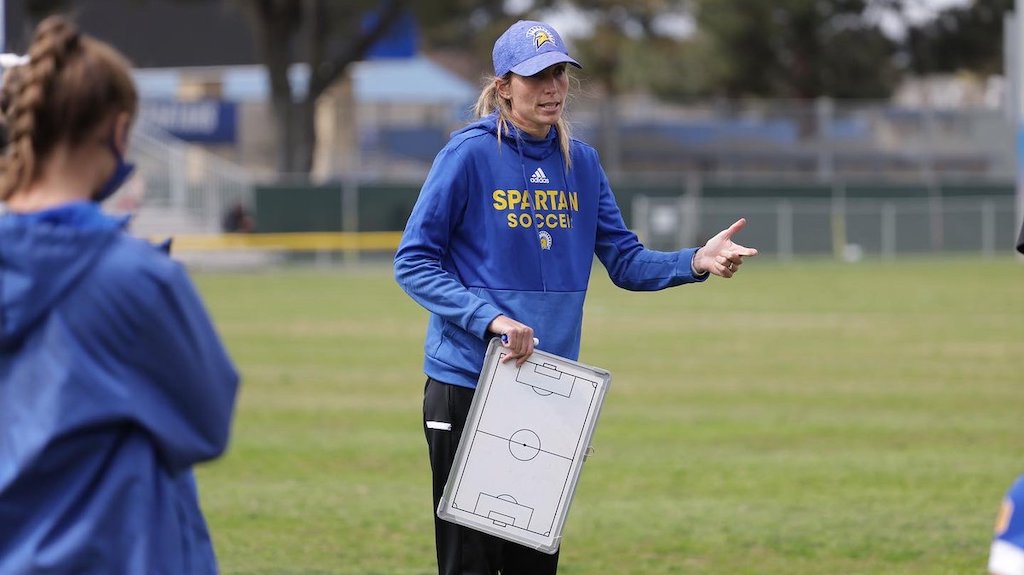 SAN JOSE, Calif. – Lauren Hanson has resigned as head coach of the San José State women's soccer program, announced by Director of Athletics Jeff Konya.
Hanson, a two-time Mountain West Coach of the Year, will leave the program to pursue additional opportunities outside of coaching and ends her SJSU career as the winningest coach in program history.
"Lauren is one of the top coaches in the country and led the Spartans to unprecedented success during her eight seasons leading the women's soccer program," said Konya. "San José State thanks Lauren for her service and we wish her all the best as she exits the profession."
"After eight memorable seasons as head coach of this program, I have decided to step away from the game to spend more time with my family," said Hanson. "I am so grateful for the opportunity I have had to lead these amazing young women. I am incredibly proud of the strong family culture the players and staff have worked so hard to establish throughout my career here. Coaching is a special profession where you have the opportunity to help people grow on and off the field and it is what I love about it. The amount of growth we have seen in so many players is why we coach. Thank you to all of the players and assistant coaches that have touched my heart and helped make this program special. A special thank you to my assistants Tina (Estrada), Adrianne (Fass) and Aliyah (Jones) for their support, hard work, and belief. The friendships we have made and the memories we created together are unique and I will remember them forever."
Hanson was named to the Silicon Valley Business Journal 40 Under 40 Class of 2021, recognizing 40 individuals under the age of 40 who impact their industries and communities in Silicon Valley. Under her tutelage, the Spartans were the only Mountain West program to make the conference tournament in five consecutive seasons from 2015-19, making NCAA tournament appearances in 2015 and '18. She led SJSU to three Mountain West championships and ranks seventh all-time in the Mountain West history with a .593 (46-30-10) winning percentage in league play. Hanson recruited some of the most talented players in the country that earned over 30 All-Mountain West selections and more than 50 were recognized on the Academic All-Mountain West teams.
"The program is in a positive place with a great culture, wonderful young talent and belief, and I know they will be very successful moving forward," said Hanson. "I wish the players and staff nothing but success in the future and will be supporting from the sidelines."
Associate Head Coach Tina Estrada will serve as the interim head coach while San José State performs a national search for Coach Hanson's replacement. Estrada just completed her fifth season with the Spartans, and just finished her second season as Associate Head Coach.
"Having a community of supporters surrounding our program has been incredibly important in establishing a tradition of success," said Hanson. "There are so many people I'd like to thank that have helped that. Thank you to our Athletic Director, Jeff Konya, for his support of our program and supporting this decision to step away and spend more time with my family. Thank you to San José State University and all the amazing administrators, coaches and staff within the athletic department that have dedicated their time to helping our program be successful, from Blake Sasaki, my amazing sport supervisor, to previous presidents and athletic directors who gave me my first head coaching job and supported my growth. Thank you to our trainers, academic advisors, facilities, equipment managers, and the strength and conditioning staff that I have worked so closely with. A special thank you to our alumni and boosters for creating a wonderful support group for our staff and the young women in this program. I am incredibly thankful for Kevin and Sandy Swanson for their belief in our soccer programs and the guidance they have given me in the last couple of years, they are special. To Stanley and Marilyn Gadway, thank you for your support of our program and for being a bright light throughout my career. I'd also like to thank Simon Tobin, our men's soccer coach for his mentorship and friendship. Thank you to Nick Nicholas, Easy Perez, and the men's soccer alumni for their inclusion and support of our women's soccer program. There are so many people I would like to thank but most importantly I want to thank my family. I am so grateful for my husband (Travis Hanson) because he understands and has supported this lifestyle throughout my career. He is the reason I have been able to do what I love and I am so thankful for that.
"Thank you San José State for my time here. Go Spartans!"