Penn State women's soccer adds Kelly Lawrence to coaching staff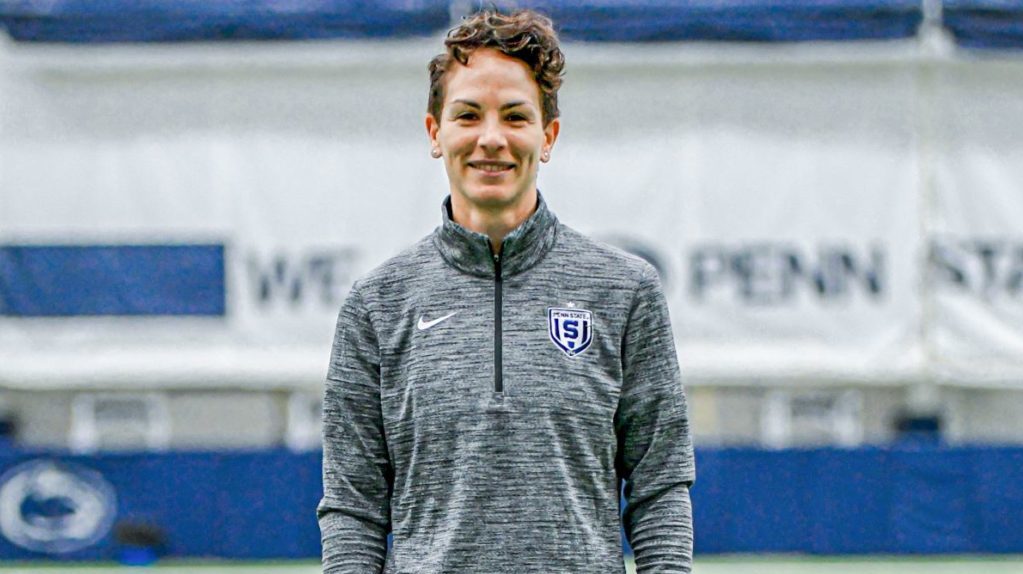 UNIVERSITY PARK, Pa. — The Penn State women's soccer program has added Kelly Lawrence as a volunteer assistant coach for the upcoming 2022 season.
Lawrence brings 10 years of NCAA Division I coaching experience to her first season with the Nittany Lions, having coached at Boston, Syracuse and Monmouth. She adds seven years of national team experience, and as a collegiate player, she was a four-year starter on the back line for the Indiana Hoosiers.
"Kelly brings a wealth of experience and knowledge having worked with some of the best coaches in the country," said Penn State head coach Erica Dambach. "She was one of our favorite players to watch in the B1G during her time at Indiana, and we're thrilled to have her join in our program!"
Lawrence arrives from Boston University where she served as associate head coach for three seasons (2019-21) under head coach Nancy Feldman.
During her third season (2021) as an associate head coach, Lawrence helped guide the Terriers to the Patriot League regular season championship, going 6-1-2 in league play and 11-6-3 overall to reach the Patriot League championship final. In her second season (2020) in Boston, Lawrence assisted the Terriers to clinch the Patriot League North Division in a shortened spring season.
In total at BU, Lawrence had 13 players named All-Patriot league, 3 players added to the All-Patriot League Tournament Team and a league Defensive Player of the Year in Jenna Oldham.
One of her All-Patriot league honorees, Anna Heilferty, went on to be drafted 19th overall by the Washington Spirit in the 2021 NWSL draft. Lawrence also coached current Nittany Lion goalkeeper Morgan Messner while she played for the Terriers.
"Kelly's a wonderful coaching professional because she's a wonderful human being," said Boston University head coach Nancy Feldman. "She's a student of the game and has proved here she really knows how to teach the sport to individuals, groups and the team as a whole.
"It is about her human relationships and her understanding of student athletes as a whole person and her interest in mentoring and connecting with them that drives her success."
While in Massachusetts, Lawrence was a member of the Boston University Social Justice & Inclusion Committee and coach advocate for the Terrier Student-Athlete Ally group; an organization advocating for equal access, opportunity, and experience in sports – regardless of sexual orientation, gender identity or gender expression.
A two-time graduate of the NCAA Women Coaches Academy (2.0 No. 3 class and class No. 45), Lawrence is currently participating in the WeCoach mentorship program as a silver mentor. She participated in the same program in 2018. Lawrence is also currently a United Soccer 30 Under 30 coach mentor for young up-and-coming coaches and was a recipient herself of the 2017-2018 NSCAA "30 Under 30" scholarship program.
Prior to her time at Boston, Lawrence spent four years coaching in the ACC at Syracuse, including serving as the interim head coach for six months. While at Syracuse, she mentored current professional Erin Simon of Racing Louisville (NWSL); Courtney Brosnan of FAWSL Everton Football Club (FAWSL); Republic of Ireland Senior National Team member Georgia Allen; and England U21 Youth National Team member and former New Zealand National team player Steph Skilton.
Prior to her tenure at Syracuse, Lawrence spent two seasons at Monmouth, where she assisted the Hawks to two straight MAAC regular season and conference championships. During the 2014 season, Lawrence assisted the back line which led the NCAA in shutout percentage (.762), ranked fourth in goals-against average (0.42) and fifth in winning percentage (.857).
Before coaching collegiately, Lawrence served as the girl's varsity assistant coach at The Pingry High School in Martinsville, New Jersey from 2012-13, leading the team to the state championship.
The Chigwell, England native enjoyed a stellar playing career as she spent seven years with the English Youth National Teams (U15-U23's) and Great Britain. She helped England to a runner-up finish in the 2007 Women's Under-19 UEFA Cup.
Lawrence was a four-year starter for the Indiana Hoosiers becoming the only player in program history to earn All-Big Ten honors all four years and is the only three-time All-Region honoree in program history. In addition, she was on the Mac Herman Watch List in 2008.
She also won two WPSL national championships, one with the Boston Breakers Reserves in 2010 and one with the Orange County Waves in 2011.
Lawrence graduated from Indiana in 2010. She went on to receive her Master's in Coaching & Athletic Administration from Concordia in 2019.
Lawrence resides in State College, Pennsylvania with her fiancé Allison Coomey, the current Associate Head Coach for Women's Hockey.