University of Wisconsin men's soccer coaching staff solidified for 2022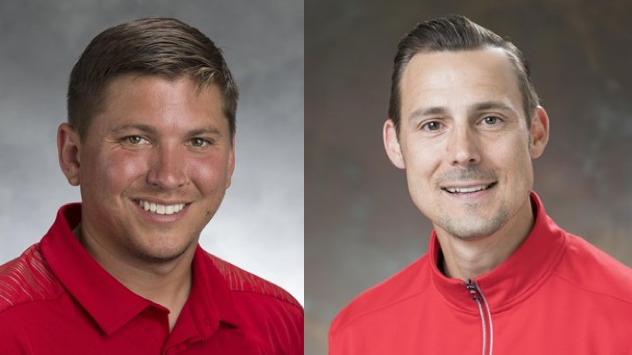 MADISON, Wis. – Head coach Neil Jones announced the assistant coaching staff for the University of Wisconsin men's soccer program. Aaron Hohlbein will remain with the Badgers and Andrew Bordelon will join the staff with 11 years of collegiate coaching experience.
"I am so excited to finally announce our men's soccer staff," Jones said. "Andrew Bordelon has joined us from Northern Illinois University, where most recently he was the Associate Head Coach under Ryan Swan. NIU just came off a simply brilliant season from a results and championships perspective, but it was Andrew's work ethic, game understanding, strong relationships with his players and ability to recruit top notch student-athletes that made him such a phenomenal candidate for our program."
Bordelon comes to Madison after spending the last five seasons at NIU. He served as an assistant coach for the Huskies from 2017-20, before being promoted as the associate head coach/recruiting coordinator for the past two years. In 2021, he helped coach the team to a 15-3-2 record and the third NCAA tournament game win in program history.
Prior to his time in DeKalb, he served as the head coach at Stevenson (NCAA Division III) and three seasons as the leader of Westminster (DIII). With Westminster, won three conference championships, and compiled a 41-20-1 record with three appearances in the NCAA tournament.
Before he became the head coach at Stevenson and Westminster, he served as the assistant coach at Drury (DII) for three years.
"I am so excited to be here in Madison at UW, a premier academic and athletic institution," Bordelon said. "I can't wait to begin working alongside Neil Jones and Aaron Hohlbein with both current and future Badgers. It is an honor to be a part of a program with a great history and a bright future."
Hohlbein was an All-America defender at Wisconsin from 2003-06 and came back to Madison in 2015 as an assistant coach. He played three seasons with the MLS's Kansas City Wizards. He also has playing experience with Miami FC (USSF Division 2) and the Fort Lauderdale Strikers.
"Aaron Hohlbein is a Badger through and through," Jones said. "I have known Aaron for quite a while since being in the Midwest, and his passion for UW and what it means to be a Badger is clearly evident. Along with his strong recruiting network, deep knowledge of the game and the Big Ten Conference, the trust that our current student-athletes have in him and his absolute devotion to being a part of a world-class experience for current and future Badgers, having Aaron on staff was a no brainer."
Among Wisconsin's accomplishments during Holhbein's tenure as assistant coach are a Big Ten tournament title and an NCAA tournament berth in 2017 where the Badgers advanced to the third round. Five Badgers have been selected in the MLS SuperDraft since he returned to UW, including Chris Mueller, the 2017 Big Ten Offensive Player of the Year, who after a career with Orlando City in the MLS, currently plays for Hibernian FC in the Scottish Premiership.
"I'm extremely excited to continue on in my role as an assistant coach," Hohlbein stated. "It's a privilege to work with our student-athletes and I'm honored to continue partnering with them in the pursuit of excellence, both on and off of the field.
"I'd like to thank Coach Jones for offering me the opportunity to be a part of his coaching staff, alongside Andrew Bordelon. Our alumni, fans and supporters of the program can rest assured that the work towards becoming Big Ten and national title contenders has already begun. The future of the program is bright and I'm thrilled to be a part of it moving forward."
Jones says that he is "elated that our current, and future student-athletes will have the opportunity to work with these great coaches and mentors moving forward."