Brown University hires Chase Wileman as men's soccer head coach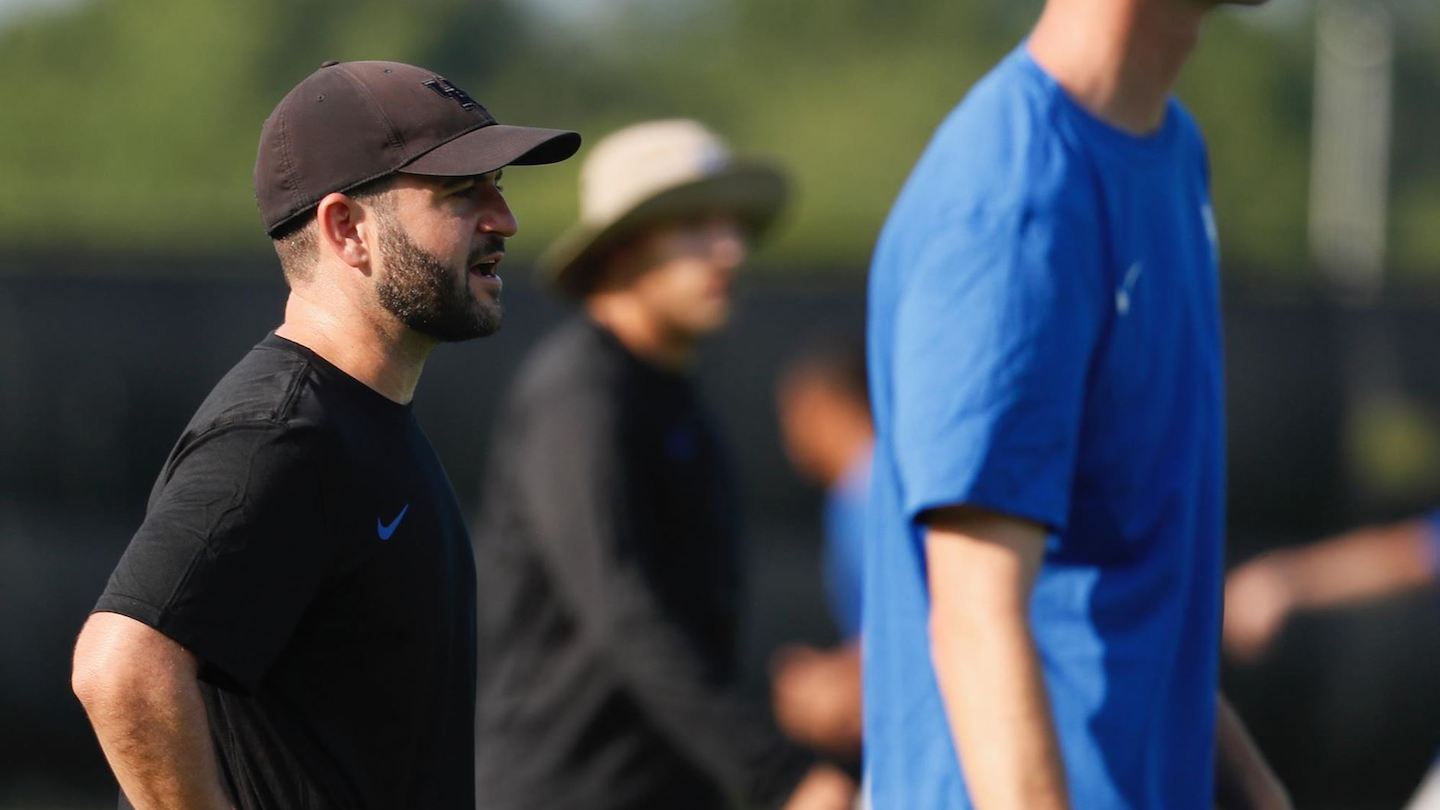 PROVIDENCE, R.I. – Chase Wileman has been named the Friends of Brown Men's Soccer Head Coaching Chair, as announced by Vice President for Athletics and Recreation M. Grace Calhoun, PhD.
Wileman, the seventh head coach in program history, comes to Providence with 11 years of NCAA Division I coaching experience, nine of which were as a top assistant, most recently serving as the associate head coach at the University of Kentucky since July 2018.
"Chase impressed us with his high energy and a strong sense of what it will take to rebuild a championship culture at Brown," Calhoun said. "He competed in the NCAA Tournament all four years as a student-athlete and assisted in leading Kentucky to seven appearances in eight seasons. He is a proven recruiter and has prior experience in the Ivy League. He has a clear vision for Brown men's soccer. We are excited to welcome Chase and his wife Chelsea to College Hill."
Wileman started at Kentucky in 2014 as an assistant coach and was promoted to associate head coach before the 2018 season. In his eight seasons, Wileman helped lead the Wildcats to a 100-36-22 overall record and seven NCAA Tournament appearances in eight seasons.
"I am proud to be named the Friends of Brown Men's Soccer Head Coaching Chair," Wileman said. "Brown men's soccer is a program with a fantastic history and an exciting future.
"Thank you to M. Grace Calhoun, Marvin Lewis (Deputy Director of Athletics, Finance and External Relations), Colin Sullivan (Deputy Director of Athletics), and the entire search committee for trusting in me to lead this historic program.
"I am excited to meet the team and get to work," Wileman added. "Our staff and players will work tirelessly to get this program back where it belongs, make our alumni proud, and build relationships on campus and in the community. We represent one of the best academic institutions in the world and that is an honor we will appreciate on a daily basis."
While Wileman was at Kentucky, the Wildcats won two Conference USA Regular Season Championships (2015, 2018) and two Conference USA Tournament Championships (2018, 2021). In 2018, Kentucky reached the Elite Eight of the NCAA Tournament, the best showing in program history. The Wildcats also advanced to the Sweet 16 in each of the 2020 and 2021 seasons.
Under Wileman's tutelage, Kentucky saw six players named All-Americans, four tabbed as Conference USA Player of the Year, and four selected in the Major League Soccer SuperDraft.
Wileman is no stranger to the Ivy League as prior to his start at Kentucky, he spent three seasons (2011-13) as an assistant coach at Dartmouth. With the Big Green, Wileman served as the lead recruiter for the class that won four straight Ivy League Titles from 2014-17.
Dartmouth won the Ivy League Championship in 2011, earning Wileman and the Big Green a berth into the NCAA Tournament.
Wileman also has coaching experience at the North Texas Olympic Development Program where he served as a staff coach in 2011 and with FC Dallas as a camp and clinic instructor from 2007-09.
"I also want to thank Johan Cedergren (Kentucky), Chad Riley (Notre Dame) and Jeff Cook (Penn State); three of the best head coaches in the country," Wileman said. "I am fortunate to have been an assistant coach on their staff and am forever grateful for the lessons learned. Lastly, thank you to all the players I have worked with over the last 11 years as an assistant coach. I wouldn't be in this position without the daily work and relationships we built on and off the field. I have grown because of you all."
Prior to his coaching days, Wileman was a four-year member of the men's soccer team at Southern Methodist University where he made four NCAA Tournament appearances from 2003-06, advancing to the 2005 College Cup. SMU won three regular season conference championships and three conference tournament championships with Wileman on the roster. He served as a team captain in 2006 and was named to the Conference USA First Team and the NSCAA All-Midwest First Team. He was selected in the 2007 Major League Soccer Supplemental Draft by FC Dallas where he made numerous appearances from 2007-09.
Wileman earned his bachelor's degree in markets and culture from SMU in 2007.
Wileman will be joined in Providence by his wife Chelsea, a native of Lexington, Ky.