Cal men's soccer head coach Kevin Grimes retires after 22 seasons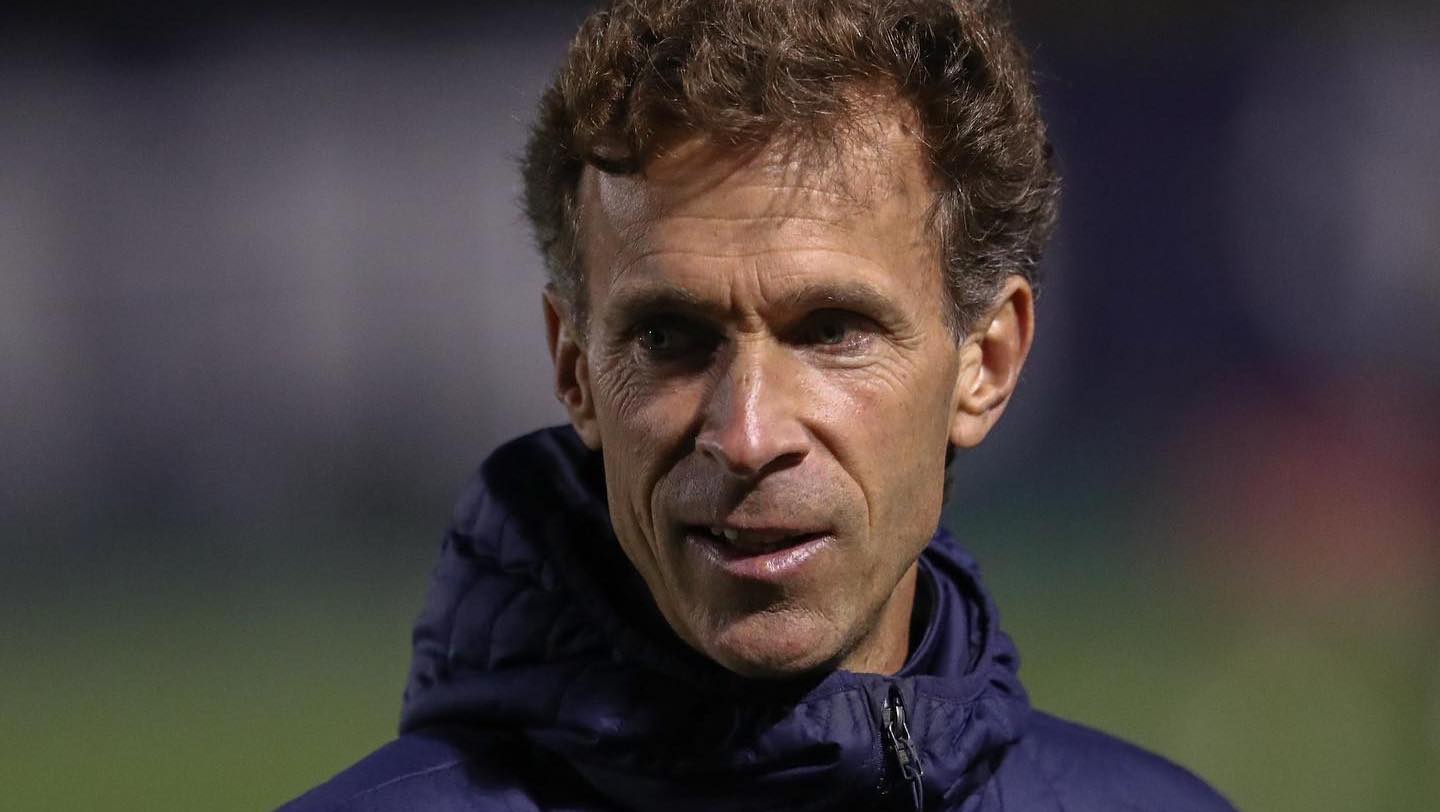 BERKELEY – Kevin Grimes, the head coach of the University of California Berkeley men's soccer team for the past 22 seasons and the program's all-time winningest coach, has announced his retirement.
The 13th coach in the history of the program, Grimes completed his career in the fall with a record of 211-152-49 and a .572 winning percentage.
"I'd like to thank Kevin for his more than two decades of service to Cal Athletics and our men's soccer program," Cal Director of Athletics Jim Knowlton said. "With multiple coach-of-the-year honors and more wins than any coach in our history, he has earned his retirement and leaves a legacy of success that extends from the field into the classroom and to life beyond Berkeley. Congratulations, Kevin, and thank you for all that you have done! We wish you the best as you begin the next leg of your journey."
"Time is tight," Grimes said. "For the past 22 years, the time at Cal with my players and assistant coaches has been some of the most rewarding times in my life. Never could I have imagined that I would have the opportunity to coach at the greatest university in the world for so long. My players are the reason I coach, and the reason I have pushed myself so hard, so that I could impact their lives. The trainings at Golden Bear field made the most impact on them. Valuable lessons were learned there, and all of our answers were always at Golden Bear."
A five-time Pac-12 Coach of the Year and three-time NSCAA Far West Regional Coach of the Year, Grimes led the Golden Bears to three Pac-12 titles (in 2006, 2007 and 2010). Under his watchful eye, the Cal program produced 13 postseason campaigns, with Grimes leading the Bears to the program's first NCAA Tournament win in 2002 and to the NCAA quarterfinals in 2005, 2010 and 2013.
The 2013 squad was ranked No. 1 for several weeks, was seeded a program-best No. 4 in the NCAA Tournament and sent more than half the team into the professional ranks, including: Steven Birnbaum, Christian Dean, Nick Lima, Jose Carrera-Garcia, Seth Casiple, Christian Thierjung, Alex Mangels and Ryan Neil.
Grimes' 2010 team was equally loaded and consisted of several players who would go on to play in MLS, including Jimenez, Soares, Bingham, Servando Carrasco, Demitrius Omphroy and Davis Paul. Not to be outdone, the 2005 Bears included its own future pros in two-time MLS Cup champion Stefan Frei, Cal Athletic Hall of Fame inductee Calen Carr, Steve Purdy, Tyson Wahl, Javier Ayala-Hil, current Cal assistant coach Jacob Wilson and more.
The Bears also excelled academically under Grimes, with standouts Omid Jalali (2014), Aravind Sivakumar (2017) and Simon Lekressner (2019) each earning the Pac-12 Men's Scholar-Athlete of the Year award.
"The amount of people to thank is endless, but necessary," Grimes said. "Twenty-two years ago, Michael Sawyers and John Kasser took a chance on a 32-year-old coach in the making. The belief they had in me will not be forgotten. The athletic directors who followed were amazing and allowed Cal soccer to flourish and for me to grow as a coach. The entire supporting cast in the athletic department made coming to work a joy. My fellow coaches at Cal are simply the best. It's been an honor to work alongside these incredible people. They are my friends for life.
"The Cal soccer alumni have been nothing short of sensational since I've arrived. A special thank you to Derek Van Rheenen and his great work with our players' academic success. Henry Foulk, Jacob Wilson, Javier Ayala-Hil, Evan Sassano and Alec Sundly were amazing alums to work with on the coaching staff. Henry is the best goalkeeper coach I've ever seen and what a run we had together for the past 22 years.
"The coaches who influenced my playing career also influenced my coaching career. My St. Louis hometown coaches of Tommy Howe, Dan Gaffney and John Morhmann instilled in me an incredible sense of pride in our city's heritage, tradition and legacy that are unmatched anywhere in the United States. In college at SMU, I had the privilege of playing and coaching under one of our country's greatest coaches of all time, Schellas Hyndman. They all inspired me tremendously, which allowed me to impact my players at Cal.
"As for my family and me, the kids are doing a semester abroad and we look forward to some well-deserved time together. If an opportunity arises to remain in the game in the future, I'll consider it. In the meantime, I'll enjoy playing some soccer as well with the Veterans de Sitges, a collection of ex-professionals that just love playing the game … Go Bears forever!"
Grimes came to Cal after serving as an assistant coach at Southern Methodist University, his alma mater, for three seasons. During his tenure in Dallas, the Mustangs recorded a 50-11-2 record and earned three NCAA Tournament bids.
Before joining the SMU coaching staff, Grimes spent three seasons (1995-97) as coach of the Mission Viejo (Calif.) Pateadores Soccer Club, which is one of the nation's premier soccer clubs with numerous players competing at Division I programs across the country. He also coached the Irvine (Calif.) High School girls' varsity team from 1995-97 and the San Juan (Calif.) Soccer Club from 1993-94.
A decorated player, the Saint Louis native won the 1984 Under-19 McGuire Cup National Championship as a member of the Scott Gallagher Soccer Club. He was a Parade All-American and the Parade National Defender of the Year at Rosary High School. At SMU, Grimes earned two NSCAA first-team All-America honors and was a two-time finalist for the Hermann Award. He graduated from SMU in 1990 with a bachelor's degree in economics.
Grimes earned five caps with the U.S. National team, and he played professional soccer for eight years, most recently with the Orange County Zodiac of the A-League in 1997, when he was selected to the A-League All-Star Game. Grimes spent the early part of 1996 with the former San Jose Clash of Major League Soccer.
Jacob Wilson – himself a Grimes protégé who played for the Bears from 2006-09 – will serve as the team's interim head coach. A national search will be conducted to find the program's new head coach.
For more on Grimes' retirement, click here.