Loyola University Chicago women's soccer team unveils 2022 recruiting class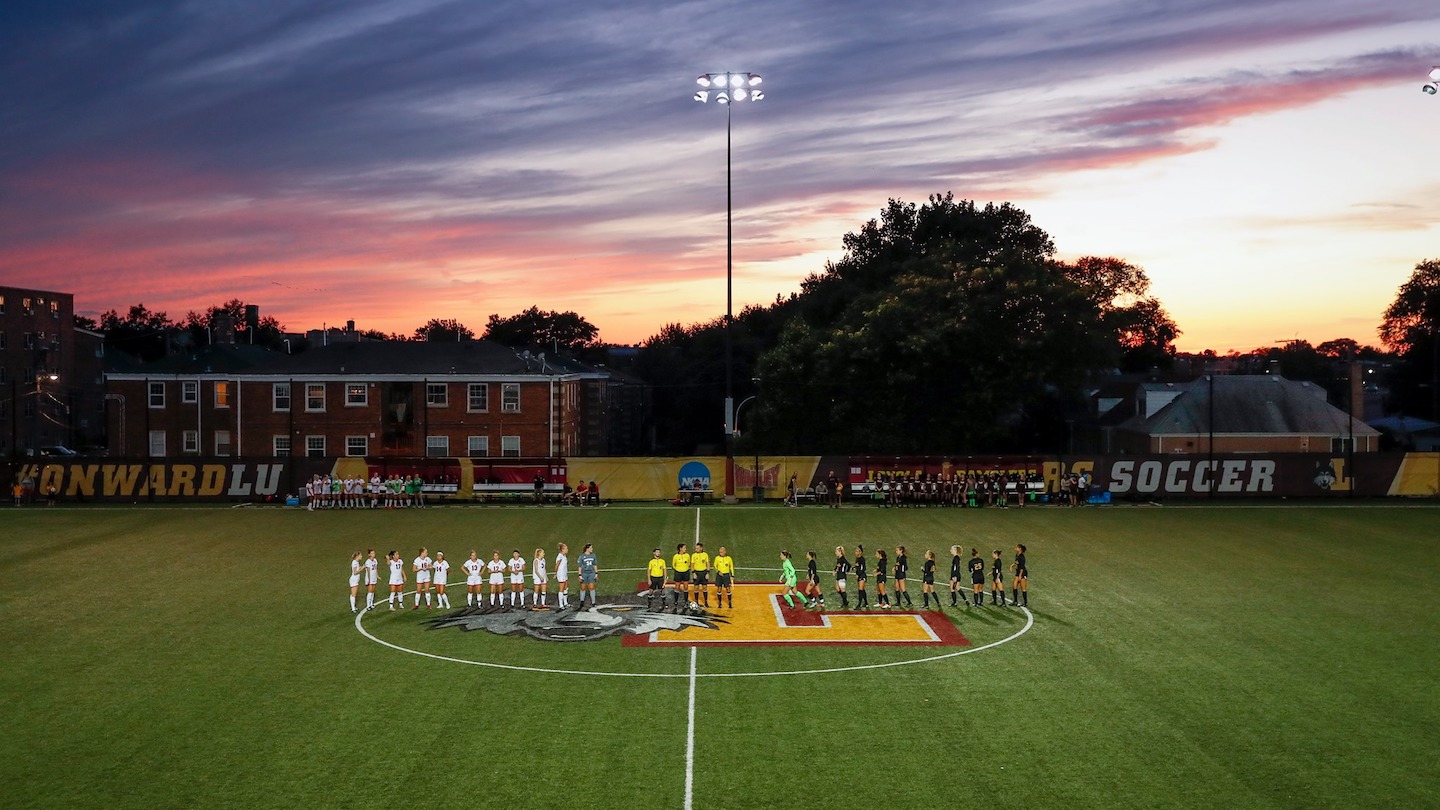 CHICAGO – Set to begin his 12th season in Rogers Park this fall, Loyola University Chicago head women's soccer coach Barry Bimbi unveiled his 2022 recruiting class.
Ava Bryan (Waunakee, Wis./Waunakee), Meghan Economos (Wheaton, Ill./Wheaton Warrenville South), Piper Gallaher (Grayslake, Ill./Grayslake Central), Corissa Koontz (Warsaw, Ind./Warsaw Community), Dylan Levy (Austin, Texas/Liberal Arts and Science Academy), Jordan Pascarella (Blaine, Minn./Blaine), Myah Patterson (Colorado Springs, Colo./Liberty), Emily Roberts (Wheaton, Ill./Glenbard West) and Ella Skelton (Gurnee, Ill./Warren Township) have all signed National Letters of Intent and will join the Ramblers at the start of the 2022 season.
"We are so proud to announce our 2022 class," Bimbi commented. "These young ladies have shown such determination and grit through one of the most difficult recruiting cycles ever. This group will add depth and quality to our roster as we look to continue to chase championships in our move to the Atlantic 10 Conference.  While navigating the recruiting process during the pandemic, we never wavered in attracting great students, quality players, and people that will be great ambassadors of Loyola women' soccer."
AVA BRYAN
Defender | Waunakee, Wis. | Waunakee | SC Wave
Arriving in Rogers Park by way of Waunakee, Wis., Ava Bryan was a unanimous First Team All-Badger East Conference selection during her time at Waunakee High School with head coach Ben Voss.  The 5-foot-10 defender also took home Honorable Mention All-State accolades, along with a First Team All-Madison Area nod with the Warriors.  Bryan experienced success on the club level with coach Giuliano Oliviero's SC Wave, capturing a Wisconsin Youth Soccer Association (WYSA) state title.
MEGHAN ECONOMOS
Forward | Wheaton, Ill. | Wheaton Warrenville South | Eclipse Select SC
A two-sport athlete, Meghan Economos featured exclusively with Eclipse Select SC under the direction of coach Mike Nesci.  Out of suburban Wheaton, Ill., Economos, a 5-foor-8 forward, was named to the Olympic Development Program (ODP) All-State and All-Region Teams as she helped lead the club to an Elite Clubs National League (ECNL) Midwest Division Championship.  Economos was a three-year varsity letterwinner on the basketball team at Wheaton Warrenville South High School, earning Defensive Most Valuable Player Honors.
PIPER GALLAHER
Goalkeeper | Grayslake, Ill. | Grayslake Central | FC 1974 Libertyville Elite
Piper Gallaher looks to add to an experienced goalkeeping core for the Maroon & Gold.  Standing at 5-foot-11, Gallaher, who also played basketball and volleyball, was an All-Northern Lake County Conference selection for head coach Keith Anderson at Grayslake Central High School.  Also an All-Area honoree, the Grayslake, Ill. product backstopped her club team, FC 1974 Libertyville Elite, and coach Srgjan Smileski to an Illinois State Cup title in 2020.
CORISSA KOONTZ
Midfielder | Warsaw, Ind. | Warsaw Community | Indiana Fire
Set to make her way to Loyola from Warsaw, Ind., Corissa Koontz brings an accomplished offensive pedigree with her to The Windy City.  The current single-season school record holder for assists at Warsaw Community High School, the versatile 5-foot-2 midfielder is coming off a senior campaign in which she registered 11 goals and 19 assists for head coach Jon Hoover.  Koontz, who plays on the club level for coach Gary Yohe's Indiana Fire, was a four-time All-Northern Lakes Conference honoree and received All-State accolades en route to capturing three conference championships.
DYLAN LEVY
Midfielder | Austin, Texas | Liberal Arts and Science Academy | Lonestar SC
Dylan Levy lands in Rogers Park with over 30 goals and 50 assists to her name following a standout career at the Liberal Arts and Science Academy in Austin, Texas.  After bursting on the scene as the Newcomer of the Year, Levy, a 5-foot-6 midfielder, captained head coach Chloe Cardinale's team during her junior and senior seasons, earning First Team All-District distinction.  She also featured for coaches Zack Pope and Sophia Mundy with Lonestar SC.
JORDAN PASCARELLA
Midfielder | Blaine, Minn. | Blaine | Minnesota Thunder Academy
5-foot-6 midfielder Jordan Pascarella is fresh off a senior campaign that saw her earn First Team All-State honors after firing home seven goals and dishing out four assists for head coach Scott Zachmann at Blaine High School in Blaine, Minn.  A two-time All-Northwest Suburban Conference honoree, Pascarella was part of a side that captured a sectional crown during her freshman year.  On the club level, she helped guide the Minnesota Thunder Academy and coach Dave Alberti to a pair of berths in the ECNL Champions League.
MYAH PATTERSON
Defender/Midfielder | Colorado Springs, Colo. | Liberty | Pride SC
A four-year starter at Liberty High School for head coach Ross Johnson, Colorado Springs, Colo. native Myah Patterson racked up accolades during her high school career.  The 5-foot-6 defender/midfielder led the Lancers in assists, taking home a pair of First Team All-Colorado Spring Metro League selections as Liberty earned a berth to the Colorado High School Activities Association 5A State Playoffs in 2019.  Patterson was just as instrumental with A.J. Adcock's Pride SC, starting during all four years of her time at the club, a stretch that included a Denver International Cup Championship and a trip to the Colorado State Cup title game.
EMILY ROBERTS
Defender | Wheaton, Ill. | Glenbard West | Galaxy SC
Fresh off a 2021 season that saw her named the Most Valuable Player at Glenbard West High School, 5-foot-1 hard-nosed defender Emily Roberts hopes to add even more depth to a stout Loyola defensive unit.  The second member of the Ramblers' 2022 class to call Wheaton, Ill. home, Roberts was part of a Hilltoppers' team that took home a regional championship this past season.  She also experienced championship success on the club level with coach Joe Taylor's Galaxy SC, capturing an Illinois State Cup title last year.
ELLA SKELTON
Forward/Midfielder | Gurnee, Ill. | Warren Township | FC 1974 Libertyville Elite
Gurnee, Ill. native Ella Skelton was a force in the final third during her stay at Warren Township High School, totaling 24 goals and 16 assists across her last three seasons.  Skelton, a 5-foot-4 forward/midfielder who earned both All-State and All-North Suburban Conference selections, helped fire the Blue Devils to a pair of regional championships.  She played on the club level for FC 1974 Libertyville Elite alongside fellow incoming 2022 signee Piper Gallaher, winning back-to-back PepsiCo titles.
The nine newcomers are set to join a group of 17 expected returning letterwinners in the fall as Loyola goes after a fifth straight trip to the NCAA Tournament in its first season as a member of the Atlantic 10 Conference.