Maryland women's soccer coach Meghan Ryan Nemzer unveils 2022 signing class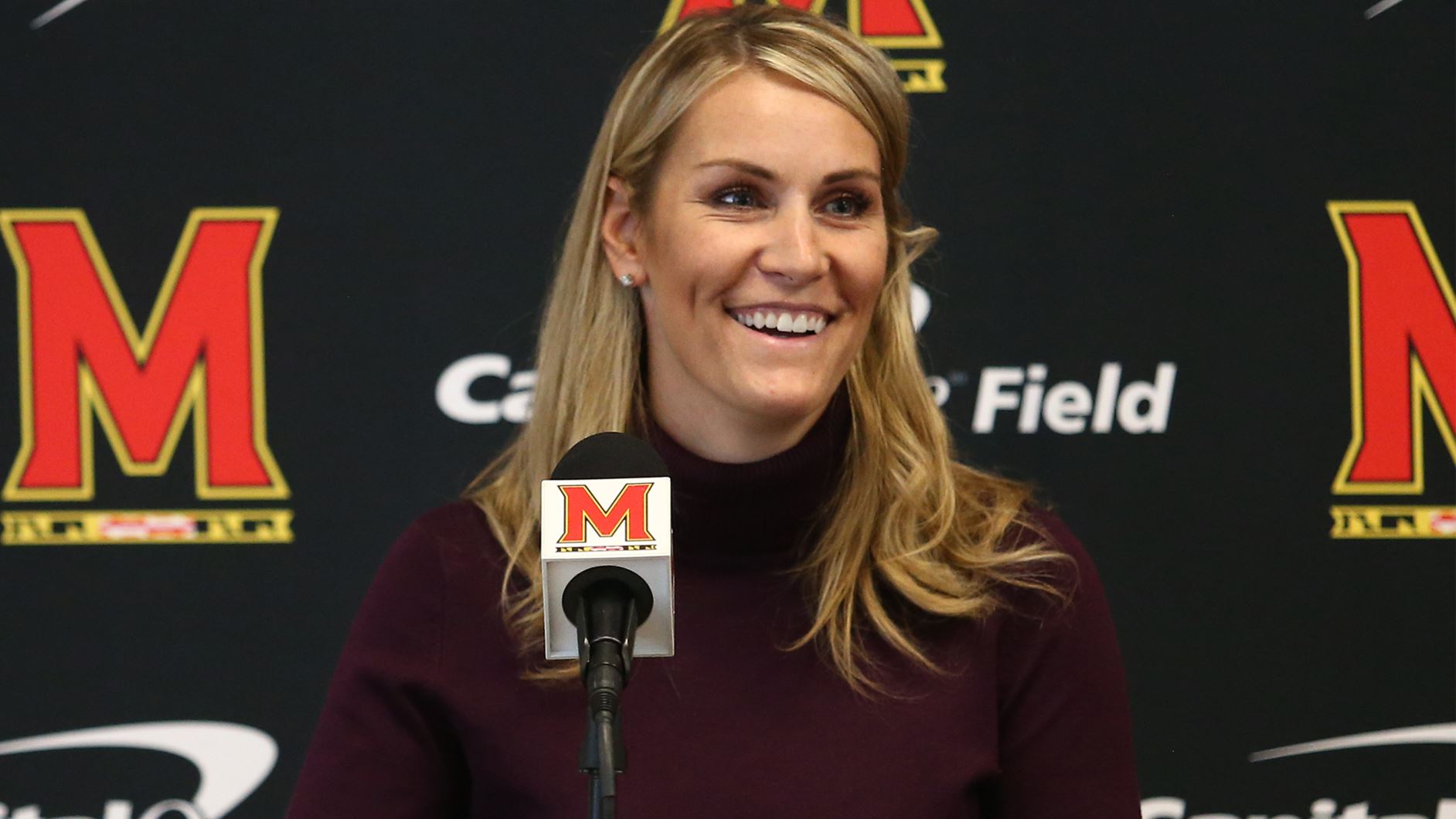 COLLEGE PARK, Md. – University of Maryland women's soccer head coach Meghan Ryan Nemzer announced her inaugural signing class ahead of the 2022 season.
The class includes six incoming freshmen and one transfer, as the Terrapins begin a new era under Nemzer.
"We are very excited to welcome the 2022 class to Maryland," said Nemzer. "They have all competed at an extremely high level and will fit right in when they come. This class covers our roster in multiple positional groups, and we cannot wait to see them grow individually and help our program grow. I also take tremendous pride in having a class with deep DMV roots, and can't wait to see this group of future Maryland Legends leave their mark."
Information on this year's class is below.
JULIANA LYNCH
BALTIMORE, MD
SPARROWS POINT // WEST VIRGINIA
As a sophomore at West Virginia (2020-21): Academic All-Big 12 First Team…Played in all 14 matches, including 10 starts, to total 844 minutes on the season…Tallied four shots on the year, placing one on goal…Recorded her first career assist against Duke on March 27…Helped the Mountaineers record a trio of shutouts on the year…Played 70 or more minutes five times, including a season-high 91 at Virginia on April 10.
As a freshman at West Virginia (2019): Academic All-Big 12 Rookie Team…Played in 21 matches, including 13 starts, while logging 1,373 minutes of action…Scored one goal on six shots on the year…Made her collegiate debut in a 90-minute performance against Duquesne on Aug. 23…Tallied three shots, including one on goal, against High Point on Aug. 30…Recorded first career goal against Oklahoma State on Oct. 17…Played 90 or more minutes eight times, including a season-high 110 against Penn State on Sept. 6…Helped the Mountaineers earn nine clean sheets on the season.
High School: Invited to the 2018 Elite Clubs National League (ECNL) National Integrated Training Camp; also participated at the ECNL Player Development Program (PDP) in 2017…Two-time participant at the U.S. Id2 Training Camp…Two-time U.S. Soccer Training Center invitee, participating at the 2016 U.S. Soccer East Coast Combine…Five-time Maryland State Olympic Development Program (ODP) team member…Three-time Region 1 ODP Team member, playing at three consecutive ODP Tournaments (2014-16); 2016 team captain…Named to the 2015 and 2016 ODP Interregional Tournament Best XI All-Star Team…Invited to the 2016 ODP National Training Camp…Four-year varsity starter at Sparrows Point High and two-time team captain…2018 Wendy's Heisman Maryland state winner…Two-time Baltimore Sun All-Metro Player of the Year (2017, 2018)…2018 High School All-America Game selection…2017 Dundalk Eagle Athlete of the Year…2017 MaxPreps Player of the Year…2017 United Soccer Coaches High School All-America…Led Sparrows Point to three state championships (2015-17), scoring title-clinching goals in 2015 and 2016…Two-time Varsity Sports Network Player of the Year (2016, 2017)…Three-time NSCAA All-Region honoree…Four-time all-county and all-division selection, as well as a three-time all-state pick…Capped career at Sparrows Point with 54 goals and 51 assists…TopDrawerSoccer.com four-star rating and No. 5-ranked midfielder regionally…Girls IMG Academy Top 150 (No. 71 overall, No. 28 midfielder)…Also played three years of varsity lacrosse.
BROOKE BIRRELL
LORTON, VA
SOUTH COUNTY // MCLEAN/VA UNION
Before Maryland: Four-year letter winner at South County HS…helped lead team to 2021 Virginia 6A state championship, regional championship and two Patriot District Championships…two-time Second Team All-Patriot District selection…two-time Patriot District Honorable Mention…Coach's award honoree…tallied three goals as a senior.
MEREDITH CAVIGLIA
HOLTSVILLE, NY
SACHEM EAST // SUSA
Before Maryland: Played Club with SUSA…garnered multiple selections to the US Soccer National Training Center (2016-18)…US Soccer Id2 training camp Portland, CT (2016)…NYCSL Regional Camp (2018)…NYSCL Select PDP (2014-2018)…Academy Champion of SUSA skills challenge 2021…also played varisty volleyball and basketball at Sachem East.
SYMONE JENSON
GLENELG, MD
GLENELG // BETHESDA SC
Before Maryland: Four-year letter winner at Glenelg…helped team to a 15-2 record and a Maryland 2A Regional Title as a senior…scored two goals and tallied six assists as a senior…2021 All-Howard County First Team selection…All-Metro Honorable Mention…played club for Bethesda SC.
AVA MORALES
CLARKSVILLE, MD
ATHOLTON // BETHESDA SC ENCL
Before Maryland: Four-year letter winner at Atholton…team captain…2021 All-State and All-Metro Honorable Mention selection…2021 All-County Second Team…2020 Atholton All-Decade Team…two-time Atholton varsity MVP…led team in scoring in 2021 including five gamne-winning goals…2019 First Team All-County.
ÉVA MOWERY
ARNOLD, MD
BROADNECK // MARYLAND UNITED FC ENCL
Before Maryland: Four-year letter winner at Broadneck…notched 55 career goals and 35 career assists…set school's single season goals record (24) in 2021…helped team to 2021 Class 4A Regional Championship and State Final…helped lead team to back to back county titles (2020, 2021)…2021 Washington Post All-Metro First Team…2019 Honorable Mention All-Met…2021 First Team All-State…2019 Second Team All-State…2021 United Soccer Coaches All-South Region Team…2021 Broadneck MVP…2021 Anne Arundel County Player of the Year…Two-time First Team All-County selection.
KELSEY SMITH
ELKRIDGE, MD
MCDONOGH // MARYLAND UNITED FC ENCL
Before Maryland: Four-year letter winner at McDonogh…tallied 43 career goals and eight assists…2021 United Soccer Coaches High School All American…helped team to three IAAM Conference titles…2021 Baltimore Sun Player of the Year…2021 Varsity Sports Network Player of the Year…2021 First Team All-Metro…2021 First Team All-state…2021 First Team All-conference.