University of Illinois adds six class of 2022 recruits to roster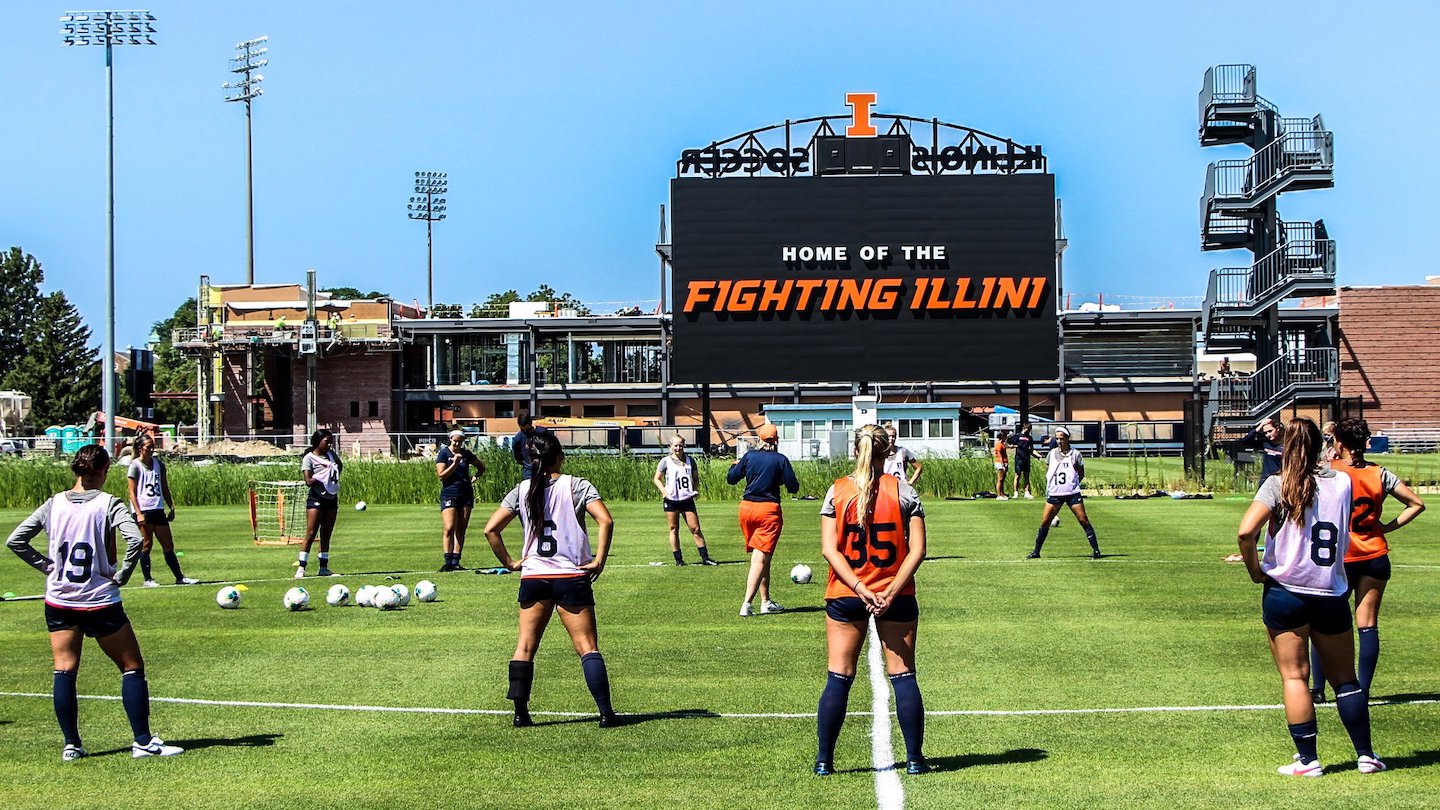 CHAMPAIGN, Ill. – University of Illinois soccer head coach Janet Rayfield announced the addition of six players to the Fighting Illini roster for the 2022 season.
The 2022 recruiting class includes: Sarah Foley (Belleville, Illinois), Lia Howard (Massapequa, New York), Izzy Lee (Western Springs, Illinois), Ellen Persson (The Woodlands, Texas), Ashley Stellon (St. Charles, Illinois), and Abby Zugay (Ann Arbor, Michigan).
"Whether from their high-level club experience or from their successful high school programs, the 2022 class brings a winning mentality. Strong on the attacking side of the ball this class collectively has pace, craftiness, and a relentless goal scoring mindset. However, it also contains the goalkeeping and defensive competitiveness that leads to shutouts" Rayfield said. "In combination, this class will push the Illinois soccer program forward, challenge our returners to raise the bar, and be a critical part of the future success of Illinois Soccer."
SARAH FOLEY | MIDFIELD | BELLEVILLE, ILLINOIS | BELLEVILLE WEST | SPORTING STL
ABOUT FOLEY
2019 USYS National Champion with Lou Fusz.
Leading scorer at the Midwest Regional Championships with six goals.
2020 IHSA All-Sectional.
WPSL team member for Fire and Ice, scoring four goals on the season and playing with former Illini Nicole Breece.
RAYFIELD'S TAKE: "From our first opportunity to evaluate Sarah Foley at a winter ID camp here on campus, no matter what level of play, what game or tournament we evaluated Sarah was consistently involved in her team scoring goals. She has the pace to be dangerous, the technical ability to beat defenders and a nose for finding the back of the net."
LIA HOWARD | MIDFIELD/FORWARD | MASSAPEQUA, NEW YORK | MASSAPEQUA | SUSA ACADEMY
ABOUT HOWARD
Helped Massapequa High School to two Nassau County Championship Titles and two Long Island Championship Titles, including a goal and three assists in one playoff game.
Holds the Massapequa High School Record with 48 career assists and 27 assists during her Senior year
Illinois hero growing up was Hope Breslin, fellow Massapequa native.
National Honor Society member.
RAYFIELD'S TAKE: "Behind her constant infectious smile and hidden in the small 5'2″ athlete, is a crafty, feisty and creative midfielder. Lia brings a talent on the ball that can create opportunities by finding teammates in the right spaces with the right touch and with the deception needed to get it there. She also brings an incredible infectious positivity that comes from her passion, joy and love for the game and those she plays it with."
IZZY LEE | GOALKEEPER | WESTERN SPRINGS, ILLINOIS | LYONS TOWNSHIP | ECLIPSE SELECT
ABOUT LEE
2021 Second Team All-State.
2021 State Runner-Up.
Had 15-match shutout streak during junior year, including allowing no goals during regular season.
Three-year member of the National Honor Society.
RAYFIELD'S TAKE: "A dual sport high school athlete (basketball and soccer), Izzy's goalkeeping ability truly emerged in the last 2 years as she sprouted from 5'6 to 5'10 or 11.  Her performance in the 2020 high school playoffs demonstrated her ability to make the big save, to own the box in the air, and to organize and communicate as a leader. As Izzy continues to focus on soccer and train in better and better environments, she will raise the bar for herself and for the goalkeeping unit here at Illinois."
ELLEN PERSSON | DEFENDER | THE WOODLANDS, TEXAS | THE WOODLANDS | HOUSTON DASH
ABOUT PERSSON
First-team All-District and Defender of the Year in her junior season.
Was born in Sweden and has trained with Swedish club Kvarnsvedens IK.
Attended U.S. U-18 Virtual Camp roster- April 2021.
Four-year National Honor Society member.
RAYFIELD'S TAKE: "Ellen Persson plays center back with a ferocity and competitiveness that defies the soft-spoken person you experience off the field. Her tangible strengths are her ability to read the game, win tackles, dominate in the air, and complete passes of almost any distance. However, her greatest strength may be her indefatigable desire to win and her unshakable effort to will her team to victory."
ASHLEY STELLON | MIDFIELD | ST. CHARLES, ILLINOIS | ST. CHARLES EAST | SOCKERS FC
ABOUT STELLON
All-State, All-Midwest, All-Sectional Team in her junior season.
2019 U.S. Soccer DA U18/19 semi finalist
2014- 2018 U.S. Soccer Regional Training Center
Played with fellow Illini Maddie Mariani and Angie Galo at Sockers FC.
RAYFIELD'S TAKE: "As a box-to-box midfielder, Ashley connects players on the field with vision and precision. In coach speak, you would say that Ashley Stellon has a high soccer IQ. What it means is that she has an incredible ability to see the field, to know where the ball needs to go next and to get it there, or to see where it's about to be served and get there to intercept the pass."
ABBY ZUGAY | FORWARD | ANN ARBOR, MICHIGAN | ANN ARBOR PIONEER | MICHIGAN HAWKS
ABOUT ZUGAY
Three-time ECNL Midwest Conference champions.
2019 ECNL Midwest Player of the Year.
2019 ECNL National Training Camp.
Played with fellow Illini Ella Karolak and Lillian Lucas at Michigan Hawks.
RAYFIELD'S TAKE: "Relentless may be the best word to describe Abby Zugay. Whether she is pressuring a back, running at defenders with the ball, or sprinting down the flank after a pass Abby plays the game of soccer with an attitude that is unforgiving. As a flank player, her quickness and agility make her dangerous with the ball and a constant source of frustration for an opponent. Abby creates opportunities with her ability and with her persistence and determination."