Georgetown men's soccer announces highly-ranked recruiting class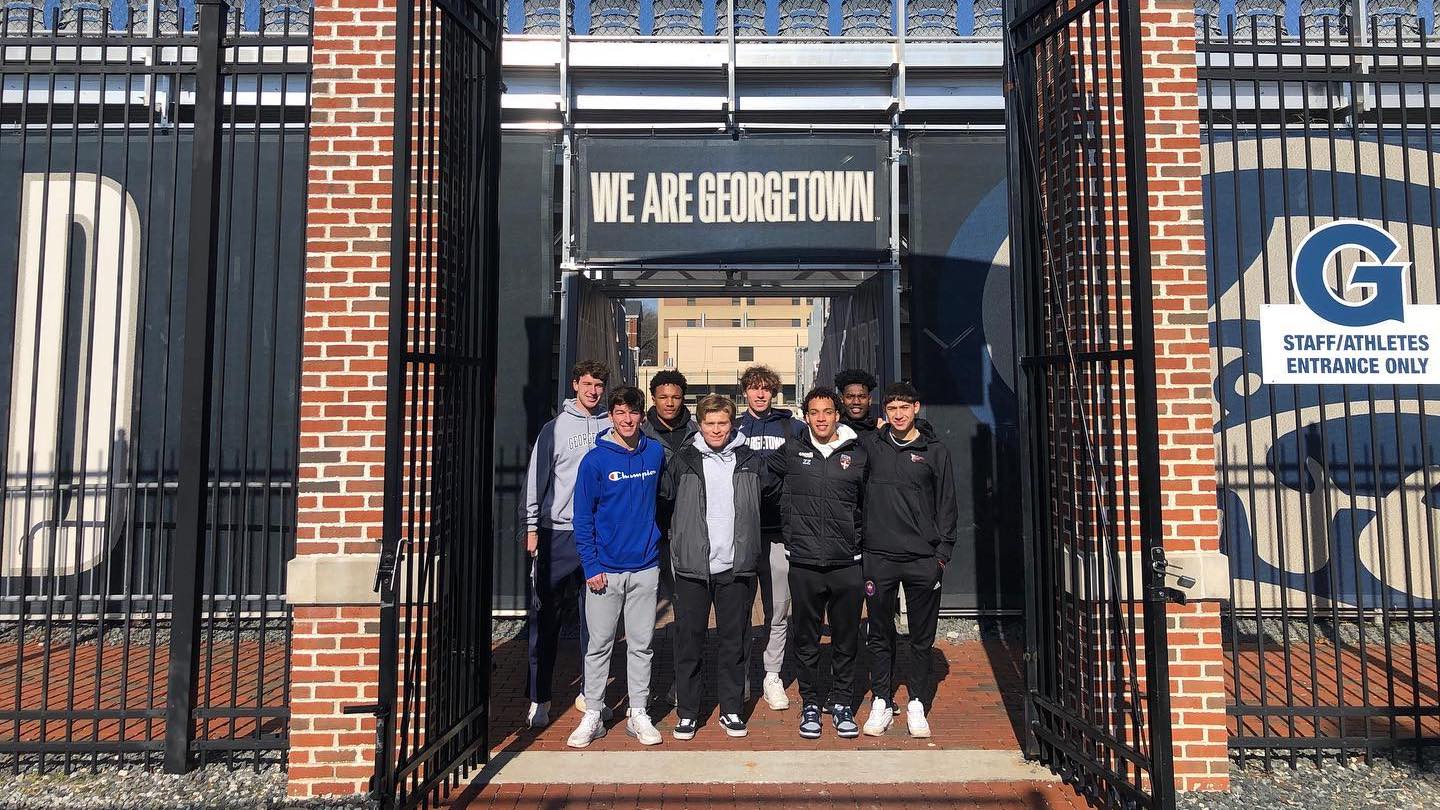 WASHINGTON – Georgetown University Head Men's Soccer Coach Brian Wiese announced the signing of eight student-athletes to National Letters of Intent to play on the Hilltop.
The Class of 2025 ranked in the Top 15 in the nation by TopDrawerSoccer.com as the Hoyas continue to bring in some of the best talent in the country.
"We are extremely excited with the incoming group of student-athletes," said Wiese. "Once again, Connor Klekota and Mike Casper have done a superb job in getting some special players to the Hilltop. We think these eight newcomers, along with Diego Letayf who joined us in January, will continue to develop and evolve our program. They have big shoes to fill, but I think they all have pretty big feet."
MILES AVERY
Defender
6-0 / 165
Washington, D.C. / Woodrow Wilson / Bethesda SC
Prior to Georgetown: A four-year starter and three-year captain with Bethesda SC playing with the DC United Academy two years prior … Named United Soccer Coaches Player of the Year in 2021 … A member of the honor roll … Also ran track and played both baseball and basketball.
Wiese on Avery: "We have to credit my former assistant coach, Derek Biss, for first seeing the potential in Miles as a potential fit for our team and putting him on our radar. Miles is a gifted athlete with nice passing ability that will strengthen our back line. He has potential to dominate in the air, and has pace that will allow us some tactical flexibility."
JULIAN BARRIOS CRISTALES
Midfielder
5-7 / 155
Chesapeake, Va. / University at Austin Texas High School / Houston Dynamo Academy
Prior to Georgetown: Played club most recently with the Houston Dynamo Academy appearing with Richmond United prior to that … Started and served as captain as a senior with Houston … Selected for the Fall 2021 ECNL South Carolina National Selection Game and captained Team West … A member of the honor roll … Served as the historian in the Spanish Honor Society … Played the cello in the Landstown High School Chamber Orchestra.
Wiese on Barrios Cristales: "Julian is going to be a great fit here at Georgetown. He has a magnetic personality and an insatiable love of our game. He will play in the midfield and connect the dots really well. He has good technical ability while under pressure, and makes good decisions on the ball. He'll make his teammates better on and off the field."
TENZING MANSKE
Goalkeeper
6-1 / 195
Santa Fe, N.M. / Shattuck St. Mary's School / Shattuck St. Mary's
Prior to Georgetown: A three-year starter at Shattuck St. Mary's … Has competed in international competition on four occasions, most recently appearing in the Capeli Sport Cup in Denmark … Earned a spot on the scholastic honor roll every term.
Wiese on Manske: "Tenzing is one of several products that we've taken a shine to from a Shattuck-St. Mary's team that is one of the best in the country. He has a big personality and it translates to his play as a goalkeeper. He is an incredibly hard worker and a great shot stopper. His ability to play with the ball at his feet and his range of passing will help us with our ability to build out of the back in unpredictable ways."
JACOB MURRELL
Forward
6-2 / 175
Forest Hill, Md. / McDonogh School / Pipeline SC
Prior to Georgetown: Played club soccer with Pipeline SC started and captaining all four years … Named ECNL first team all-conference and U-17 All-America as team won the ECNL Championship … Scored 42 goals with 13 assists his junior season … Started for three years and served as a senior captain at McDonogh School … As a senior, named All-American, Maryland State Player of the Year and All-Region by United Soccer Coaches … Also earned Baltimore Sun All-Metro Player of the Year and First Team All-Metro while being recognized as MACS First Team All-State and the Varsity Sports Network Player of the Year … Appeared in the high school All-American game … Team won two MIAA "A" Championships … Scored 41 goals with 21 assists as a senior … Also a member of the track & field and baseball teams … A member of the Honor Roll and the Dean's List … Parents both played collegiate lacrosse with father Greg competing at Salisbury and mother Maureen playing at James Madison.
Wiese on Murrell: "Jacob is the best true forward in the country for the 2022 recruiting class. He has great size and thinks the game extremely well. I've never seen him play in a game where he didn't generate copious amounts of attacking chances, and he scores goals. The potential is there to be one of the top forwards our program has produced."
JACK PANAYOTOU
Midfielder
5-8 / 155
Cambridge, Mass. / Buckingham Browne & Nicholas / New England Revolution Academy
Prior to Georgetown: A four-year starter and two-year captain with the New England Revolution Academy … Scored four goals with five assists in 10 games during the 2021 fall season … Named the U-15 Midfielder of the Year in 2018 … A member of the Investment Club.
Wiese on Panayotou: "Jack is a fun attacking player that can unlock defenses and create things that other players can't create, and see things that other players can't see. He has a natural ability to play in tight spaces, and having an underneath player who can score goals is valuable. Jack and Matiwos Rumley are teammates on the New England Revolution who we've seen play together several times, so we are excited to see them be teammates for another four years."
MATIWOS RUMLEY
Defender
5-11 / 160
Hebron, Conn. / East Catholic / New England Revolution Academy
Prior to Georgetown: A four-year starter with the New England Revolution Academy … Attended the regional youth national team camp in 2019 … Appeared with the Revolution II team … Member of the National Honor Society … Born in Arbegona, Ethiopia.
Wiese on Rumley: "Matiwos is someone that will give us options as a center back or a left back and has tremendous potential in both those spots. His pace was eye popping the first time I saw him, and he has the ability to play great entry passes out of the back. His experience playing in the Revolution Academy system will prepare him to compete at our level quickly."
MAX VIERA
Defender
5-9 / 158
Burbank, Ill. / St. Laurence / Chicago Fire Academy
Prior to Georgetown: A four-year starter and two-year captain playing club with the Chicago Fire Academy … Team won the MLS Next U-19 Championship … Was a member of a leadership program at his high school.
Wiese on Viera: "We've liked Max for a long time and he is someone that can play in any attacking position for us. His soccer IQ is very high, and his instincts already align with how we like players in our program to think. His brain never switches off, and I love his movement, his pressing and his ability to play with teammates. He has the ability to win a game at any given moment."
ZACH ZENGUE
Forward
5-9 / 160
North Oaks, Minn. / Shattuck St. Mary's School / Shattuck St. Mary's
Prior to Georgetown: A four-year starter at Shattuck St. Mary's and, prior to that, Mounds View High School … Served as team captain as a senior … Shattuck St. Mary's advanced to the final 16 teams in the nation as a junior …Scored 10 goals that season … Named team MVP his final season at Mounds View … Member of the Black Student Union … Brother Xavier is a defender on the Dayton men's soccer team … Cousin Will was a member of the Georgetown men's rowing team.
Wiese on Zengue: "Zach is another Shattuck-St. Mary's product who can be electric. He has the positional flexibility to play up front, in the midfield or in the flanks and has next-level quickness. He can score goals, while also setting up teammates. He'll be a fun player to place in the lineup because I can see him succeeding at almost any position on the field."