USA set to kickoff FIFA U-17 Women's World Cup in India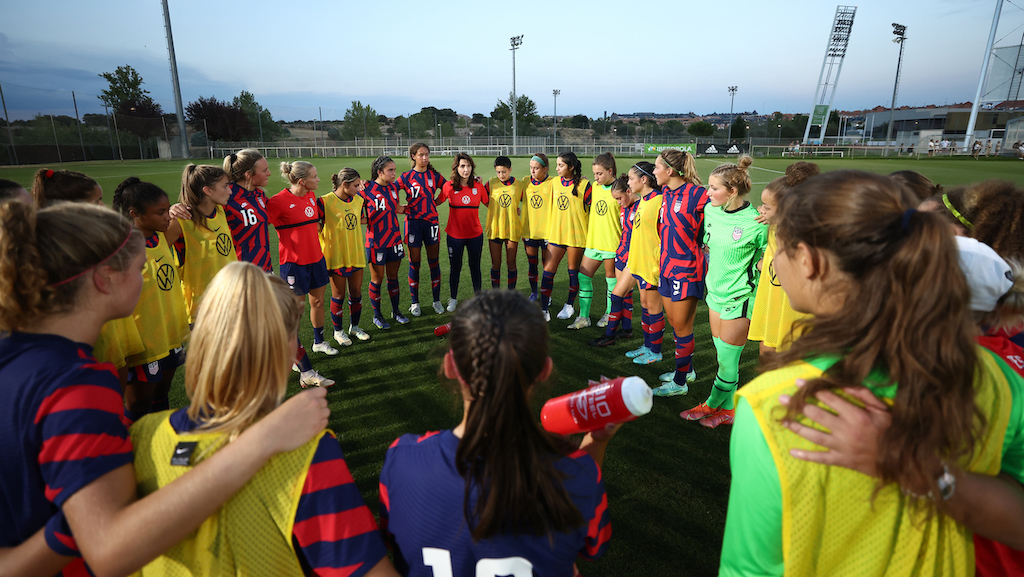 After a dominant run through the Concacaf qualifying tournament and a series of successful preparation matches, the U.S. Under-17 Women's Youth National Team is set to kick off the 2022 FIFA U-17 Women's World Cup on Oct. 11 in India.
Twenty-one of the country's most talented young players are ready to represent the USA against the world's best this October and here are five things to know about the tournament.
TOURNAMENT FORMAT
Contested every two years, the FIFA U-17 Women's World Cup determines a champion for women's soccer at the Under-17 level. The 2022 competition is the first tournament since 2018 after the 2020 U-17 WWC was canceled due to the global COVID-19 pandemic.
Sixteen teams from around the globe have qualified through regional competition to earn their spots in India. The USA won the 2022 Concacaf U-17 Women's Championship in emphatic fashion, while Canada and Mexico also qualified from North America. Host India, as well as China PR and Japan, will represent Asia, Morocco, Nigeria and Tanzania come from Africa, while France, Germany and Spain earned their berths through Europe. New Zealand punched its ticket from Oceania, while Brazil, Chile and Colombia clinched World Cup spots from South America. The 16 nations were drawn into four groups of four teams. This year's tournament marks the debut for India as well as Morocco and Tanzania, and is the first appearance for all three nations' in a FIFA WWC at any level.
The top two finishers in each group will advance to the quarterfinals on Oct. 21-22. From there, it's a knockout round bracket to the tournament final on Oct. 30. The competition will be held at three venues across India.
USA SCHEDULE/HOW TO FOLLOW
The USA kicks off the World Cup on Tuesday, Oct. 11 against host India (10:30 a.m. ET on FS2) in Bhubaneswar. Kalinga Stadium will likely be filled to its capacity of 12,000. The USA continues the group on Oct. 14 vs. Brazil in Bhubaneswar (7 a.m. ET on FS2) and wraps up first pool play against Morocco on Oct. 17 in Goa (10:30 a.m. ET on FS2).
2022 FIFA U-17 WOMEN'S WORLD CUP GROUP A SCHEDULE – USA
| | | | | |
| --- | --- | --- | --- | --- |
| Date | Match | Kickoff (ET) | Venue; City | TV |
| Oct. 11 | USA vs. India | 10:30 a.m. | Kalinga Stadium; Bhubaneswar | FS2, Universo |
| Oct. 14 | USA vs. Brazil | 7:00 a.m. | Kalinga Stadium; Bhubaneswar | FS2, Universo |
| Oct. 17 | USA vs. Morocco | 10:30 a.m. | Pandit Jawaharlal Nehru Stadium, Goa | FS2, Telemundo Deportes App/Website/Streaming |
All tournament matches will be broadcast on either FS2 or Fox Soccer Plus. Fans can follow all of the action from India on U.S. Soccer's official Facebook, Twitter and Instagram accounts.
REPPIN' THE RED, WHITE & BLUE
U-17 WYNT head coach Natalia Astrain has assembled a talented, versatile 21-player roster for the World Cup in India. Players born on or after Jan. 1, 2005, are age-eligible for this World Cup. The USA roster includes players born across two different birth years with 16 born in 2005 and five born in 2006. Eleven players will be 17 years old at the start of the World Cup and 10 will be 16.
2022 U.S. UNDER-17 WOMEN'S WORLD CUP TEAM ROSTER BY POSITION (CAPS/GOALS):
GOALKEEPERS (3): Abigail Gundry (NC Courage; Wake Forest, N.C.; 5), Victoria Safradin (Internationals SC; Eastlake, Ohio; 7), Valentina Amaral (Florida Kraze Krush; Oviedo, Fla.; 2)
 DEFENDERS (6): Ella Emri (San Diego Surf; San Diego, Calif.; 3/0), Nicola Fraser (Real Colorado National; Highlands Ranch, Colo.; 8/1), Jordyn Bugg (San Diego Surf; El Cajon, Calif.; 0/0), Savannah King (Slammers FC HB Koge; West Hills, Calif.; 9/0), Cameron Roller (Solar SC; Sherman, Texas; 8/1), Gisele Thompson (Total Futbol Academy; Studio City, Calif.; 9/0)
MIDFIELDERS (5): Mia Bhuta (Internationals SC; Pittsburgh, Pa.; 10/2), Riley Jackson (Concorde Fire; Roswell, Ga.; 8/2), Charlotte Kohler (MVLA; Woodside, Calif.; 8/6), Lauren Martinho (NC Courage; Cary, N.C.; 10/5), Ella Sanchez (Racing Louisville; Louisville, Ky.; 3/0)                                                 
FORWARDS (7): Emeri Adames (Solar SC; Red Oak, Texas; 3/2), Onyeka Gamero (Beach FC; Cerritos, Calif.; 9/5), Nicollette Kiorpes (NEFC; Worcester, Mass.; 8/5), Melina Rebimbas (PDA; Warren, N.J.; 10/8), Samantha Smith (Boise Thorns FC; Boise, Idaho; 10/3), Taylor Suarez (Charlotte SA; Charlotte, N.C.; 9/2), Amalia Villarreal (Michigan Jaguars FC; Lansing, Mich.; 10/8)
After the 2020 FIFA U-17 WWC was canceled due to COVID-19, this will be the first World Cup for all players on the roster. Fifteen of the 21 helped the USA win the Concacaf U-17 Women's Championship this spring. Midfielder Riley Jackson won the Golden Ball in the Dominican Republic as the tournament's best player and goalkeeper Victoria Safradin won the Golden Glove as its best netminder.
The six players on the World Cup roster who were not a part of the U.S. team at World Cup qualifying are goalkeeper Valentina Amaral, defenders Ella Emri and Jordyn Bugg, midfielder Ella Sanchez and forwards Emeri Adames and Samantha Smith.
With eight career goals each at this level, forwards Melina Rebimbas and Amalia Villareal enter this World Cup as the USA's leading scorers. Nineteen of the 21 players on the roster have been capped at the U-17 level, led by midfielders Mia Bhuta and Lauren Martinho as well as forward ebimbas, who all have 10 caps. Bugg and Smith are uncapped.
THE STORY SO FAR
After a long delay of Youth National Team programming due to the global COVID-19 pandemic, this U-17 Women's Youth National Team played its first-ever international matches at the Concacaf U-17 Women's Championship this spring. The USA ran roughshod through the tournament, rattling off seven straight victories and outscoring its opponents 58-1.
The USA's opening 20-0 victory against Grenada marked the most goals scored and biggest margin of victory ever for a U.S. team at a U-17 or U-20 Youth World Cup qualifying tournament, while Villareal's five goals vs. Puerto Rico in the second game tied a record for most goals in a game by any U.S. player in Concacaf qualifying.
In the semifinals, two goals from Rebimbas and one from forward Onyeka Gamero clinched a 3-0 win against Canada and secured the USA's World Cup ticket. Facing Mexico in the final, midfielder Lauren Martinho opened the scoring before Mexico equalized, setting the stage for a dramatic game-winner from Rebimbas in the 77th.
The U.S. faced elite competition in August for its final pre-World Cup training camp, taking on reigning U-17 WWC champion Spain and European champion Germany. In two matches against Spain, the USA won 2-0 on the strength of two second-half goals, and then drew 1-1 after conceding a penalty in the last minute of play. The U-17s closed out the slate with a 1-0 victory vs. Germany on a goal from Adames. 
"KICK OFF THE DREAM" – TOURNAMENT HISTORY
This year marks a historic event for women's soccer as India hosts its first-ever FIFA women's tournament. First staged in 2008 in New Zealand, this year marks the seventh FIFA WWC at this age level. It's the second time that the tournament has been hosted in Asia, following the ground-breaking 2016 competition in Jordan, the first FIFA WWC held in the Middle East.
Led by future senior USWNT stars Morgan Brian, Crystal Dunn, Kristie Mewis and Samantha Mewis, the USA finished runner-up at the inaugural 2008 tournament, its best-ever finish. The U.S. was just 14 minutes away from winning the World Cup 1-0 before Korea DPR equalized to send things to overtime and then score a 113th-minute game-winner to take home the first U-17 WWC title. The USA hasn't made it out of the group stage since 2008. In 2012, despite drawing eventual finalists France and Korea DPR in the group stage, the USA became the first team to finish with five points in pool play and not advance to the knockout round of a FIFA WWC.
In addition to the quartet from 2008, several current full USWNT pool players have participated in this tournament. Midge Purce and Andi Sullivan represented the U.S. at Azerbaijan 2012, Naomi Girma, Jaelin Howell, Ashley Sanchez and Sophia Smith participated in Jordan 2016 and Trinity Rodman took the field at Uruguay 2018.