Sixty players called up for U.S. U-15 Women's Youth National Team Talent ID Camp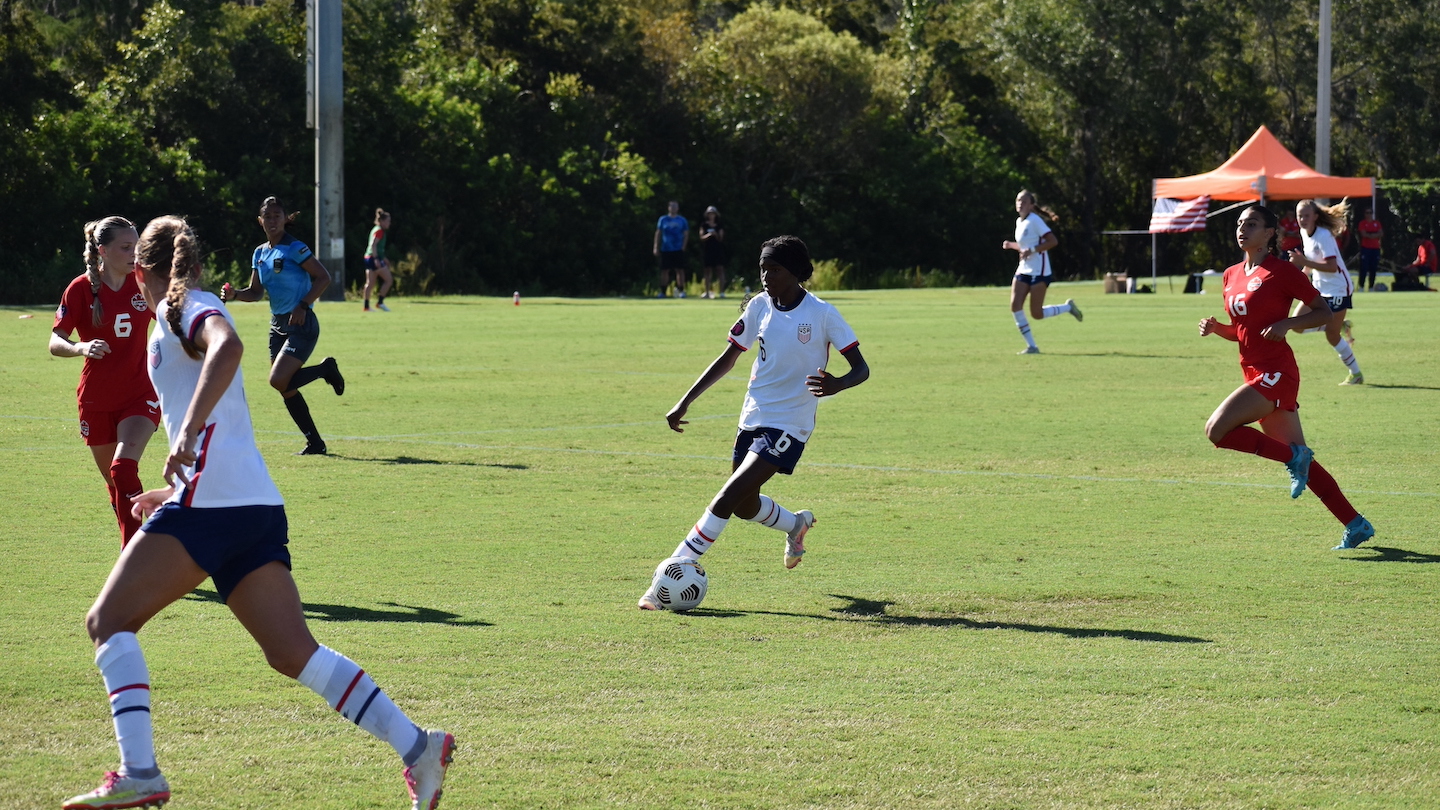 CHICAGO – Sixty players from across the country will gather in Chula Vista, Calif. from Sept. 7-13 for an Under-15 Women's Youth National Team Talent ID Camp.
Twenty players will train together from the East, West and Central regions, and then play matches against each other, although several players from regions in which they are not based will cross over to play for the other regions. The camp will be conducted at the Elite Athlete Training Center outside of San Diego.
U.S. Soccer Director of Talent Identification Mirelle Van Rijbroek and U-15 WYNT head coach Katie Schoepfer will lead the event. U.S. Soccer Talent ID Manager Diane Drake and U.S. U-15 WYNT assistant coach Kelly Sims will coach the East squad. Talent ID Managers Lindsay Basalyga and Katie Cole and YNT network scout Ronnie Woodard will lead the Central team while Talent ID Manager Marieke Laurens and U.S. U-15 WYNT assistant coach Katie Norton will coach the West team. Ileana Moschos will coach the goalkeepers.
In addition to the on-field competition, players will be introduced to YNT principles of play, position profiles, and goal setting to help them take responsibility for their own development. The camp will also introduce the 60 players to U.S. Soccer's High Performance department. A sport scientist will be on hand throughout the event to educate players about best practices for nutrition, recovery and more. 
UNDER-15 WOMEN'S YOUTH NATIONAL TEAM TALENT ID CAMP ROSTER – SEPT. 7-13, 2022 
EAST TEAM
| | | | |
| --- | --- | --- | --- |
| Player | Pos. | Club | Hometown |
| ANDERSON, Emily | GK | Long Island SC | Ronkonkoma, N.Y. |
| EGGLESTON, Alyna | GK | FC Stars | Shrewsbury , Mass. |
| FORD, Jordan | D | World Class | White Plains, N.Y. |
| GOGLIA, Emma | D | NEFC | Bristol, Rhode Island |
| LAWSON, Chloe | D | Tophat | Roswell, Ga. |
| MALSOM, Lauren | D | Concorde Fire | Marietta, Ga. |
| O'NEILL, Cali | D | NC Courage Academy | Durham, N.C. |
| RAYMOND, Marlee | D | UFA | Cumming, Ga. |
| CHUDOWSKY, Natalie | M | NYSC | Westport, Conn. |
| DUPRE, Sierra | M | Pitt Riverhounds | Pittsburgh, Pa. |
| FORSTER, Eva | M | NC Courage Academy | Raleigh, N.C. |
| NEWMAN, Jenna | M | Richmond United | Midlothian, Va. |
| KENNEDY, Riley | M | NC Courage Academy | Holly Springs, N.C. |
| WRIGHT, Madilyn | M | Tophat | Fayetteville, Ga. |
| FONTENOT, Zoie | F | Slammers FC HB Køge | Long Beach, Calif. |
| MARINOS, Peyton | F | So Cal Blues SC | Irvine, Calif. |
| MARTINEZ, Ella Grace | F | Concorde Fire | Marietta, Ga. |
| RICH, Samantha | F | Lamorinda SC | Orinda, Calif. |
| ROBINSON, Olivia | F | PDA Blue | Edison, N.J. |
| STACK, Ava | F | Concorde Fire | Acworth, Ga. |
WEST TEAM
| | | | |
| --- | --- | --- | --- |
| Player | Pos. | Club | Hometown |
| BIEHL, Josie | GK | San Diego Surf | Carlsbad, Calif. |
| BRAMBLE, Isabelle | GK | Utah Celtic FC | Vineyard, Utah |
| CECIL, Pearl | D | San Diego Surf | Encinitas, Calif. |
| HILLENBRAND, Jaelynn | D | Legends FC | Chino Hills, Calif. |
| STEARNS, MacKenzie | D | So Cal Blues SC | Ramona, Calif. |
| WHIPPLE, Vienna | D | Crossfire Premier | Bellevue, Wash. |
| WHITECAVAGE, Kinsley | D | Legends FC | Corona, Calif. |
| ANTONUCCI, Scottie | M | Legends FC | Rancho Cucamonga, Calif. |
| HOLUB, Makenna | M | Eastside FC | Snoqualmie, Wash. |
| NASHIRO, Leila | M | De Anza Force | Campbell, Calif. |
| SADLER, Chloe | M | La Roca FC | Hyde Park, Utah |
| SHOWLER-LITTLE, Anastasia | M | Portland Thorns Aca. | Vancouver, Wash. |
| VILLALPANDO, Mia | M | San Diego Surf | Bonita, Calif. |
| CHOI, Camarin | F | Slammers FC HB Køge | Fullerton, Calif. |
| CHURCHILL, Ireland Kenzie | F | Slammers FC HB Køge | Eastvale, Calif. |
| ESPARZA, Taylor | F | Legends FC | Rancho Cucamonga, Calif. |
| KRAL, Ella Marie | F | Lamorinda SC | Berkeley, Calif. |
| MAY, Sloane | F | Indy Premier United | Fishers, Ind. |
| MURPHY, Summer | F | Crossfire Premier | Maple Valley, Wash. |
| PERKINS, Hailey | F | Crossfire Premier | Sammamish, Wash. |
CENTRAL TEAM
| | | | |
| --- | --- | --- | --- |
| Player | Pos. | Club | Hometown |
| O'STEEN, Evan | GK | Solar SC | Grapevine, Texas |
| SMITH, Brooklyn | GK | Colorado Rapids | Denver, Colo. |
| ADAMS, Victoria | D | Eclipse Select | Naperville, Ill. |
| DEBOLT, Elise | D | Colorado Rush | Denver, Colo. |
| JACOBS, Summer | D | Sting Austin | McDade, Texas |
| JEAKLE, Lily | D | Nationals | Lake Orion, Mich. |
| MILES, Zoe | D | Solar SC | Rosharon, Texas |
| NORRIS, Nylah | D | FC Dallas | Celina, Texas |
| WIELE, Mia | D | Sting Austin | Austin, Texas |
| BUNTON, Brooke | M | United Soccer Alliance | Green Cove Springs, Fla. |
| FULLER, Kamdyn | M | Solar SC | Southlake, Texas |
| MORSE, Rylie | M | Cincinnati United | Lebanon, Ohio |
| PASINSKI, Paige | M | SC Del Sol | Phoenix, Arizona |
| RODRIGUEZ, Jaiden | M | San Diego Surf | San Diego, Calif. |
| SIRIA, Charlee | M | Kings Hammer | Lexington, Ky. |
| ANDERSON, Ashlyn | F | Indy Premier United | Carmel, Ind. |
| HILL, Jordan | F | Solar SC | Lewisville, Texas |
| JOHNSON, Micayla | F | Nationals | Southfield, Mich. |
| KROSNYAK, Carolina | F | Albion Hurricanes FC | Conroe, Texas |
| PARSONS, Alyssa | F | Orlando City | Apopka, Fla. |
SoccerWire Featured Players Mentioned