U.S. U-17 Women's Youth National Team plays Spain to 1-1 draw in friendly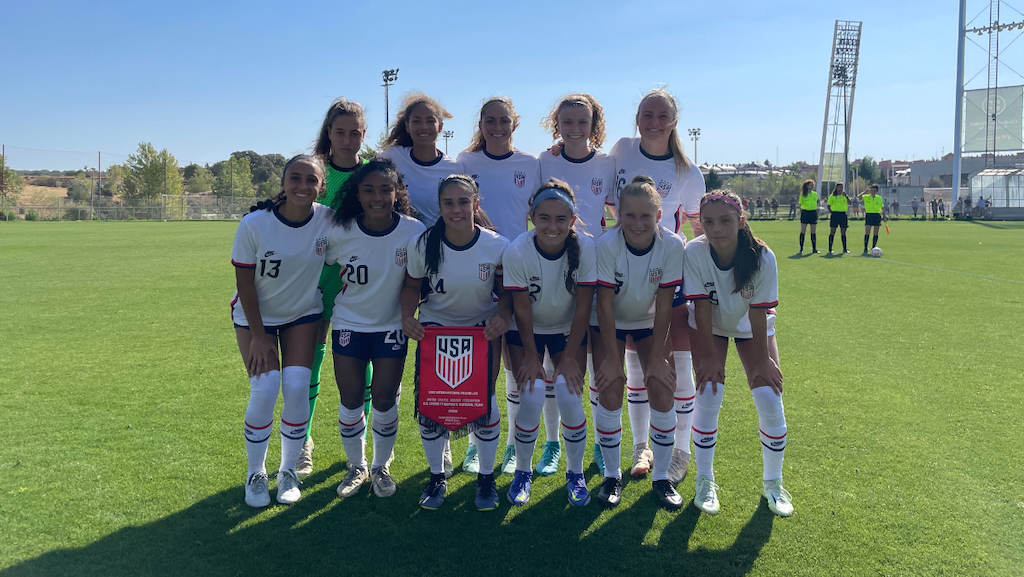 MADRID – The U.S. Under-17 Women's Youth National Team drew 1-1 with Spain in the team's second of three matches in Europe this month. This trip serves as the final event for the USA before the 2022 FIFA U-17 Women's World Cup.
The USA won 2-0 in the first meeting between the teams on Aug. 23 and now will finish the trip against Germany on Aug. 31 at Instalación Deportiva Butarque C.D. Leganés in Madrid. Germany and Spain clinched berths to the 2022 U-17 WWC by finishing first and second at the 2022 UEFA Women's U-17 Championship as Germany topped Spain in penalties to claim the European title. Spain is the reigning U-17 World Cup champion after winning the 2018 FIFA U-17 WWC in Uruguay.
U.S. U-17 WYNT head coach Natalia Astrain made six changes to her starting lineup from the first game with Spain and got a first half goal from forward Emeri Adames, who only played 21 minutes as the squad was rotated throughout the match. The goal originated from the right wing as forward Onyeka Gamero made a run down the flank and played a cross to the top of the box for Adames to finish for her first international goal at the U-17 level.
The USA held the lead until the final minute of regulation when a hand ball inside the penalty box was called. That allowed Karla Bermjo to step up and convert the equalizer for La Roja.
Astrain called up 24 players for this event, including 17 who helped the USA qualify for the World Cup on the way to winning the Concacaf Women's U-17 Championship last spring. Players born on or after Jan. 1, 2005, are age-eligible for this U-17 Women's World Cup. Astrain selected 18 players born in 2005, five born in 2006 and one born in 2007 for this roster.
Seven players who did not participate in the USA's World Cup qualifying campaign are in Spain: goalkeeper Valentina Amaral, who got the start in this match, Ella Emri, midfielders Ella Sanchez, Eleanor Klinger and Audrey Lam plus forwards Adames and Melanie Barcenas.
-U.S. UNDER-17 WOMEN'S YOUTH NATIONAL TEAM MATCH REPORT-
Match: United States U-17 Women's Youth National Team vs. Spain U-17 Women's National Team
Date: August 25, 2022
Competition: International Friendly
Venue: Ciudad del Futbol de Las Rozas; Madrid, Spain
Weather: 92 degrees, Sunny
Scoring Summary:   1          2          F         
USA                             1          0          1
ESP                             0          1          1
USA – Emeri Adames (Onyeka Gamero)      31st minute
ESP – Karla Bermejo (Penalty Kick)              90
Lineups:
USA: 22-Valentina Amaral (1-Victoria Safradin, 46); 17-Nicola Fraser (21-Savannah King, 46, 17-Nicola Fraser, 88); 5-Ella Emri, 16-Cameron Roller, 9-Mia Oliaro (20-Onyeka Gamero, 65); 14-Mia Bhuta (Capt.), 2-Ella Sanchez (24-Eleanor Klinger, 30, 8-Riley Jackson, 46), 3-Charlotte Kohler (23-Lauren Martinho, 46, 7-Audrey Lam, 88); 19-Melanie Barcenas (11-Emri Adames, 24, 18-Taylor Suarez, 46); 13-Melanie Rebimbas (10-Amalia Villarreal, 30, 15-Nicollette Kiorpes, 70); 20-Onyeka Gamero (4-Gisele Thompson, 46)
Subs not used: 12-Abigail Gundry
Head Coach: Natalia Astrain
ESP: 1-Sofia Fuente (13-Jimena Vicario, 46); 5-Sandra Villafane; 6-Marina Artero (3-Yolanda Sierra, 46); 7-Alguacil Amores; 8-Olaya Enrique; 9-Carla Camacho (21-Karla Bermejo, 59); 15-Sara Ortega; 17-Marina Rivas; 18-Naara Miranda (14-Noelia Correro, 36); 19-Laia Martret (12-Magali Capdevilla, 46); 20-Paula Partido Duran (11-Jone Ameezaga, 59)
Subs not used:  2-Noeli Llamas, 4-Adriana Ranera, 10-Olga San Nicolas, 16-Raquel Inigo, 22-Paula Rubio, 23-Eunate Astralaga, 24-Daniela Arques,
Head Coach: Kenio Gonzalo
Stats Summary: USA / ESP            
Shots: 10 / 8
Shots on Goal: 6 / 7
Saves: 6 / 5
Corner Kicks: 4 / 2
Fouls: 5 / 8
Offside: 2 / 0
Misconduct Summary:
USA – Amalia Villarreal (Caution)                  38th minute
Officials:
N/A