Club-by-Club Results from the 2022 Girls Academy Postseason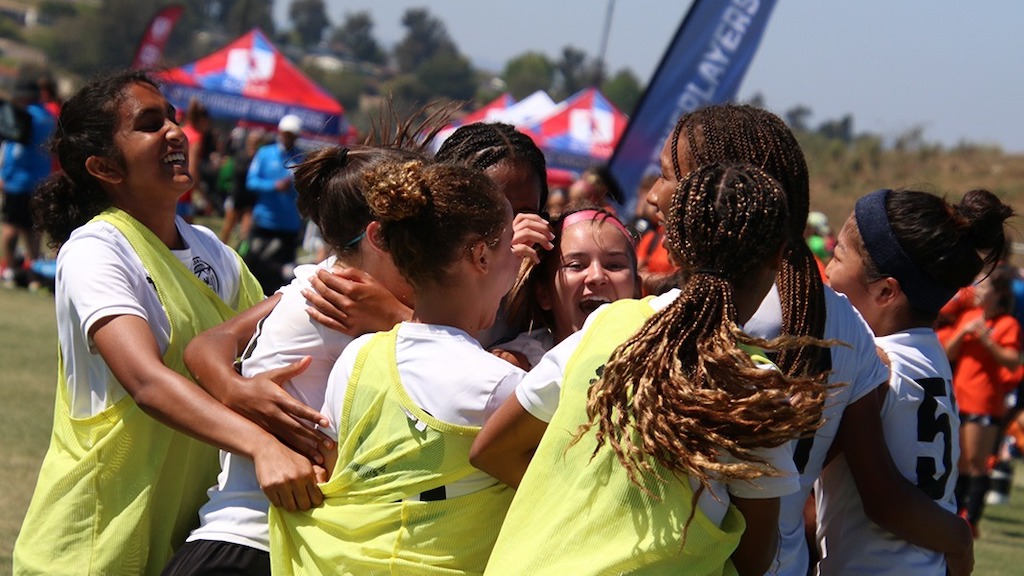 The Girls Academy (GA) crowned teams across the U13-U19 age groups as national champions for the 2021-2022 season, with all six winners representing different clubs.
Colorado Rush (U13), Nationals SC (U14), TSJ FC Virginia (U15), ALBION SC San Diego (U16), Oakwood SC (U17) and FC Bay Area Surf (U19) each captured league titles.
In addition to winning the U13 championship, Colorado Rush accomplished the feat of qualifying for the GA Playoffs throughout all six age groups. Rush teams finished as quarterfinalists in the U14 and U16 divisions, while their U19 squad reached the semifinals. Their U15 and U17 sides also reached the postseason.
Massachusetts club NEFC also sent teams in all six age groups to the playoffs, with five of those teams advancing beyond the group stage. NEFC placed 2nd overall in the U15 age group, and made the semifinals at both the U13 and U16 levels. Their U14s and U17s reached the quarterfinals.
[+Players That Impressed: GA Summer Playoffs and Showcase]
[+Players That Impressed: GA National Finals]
Tophat Gold was the third and final club to make the postseason in every division. The Georgia club's top performer was their U14 squad, which went all the way to the title match for a 2nd place national finish. Tophat's U15 and U17 teams also earned advancement into the knockout stages.
Seven additional clubs were able to send five teams into the GA Playoffs: City SC, Houston Dash Academy, IMG Academy, Michigan Jaguars, Nationals SC (Blue), Spokane Sounders SC and TSJ FC Virginia.
See below for a look at how each GA member club fared in the 2022 postseason.
| | | | | | | |
| --- | --- | --- | --- | --- | --- | --- |
| GA Postseason | U13 | U14 | U15 | U16 | U17 | U19 |
| AFC Lightning | | | | | Qualified | |
| ALBION Las Vegas | Qualified | Quarterfinalist | | Qualified | | |
| ALBION San Diego | | | Qualified | Champion 🏆 | Qualified | |
| Baltimore Armour | | Qualified | | | | |
| Baltimore Celtic | | | Qualified | | | |
| Beadling SC | | Qualified | | | | |
| Bridge City SA | | | | Qualified | | |
| Broomfield SC | | | | | Qualified | |
| BVB International Academy (TX) | | | | Qualified | | |
| Cedar Stars Monmouth | | | Qualified | | Qualified | |
| Century United | | | | Qualified | | |
| Chicago FC United | | | Quarterfinalist | Quarterfinalist | | |
| Cincinnati United Premier | Qualified | | Semifinalist | Qualified | Qualified | |
| City SC | Qualified | Qualified | Qualified | | Qualified | Qualified |
| Clovis Crossfire | | Qualified | | | Qualified | |
| Colorado Rush | Champion 🏆 | Quarterfinalist | Qualified | Quarterfinalist | Qualified | Semifinalist |
| FC Bay Area Surf | Qualified | | Qualified | | | Champion 🏆 |
| Florida United | | | Qualified | Qualified | Finalist 🥈 | Qualified |
| Houston Dash Academy | Finalist 🥈 | Qualified | Qualified | | Qualified | Qualified |
| IMG Academy | | Semifinalist | Qualified | Quarterfinalist | Qualified | Qualified |
| Indy Premier United | | Qualified | Qualified | Qualified | Qualified | |
| ISC Gunners | | | Qualified | | | |
| LA Surf SC | | Qualified | | | Qualified | |
| Lamorinda SC | | Qualified | Qualified | Qualified | | |
| Legends FC | | | | | | |
| Lonestar SC | Qualified | | Qualified | Semifinalist | Semifinalist | |
| Long Island SC | | | | | | |
| Lou Fusz Athletic | | Semifinalist | Semifinalist | Qualified | Quarterfinalist | |
| Michigan Jaguars | | Qualified | Qualified | Qualified | Qualified | Qualified |
| Midwest United FC | | | | | | |
| Nationals (Blue) | Semifinalist | Champion 🏆 | Quarterfinalist | Quarterfinalist | Qualified | |
| Nationals (Grey) | | | Quarterfinalist | | | |
| NEFC | Semifinalist | Quarterfinalist | Finalist 🥈 | Semifinalist | Quarterfinalist | Qualified |
| New York SC | | | Qualified | | | |
| Oakwood SC | | | | Qualified | Champion 🏆 | |
| OL Reign Academy | | | Qualified | | Qualified | Qualified |
| PA Classics | | | | Qualified | Qualified | Qualified |
| Palo Alto SC | | | | Qualified | | |
| Philadelphia Ukrainian Nationals | Qualified | | Qualified | | | |
| Salvo SC | | | Qualified | | | |
| Santa Clara Sporting | | Qualified | | | | |
| SC del Sol | | | Qualified | Qualified | | |
| SC Wave | | | Qualified | | Semifinalist | |
| SDSC Surf | Qualified | | | | | |
| Silicon Valley SA | | Qualified | Qualified | | | |
| SJEB FC | Qualified | Qualified | | Qualified | | |
| Sockers FC Chicago | | | | | Qualified | Finalist 🥈 |
| South Carolina Surf | Qualified | Qualified | | | | |
| South Shore Select | Qualified | | | Finalist 🥈 | | |
| Spokane Sounders SC | Qualified | Qualified | Qualified | Qualified | Qualified | |
| St. Louis Development Academy | | | | Qualified | Qualified | Qualified |
| STA | | Qualified | Qualified | Qualified | Qualified | |
| Tophat (Gold) | Qualified | Finalist 🥈 | Quarterfinalist | Qualified | Quarterfinalist | Qualified |
| Tophat (Navy) | | Qualified | | | | |
| TSJ FC Virginia | | Quarterfinalist | Champion 🏆 | Qualified | Quarterfinalist | Semifinalist |
| Utah Celtic | | | Qualified | | Qualified | Qualified |
| Washington Timbers | | | | Qualified | Qualified | |
| West Coast FC | | | | Qualified | | Qualified |
| West Coast Soccer | | | | Qualified | | |