SoccerWire Top 100 Girls Clubs revealed for September 2022 as new season kicks off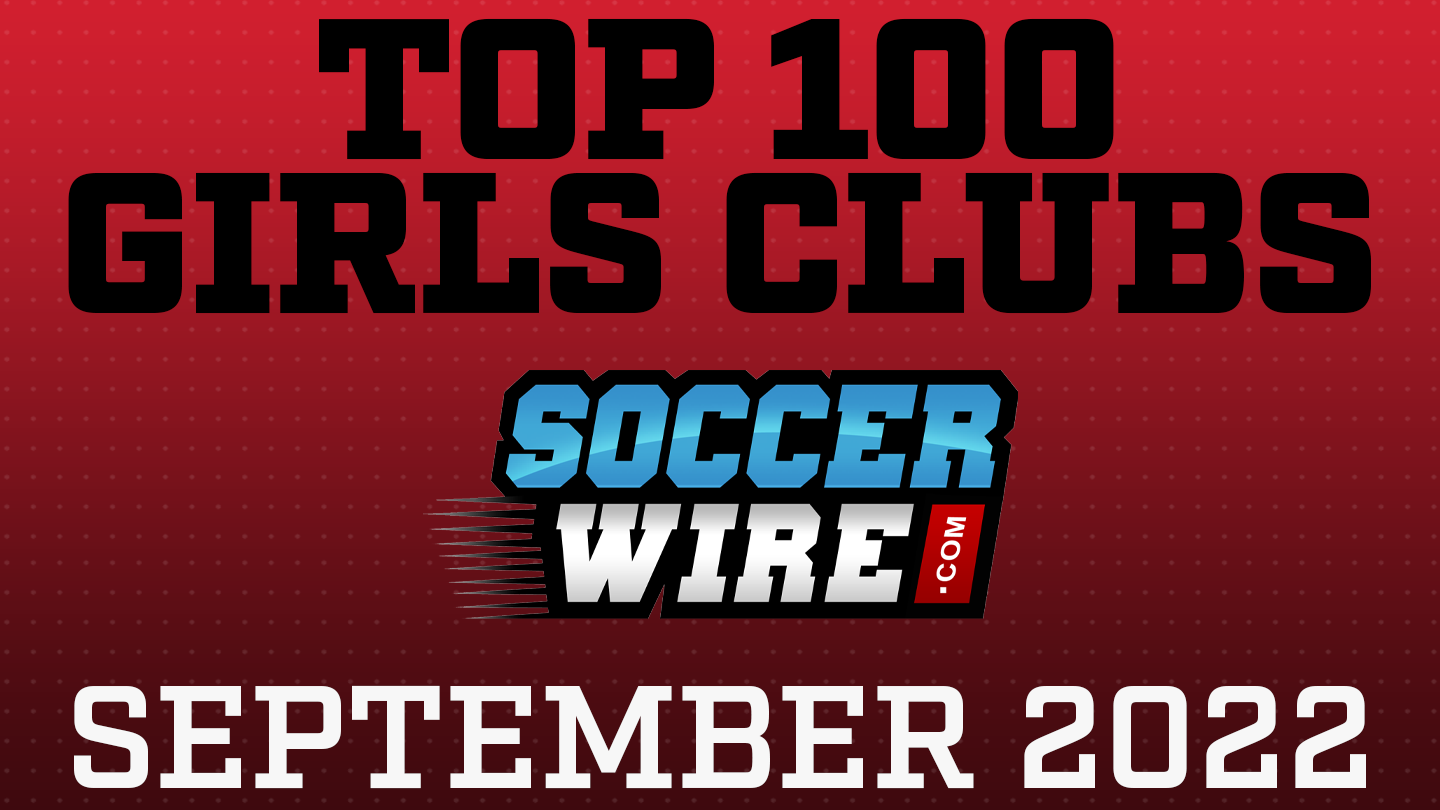 [EDITOR'S NOTE] On Friday, September 9, 2022 @ 6:00PM ET we discovered an error in our rankings formula where it was accidentally double-counting points for U17s and missing the actual performances of U16s.  The ranking has been corrected. We apologize for the error.
With the 2022-2023 youth soccer season officially getting started, SoccerWire provides an updated look at its Top 100 Girls Soccer Club Rankings.
Solar SC remains the nation's No. 1 ranked club after capturing both the U13 and U14 ECNL national titles, and finishing as the ECNL's Overall Club Champion for the 2021-2022 season. The Dallas area club also has the largest share of U.S. Youth National Team players, another key factor in SoccerWire's club ranking formula.
Georgia club Tophat secures the No. 2 spot following an impressive campaign in the Girls Academy, in which they were one of only three clubs to qualify for the postseason in all six age groups. The club also has an extensive group of USYNT roster pool members.
Michigan's Nationals SC climbed up to No. 3 on the back of their Girls Academy U14 national title, with 4 out of 5 teams finishing top of their group in the GA playoffs. Their U13, U14, and U15 teams also finished 3rd, 1st, and 8th respectively in the overall regular season points per game standings. Real Colorado comes in at No. 4, coming off an outstanding season in the ECNL, highlighted by a national championship victory in the U17 age group as well as boasting players on USYNT CONCACAF Championship rosters in both U15 and U17 events in 2022.  Rounding out the top 5 is San Diego Surf, a club placing 12th overall on-field points total, but coming in only 2nd to Solar in credits for USYNT call-ups over the past 3 years.
While 7 of the top 10 clubs represent the ECNL, GA clubs occupied 2 out of the top 3 spots, with member club Nationals claiming the best team performance points accumulation in the country. As the top tier of girls club soccer in the United States, ECNL and GA members account for the entirety of SoccerWire's Top 100.
SoccerWire's rankings are generated through a formulaic system based entirely on team performances in the top national leagues in the U.S. (ECNL and Girls Academy on the female side, along with MLS NEXT and ECNL for boys), as well as U.S. National Team event call-ups and direct professional contract signings in MLS, NWSL or a top-flight foreign league.
To view specific points totals per club, and all the players call-ups used in our calculations, simply click on each club name below, or visit our national directory of over 900 US-based youth soccer clubs. For more information on SoccerWire's club rankings criteria, click here.
Did your club make the Top 100? Add a SoccerWire Top 100 Club Badge to your website. To download, click here.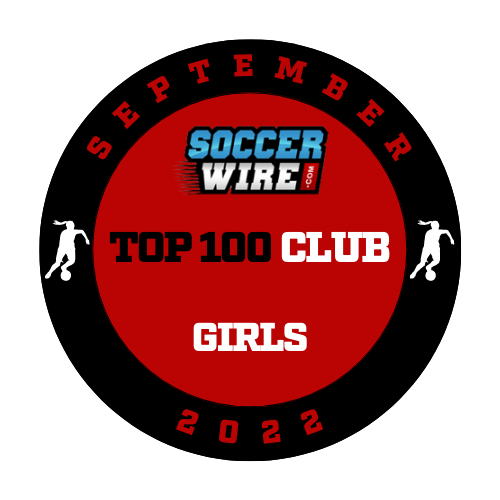 | | | | |
| --- | --- | --- | --- |
| 1 | | Solar SC | SoccerWire Rankings Points: 364.873 |
| 2 | | Tophat | SoccerWire Rankings Points: 293.704 |
| 3 | | Nationals | SoccerWire Rankings Points: 276.846 |
| 4 | | Real Colorado | SoccerWire Rankings Points: 262.559 |
| 5 | | San Diego Surf | SoccerWire Rankings Points: 257.270 |
| 6 | | PDA | SoccerWire Rankings Points: 252.120 |
| 7 | | SLSG (MO) | SoccerWire Rankings Points: 247.525 |
| 8 | | Slammers HB Køge | SoccerWire Rankings Points: 236.956 |
| 9 | | NEFC | SoccerWire Rankings Points: 215.950 |
| 10 | | Legends FC | SoccerWire Rankings Points: 206.628 |
| 11 | | Concorde Fire | SoccerWire Rankings Points: 206.433 |
| 12 | | TSJ FC Virginia | SoccerWire Rankings Points: 200.842 |
| 13 | | Bay Area Surf | SoccerWire Rankings Points: 191.855 |
| 14 | | FC Dallas | SoccerWire Rankings Points: 180.006 |
| 15 | | Internationals SC | SoccerWire Rankings Points: 179.825 |
| 16 | | Michigan Hawks | SoccerWire Rankings Points: 179.726 |
| 17 | | Colorado Rush | SoccerWire Rankings Points: 175.447 |
| 18 | | Crossfire Premier | SoccerWire Rankings Points: 169.795 |
| 19 | | Eclipse Select SC | SoccerWire Rankings Points: 168.651 |
| 20 | | NC Courage Academy | SoccerWire Rankings Points: 164.601 |
| 21 | | Florida United | SoccerWire Rankings Points: 159.506 |
| 22 | | IMG Academy | SoccerWire Rankings Points: 158.861 |
| 23 | | So Cal Blues | SoccerWire Rankings Points: 154.602 |
| 24 | | FC Stars | SoccerWire Rankings Points: 154.188 |
| 25 | | MVLA SC | SoccerWire Rankings Points: 153.898 |
| 26 | | Lonestar SC | SoccerWire Rankings Points: 151.837 |
| 27 | | Beach Futbol Club | SoccerWire Rankings Points: 146.273 |
| 28 | | ALBION SC San Diego | SoccerWire Rankings Points: 143.399 |
| 29 | | Lou Fusz Athletic | SoccerWire Rankings Points: 140.941 |
| 30 | | South Shore Select | SoccerWire Rankings Points: 134.190 |
| 31 | | FC United (IL) | SoccerWire Rankings Points: 125.429 |
| 32 | | Cincinnati United Premier | SoccerWire Rankings Points: 125.362 |
| 33 | | World Class FC | SoccerWire Rankings Points: 123.170 |
| 34 | | Oakwood SC | SoccerWire Rankings Points: 118.272 |
| 35 | | Charlotte Soccer Academy | SoccerWire Rankings Points: 118.009 |
| 36 | | SUSA FC | SoccerWire Rankings Points: 117.466 |
| 37 | | Richmond United | SoccerWire Rankings Points: 117.146 |
| 38 | | Sporting Blue Valley | SoccerWire Rankings Points: 117.101 |
| 39 | | San Juan SC | SoccerWire Rankings Points: 113.332 |
| 40 | | D'Feeters Kicks SC | SoccerWire Rankings Points: 112.145 |
| 41 | | Virginia Union | SoccerWire Rankings Points: 110.487 |
| 42 | | Houston Dash Academy | SoccerWire Rankings Points: 109.375 |
| 43 | | United Futbol Academy (GA) | SoccerWire Rankings Points: 109.221 |
| 44 | | Lamorinda SC | SoccerWire Rankings Points: 107.234 |
| 45 | | Slammers FC | SoccerWire Rankings Points: 107.123 |
| 46 | | Colorado Rapids | SoccerWire Rankings Points: 105.819 |
| 47 | | Penn Fusion | SoccerWire Rankings Points: 101.402 |
| 48 | | KC Athletics | SoccerWire Rankings Points: 100.596 |
| 49 | | Michigan Jaguars | SoccerWire Rankings Points: 99.707 |
| 50 | | Tennessee SC | SoccerWire Rankings Points: 99.413 |
| 51 | | Sting North Texas | SoccerWire Rankings Points: 99.205 |
| 52 | | STA | SoccerWire Rankings Points: 99.174 |
| 53 | | City SC | SoccerWire Rankings Points: 97.297 |
| 54 | | OL Reign Academy | SoccerWire Rankings Points: 94.974 |
| 55 | | Gwinnett Soccer Academy | SoccerWire Rankings Points: 92.577 |
| 56 | | SC Wave | SoccerWire Rankings Points: 90.391 |
| 57 | | La Roca FC | SoccerWire Rankings Points: 89.684 |
| 58 | | Indy Premier United | SoccerWire Rankings Points: 89.273 |
| 59 | | Mustang Soccer | SoccerWire Rankings Points: 88.717 |
| 60 | | Minnesota Thunder Academy | SoccerWire Rankings Points: 88.215 |
| 61 | | Oklahoma Energy FC | SoccerWire Rankings Points: 86.768 |
| 62 | | Match Fit Academy | SoccerWire Rankings Points: 84.735 |
| 63 | | SC del Sol | SoccerWire Rankings Points: 83.450 |
| 64 | | Utah Celtic | SoccerWire Rankings Points: 79.566 |
| 65 | | Sporting St. Louis | SoccerWire Rankings Points: 79.135 |
| 66 | | Virginia Development Academy (VDA) | SoccerWire Rankings Points: 78.652 |
| 67 | | Alabama FC | SoccerWire Rankings Points: 78.629 |
| 68 | | ALBION SC Las Vegas | SoccerWire Rankings Points: 77.984 |
| 69 | | Seattle United | SoccerWire Rankings Points: 77.895 |
| 70 | | Indiana Fire Juniors | SoccerWire Rankings Points: 77.822 |
| 71 | | Ohio Premier | SoccerWire Rankings Points: 77.701 |
| 72 | | Cedar Stars Academy – Monmouth | SoccerWire Rankings Points: 77.611 |
| 73 | | Washington Premier | SoccerWire Rankings Points: 77.210 |
| 74 | | Connecticut FC | SoccerWire Rankings Points: 76.949 |
| 75 | | Carolina Elite Soccer Academy (CESA) | SoccerWire Rankings Points: 76.458 |
| 76 | | Spokane Sounders | SoccerWire Rankings Points: 76.295 |
| 77 | | Palo Alto SC | SoccerWire Rankings Points: 75.987 |
| 78 | | Utah Royals FC Arizona | SoccerWire Rankings Points: 74.640 |
| 79 | | Beadling SC | SoccerWire Rankings Points: 74.631 |
| 80 | | Davis Legacy SC | SoccerWire Rankings Points: 74.059 |
| 81 | | Portland Thorns Academy | SoccerWire Rankings Points: 73.669 |
| 82 | | Force SC | SoccerWire Rankings Points: 72.638 |
| 83 | | Eastside FC | SoccerWire Rankings Points: 71.818 |
| 84 | | LAFC So Cal Youth | SoccerWire Rankings Points: 71.803 |
| 85 | | Sockers FC Chicago | SoccerWire Rankings Points: 71.775 |
| 86 | | Loudoun SC | SoccerWire Rankings Points: 71.241 |
| 87 | | SJEB Rush | SoccerWire Rankings Points: 71.075 |
| 88 | | PA Classics | SoccerWire Rankings Points: 69.321 |
| 89 | | WNY Flash Academy | SoccerWire Rankings Points: 67.294 |
| 90 | | West Coast FC | SoccerWire Rankings Points: 65.594 |
| 91 | | Dallas Texans | SoccerWire Rankings Points: 65.537 |
| 92 | | FC Prime | SoccerWire Rankings Points: 65.286 |
| 93 | | Broomfield SC | SoccerWire Rankings Points: 65.087 |
| 94 | | New York SC | SoccerWire Rankings Points: 64.781 |
| 95 | | Eagles SC | SoccerWire Rankings Points: 64.767 |
| 96 | | Albion Hurricanes FC | SoccerWire Rankings Points: 63.726 |
| 97 | | Florida Elite Soccer Academy | SoccerWire Rankings Points: 63.521 |
| 98 | | Cleveland Force | SoccerWire Rankings Points: 63.110 |
| 99 | | Midwest United FC | SoccerWire Rankings Points: 62.088 |
| 100 | | Charlotte Independence | SoccerWire Rankings Points: 61.963 |
On the Bubble: Arlington Soccer, Maryland United FC, North Carolina Fusion, Northwest Elite FC, Pipeline SC, Ohio Elite Soccer, Seacoast United, Utah Avalanche, West Florida Flames, Wilmington Hammerheads