SoccerWire Points and Club Rankings Formula Explained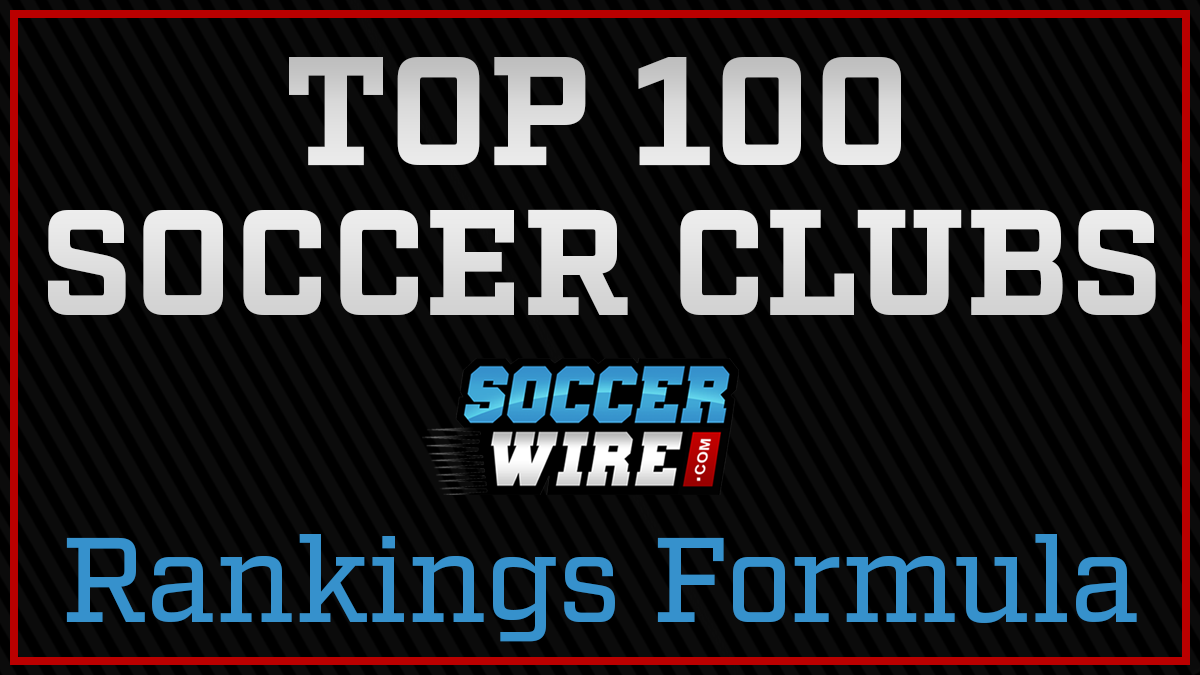 SoccerWire.com, the leading online platform covering elite youth soccer in the United States, has been committed for 16 years to helping top youth soccer clubs in the United States get the recognition they deserve for their role in developing youth soccer players for the next level.
One way we do this is with a regular feature of Top 100 Clubs Rankings, which are now calculated with a new SoccerWire Points system, as of September 2022.
SoccerWire's rankings are now generated through a formulaic system based entirely on team performances in the top national leagues in the U.S. (ECNL and Girls Academy on the female side, along with MLS NEXT and ECNL for boys), as well as U.S. National Team event call-ups and direct verifiable professional contract signings in MLS, NWSL or a top-flight foreign league.
In addition to annual competition on the field between clubs in the top leagues, a club's ability to develop players to the level that gets those players selected for youth national team rosters, as well as those who turn professional, also carries a lot of weight in judging how well each club is equipped to sharpen the best of the best in an ever-growing youth soccer talent pool in the United States.
One thing the SoccerWire.com club rankings no longer include are individual teams' rankings from 3rd party so-called "youth soccer rankings". We believe such rankings are too focused on the extreme short-term, and reward clubs that keep players in their own age groups so they can win games, rather than focusing on challenging players by playing them "up" to the age groups where their ability is truly challenged.
Finally, our new system also introduces the SoccerWire Points system for clubs in an attempt to better quantify each of the individual factors going into the rankings. Club earn points for:
Current League Standings on a Points Per Game basis (and once 10 games have been played for a season)*
League Playoff Performance**
League National Championship Performance**
Highest level National Team Roster call-up or professional signing per player from their club within the past 3 years***
* Until there are a least 10 games played by all teams in the league each season, we'll use the previous seasonal year points
** Results will continue to be used until the following years' similar events are concluded
*** If a player has changed clubs within the past 3 years, both clubs will be credited with the highest accolade achieved while at that club. (If a player is called-up within weeks of having moved clubs, those club directors should contact us to let us know and we'll include that call-up for the previous club)
We assign the SoccerWire Points value for each of these four criteria, and then simply total them together for the overall Club Ranking.
BY WAY OF EXAMPLE:
Solar SC from Texas, the 2021-22 Full Season #1 Ranked Girls Club with 343.9 SW Points
2021-22 ECNL League Play Points Earned – 126.6 SW Points
U13 (2009) 2nd Place
U14 (2008) 1st Place
U15 (2007) 1st Place
U16 (2006) 21st Place
U17 (2005) 21st Place
U19 (2004/3) 1st Place
2022 ECNL Playoffs – 28.18 SW Points
U13 (2009) 2nd Place
U14 (2008) 4th Place
U15 (2007) 1st Place
U16 (2006) 6th Place
U17 (2005) 6th Place
U19 (2004/3) 3rd Place (National Championship for this age)
2022 ECNL National Finals – 60.12 SW Points
U13 (2009) National Champions
U14 (2008) National Champions
U15 (2007) Quarterfinalists
U16 (2006) Did Not Qualify
U17 (2005) Did Not Qualify
Highest Level National Team Call-ups and/or Top Flight Professional Signings – SW 129.0 Points
Players listed in order of SW Points Value of the call-up/signing
MEZA, Samantha (F) – U-20 CONCACAF Championship Roster 2020 – 2/13/2020
ROLLER, Cameron (D) – USA roster unveiled for 2022 Concacaf Women's U-17 Championship – 4/11/2022
SHAW, Jaedyn (M) – NWSL club San Diego Wave FC signs 17-year-old USYNT star Jaedyn Shaw – 7/19/2022
FULLER, Kennedy (M) – USA roster announced for 2022 Concacaf Girls' U-15 Championship – 7/21/2022
HARDEMAN, Jordyn (D) – USA roster announced for 2022 Concacaf Girls' U-15 Championship – 7/21/2022
McCAMMON, Ainsley (M) – USA roster announced for 2022 Concacaf Girls' U-15 Championship – 7/21/2022
BYARS, Trinity (F) – USA roster revealed for 2022 FIFA U-20 Women's World Cup – 7/25/2022
PATRICK, Cambry (D) – U.S. U-17 Women's National Team set for 26-player training camp at IMG Academy – 2/8/2022
YOLINSKY, Emma (M) – U.S. U-17 Women's National Team set for 26-player training camp at IMG Academy – 2/8/2022
MISSIMO, Alexis (M) – U.S. U-20 Women's Youth National Team roster revealed for Sud Ladies Cup in France – 6/14/2022
ADAMES, Emeri (F) – U.S. U-17 Women's Youth National Team roster unveiled for Spain trip – 8/16/2022
VILLARREAL, Amalia (F) – U.S. U-17 Women's Youth National Team roster unveiled for Spain trip – 8/16/2022
ISGRIG, Tyler (F) – U-16 UEFA Development Tournament – England – 2/14/2020
BYARS, Treasure (F) – U-15 GNT 2020 Year Camp – Carson, CA – 3/2/2020
ARMSTRONG, Trinity (D) – U.S. U-15 Youth Women's National Team camp kicks off in California – 1/17/2022
MATTHEWS, Zoe (M) – U.S. U-15 Youth Women's National Team camp kicks off in California – 1/17/2022
JONES, Coda (M) – U.S. U-15 Women's Youth National Team training camp kicks off in Chula Vista, Calif. – 3/21/2022
GELLER, Olivia (GK) – U.S. U-15 Women's Youth National Team kicks off European training camp ahead of June friendlies – 6/6/2022
JORDAN, Hannah (M) – U.S. U-15 Women's Youth National Team kicks off European training camp ahead of June friendlies – 6/6/2022
STRAWN, Sealey (F) – U.S. U-15 Women's Youth National Team kicks off European training camp ahead of June friendlies – 6/6/2022
BYRD, Cameron (F) – U-14 Regional Talent ID Camp – Dallas – 2/20/2020
FOLEY, Lola (M) – U-14 Regional Talent ID Camp – Dallas – 2/20/2020
GUTHRIE, Aly (D) – U-14 Regional Talent ID Camp – Dallas – 2/20/2020
RAYO, Juliette (M) – U-14 Regional Talent ID Camp – Dallas – 2/20/2020
RIGGINS, Alicia (F) – U-14 Regional Talent ID Camp – Dallas – 2/20/2020
College Recruiting Commitment Tracker