U.S. U-16 Girls National Team set for UEFA Development Tournament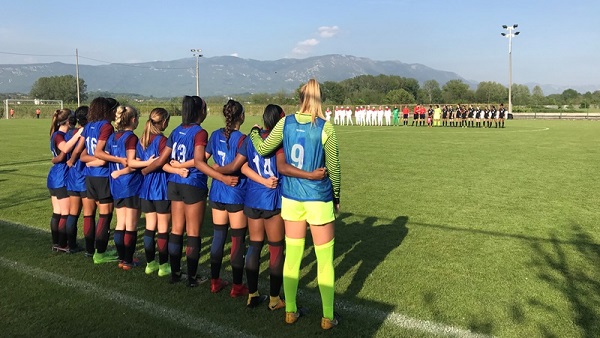 CHICAGO (Via U.S. Soccer) – The U.S. Under-16 Girls' National Team will travel to Portugal to participate in the UEFA Women's International Development Tournament being held from May 12-16 in northern Portugal, about 75 miles north of Porto.
In the four-team tournament, the USA will face Belgium on May 12 at Rebordosa AC Stadium in Rebordosa, take on host Portugal on May 14 in Capital Móvel Stadium in Paços Ferreira and finish against Switzerland on May 16 at Municipal Stadium Coutada in Arcos Valdevez.
The USA will bring a different roster of players from the U-16 GNT squad that recently won the Torneo delle Nazioni in Italy and Slovenia. That roster consisted of 10 players born in 2002, five players born in 2003 and five players born in 2001. The roster headed to Portugal is slightly younger and has 10 players born in 2002 and 10 in 2003.
+READ: Girls Development Academy East Conference Recap | April 28-29, 2018
The development tournament will feature some unique rules. All the matches in the tournament will consist of 40-minute halves and if the score is tied at the end of regulation, teams will go directly to penalty kicks to decide the winner, with three points awarded for a win in regulation, two points awarded for a win in penalty kicks and one point for a loss in penalties.
Each team is allowed nine substitutes during a match, but no more than three stoppages per team to make subs are allowed during the second half.
In addition, the tournament will utilize an experimental "Sin Bin" system for players that commit "temporary dismissal offences." Red and yellow cards are issued in accordance with the Laws of the Game. The temporary dismissal is only to be used when the referee would have issued a yellow card for any of the following offences:
Simulation
Deliberately delaying opponents' restart of the match (free kick, throw-in etc.)
Dissent or verbal/gesture offences (unless red card offences)
Stopping a promising attack by pulling, holding pushing or handball
Kicker illegally feinting at a penalty kick
A player who has been temporarily dismissed is allowed to return to her team's technical area and cannot be substituted for an eight-minute temporary dismissal period. A goalkeeper is treated in the same way as field players.
A player who commits a second temporary dismissal offence in the match will receive a second eight-minute temporary dismissal and, at the end of the eight minutes, must be substituted and can not play again in the match.
+READ: U.S. U-16 Girls National Team wins Torneo delle Nazioni title
Temporary dismissals and 'other' yellow cards are not combined, i.e., if a player who has been temporarily dismissed, returns to the field and then receives a yellow card, she will not be sent off. Similarly, a player who has received a yellow card and then commits a temporary dismissal offence is not sent off.
To underline the development nature of the tournaments, each player must play at least 80 minutes across the three matches and UEFA recommends that each player should play no more than 120 minutes over two consecutive games.
U.S. U-16 GNT Roster by Position – UEFA Women's U-16 International Development Tournament

GOALKEEPERS (2): Mia Justus (PDA; North Brunswick, N.J.), Neeku Purcell (Seattle Reign Academy; Seattle, Wash.)
DEFENDERS (6): Abby Allen (Lonestar SC; Austin, Texas), Katherine Groff (NC Courage; Raleigh, N.C.), Andrea Kitahata (San Jose Earthquakes; Hillsborough, Calif.), Aidan McConnell (Michigan Hawks; Dexter, Mich.), Sally Menti (Crossfire Premier; Seattle, Wash.), Ayo Oke (Concorde Fire; Lawrenceville, Ga.)
MIDFIELDERS (6): Zoe Burns (Crossfire Premier; Issaquah, Wash.), Emma Egizii (Beach FC; Downey, Calif.), Tatiana Fung (LAFC Slammers; Fullerton, Calif.), Margaret Graham (NTH Tophat; Atlanta, Ga.), Devin Lynch (Eclipse Select SC; Naperville, Ill.), Jillian Martinez (Lonestar SC; San Antonio, Texas)
FORWARDS (6): Abigail Borchers (San Jose Earthquakes; Fresno, Calif.), Simone Jackson (LAFC Slammers; Redondo Beach, Calif.), Abbie Kotter (LA Roca FC; Providence, Utah), Arianna Manrique (NTH Tophat; Buford, Ga.), Amber Nguyen (Concorde Fire; Snellville, Ga.), Amelia White (Fort Wayne United; Fort Wayne, Ind.)