University of Oregon women's soccer team signs six class of 2021 recruits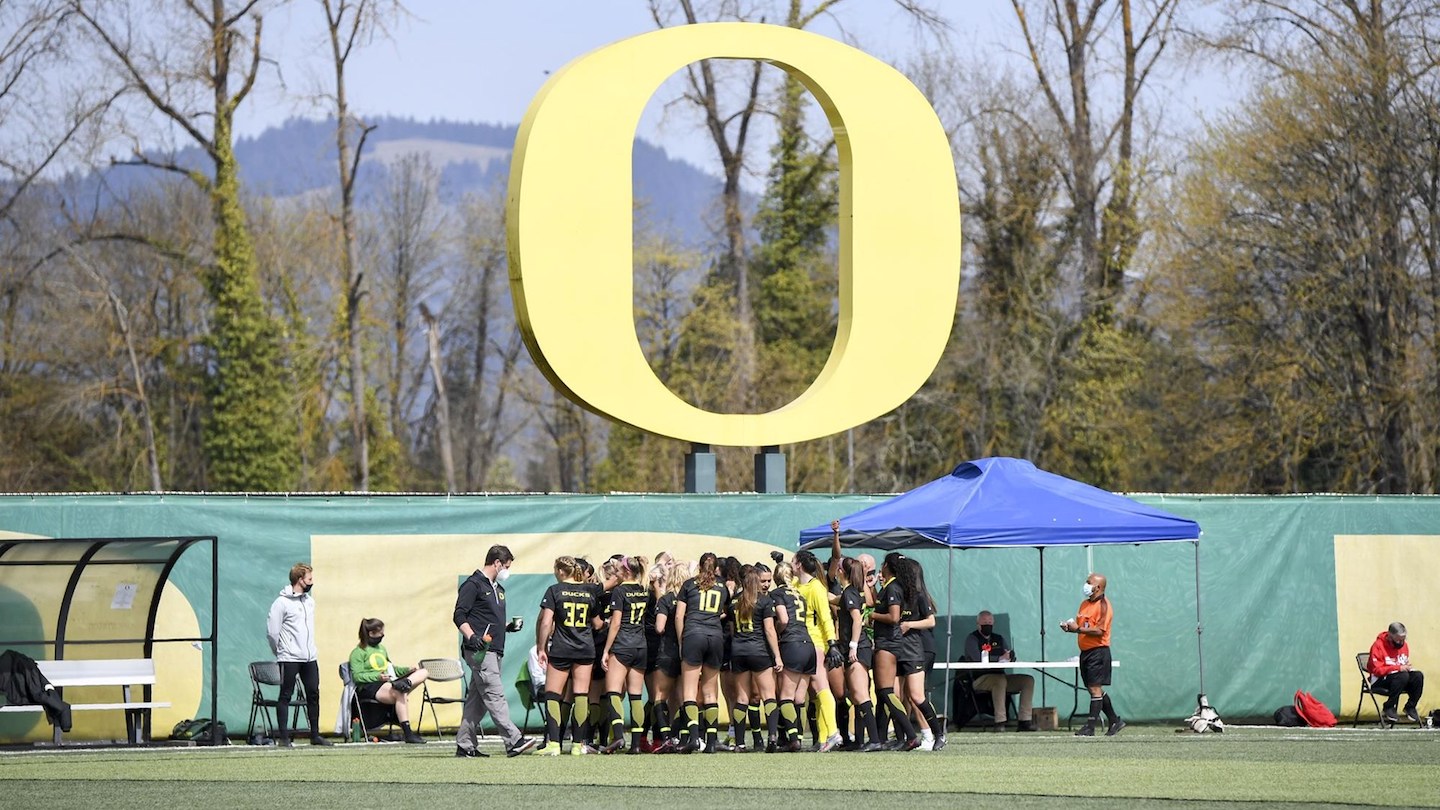 EUGENE, Ore. – The University of Oregon women's soccer team will welcome six new players for the Fall 2021 season, head coach Graeme Abel announced Thursday.
The six signees include three international players and three from California. Joining the team in the fall will be: Californians Alice Barbieri (San Jose), Maddy Goldberg (Pleasanton) and Kaitlyn Paculba (Huntington Beach), as well as Kess Elmore (Liverpool) and Anna Phillips (Bolton) from England and Australian Lara Kirkby (Adelaide).
Barbieri, Elmore and Paculba are forwards, Kirkby is a midfielder, Phillips plays center back and Goldberg is a goalkeeper. Elmore is a graduate transfer from Connecticut while the other five signees are freshmen.
"We are extremely excited to add this class to our program," said Abel. "It gives a great mix of technical ability and athleticism. We needed to add depth and additional quality to our roster and feel as though we have really found it. We can't wait for Kess, Alice, Anna, Maddy, Kaitlyn and Lara to arrive on campus!"
They will join a team this fall that returns 10 starters from a squad that went 6-5-5 last season and set a program record with a 0.69 goals against average.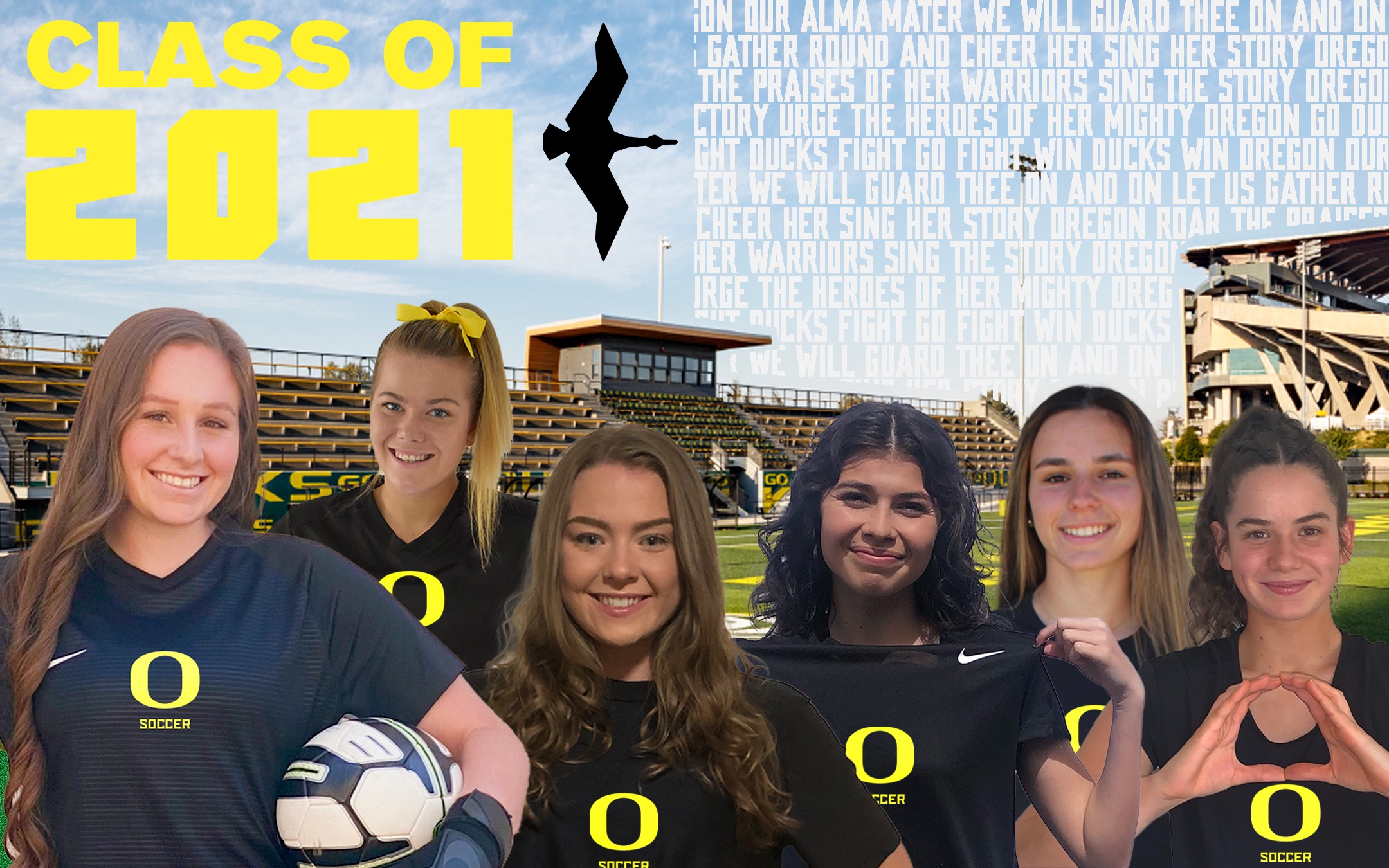 Fr., 5-10, M, San Jose, Calif., Leigh High School; Club Team: Mountain View Los Altos SC
HIGH SCHOOL
Led Leigh High School to a conference title and a state championship game appearance … A two-time selection for the all-District Team (one first team, one second team) … Twice named to the Central Coast Section first team … Led Mountain View Los Altos SC in assists and was second in goals … Twice selected for the Elite Clubs National League player development program.
PERSONAL
Born in San Jose, Calif. … Parents are Arianna Caliari and Alessandro Barbieri … Major is undeclared.
"I was impressed by the amount of effort that is put into taking care of student-athletes, both on the academic side as well as on the athletic side. I was also very impressed by the playing style and how the players were always ready to improve every time they stepped on the field. The facilities were an amazing representation of how Oregon treats their athletes."
Kess Elmore

Sr., 5-5, F, Liverpool, England, Formby High School / Connecticut; Club Team: Liverpool Ladies FC
BEFORE OREGON
Scored 12 goals with seven assists for 31 points over four years at Connecticut … Has six career game-winning goals … 56 career games played with 38 starts … Scored three goals in the 2020-21 season (two game-winners) … Named to the 2019 American Athletic Conference Second Team after leading the Huskies in goals (four), assists (six) and points (14) … Ranked seventh in the AAC in assists … Tallied a goal and an assist versus both Fairfield and Boston U. … Had three straight games with an assist in October of 2019 … Missed the 2018 season due to a torn ACL … Named 2017 AAC Second Team All-Conference and to the All-Rookie Team as a freshman … Posted four goals, one assist and nine points during that season … First multi-goal game came against SMU, including the game-winner in the 88th minute.
CLUB / INTERNATIONAL
Played for Liverpool Ladies FC where she was a four-time player of the year for the club (2011, 2013, 2014, 2015) … Won the Youth Football Association Challenge Cup (FA Cup) with Liverpool in 2014 … A member of the U20 England National Team.
PERSONAL
Born in Liverpool, England … Parents are John and Patricia Elmore … Graduated from UConn with a degree in sport management … Working on a graduate degree in sports product management at Oregon.
"When planning my next step for graduate school and continuing my playing career, UO was on my radar. UO's prestigious history alongside the perfect balance of athletic and academic excellence made the decision easy for me to make. I am blown away by the sport and academic facilities and I can't wait to get out there."
Fr., 5-8, GK Pleasanton, Calif., Foothill High School; Club Team: Pleasanton Rage
HIGH SCHOOL
Rated as the No. 45 overall player of the 2021 class by Top Drawer Soccer, the No. 5 goalkeeper nationally and the top goalkeeper in the state of California … An East Bay Athletic League (EBAL) first team selection as a junior in 2020 … Led Foothill High School to the state playoffs in 2018 and 2020 … Club experience with the Pleasanton Rage included an appearance in the 2017 national semifinals in Chicago … Member of the Olympic Development Program's state and regional teams … Invited to the 2017 U.S. Women's National U15 Team Camp.
PERSONAL
Born in Walnut Creek, Calif. … Parents are Michelle and Cary Goldberg … Major is undeclared.
"I was impressed with the dedication and team culture from the UO soccer program. Everyone comes to practice with the mindset that when they walk out of training, they want to be a better player than the player that walked into training. I really found that the team treats everyone like family. A family who manages to push each other every day to be better, but also has a fun and sincere friendship with one another."
Lara Kirkby

Fr., 5-7, M, Adelaide, Australia, Walford Anglican School for Girls; Club Team: Adelaide United
HIGH SCHOOL / CLUB / INTERNATIONAL
Selected for the Independent Girls School Association South Australia soccer team every year since the eighth grade even though the team is geared toward 10th graders and above … Competed every year at the national IGSSA tournament and captained the team in both 2017 and 2018 … Was named the 2019 IGSSA sportsperson of the year for outstanding achievement and leadership … Earned Walford Sport's Blue 2020 (the school's highest accolade) … Made W-league (National League Australia) debut with Adelaide United in November 2018 as a 16 year-old … Joined the Adelaide United traveling squad to play against China's World Cup Team in Queensland in January 2019 … Represented South Australia at the Saitama International Football Tournament in Japan in March 2018 … Named one of Australia's top 20 age group players at the 2019 national championships … Also recognized at Walford for her excellence in business and math … Received the Duke of Edinburgh Bronze Award in 2017
PERSONAL
Born in Adelaide, Australia … Parents are Petra Heeg and Stephen Kirkby … Major is undeclared.
"I was looking for a soccer program that emphasized professionalism and a team culture, but also one that valued each individual as a person and not just a player. I wanted to be challenged by the rigor of the program with a coaching philosophy that fits my playing style."
Fr., 5-5, F, Huntington Beach, Calif., Marina High School; Club Team: LAFC Slammers
HIGH SCHOOL
In 2020, led Marina High School to its first league since 1995 and was also on the league champion girl's track and field team … Named the 2020 Wave League most valuable player … Was an all-Wave League first team selection in 2020 and a section team pick in 2019 … Led team in scoring her final three seasons … On the track, was the 2018 Orange County 100 meter champion and a four-year CIF qualifier in the sprints … Was the leading scorer for LAFC Slammers in 2018 with 34 goals and 16 assists … LAFC Slammers was the 2018 Elite Clubs National League 2018 national champions and advanced to the national semifinals in 2019 … Participated in Olympic Development Program in 2015, 2016 and 2017.
PERSONAL
Born in Fontana, Calif. … Parents are Dean Paculba and Stephanie Walker … Major is undeclared.
"Ever since I was a kid, I always dreamed of playing soccer for the University of Oregon. Once I got the opportunity to visit the campus and meet the coaches, it was clear that Oregon would be my home for the next four years. I really enjoyed the coaches' positive energy and the program's family-like atmosphere."
Anna Phillips

Fr., 5-7, D, Bolton, England, Bolton School Girls Division; Club Team: Manchester City
CLUB / INTERNATIONAL
Named the best defender of the Madrid International Cup after leading Manchester City to the championship match … Has extensive international experience with England's junior national teams … Played for England in the 2019 U17 European Qualifier in Bosnia as well as the U16 Nordic Cup in Sweden … Also played on the 2019 UEFA Development Tournament.
PERSONAL
Born in Bolton, England … Parents are Janet and Simon Phillips … Major is undeclared.
"Ever since I was young and started playing football I have always wanted to study and play in the U.S. I am blown away by the sport and academic facilities and I can't wait to get out there. The ambition, positivity and feeling of team at the UO is something I want to be a part of."